Engagement Lives Here
.
SPORTS x ENTERTAINMENT
Transforming the Next Decade
.
---
Hashtag Sports® is the premier recognition and continuing education platform for creative talent, content creators, and marketers across the converging sports, entertainment & media industries.
JANUARY 31 @ 1 PM ET / 10 AM PT
How Teams Can Deliver on the Personalization Promise with Your Mobile App
In this webinar, learn how teams can enhance the fan experience in their mobile apps with easy-to-design and launch personalized brand content. Hear from leaders across the NFL, NBA and NHL on how the Judo platform empowers them to create personalized content that enhances the fan experience, generates partnership inventory, and increases ticket sales and shop promotions..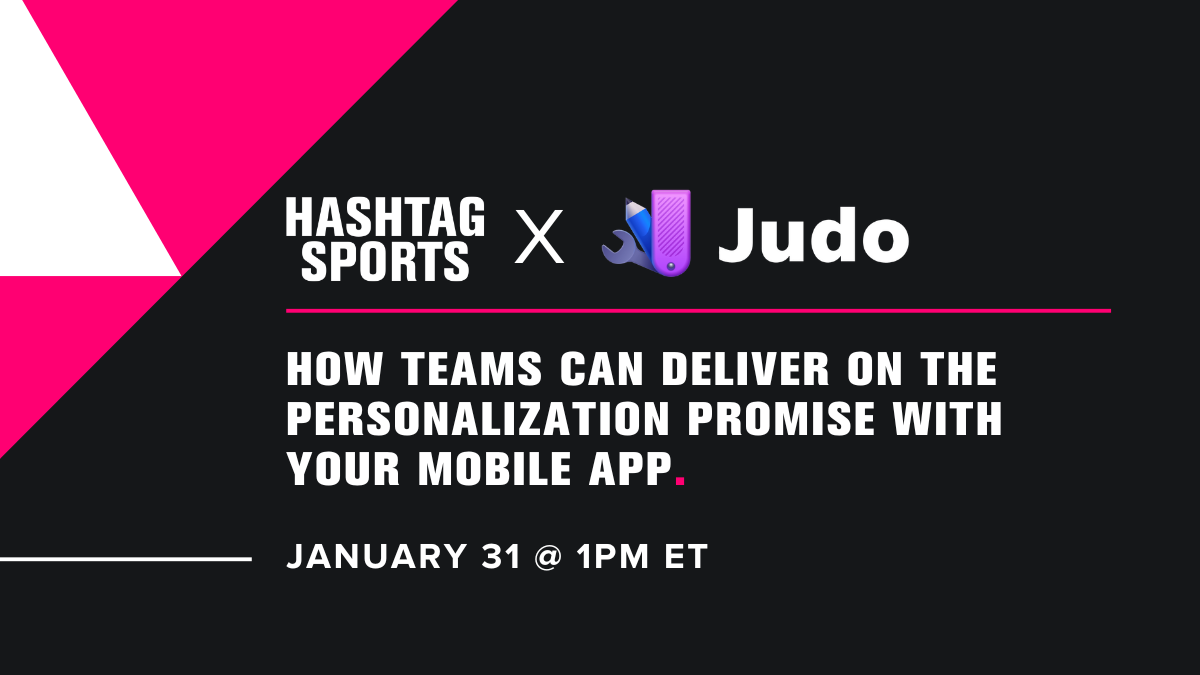 Annual Conference
Scheduled for June 13-14 in New York City, Hashtag Sports 2023 is the premier event for content creators, marketers, and the next generation of talent building the fan experience and setting the benchmark for effective engagement.

The only event connecting the entire sports entertainment ecosystem, it features our annual two-day industry conference and immersive community experiences such as CRTR Con and the Hashtag Sports Awards red carpet show.
Virtual Event Series
The LIVE Series are deep dive topical digital events that examine the most critical challenges and opportunities facing engagement experts, content creators, athletes, and executives across sports, media, and entertainment.

Events in the popular series have included Growth x Women's Sports, Content x Sports Betting, NIL x Athlete Brand, Esports x Sports, and Purpose x Sports.
Learn More
5th Annual Awards
The Hashtag Sports Awards is the benchmark for effective engagement and showcase of the ROI that results from prioritizing the fan experience.

The red carpet awards show honors the most engaging content, athletes, and creators that entertain sports fans and audiences during the industry's most celebrated, fun night.
Honorary Organization
Comprised of industry leaders, athletes, creators, and entertainers, the Engagement Academy of Sports x Entertainment (EASE) play a vital role in building an engaging and inclusive future of sports entertainment.

EASE members select the winners and honorees of the Hashtag Sports Awards.
Learn More
Empowering Creatives
Creators of Color presented with Canva is a new program that spotlights and empowers sports creatives ages 21-33 who identify as Black, Latino, Asian, and People of Color.

Over 500 nominations and applications were received in the first two years. Year 3 nominations open in spring 2023.
Learn More
Recruitment & Talent CRM
Hashtag Sports has launched the industry's first recruitment candidate relationship management (CRM) software to help the sport, media, and entertainment industries discover, hire, and develop diverse creative talent.

Creators, marketers, and organizations are all invited to join.
Learn More
Built with Purpose and Vision
.
Our company values guide us in building a community and leading the dialogue that galvanizes sports entertainment.
In Good Company
.
We believe in the power of collaboration and community to ensure a more innovative, representative, and responsible industry for fans and those who create the content and experiences alike.
Sports
x

Entertainment for your Inbox