10 min read
This Year's Most Engaging Moments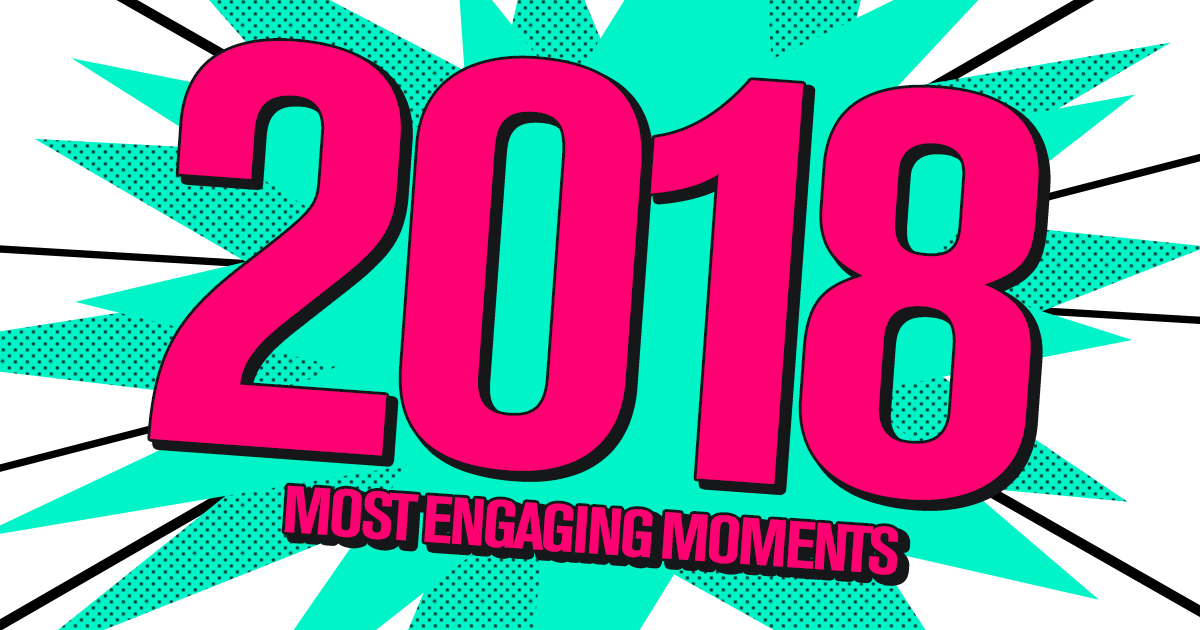 By

Team Hashtag / December 18, 2018

I am by no means an expert. I am just a 22-year-old Connected Fan who lives in the depths of social media in both my personal and professional life.
In today's oversaturated social world, engagement has a new definition. Engagement is no longer just likes, retweets, or comments. It is about strengthening the brand-to-fan relationship. Content that successfully achieves this objective is difficult to create and, more importantly, sustain.
Today, more than ever, users are shifting toward passive consumption of social content. That's scary to those who depend on traditional engagement numbers to prove to the higher-ups that social is meaningful. But social is meaningful regardless of the numbers. Social gives you the ability to humanize your brand and to build a relationship with your consumers. Just because they are oversaturated and overstimulated to the point that they're becoming passive does not mean that social is losing its touch. It means you have to be more thoughtful, more creative, and more experimental.
I myself have become part of the problem. More often than not, I barely stop my scroll before I double tap on a post or hit the 'like' button. It's the faces in my feed, the stunning graphics or animation, and the truly unique piece of content that make me stop. These posts are rare, and while a lot of things might have me thinking, "This is cool," they are often quickly forgotten (it pains me to say this as a creative since I know the hours that go into content).
Yet, in 2018, several moments did stop my scroll and stuck with me long past the few seconds after the creator(s) pressed send. In no particular order, here are 18 posts from 2018 that broke the social mold to create a more engaging future for fans.
---
1. Gritty — Kim Kardashian Photo Reboot
Goodnight, internet. pic.twitter.com/gx2Pbxfcds

— Gritty (@GrittyNHL) September 25, 2018
Twitter: @GrittyNHL
On September 24 at 11:17 AM Gritty's Twitter presence was born and to be honest I was horrified. But less than 12 hours later, Gritty had won me (and the entire internet) over. The iconic re-make of Kim Kardashian's Paper Magazine photo, also known infamously as a moment that broke the internet, sealed the deal: the Flyers had created social gold.
This character is weird, not always easy to look at, and completely different than the good-hearted (almost) "cuddly" nature of a typical mascot. He's spunky, he falls on the ice, and claps back at the haters until they fall in love with him—he's (literally) a walking meme.
2. CBS Sports — NBA Text Convo
Imagine you had a friend who didn't watch the NBA for two years, and you had to get them up to speed… pic.twitter.com/GDfWx4oEy1

— CBS Sports (@CBSSports) July 19, 2018
Twitter: @CBSSports
It's no secret that the NBA is the most advanced league on social. The community around and within the league is very vocal. Just look at #NBATwitter. This summer, CBS put their voice into the conversation by creating a text thread pointing out the insanity that has been the NBA for the past two seasons.
This content was a brilliant way to engage both avid and casual fans, giving NBA junkies a nostalgic look back at basketball's most unbelievable moments and providing perspective to those that don't follow as closely. The post was informative and highly relatable, mimicking the behavior/voice/preferred medium of the very consumers the legacy media company wanted to reach.
3. JuJu Smith-Schuster — Hype Videos
Instagram: @juju
Everyone likes a hype video. Teams have them, leagues have them, but traditionally individual athletes haven't had their own. JuJu Smith-Schuster is changing this. Often forgotten, it's the players who have the largest and most engaged followings. Loyalty today lies with athletes, not teams—this is one of the core qualities of Connected Fans. It makes all the sense in the world to drive tune-in to games through the channels fans are most engaged with.
Through personalized hype videos (and a lot of other content breaking the mold for athletes), the Steelers star and his content squad (Team JuJu) have created a powerful brand for one of the NFL's youngest players that will prove beneficial long after Smith-Schuster hangs up his cleats.
4. Tim Hortons — 'The Away Game'
YouTube: Tim Hortons
If this short-form documentary didn't tug at your heartstrings, you might need access to a stethoscope. This is emotional storytelling at its best and what all brands should aim for in order to build stronger relationships with sports fans. Integrating your brand values into content is difficult, but in the days of ad blockers, the future of advertising lies in promotion that is straight-forward, transparent, and seamless. Connected consumers don't mind branded content as long as it is good content. This was amazing content. The next time I walk by a Tim Horton's, I will be picking up a donut.
5. Chloe Kim — Breakfast Sandwich Tweet
Wish I finished my breakfast sandwich but my stubborn self decided not to and now I'm getting hangry

— Chloe Kim (@ChloeKim) February 13, 2018
Twitter: @ChloeKim
Picture this: you are 17-years-old, you've already earned the highest score in your sport's top competition, and you have one more run to go before likely winning a Gold Medal at the Olympics. What do you do while waiting for that final run? Tweet about the breakfast sandwich you didn't finish earlier in the day, obviously.
This new generation of athletes grew up with social media. They are digital natives and it is ingrained into their every day lives so they understand the potential it has to directly connect them with fans. The world fell in love with Chloe Kim not just because of her talent on a snowboard but for the authentic genuineness she exuded in interviews and on her social channels throughout the Winter Games.
6. Clark the Cub — Halloween Adventure
Love this, so much. #smsports

👏🏻👏🏻🎃 @cubs @ClarktheCub pic.twitter.com/eDDZrmh4wa

— Sabrina Smith (@sabrina_smith37) November 1, 2018
Instagram Story: @cubs
What did your office do for Halloween this year? Probably not get pranked by a team mascot. It's rare that employees are featured in content on a team's official account, but the Cubs decided to break this mold and use their mascot to shake up a typical day at the office with some fake bugs. The content is funny, unique, and humanizes the Chicago Cubs brand for fans.
7. Ninja, Drake, JuJu, Travis Scott — Fortnite Dream Stream
Twitch: Ninja
Fortnite streamer Ninja was already a hit on Twitch. So how did he push himself into the pop culture zeitgeist? Cue the intro music as Drake, Travis Scott, and JuJu Smith-Schuster joined his squad in Battle Royale to help him break the record for most concurrent streamers at one time. The star-studded team brought engagement to an all-time high and propelled the esports star into the mainstream.
The stream gained the attention of the gaming, music, and sports communities, and it further cemented the prevalence of gaming in today's pop culture. Even our favorite athletes and artists enjoy competitive gaming.
8. AS Roma — Nigeria Super Eagles x AS Roma
True story [A thread]

How a Nigerian radio presenter's incredibly passionate commentary of #ASRoma's amazing comeback against Barcelona prompted the Giallorossi to team up with the Nigerian FA and help power the @SuperEagles social media output during the #WorldCup pic.twitter.com/3IFqatB4a4

— AS Roma English (@ASRomaEN) July 31, 2018
Twitter: @ASRomaEn
When Italy didn't make it to Russia this year, one of its biggest clubs, AS Roma, decided to adopt The Nigerian Super Eagles for the World Cup. Why would an Italian club adopt Nigeria's national team? Earlier in the season a Nigerian radio broadcaster's call from the Roma vs. Barcelona game went viral. The passion he showed exemplified how soccer can connect fans from across the globe and differing walks of life.
The mutual admiration between Roma and Nigeria didn't stop with just cheering during the World Cup; it became a full-blown collaboration. AS Roma x Nigeria Super Eagles is another way that Roma has found unique and fun ways to create content fans get behind.
9. Arizona Coyotes — 'The Bachelor Report'
YouTube: Arizona Coyotes
An ex-Coyote interviewing current Coyotes on The Bachelor = good times. These guys have fun opinions and make the team relatable to those who keep up with the show. My guess is this series was a way to connect with female fans, however, I'm sure many male fans watch the show as well (either alone or with a female "friend"). Teams often play off what's going on in popular culture, but this series takes it a step farther. Focused around the popular television show, which happens to have a cult-like following, it also showcases the athletes' personalities off the ice.
10. Nike — 'My Crazy Dream'
IGTV: @nike
Nike has stirred quite the controversy in 2018 by leveraging the polarizing Colin Kaepernick in their most recent 'Just Do It' campaign. The two-minute spot, 'Dream Crazy,' was narrated by Kaepernick and featured 16 inspiring athletes, from Serena Williams to 10-year-old Isaiah Bird, who embody the theme of breaking boundaries.
Continuing with this theme, Nike launched their first series on IGTV called 'My Crazy Dream' and spotlights everyday athletes that are beating the odds. By passing the mic to everyday people, Nike is further humanizing their brand and pointing that it's not just the superstar athletes who push boundaries.
11. Snapchat — Serena Williams Bitmoji AR Competition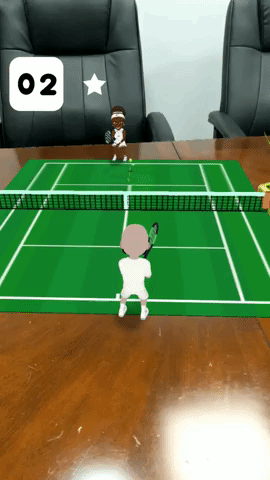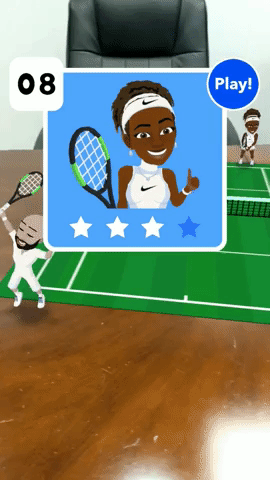 What tennis fan doesn't dream of meeting or playing against Serena Williams? But for most, that will always be just a dream. However, Snapchat, Wimbledon, and Williams teamed up this year to allow users to play Williams' Bitmoji in an augmented reality competition.
The simulation was an innovative way to add another screen (and dimension) to Wimbledon. It also signals a move for the sport to attract a younger audience who is more tech-savvy and consumes sports on multiple screens. It's no longer just about the tent-pole content; it's about creating supplemental content the drives tune-in from all the platforms that fans are on.
Image from Tommy Palladino/Next Reality
12. MLS — Best XI Reveal
Instagram: @mls
To celebrate the MLS Best XI, soccer's version of First Team All-Pro or All-American lists, they got creative and rolled the ball out on a foosball table. The recreation of a bar-game favorite was a hit. From the realistic man bun on Zlatan to the unique passing sequence from keeper to striker, MLS scored with this post.
They took their content game to the next level by bringing it to life and transforming a standard announcement into an creative, unique, and multi-layered piece of content that football fans would want to watch, re-watch, and share.
13. Buffalo Wild Wings — GOAT Lotto Ticket
Since tonight is the greatest jackpot of all time, we're buying the 🐐 ticket. pic.twitter.com/VY0sGxPyaV

— Buffalo Wild Wings (@BWWings) October 23, 2018
Twitter: @BWWings
Almost $2 billion was up for grabs in the Mega Millions Jackpot this fall, the highest on record. Everyone was paying attention and tweeting about it. How do brands enter the conversation in a way that's fun, not forced? For BWW, they decided to buy the GOAT ticket. Their choices sparked debate – our office got into it over who we would have picked (and for one jersey, who it was even supposed to represent). This was an innovative way for the brand, who is a go-to spot to watch sports games, to play on the current social conversation.
Going out a limb here, but I think the creator of the infamous 'Atlanta Hawks Emoji Schedule' may have had something to do with this tweet.
14. Dallas Stars — Super Mario Bros. Contract Announcement
— Dallas Stars (@DallasStars) September 13, 2018
Twitter: @DallasStars
If a picture tells 1,000 words, what does a 44-second video say? The Dallas Stars let Super Mario Bros. do the talking of announcing a contract extension for Tyler Seguin. An animated version of Seguin replaced Mario to fire pucks at different NHL teams' logos until he is awarded with an 8-year contract.
Trades, new contracts, and contract extensions happen all the time in sports and the Stars could have just put out another graphic to make this announcement, but they went above and beyond to make this announcement stand out from the noise.
15. Bud Light — Victory Fridges Open
Cleveland, the @Browns won. The fridges are open. Go celebrate with a Bud Light. You've earned it. pic.twitter.com/RvjJ0WvpyO

— Bud Light (@budlight) September 21, 2018
Twitter: @budlight
September 20, 2018 the Cleveland Browns won their first game in 635 days and the Bud Light Victory Fridges were opened. Back in August, the Browns and Bud Light partnered to create these fridges that would "magically" open when the Browns finally got that elusive W. This was an amazing brand play for Bud Light, generating $6.87 million dollars in publicity value in less than twelve hours after the Browns' win.
It dominated conversation on social, even the Cleveland Police Department got in on the conversation. This campaign kept Browns fans engaged and interested when the team was losing on the field and rewarded them for sticking with the team when they finally won. 'Dilly Dilly' everyone.
16. Los Angeles Lakers — High-Quality GIFs
Zo with the helper pic.twitter.com/cF8LJc9yb1

— Los Angeles Lakers (@Lakers) December 8, 2018
Twitter: @Lakers
The Lakers have been killing the content game since the King arrived in California, but these high-quality GIFs always stop me in my tracks. The crispness, the close-up action… They make me want to share them. In the past, GIFs were quantity over quality. It was all about catching the best moments (even in low resolution) to express an emotion or sentiment, but the Lakers have redefined GIF use. More and more often the sports world is using GIFs in new ways, and the Lakers are one of the first to leverage the format in a way that's almost synonymous with a highlight.
17. The Players' Tribune — Quote Videos
Instagram: @playerstribune
The Players' Tribune has always done a great job at creating content for the platform and I've been loving their visual way of incorporating subtitles. Most of the time that I'm on social platforms I am in a public space and, therefore, not going to turn on my volume. A lot of accounts add subtitles to their videos, but they are usually just the traditional closed captioning you see everywhere else. On their Instagram channel, TPT has taken subtitles to a new level and incorporated them into the design itself.
18. B/R Kicks – Nike Kyrie 4 "Wheaties"
Nike Kyrie 4 "Wheaties" 👀🔥

📹 @KyrieIrving pic.twitter.com/Ybr9mtK2Wr

— B/R Kicks (@brkicks) May 3, 2018
Twitter: @brkicks
Just as the B/R owned House of Highlights has become the go-to place for highlights and behind-the-scenes of your favorite athletes, B/R Kicks has become the hub for sneakerheads. The account curates and creates relevant content for this subgroup of sports fans, with a specific focus on the #NBATwitter community. Sneaker culture has become a huge part of the game, adding another layer of relatability to these athletes that fans can connect with. The brand even made moves to bring the community together IRL in early December, showcasing the power of community born of the internet.
---
Honorable Mentions
Joel Embiid — Trolling Himself
Laying out these bricks before the season starts so I don't miss game tying shots in the playoffs pic.twitter.com/Gqg9oksR72

— Joel Embiid (@JoelEmbiid) August 5, 2018
Twitter: @JoelEmbiid
Joel Embiid is taking the phrase, "Don't dish out what you can't take" to a new level by trolling himself on social. Embiid is no stranger to using his voice on Twitter. This year the Sixers' star was inducted to the #NBATwitter Hall of Fame for his use of the platform. He leverages the platform to showcase his personality, share his voice, and troll fellow teammates.
Gamecock Football — 'This Is Who We Are'
This is about who we are. This is about where we are going.

Battle Armor. pic.twitter.com/Seb7YmqUSu

— Gamecock Football (@GamecockFB) November 29, 2018
Twitter: @GamecockFB
Emotional storytelling has always been around, but the Gamecock creative team hit the nail on the head with this one. There's no plug, it just showcases the team and its community's personality. Humanizing your brand is, in my opinion, the strongest relationship-building aspect of social and the Gamecock social team clearly understands this.
Beşiktaş JK — 'Come to Beşiktaş'
YouTube: Beşiktaş JK
New player announcements to soccer fans are like Christmas Day for kids. They impatiently wait to hear the next addition to their team, sometimes going as far as to solicit players by @-ing them to "Come to [insert favorite club]." So when Beşiktaş fans began courting players with the phrase, their club, known for a fervent fan base in the heart of Istanbul, saw an opportunity to utilize the simple saying.
What began as an intentional use of home-video level production escalated to a full-blown campaign that asked fans and players alike to put their differences aside to "Come to Beşiktaş." This powerful campaign epitomizes one of the best things that sports can do: bring people together.