How the BTN On Campus Program Is Serving Fans on Social
How the BTN On Campus Program Is Serving Fans on Social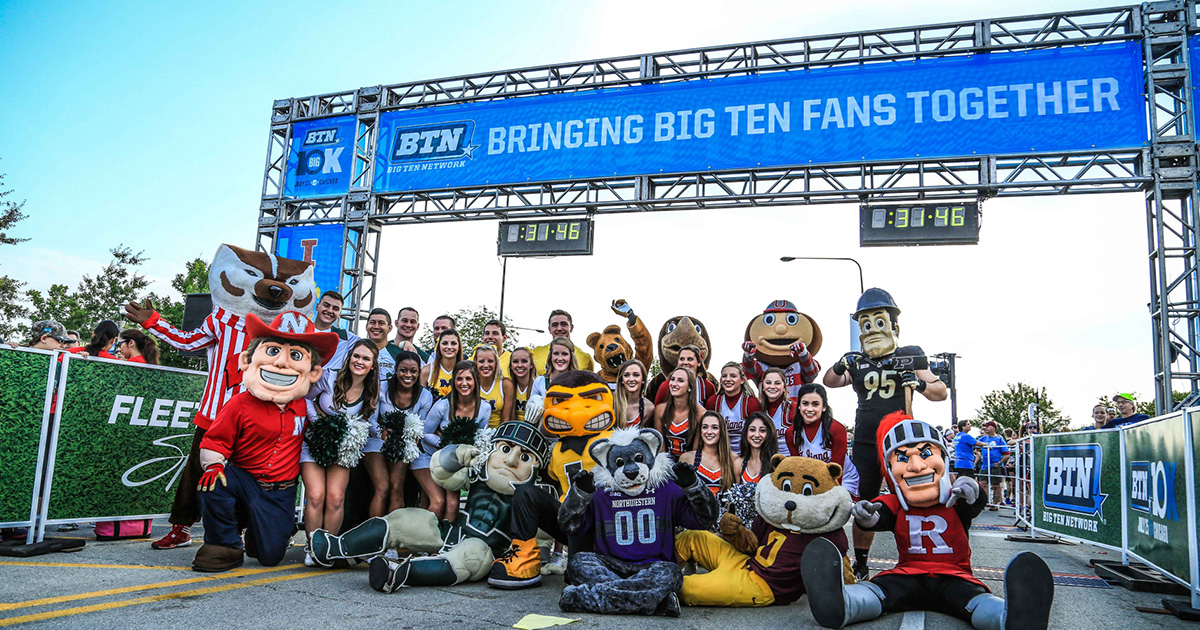 By

Team Hashtag • 8 min read
June 24, 2019
Jordan Maleh sits down with Hashtag Sports in our latest Q+A series interview.
In Jordan Maleh's time as Senior Director of Digital Marketing & Communications at Big Ten Network, he has developed strategies to give connected fans every opportunity to engage digitally with the Big Ten schools they hold near and dear to their hearts.
Maleh discusses the increasingly prevalent role that an on-campus presence plays in distribution strategies and marketing to the engaged fan, and how these techniques help fans in the Big Ten Conference connect with individual schools. For clarity, this interview has been condensed and edited.
The Big Ten Network was the first internationally distributed cable channel owned by a college conference. Since its inception, how has the evolution of the connected fan changed the way collegiate cable networks think, operate, and structure departments?
Our overarching goal and primary objective is to excel in the live event space. That has not changed since the inception – we are a live events company. Ultimately, we are the home of live Big Ten action. We want to be compelling storytellers. In terms of that kind of evolution and how we think, we want to be more than a linear network. With those guiding pillars, we're keeping the fans top-of-mind in terms of all that we do, how we think, how we operate, and ultimately in how we structure our departments—which has clearly changed since BTN was introduced in 2007.
How has technology been integrated into your content strategy to more efficiently connect with Big Ten fans throughout the calendar?
From our end, the BTN On Campus Program has been a technological and resource boon which allows us to be more efficient in terms of building out on campus content—not only football and men's basketball, but Olympic sports as well. That's one kind of integration into our content strategy.
A large portion of that strategy—on the tech side—has certainly been Grabyo. Grabyo has clearly powered the BTN On Campus Program. All of the content that's being made, and there is a substantial amount of it, is edited and housed within Grabyo. Grabyo has been the tool that has allowed us to work more efficiently in terms of the editing process, and then ultimately in terms of the sharing—it's been a one stop shop for us.
Another opportunity area that Grabyo has provided us is the ability to empower the schools. It's not just specific to the BTN On Campus Program, it's all of our 14 partner institutions having the ability to use Grabyo in the same manner that we do to distribute content. It's helped us become mobile-first. It allows us to do a lot of editing and sharing on the go, which in the athletic sports space, we need.
Another piece of technology that we utilize is opendorse. We have been partners with opendorse for several years now. We will be introducing their new athlete marketing platform to better utilize and distribute news, programming, and games via our talent and also utilizing and working with our partner institutions as well.
Some reports suggest that over 80% of internet traffic will come from video in
2019. With everyone looking to expand their efforts in digital video, how is BTN's unique content & distribution strategy helping to set a new benchmark for engagement?
We are a little bit different, and obviously well-positioned, in the marketplace as a rights holder versus publishers who don't have rights. From our end, we ask ourselves every day, "how do we maximize our rights?" We are trying to set new benchmarks for engagement every season.
We have the rights to live clipping, which not a lot of publishers have. It's not just football and men's basketball. It's Olympic sports. It's women's volleyball. It's wrestling. With those rights, it's unique to us, and our distribution strategy allows us to clearly understand the marketplace. We have our own platform, but from there, how do we work with third-party distribution platforms? For example, we have a distribution rights deal with FloSports. We've also worked with Amazon previously in collaboration with Michigan so that goes back to the understanding of maximizing our rights as a rights holder. This is all led by digital video. If we are in the video space, that's our sweet spot. We are utilizing video every single day in terms of our distribution strategy.
This academic year, BTN generated over 32M video views across digital platforms, thanks in large part to a program that embedded social producers and editors on 7 of 14 campuses. Where does this program fit into the conference's broader marketing & fan engagement funnel?
It started two years ago as a new approach to content. We wanted to create a lot of school specific content. We wanted to ramp up daily video output across all platforms—digital, social, studio and linear live events. Ultimately, we wanted to provide more targeted content to the market as we think about revenue as part of our program. That's where it fits into the network's marketing and fan engagement funnel.
Those three guiding principles have not changed as we enter year three. This program allows us to stay on campus. Let's take football for example. If we're airing a game on BTN, everyone will arrive on campus, produce the live event, and leave. The BTN on campus position allows us to have an opportunity and connection on campus every single day.
Another added value of the program and the buy-in that we receive from the schools is the breakdown of content by sport. This goes back to compelling storytelling. On our end, we go into each year trying to get to a 60-40 split in terms of content for football and men's basketball versus Olympic sports. This past year we ended up at 55-45, right in that sweet spot [55% in terms of football and men's basketball and 45% for Olympic sports content]. Those are the three main pillars of the program and where it fits into our network's perspective as we're moving forward into year three.
Historically speaking, Twitter was late to the party with video. However, over two-thirds of the content output from BTN's on campus editor program was distributed through Twitter. Why is this? Can you share examples of content initiatives or projects where BTN uses Facebook or Instagram more predominantly?
This goes back to being more school specific. From our end, specifically on Twitter, we follow the model that was in place before I arrived. We have a mothership account, @BigTenNetwork, and then from there, we actually break down the communities.
We have 14 school-specific Twitter handles—@MichiganOnBTN, @PennStateOnBTN, etc. The BTN On Campus Program is creating school-specific content and instead of sharing that through the mothership account, we hone in on our school-specific accounts that speak to that fan base. If you're following @IowaOnBTN, our assumption is that you're probably not the biggest Nebraska fan, so we're going to speak to you differently and show you different content.
That's why two-thirds of the content output is on Twitter. If it's a storyline with broad appeal, we will share it from the mothership account or retweet the school-specific account. This upcoming year, when we add seven new schools, all the new school accounts will be robust in terms of content on a daily basis. [For] content initiatives or projects in terms of Facebook or Instagram, we have a partnership with Facebook Watch for our recap pages. This past year we have had a relationship with Facebook for football and men's basketball. From an Instagram perspective, storytelling has become ingrained in the experience through IGTV.
How are you measuring the success of the on campus editors program? Are there any specific metrics that you can point to that showcase this as a mark of success?
Year one was simply proof of content. Can we actually pull this program off? We started with three schools. Year two was proof of revenue. Since proof of content worked, we added four more schools for year two. Now, year three will be scaled [up] as we add seven more schools to get to 14.
From our end, that's been our way of measuring the success thus far. But getting a bit deeper, there's a few attributes here. One is primarily the trust. There's a trust from the athletic department, as well as trust from us in the employees we are placing within the respective departments. We want to be a leader in the space and having a staff member truly embedded and working in the athletic department every day goes a long way to accomplishing that goal.
If I had to pick something more specific, we are primarily trying to work towards video views. Beyond that, as we enter year three, it's trust, being a leader in the space, and little things [like] travel. One of our video producer editors will travel with the school, with the team, and that makes this a success. Although they're technically our employee, they have started to become a trusted member within various teams. I think that tells the story of where the program's going.
HS: How are you using social content as a vehicle to create new opportunities for sponsors who are eager to reach fans in the places they already consume content?
The BTN On Campus Program is a unique angle for us. We have actually added four new sponsors as part of the program that are new to BTN, which again goes back to another measuring point of success. We obviously focus on school-specific content. We have different markets. We've been able to break down by markets where we can speak to fans in Ohio versus fans in New Jersey. We're creating and leveraging opportunities with Olympic Sports and have seen great consumption of wrestling and women's volleyball. We have historical content. How can we go back and align that historical content for programs that our sponsors are bringing? We use the Grabyo tools for the variables that they're able to include in terms of overlays. Their integration makes it relatively seamless in terms of producing co-branded features.
Modern fans' attention spans are shortening and their expectations for immediacy are heightening as a result. What other efforts in real-time engagement is the Big Ten Network pursuing to combat these challenging consumption habits and how does live streaming play a role?
We are well-positioned as a rights holder and understand that in 2019, we're typically now a part of a two-screen viewing experience. Our goal is to reach Big Ten fans everywhere. In terms of consumption habits, we have relationships with YouTube TV, Hulu, Playstation Vue, Fubo, as well as Twitter, Instagram, YouTube and Facebook so we can get our content to fans, wherever they may be.
Our live events are most important because that's our core business. We're using social to showcase the games that we have. We are thinking about reaching Big Ten fans everywhere from two different perspectives. One: A live event. Two: How are we taking parts of that live event and storytelling and applying that to social. From a distribution perspective, true distribution as in where are people watching our games. Not just in front of a TV, but on the go, etc.
Marketers face an increasingly difficult challenge of standing out from the competition with young, fragmented audiences. What are some of the most creative ways you've seen sports properties or brands bring more targeted content to market which cable networks could learn from?
We want to be more than a linear network—to use BTN as an example. Through our corporate sponsorships with the Big Ten conference, we created the phrase "diverse portfolio, led by Big Ten events." We look at bringing potential Big Ten events to a corporate sponsor. Those events include the Big Ten Football Championship Game, the Big Ten Fan Fest prior to the game, the Big Ten Men's Basketball Tournament, the BTN Big 10K, and our latest venture—in terms of events—was the T-Mobile BTN Kickoff Concert last year in Indianapolis in advance of the Big Ten Football Championship Game, featuring OneRepublic in concert. We're bringing these events to the marketplace and trying to extend the linear network brand, as well as the brands of our partners to an event. We've got those five thus far, and we are looking to add to our portfolio.
What emerging trend or technology do you believe will revolutionize the way marketers connect with fans on social platforms in the next three to five years?
The idea of trying to find a new audience while understanding that there are fragmented metrics in the digital marketplace. In three to five years, is there going to be consistent insights in terms of consolidation of data? And then ultimately, which we're looking at every day, is building out a consistent pricing model for social.
On the flipside, is there anything currently "having a moment" being over-utilized or over-emphasized that maybe isn't here to stay?
That's a great question. I think what's not here to stay is content that is repurposed as a result of a lack of resources. I'll deflect from mentioning a platform and go more towards bandwidth. Currently, most people who work in social say, "Hey, it's a one-person band." How does that evolve? I think in that notion of working 24/7, always being on will hopefully subside and become, "I think this is a part of our strategy and we will increase the resources of digital and social departments.
Learn more about how visual storytelling is capturing the attention of the engaged fan at Hashtag Sports, an annual conference designed for media and marketing executives engaging the next generation of sports fans and consumers.