How Borussia Dortmund, SPORTFIVE Strengthened Connection to International Fans via Altered Digital Landscape
How Borussia Dortmund Altered Content Strategy During the Sports Pause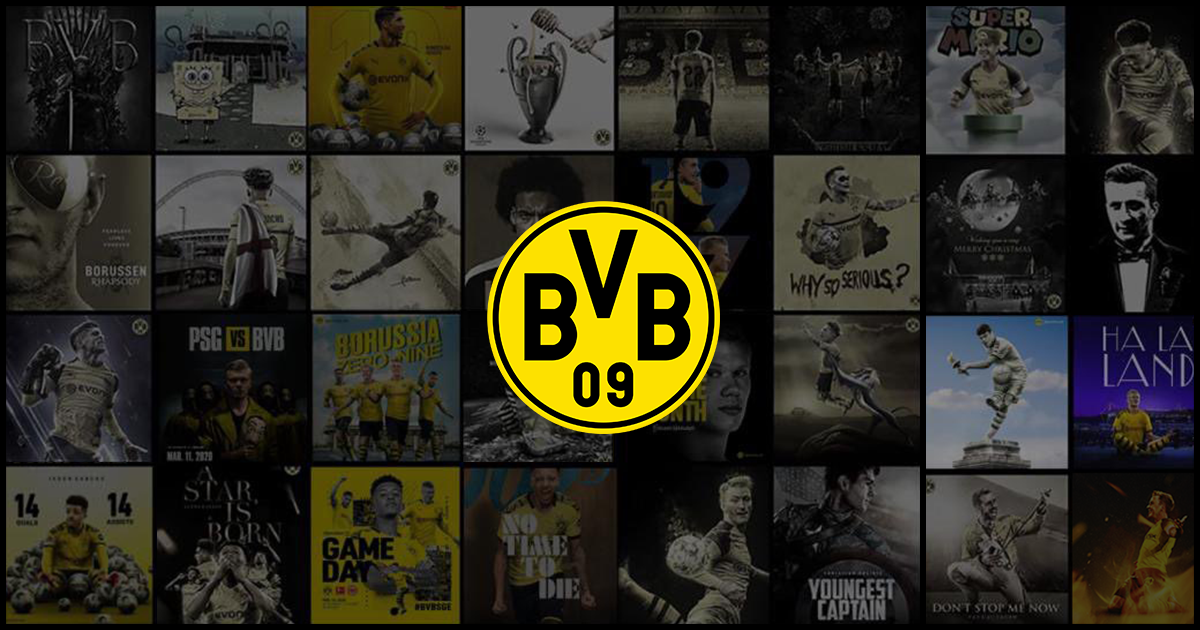 By

Team Hashtag • 7 min read
June 4, 2020
In his role as Sr. Director of Digital for SPORTFIVE, Karim Fathi and his team oversee audience development and content creation for Borussia Dortmund's English accounts. Under SPORTFIVE, Borussia Dortmund has had the highest engagement rate across all top 5 European soccer leagues since the start of the pandemic and grown their audience around 10-15% on each respective platform.
In a chat with Hashtag Sports, Karim tells us how innovative content strategies have been altered to reflect the current state of digital consumption and been leveraged to grow the BVB brand and influence.
During the sports pause, Borussia Dortmund's social accounts on Twitter & Instagram have had the highest engagement rate across all top five European soccer leagues (around 5-10%) and have seen audience growth of around 10-15% on each respective platform. Can you share a little bit about the different content formats that led to this success?
It's a confusing yet interesting time for everyone. There really is no set playbook on how to act on social right now. The way fans are spending their time over the past couple weeks and the next months is going to be quite unpredictable. Although they might be spending more time online. Teams are now competing with breaking news, celebrities, public officials, and more.
This brings us to the next point: there is no better time than now to experiment and try new things! With every concept, we are quite flexible in terms of approach and potential success. Trying something different that might eventually not have the success that we expected is way more rewarding than doing the same thing over and over again.
We've varied our content mix between nostalgic, trendy, educational, interactive and UGC formats. For each format, we've tried to really maximize the potential of each respective platform (Twitter and Instagram). Testing how we can maximize each platform's algorithm and features in our favor to extend the reach and engagement.
For example, one piece of content that we particularly enjoyed working on was recreating the Friends intro theme song with a BVB twist. We can confidently say that fans enjoyed it as well!
And we'll be there for you 💛🎶 pic.twitter.com/D7cTCQf8g3

— Borussia Dortmund (@BlackYellow) May 3, 2020
Our fan-first approach was key. Fans are attracted to a team's social media platforms when it's humanized. When they feel that they can relate to it, rather than just being a static one-way communication platform. It's as simple as asking fans what they really wanted to see in terms of content. Do you want more archival video content? Do you want more trivia? A coloring challenge? Which goals do you want to be featured as "goal of the day"?
You'll realize how much easier your job will be once you really understand your audience and what they want!
Aside from general fan engagement, what unique objectives or goals led to the creation of Borussia Dortmund's robust quarantine content series?
The absence of live sports has removed the sought-after "product" from the sports fans' lives. The magic of sports is it touches literally every part of society and is ingrained in our culture. Almost everyone can relate to sports in one way or another. Screen time and demand for digital content continues to soar, as fans are resorting to their different devices more often to get their daily dose of content.
Fans look forward to match day as an escape from their week, but with no matches, they lose that outlet. Our main objective: Keeping the fans happy and comforted at a time of uncertainty.
Taking on the role of a stress reliever daily and not just weekly. That was the overarching theme around our content plan, and the great part about social media is that it allows two-way interaction. Listening to fans is just as important as speaking to them. Hearing the positive feedback confirmed we were within the right strategy and allowed us to produce more of the content they want.
Part of this is personalizing the experience. The larger you are, the more valuable this is. One of the most important tactics applied to reach this objective was creating more customized fan-friendly features. There's no better "mood fix" for fans than seeing their favorite team send a customized reply or graphic.
Prior to COVID-19, we created personalized wallpapers once or twice a year. Over the past 2 months, we pushed that format once a week. During one of the weeks, we created over 500 personalized wallpapers. Although it took an "all hands on deck approach" to get it done (every single wallpaper was done manually), we received an aggregate of 40k replies!
We also experimented with other customized formats that proved to be quite successful. Whether it's a custom avatar, a custom header, or even a custom photoshop challenge, fans continuously want to feel valued and special.
Of all the initiatives within the campaign which proved to be the most successful in effectively engaging fans? How was that measured/determined?
Teams that pay attention to the dynamic social media landscape and the different trends, while still serving the fans' needs will continue to win in terms of engagement metrics.
Our "Question of the Day" content series proved to be the most successful while also being the simplest format! It was just plain text –no picture or video– asking fans a new question every day.
Giving fans the opportunity to provide their input on everyday questions, whether it was asking how they were doing or what the last "football related" picture was in their camera roll.
This led to a huge spike in reply rates (club record 47k in the month of April) and overall engagement despite being the simplest concept we utilized throughout the entire campaign.
The key to success when it comes to asking these questions are that they are:
What new benchmark(s) in fan engagement does this set? How will this work inspire and move the industry forward?
Pre-COVID, sports content was built around the live event with the goal of attracting an audience through the interest around the event itself and then releasing the audience until the next one.
This current environment has reinvented the wheel. Sports content is now built around the fans, with the objective of exploiting the live events that follow that to maximize the interaction and engagement. This approach turns the social media platforms as an integral asset for the team, where they can create an environment where fans can express themselves freely and feel associated with the team and its players regardless of games or not.
The more interconnected and immersed the fans are with the team through social media, the more they are emotionally and psychologically invested in the team and its players.
Digital platforms then really become the core experience for all the fans and audiences and are then complemented by the live events!
What unique challenges were top of mind while developing this content series, and how did you overcome them?
As daily routines changed overnight, more of people's daily and work lives shifted to online, becoming more connected than ever. Consumption habits have also been altered.
Having no product (live sports) for an extended period of time meant that we had to work harder to keep the existing fans engaged, let alone attracting new ones.
Our biggest challenge was to continue to focus on quality content while delivering value to the fans. Sometimes, it can be tempting to fill up the queue with the same old "recycled" content, but creating tailored pieces that resonate with your audience will help cut through the noise and clutter.
Fans might like this specific format once or twice, but how long can we keep it going? The lack of knowledge on "what's next" led to us to be very cognizant and strategic in regard to the length of each campaign in order to maximize engagement.
We might spend numerous hours on a specific content format that receives average to low engagement, while another that takes a couple of minutes or spontaneous ends up being the most engaged piece of the week. It's a trial-and-error approach and will continue to be like that!
How will this content series change the way BVB thinks about and produces content after the sports hiatus?
Simply put, quality over quantity and relevance over prevalence. Creating highly relevant content reaches much further than constant forced content. When we focus our energy on a few great posts instead of many average ones, fans and followers will naturally engage more. This engagement increase entices the different social channels to re-serve our content to the fans, leading to potentially higher engagement.
The sports hiatus reaffirmed our "fan-first" mentality when it comes to how we create content. A team's social media platforms are only as successful as their fans and followers allow it to be, so fostering a connection and environment of positive communication and dialogue while also creating relevant and culturally unique content is important.
This pause is an opportunity for the entire industry to listen to fans wants and needs more than ever and connect on a deeper, humanized level. Teams that maximize this chance will definitely reap the long-term benefits.
In a time void of new content, how does this campaign leverage UGC?
A big focus was to create content formats that put fans in the front and center of the conversation. User-generated content brings audiences together and makes them feel part of a bigger, like-minded community.
Our UGC strategy mainly consisted of providing fans assets or elements that they can use to create their own unique content, and we highlighted or featured a couple of pieces for further amplification.
The "Sancho Social Distancing" initiative set the tone for the successful quarantine content plan, how were you able to turn this into a challenge that other clubs participated in?
Over the past couple of weeks, we've been constantly preached by family, friends, and public health officials to practice social distancing.
The thought process around this piece revolved around taking something that our audience is seeing every day and putting a positive spin on it. The goal was to still communicate and highlight the importance of social distancing but rather in a light, humorous, feel-good manner.
We integrated Jadon Sancho's skill reels and footage with a voice-over from different news outlets that stressed on social distancing guidelines. Sancho himself shared the initiative on his platforms, and then other teams such as Premier League side Norwich City FC continued that challenge with a player of their own.
In terms of the "You'll Never Walk Alone" 8D Audio, what specifically went into ideating this initiative and bringing it to life?
BVB is known for having one of the most passionate fan bases and atmospheres. One of our challenges is to make fans feel a part of it even if they aren't in Dortmund. Now imagine when the typical 80,000 fans can't even be there. This challenge becomes greater. We ideated around recreating that fan experience digitally.
The idea for this came while listening to an 8D playlist on Spotify. 8D audio utilizes the power of left and right speakers through your headphones to give you the feeling that you're at a live show/concert. A person can feel the music floating around them, as if they were in another place just by only using their headphones.
With that in mind, we thought of various ways of applying that technology through the lens of a soccer game. We recreated "You'll Never Walk Alone", the world famous stadium anthem for Borussia Dortmund as well as Liverpool FC and Celtic FC, utilizing 8D surround sound to create an immersive and integrated experience that literally brought the stadium to the fans' homes!
Learn more about how to effectively engage the modern fan & consumer at Hashtag Sports, an annual conference designed for media and marketing professionals.