How FIBA Delivers 3,000 Games Worth of Engaging Moments
How FIBA Delivers 3,000 Games Worth of Engaging Moments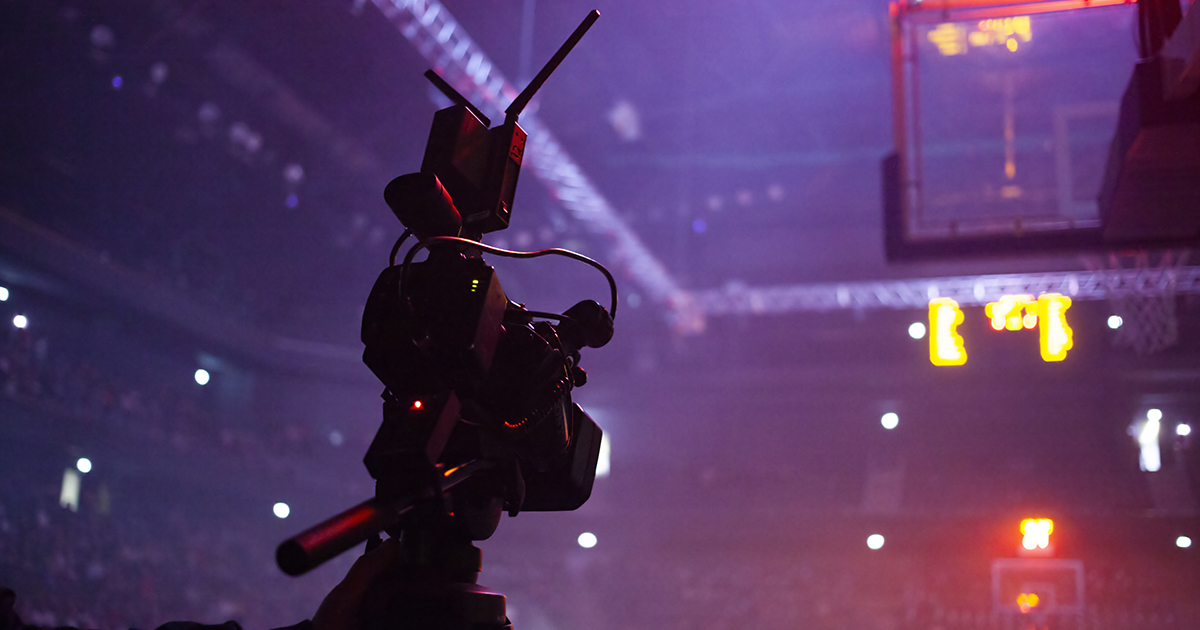 By

Team Hashtag • 9 min read
June 18, 2019
Nicolas Chapart sits down with Hashtag Sports in our latest question-and-answer series interview.
As Head of Digital for FIBA, Nicolas Chapart is charged with designing cross-platform strategies to reach fans where they are. He was also critical in the launching of the inaugural Basketball Champions League, an innovative joint effort between FIBA and the 10 top European leagues.
Chapart discusses the importance of fan-focused content, why engagement is now a currency and key KPI in sports media, and how technology helps FIBA produces content for over 3,000 games a year. For clarity, this interview has been condensed and edited.
Aside from international competitions, FIBA has also established leagues in Europe, including the Basketball Champions League which was launched in 2017 in partnership with the top ten European leagues. FIBA implemented an innovative content distribution strategy that generated 18 million video views in the first six months of the tournament's life. How do the habits of the modern or "connected" fan influence strategy for tournaments and live events like this?
These kinds of trends are definitely impacting our strategy, and this is why we're constantly adapting as new trends emerge. What we saw at the time we launched the Champions League was that we needed to be closer to the fans and their consumption habits. Fans had a desire for more customized content and wanted to get it where they are having their best social media experience. This invoked quite a challenge for us because that meant we had to somehow scale up our content and have some very specific video production.
The FIBA Basketball World Cup is coming up in September. A lot has changed in terms of content and social since the last World Cup in 2014. What adjustments have you made to your strategy ahead of the tournament to cater to today's fans and their preferences?
We have massively adapted our strategy. 2014 sounds like last century already. Again, the way fans are consuming now versus how they were consuming content in 2014 is very different. We've been looking to be a lot more fan-focused—first and foremost. Fan-focused meaning that we need to listen to the fans and try to provide them with the content they want to receive. So we've adjusted to that and tried to form a strategy that is very specific to every single digital channel that exists, meaning websites, a web app, social media platforms, and more.
We try to couple this with a very particular way of distributing and creating the content. Obviously, we need tools to help us talk differently on each of the channels. Having a very specific tone and having a very specific way of creating content so that we don't push people from one place to another is one of the biggest changes we've faced. We keep people where they are and [don't] try to bring them to a prefixed digital channel like it used to be back in 2014. That's key, or at least a major adjustment we've made, since 2014.
Walk us through your daily routine on a busy day during the season—how many games are on at once, how many content producers do you have working, how are the tasks split amongst them, etc.?
That's a bit complicated. We are not a league, but when you take the whole picture, we run 100 events a year, all concentrated in the summer. Those events are spread around the world on every continent. Our flagship event for example, the FIBA Basketball World Cup, will be played in China during the month of September.
We typically have 16 games per day, two games happening in eight different cities. We have a group of three or four content producers present in each of these eight cities focused primarily on producing content for digital websites, apps, or social media. This group is also assisted by our media team, which is producing games for broadcast. In each venue, we have a huge production team of maybe 20-25 people. Plus, there is a ten-person team based in London that receives the live feed from our partner, WSC Sports, to surface the best content and send it to us. Then we publish. It's quite a big undertaking for this type of event. But there's a massive gap between the types of events we are covering so it's quite hard to have a standard routine or workflow.
Between the different leagues and tournaments, FIBA produces a large volume of content. How has technology been integrated into your content and distribution strategy to more efficiently produce content throughout the year?
We measure success purely on quantity and how easy we can distribute the content. Our tools have helped us create tens of thousands of video clips without employing an army of people in the background. For me, this is a pretty significant metric.
Not only has this helped us to scale up our production, but it has also helped us to scale up our distribution. Creating those clips is important, but you have to get it out and get people using it. Technology has helped us to then share thousands of clips with players which is a massive asset for us—the goal is to amplify and get our content to reach an audience that we would not necessarily reach.
A couple of years ago, fans on Facebook would follow an average of about twelve sports pages or sports accounts. Out of those twelve, only one was an international federation, sports organization, or governing body. All of them were either athletes or teams. Now we have technology to distribute the content and help us [expand our reach]. There's no way we can go back because we have set our standard in terms of what we can produce and what we can distribute—and all of this is assisted by technology. Let's use WSC Sports as an example. Their tool takes a live feed of live data, does its magic in the background, and is able to rate every single action that you can find during a game. This rating then helps our content team find the most interesting and engaging content which we will then post. This is really how we adapt to this constantly evolving world and keep our fans entertained on the platform.
How does FIBA measure success on social and digital platforms?
We are at the period where the metrics that we use are shifting. Until very recently, we were primarily focused on reach and visibility, meaning how many people we reach with our social media activities or digital activities, how many impressions these activities will generate, or how many video views we will be able to generate.
This is still relevant, but there's a shift towards engagement which seems to be the currency that the professional sports industry is now using as a key KPI—whether it's a sponsor, a commercial partner, or player that we are trying to work with. Across the board for all these professionals, engagement is becoming the key metric, and this has definitely impacted the way we produce content. That means we have to be even more specific and more relevant to the fans that are following us and consuming our content. WSC Sports is giving us a lot of assistance. Having the help of artificial intelligence to understand our audience and create customized content is really allowing us to create this new type of experience.

You mention engagement being central. As the world of social is constantly evolving, what is the key to engaging the modern fan across social networks through content?
Our strategy for engaging fans is trying to showcase the best moments our events can offer, whether it is one moment happening around the sport or the game in particular. This is how we try to evolve. We cannot just push content that we want fans to be exposed to. It's not like we can write stories purely based on what we think should be communicated anymore. Now we really have to be able to deliver the sort of content that they want; otherwise, they will just skip through and move on to another sport or competitor of ours—or any other type of content that you can find on social media.
Social media has really helped us to understand the content that people want to consume thanks to the insights that we can get straight after we post content. Also, it's allowed us to reach a lot more people through boosting content. For instance—and this is helping us to reach new demographics—when we see that we have a gap in certain regions of the world where we believe we should be exposing our content more, we have the ability to do this through paid content. This is super efficient and a lot cheaper than any traditional media or traditional media bite that you can find on there.
Being able to know what our fans like is the way to stay afloat amongst the large amount of content that's out there. Platforms are putting a lot of focus on engagement in their algorithms. Just to give you an idea, we produce altogether, more than 3,000 games a year across all competitions—which is an enormous amount of content. Without technology, we could not keep pace with distributing it.
The consumption of sports highlights has shifted from TV to social media. What role do highlight clips play in a club or league's overall fan engagement funnel in 2019?

Live is still the best asset that we have. We use social media to complement the live and drive people there. If you take the live window, it's about two hours for a specific game. With social media, we are able to keep the discussion going for the other 22 hours and get people interested in the next game.
I don't necessarily see a huge shift. We know that people are still watching a lot of live, but maybe not a full game. They are still turning up in front of their TV or mobile devices to see the live game if they are in the right time zone. However, social media has enabled us to make the discussion even more interesting because we are able to create more stories to get people talking about so many other subjects that are related to a specific game, team, or matchup. This is complementary to live and something that builds a fully integrated ecosystem between the two elements: live and online.
Sports content is becoming more customized to individual fan preferences. Where do you see this trend going and what is the key to adapting to it?
I think this trend will continue to amplify and play a huge factor in how we continue to produce content. It's a matter of being visible. If you're not relevant straight away, your audience will skip through and move on to something else. It's a constant battle to remain visible in an ultra-competitive environment.
What trends are you seeing in the way media companies are leveraging real-time highlights to engage fans that sports organizations could learn from?
We are at the point where media companies have finally found a way to make the data that is being tracked during a live game interesting for fans. Take the latest example that you've seen in the NBA. The Clippers who have started to integrate data on the live feed with Second Spectrum. What they've managed to do is bring the thought of gamification or even all these features that the younger generation are using on their mobile phones or tablets and so on, and they've managed to bring this into the live experience.
I have a feeling that this could actually lead to having more young people watching live games and bring them back to the live experience rather than just consuming short-form content on social media. This is a trend that will continue, and definitely amplify big time. I think there's a lot to storytelling and being able to surface not just content about the game, but what's going on around the game, understanding the gossip or the things that are more mainstream. This resonates much more with the audience and is something that I believe sports organizations could learn from and apply more in their digital or content strategies.
I see progress with the data and the storytelling with edgier stuff as well. I don't see a lot of sports organizations playing around with this except for Formula E and Formula 1 for instance—not talking only about the NBA or the biggest American sports leagues. Outside of this, there's still a big margin for improvement that can be made.
How are you seeing leagues and clubs use social video as a vehicle to create new opportunities for sponsors who are eager to reach fans in the places they already consume content?
It's definitely happening more in the U.S. than outside of the U.S. Somehow, I believe that the U.S. market is a lot more mature with let's say, "branded content." But again, if I take the example of our flagship event, the FIBA Basketball World Cup, I believe that we have managed to actually get a lot of sponsors on board with the idea of specific pieces of content created for them and their business vertical that can still be interesting to fans.
We are going to produce five plays each gameday during the World Cup [for] Nike, which is an aggregation of the five best plays of each day. We have—like the NBA—the TISSOT Buzzer Beaters. There are more and more opportunities to work together with a partner or sponsor to create extremely relevant pieces of content that actually bring a unique experience to the audience. The time where sponsors were simply putting their brand on pieces of content that weren't relevant isn't working anymore because of this 'engagement battle.' It definitely has opened up other opportunities, which in the end are a win-win for the fans and the sponsors. Affinity matches are a better experience at the end of the day.

What trends or technologies do you believe will be most important to sports media and marketing professionals to help better engage fans in the next two to three years?
As I mentioned before [with the Clippers and Second Spectrum], this usage of game data to enhance a live production or even a non-live production—we are finally in this age where data is being transformed and turned into valuable pieces of content. With this data, we are now able to enrich whatever content we are producing. I see this as a big trend because I think it's easy [to] consume, it's easy to understand, and it's easy to distribute.
The second one I have in mind is automated production of games or a sporting event. This, together with the coming of the 5G network, is going to revolutionize the world of sports and live broadcasts. We are now able to produce games with a fixed camera and through artificial intelligence, we are able to fully produce a game with replays, TV graphics, etc. while having basically no people in the arena. I think these are two elements that will disrupt the media world in the coming years by exposing a lot more niche sports to a much bigger audience.

Learn more about how live data is capturing the attention of the modern fan at Hashtag Sports, an annual conference designed for media and marketing executives engaging the next generation of sports fans and consumers.