How James Madison University Drives Revenue and Engagement for Sports Outside of Football
Q&A: How JMU Drives Engagement for Sports Outside of Football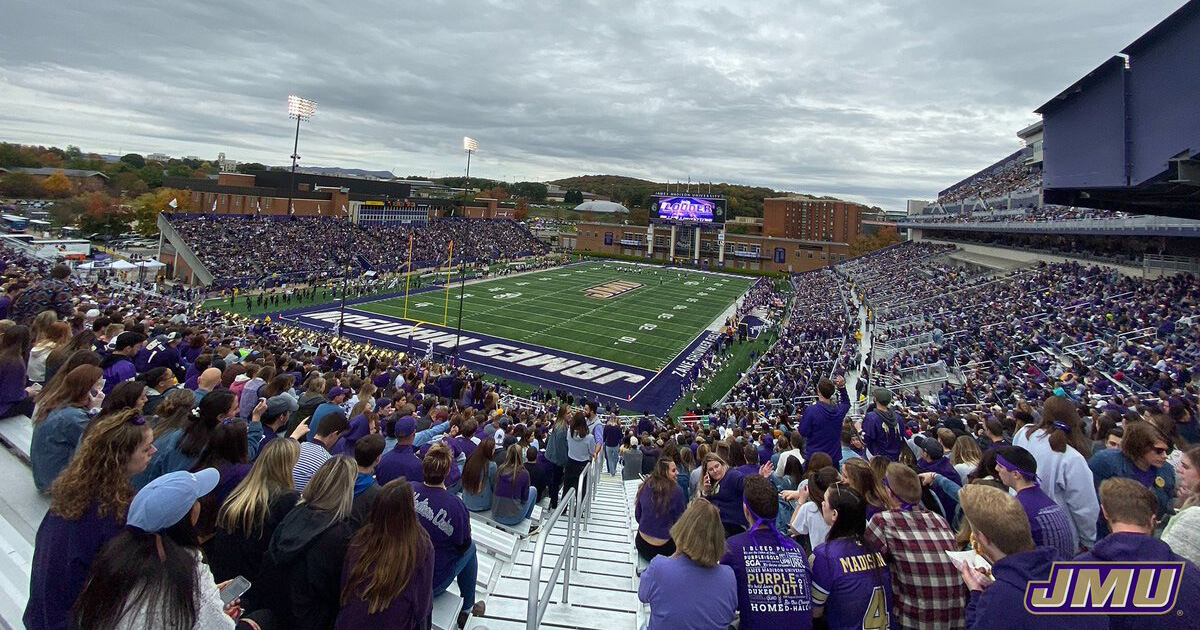 By

Team Hashtag • 9 min read
November 19, 2019
In his role as Assistant A.D. for Communications at James Madison University, Kevin Warner oversees a staff of nine communications professionals who are responsible for all external communication methods for JMU Athletics, including: JMUSports.com, MadiZONE HD SportsNet, the radio network, photography, graphic design, all @JMUSports and other team social media accounts, video services, statistics, record books and media relations.
Taking a moment to speak with Hashtag Sports, Warner gives us the details on how JMU empowers student-athletes to promote the Dukes' brand on social media, the importance of non-revenue sports to overall digital strategy, and the future of name, image, and likeness in college sports.

James Madison University is a rising brand in the massive landscape of college athletics. How has the "connected fan" changed the structure of your athletic department and the way the Dukes think about brand strategy?

We've made a concerted effort in the last five years—since I've moved into this role—to be digital-first in everything we do. That doesn't mean that some of the traditional ideas of sports information go away, like keeping stats and game notes and working with the media. But where in the past we worked [solely] with the media, now we have so many opportunities at our fingertips to be the media and to connect with our fans directly.
We try to think about that first in everything that we do—how can we reach people directly? How can we provide creative content, moving content, emotional content, and understand our fans and connect with them in the space where they already are? They're already on social media, they're already on the internet. Let's meet them directly in those spaces.
James Madison ranks in the top 10 for Twitter and Facebook follower counts among Division 1 programs outside the Power 5 conferences. To what do you credit this success?
It starts with our staff, with the buy-in they have for our approach—their commitment, their dedication, their creativity. This profession is a lot of work, a lot of hours, and not always great pay. So it starts with commitment, but then I think it builds off of the purposeful digital-first approach. When you're thinking about those platforms first in everything that you do on Twitter, Facebook, Instagram, and how you are telling the story of your brand on those platforms, that's going to translate to things like follower counts and engagement data.
But I think it also builds off of our school profile. JMU is a school that has very high student retention numbers, very high alumni affinity—people love this school. When you have a school that is friendly, and you have a school that has a great environment and culture, you can match that up with [the brand] on social media. Social media really is an emotional tool—you get sucked in because of how it affects you. When you have a place you love, and you have a tool that is showing you daily why you love that place, it's a natural combination for things like follower counts and engagement.
We've also had some really key opportunities. We've hosted ESPN's College Game Day twice. We won the football national championship two years ago, played in the championship game again the following year, and we won the women's lacrosse national championship. We have teams winning at a very high level so when you put all those things together, it has been a winning formula for us.
How has technology been integrated into your content strategy to more efficiently connect with fans? How can smaller athletic departments generate ROI on this type of technology?

We've tried to place an increasing emphasis on opportunities where technology can help us. At the end of the day, I tell people that communications can be boiled down to brand promotion and brand protection. There's always more that you can do to positively promote your brand, and so it's up to us to find the tools out there that can help us to do that. INFLCR has been a great example.
Before INFLCR, we talked to our student-athletes about how they could be brand ambassadors, how they could help us tell the story of JMU Athletics. But we weren't doing anything really to give them [content]. We were relying on them to take their own pictures, to have their own things to say. Credit to INFCLR for noticing that market opportunity and putting the tools in the hands of the student-athletes to be those brand ambassadors through access to photos and graphics and videos. We're also grateful to our administration that we could jump in to take advantage of a product like that.
We also use a product called Blinder which helps us to set up media interviews and do so in a way that protects the privacy and contact information of our student-athletes so a reporter never actually sees the phone number of a student-athlete, and that's critical in today's day and age. We've also just started a relationship with Data Skrive which does some automated recap writing through a relationship with the Associated Press and story delivery.
To your point about how smaller athletic departments get return on investment, I think it's just a matter of figuring out the resources those departments have. What are their priorities, and where did they get the biggest bang for their buck? We're fortunate that our administration has helped us to pursue some of these things, but not every school has those opportunities. I do think a lot of these technologies help schools with limited staff to get more out of those staff, but they do take manpower to work with. The reality is that previously we were capturing tons of images that were never being published anywhere, and I think there was probably some evaluation to be done there of the time that we were putting into capturing images versus the return on where we're actually getting when publishing them. But now it's a little bit of the reverse because we have a natural way to share more images and for them to be used and seen.
Football is the primary source of engagement and revenue for the vast majority of DI college athletic departments. How do non-revenue sports factor into JMU's digital strategy?
This is very important here at James Madison. We have a very clear departmental directive that we're going to treat all of our sports as equally as reasonably possible. Certainly, we recognize the revenue potential of football or basketball, but JMU has always been a school that's going to provide opportunity for all. We're going to recognize the value of every individual who's part of this department, and we're going to align our resources with that in mind.
Many schools look at it as if you put your resources into football and basketball and that's going to bring in the revenue necessary to support other sports. That may be true, but we're taking a little bit of the opposite approach where we're going to treat everybody the same from the beginning, and I think we're seeing the fruits of that, and we're having so much widespread success in all of our sports.
If you just look at the on-field success of our sports, we've been at the top or near the top for the state of Virginia within our conference among many mid-major level peers on our all-sport achievements. The overall win-loss record of all of our teams, conference championships, NCAA appearances, wins and NCAA postseason—all of those have been really successful which goes back to our departmental vision. Our vision for JMU athletics is to be the NCAA model for the student-athlete experience.
How does JMU Athletics measure success?

To be honest, we're not as analytics-based as maybe we could be. We're much more anecdotal. We have a pretty good pulse and feel for how well are we connecting with our fans: Is our content getting engagement? Is it being shared? Is it getting viewership? How are we comparing with our peers? Is our content drawing people in? Does it look like our peers in a good way? Is it missing opportunities that some other schools are using to be creative and connect?
In some ways, I like that anecdotal approach and just the overall feel of "Does the content we're pushing out feel like JMU, and is it achieving what we wanted to achieve?" Regardless of whether it's anecdotal and feel or whether it's analytics, the key is that we're not going to rest on our laurels. We're gonna keep investing and keep improving. We try our best not to be a place that's just like "Hey, we did this last year, let's do this again next year." We want to be purposeful about the content we're pushing out and what we're trying to achieve.
We keep a pulse on what are some of the [interaction] that we're getting. We have a very active Facebook group—a private group—and it has over 19K fans in it. We don't post in there, but we all read it, and we see what kind of things they're sharing and they're talking about. I think that helps us to know like, 'Hey, they're talking about how light's out our defensive line for football has been these last couple of weeks.' Well, okay then let's do some stuff to highlight our defensive line. Or If they're noticing this community initiative with the softball program it becomes 'Hey, people are talking about this. How do we take advantage of it?'
Getting buy-in from busy 18-21 year-olds isn't necessarily the easiest thing in the world to do. What types of content do you find student-athletes are most often seeking, downloading, and posting?
Right now, we're really just concentrating on photography. We haven't had a chance to dig into graphics or video or any other content opportunities, but honestly, that's okay. I think when you look at 18- to 21-year olds, they're spending a lot of time on Instagram, and that's a platform that is tailor-made for high-quality photography. We're fortunate to have a good photography staff so there's a natural fit there in terms of getting them those images and athletes being able to post it in the space they're already in.
We saw it a little bit earlier with athletes or even their parents asking for photos, but we weren't equipped in a way that we could provide it on a regular basis, and now we are with INFLCR. So we're able to meet that need and hopefully give added value to their experience.
This season, the JMU football team did a student-athlete takeover on Instagram during media day. Outside of their own social channels, in what ways will student-athletes' voices and stories factor into the athletics program's digital strategies going forward?
I think INFLCR really opened the door for us to be able to do that. To be able to use the student-athletes, the voices, and their stories to factor into our strategies. Takeovers are one thing, but I think we're seeing on digital media that there's a shift happening where a brand presence on social media is still vital, and it's important as a brand with content ambassadors whose content we are curators of, that we're creative in the right way so that our brand still has a presence on social media.
We're seeing some gravitation on behalf of fans to connect more with individuals. So that's where INLCR comes in, where it's one thing for us to push out a message from JMU football and hope fans read or engage with that message, but we're seeing just as many, if not more, people now who want to hear directly from the coach or want to hear directly from the starting quarterback or the defensive star. So yes, we're still going to prioritize the brand, but how can we help those individuals put out quality content that also promotes our brand? That's going to help us at the end of the day for our key communications initiatives.
You talked recently about getting INFLCR into the hands of more people than just current student-athletes, including alumni. Three former Dukes were just selected in the XFL draft. Any plans for capitalizing on that?

It's certainly on our radar. It's something we've talked about, but we're not there yet. I'm not sure exactly what that looks like. Who is it? How far do you extend yourself to put time and resources into content for them? I think it's important. There's opportunity, but we're working through the other priorities of our current student-athletes first, and then that'll be a step to come at some point.
What emerging trend or technology do you believe will revolutionize college athletics in the next three to five years?
I think it starts with name, image and likeness changes that are coming to college athletics. We don't know exactly what that looks like yet, but I think it's certainly going to change the ground rules. There's going to be an impact there; we just don't know what it is.
A lot certainly hinges on budgeting. You look at a place like JMU with people resources, equipment resources, digital and technology resources, and figuring out priorities as to how a mid-major level school like JMU can best strategize. But what does that "Power Five versus everyone else gap" look like? In this age of autonomy that we live in, we're seeing that gap widen. I think it is reasonable to think that name, image, and likeness could widen that gap even further based upon the opportunities for a student-athlete at a Power Five school versus another level school. We have to compete with that gap so that's a big deal for schools like us.
But the key really to me is just how do we maintain great creative people who want to work here, who love what they're doing, who love why we do what we do and are committed to helping us maximize our opportunities within the limitations of our resources.

Learn more about how to effectively engage the modern fan & consumer at Hashtag Sports, an annual conference designed for media and marketing professionals.