How the Rockies Use Visual Storytelling to Produce a 160-Page Magazine
How the Rockies Use Visual Storytelling to Produce a 160-Page Magazine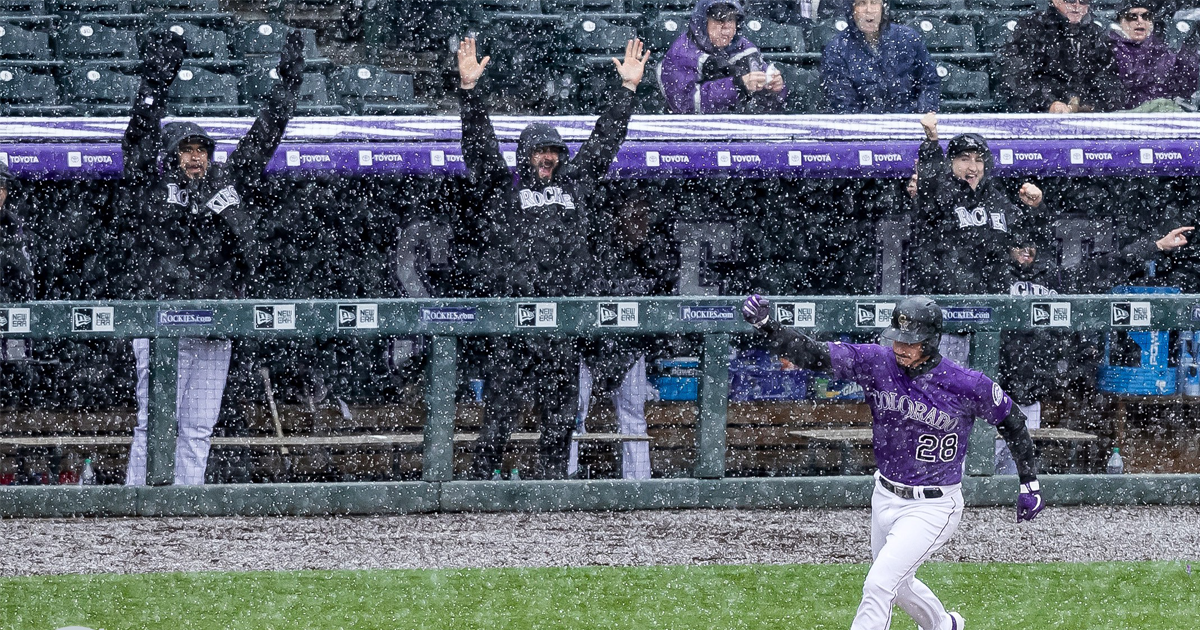 By

Team Hashtag • 12 min read
May 28, 2019
Julian Valentin sits down with Hashtag Sports in our latest Q+A series interview.
As Director of Brand Management & Social Media for the Colorado Rockies, he is a seasoned social veteran always looking for new and innovative ways to strengthen the direct-to-fan relationship.
Julian discusses the importance of visual storytelling to a club's digital brand identity, why he believes still images are equally (or more) important than video in 2019, and how the club incorporates a print magazine into its overall engagement strategy.
For clarity, this interview has been condensed and edited.
What does a day in the life look like for you?
There's no standard day in my line of work. One of the things I love so much is you just never know what's going to happen. You could have all these ideas in mind, you can prepare all you want, and they never happen because the game changes or the situation doesn't present itself. For game days, we usually show up closer to noon and dive right into our routine: read game notes, prepare coverage concepts, go to BP and talk to a bunch of people about what we have going on that day. The other thing I would say is that we really rely so much on our team photographers—they just do a fantastic job. Whether it's batting practice, an in-stadium event, an off-site clinic or whatever, they're using the Libris platform to deliver content in real-time which is such an important part of what we do. They make us all look good. The others on our social team—Nicole Morris and Tony Nittoli—usually run the show during games. We divide up and rotate the various social platforms to keep everyone fresh and interested. They are the real MVPs of the operation and make it all happen.
But, yeah, we do all that prep work, then dive into the game coverage, adjusting to what happens on the field. We're usually on our way home between 10 and 11 p.m. after most home games, ready to do it again the next day.
On a non-game day, it's a lot of office time, lots of meetings, and a lot of catching up. We also produce a magazine where the PhotoShelter platform has been really helpful, and in terms of efficiency, we're able to search for what we need. We're able to quickly pull the photos we need for the magazine in high-res and put those in the InDesign document. We're one of the few clubs that still produces a full 160-page magazine-style game day program. We do seven issues. We have a March preview issue—which is a little bit shorter—and then we have six full issues from April through September. A lot of clubs now are moving to more of a playbill pamphlet, scaled-down version that they do every homestand, but we still produce a monthly magazine every month of the season. It's a really good product that we're proud of. It's nice to have a physical, tangible thing in your hands, and it's sort of a throwback in a lot of ways. In terms of content, there's an overlap there which is nice, and it's another storytelling tool for us. We're able to expand on some things with the magazine in more longform that wouldn't be effective on social. We're able to repurpose magazine content from the longer form things that we've produced and tighten it up a little bit and use it on social or online.
The speed and the efficiency at which we've been able to produce the magazine in the last few years since we've been a PhotoShelter client—it's night and day. Like I said, we're the ones who come up with the content concepts. We write and freelance a lot of the work with some of our partners, and we produce the magazine in-house. That wouldn't be able to happen nearly as efficiently without the platform. It's a big job with a lot of moving parts, but I love it.
Modern fans' attention spans are shortening and their expectations for immediacy are heightening as a result. What efforts in real-time fan engagement are the Rockies pursuing to combat these challenging consumption habits?
The world is so fast-moving these days with social media. Everyone wants to consume information and content as quickly as possible and move on to the next thing. It's always a balancing act because you want to deliver content quickly, but you also want to do it right and in a way that's most effective. That does create some challenges from a content and social media perspective, but luckily we're able to utilize Libris by Photoshelter.
Typically, what we do for games is we have our photographers—Matt Dirksen and Kyle Cooper—sending photos in real time and we're able to pick through our uploader folder and have access to the photos, and those actual moments right away. This is really powerful and important to us as we're delivering information to our fans. As it relates to fan engagement, I do think there's a lot of value in doing something right away in the moment, but we're always trying to balance that with waiting for the right piece of multimedia content to do it in a strong and effective way at the same time.
How has technology been integrated into your social media strategy to more efficiently produce content in real-time?
I remember back in the day there weren't images on Twitter; they just had text and there was no multimedia attached to it. Over the years, it's been easy to see how things have changed and the visual approach for all clubs has really improved. For the Rockies, we not only have our two team photographers, but we also have support from Major League Baseball through the Live Content Coordinator program.
They also send photos and video content so we have many people uploading content in real-time, and we, as the social team, are making decisions all the time about what we're going to use, how we're gonna use it, and the best way to connect with our fans. Back in New York, Major League Baseball supports clubs with video, live highlights, and GIFs in real-time so we have essentially whatever content we want within a few minutes.
Even this year—we're always trying to experiment with new things—we purchased a Rylo camera. It's attached to an iPhone app so basically you can film stuff and in real-time [the content] goes right to the app and you're able to deliver that quickly. That's something we utilized on Instagram Stories quite a bit and toyed around with for Twitter. We're always trying to find a unique way to tell the same story, and ultimately these are all just storytelling tools. It's coming back to the same thing: we're telling the story of a baseball game, we're telling the story of a baseball player, and we're telling the story of our baseball club, doing all that through these different technological tools.
Some reports suggest that over 80% of Internet traffic will come from video in 2019. How do the Rockies continue to utilize still images to differentiate your content in fans' feeds?
Everybody sees these amazing viral videos that get millions and millions of views. You have the outliers we often times try to chase, and the reality of what the day-to-day looks like. I think the thing on the delivery side, and on the strategy side, that we have to keep in mind is recognizing that not everything we put out there is going to be the next viral sensation.
Everybody's raving about video, and obviously video is a big part of ours and everyone's digital strategy, but I still think that still photography is so critical. For us, it's still the foundation of everything we do. I remember years ago—before we were a PhotoShelter client and we were able to have all of these photos at our fingertips—I remember having to save things on the network drive and email them to myself, and all these different things to try to get content on my phone. Because our job is mobile, it's always moving and always changing. In the last few years since we've had this platform, it's absolutely revolutionized the way we've been able to do our job effectively and quickly.
I think the biggest thing is that everybody's trying to get the best video as quickly as possible, but a lot of people don't quite know what that looks like or how to do it right. We're always looking at new ways to maximize the resources that we have and how we can utilize video in a way that we think fans will really engage with. That's always a part of our strategy but like I said, photography is still so important and I think a clean, powerful, carefully picked image is more powerful than anything that video can do. It's all about connecting with people in the most efficient and effective way.
How are you building a visual brand identity and leveraging social storytelling in order to reach the modern baseball fan?
I think baseball is different than other sports. Obviously, there are other leagues that have been more aggressive in terms of how they're delivering content to fans, but baseball just has a different model. In general, as it relates to building a brand identity, we want to be able to create good stuff that people like and appreciate. One of the biggest things that's different about baseball is the sheer number of games and the sheer number of time spent with your fans compared to other sports.
With the NFL, there are sixteen games or eighteen games, depending on if you make the playoffs or not. We have 162 games so that is a built-in, strategic challenge—how do we keep these people's attention? How do we keep them engaged in what we're doing? A big part of that is keeping their attention span from a visual standpoint.
One of the things that we do strategically is that we create various graphics packages so for every day of the week that we're covering a game, we have a different look and a different feel. I know this infuriates creative directors who think everything has to be consistent, but for me, I think that being consistently inconsistent is one of the best strategies that you can have in baseball because the sameness is there. It's the same thing every day, over and over and over. As I like to say, using a baseball term, you have to "change the eye-level" for fans because if you're using the exact same template every single day, it just gets boring by the time it's the middle of April and you've played twenty games. That's one of the big things that we do to try to set ourselves apart.
From a professional standpoint these days, we're vying for people's time, we're vying for their attention, and we're trying to make sure that the interactions we have are valuable in how they want to live their lives. If they want to come to a Rockies game, we want to make sure it's worth their time. If they're going to engage with us on social media or on the web, we want to make sure it's worth their time. I'm always thinking of the importance of time in everything that I do these days.
Where does social media fit into the Rockies' broader marketing or fan engagement funnel?
Fan engagement existed long before social media. Marketing existed long before social media. It's definitely a very important part of our overall strategy, but definitely not all. I think nowadays, people seem to think social first, which is awesome, and I think is the right way to do it. Our department here at the Rockies is Communications & Marketing, and ultimately we look at ourselves as one in the same group who use different tools and different channels to do the same job: tell the story of our club, our players, and our brand through different tools. Social, and our own web—our own internal platform provide us with the tools to do that ourselves. We look at it from a PR and communications standpoint in choosing other people to do that. Fan engagement will be here forever, and for me, social is just another important tool in doing that overall mission.
How do you measure success on social media?
That's always been an evolution. When I started this job back almost ten years ago, the first thing I was always asked from our organizational leadership was "What are our numbers? How many followers do we have?" Over the years, we've been able to turn that internal conversation into something a little bit more substantial. Our organizational leadership understands what our goals are and what we're all about so now the questions are, "Did people like it? What was the engagement? Did it lead to any other interactions?"
The words that we want to be hearing are the words we're using internally so that's been a really positive change, and [credit] goes back to our leadership for understanding what our goals are. We're never going to be a team that gets billions and billions of impressions, and that's just the reality of our market size. It's the reality of our fanbase and the age of our club. We're not the Dodgers, we're not the New York Yankees, we're not the LA Lakers—we're not a big market team. But what that means for us is we're looking for the quality of our interaction in engagement with fans. "How are we connecting with them? Are they engaging with our sales content? Are they coming to games? Are they thinking about Rockies social media all of the time?"
How do we look at that? There are a lot of different ways—some are public, some are private—but we're always looking at numbers. We're always looking at people who reply and have those one-on-one conversations. I think that's another thing that sets us apart. We really do take pride in the relationships that we have—engaging and going a little bit further than maybe some other teams that have a bigger following or have other things going on. We try to have those conversations at all times so that they have a strong connection to the club and are more likely to come and spend their time and money with us.
Increasingly over the years, sales goals have been a part of it too. We have internal ticket sales goals that we look for. From a sponsorship perspective, we're trying to continue to raise the bar in that regard, both in terms of quality of sponsor content but also the volume of the revenue we're generating from that. We're definitely trying to make money off of these tools for sure. It's a goal of ours, but it's something that needs evolution as the industry continues to evolve.
How has the connected fan influenced the way the Rockies think and operate?
Social gives us a way to get information from people. There are a lot of times where something's going on internally, and I'm asked "What's the mood on social?" or "What are people saying?" It's more touchpoints, it's more daily connections with people and it's a greater understanding of our fanbase and more opportunity for them to get to know us as a club. The fans who interact and connect with us on a daily basis are vitally important, and we're relaying information and relaying conversations in good times and bad times, and trying to use what we've learned on social to make a difference for our larger business goals.
What emerging trend or technology do you believe will revolutionize the way marketers connect with fans on social platforms in the next three to five years?
I get asked this all the time and it stresses me out, honestly. You have AR, VR, and there's another kind of R that they're coming out with. You've got all these social platforms that come and go—it seems that everyone wants to be on TikTok now. Maybe it's because I'm a little older and I've been around awhile, but I've seen so many platforms come and go. Ultimately, the way I see it, it's all about storytelling regardless of the tools, it's always going to be the same core function of trying to tell a story. I don't care so much anymore about what the next emerging, revolutionary thing is. If it comes and it's something that we deem valuable, then we'll dive in there and we'll use it. If we're connecting with people and we're telling our story in an interesting and effective way, then I think that the tools don't really matter. It's all going to be what we want in the end.
Marketers face an increasingly difficult challenge of standing out from the competition with young, fragmented audiences. What are some of the most creative ways you've seen media companies or brands utilize real-time content to build relationships and engage with fans that sports organizations could learn from?
Every industry is different and has their unique challenges and unique features. Good content comes from everywhere. There are so many different spaces doing great work, it's really hard to call out one in particular. In the past few years, you've seen production value increase. The college space is just incredible right now with some of the talent and resources they have. The first person/hosted feature approach is going to be really important and valuable—you're seeing some teams in the digital space utilizing vlogs really well. It's something that's been on the radar for us. To shout out a couple of specific teams in baseball, the Royals have done an amazing job in the last year moving the needle forward and the Mariners do a nice job—a couple of my favorite teams as it relates to the video content. Ultimately, when it relates to young fans, I still believe that authenticity and a relatable voice is more important than visual video content. I think that people want to be entertained and they want to have all of the information right there in front of them. @Phillies have a great voice to this point—one of my favorite teams right now.
One of my favorite projects that we ever did was from a travel site. It essentially was a select-your-own-adventure so you start and do polls to let fans decide what they want to see. We went to San Diego after seeing this travel blog, and we let fans say "Now you go to the aircraft carrier, now you are gonna eat this food, now you're gonna show us this at batting practice…"—and that came from a travel site. I'm a big believer that this space is too big for any one person or any small group of people to have a true handle on it. We're always looking and always listening for people who can give us ideas. In general, we tend to get locked into our specific industry. I'm a sports guy so I'm always locked into sports, but I think as you see the industry continue to evolve, you're going to see more overlap, more creative ideas, and more brand/sport interactions as well. That's the long way of saying I can't think of a specific one, but we're always open to many different ways of getting ideas and information. I just think it's so important to not be so locked into your space and always keep a broad view.

Learn more about how visual storytelling can help you win social media feeds at Hashtag Sports, an annual conference designed for media and marketing executives engaging the next generation of sports fans and consumers.