How Kenyatta Bynoe Is Shaping Spalding's Engagement Strategy
How Kenyatta Bynoe Is Shaping Spalding's Engagement Strategy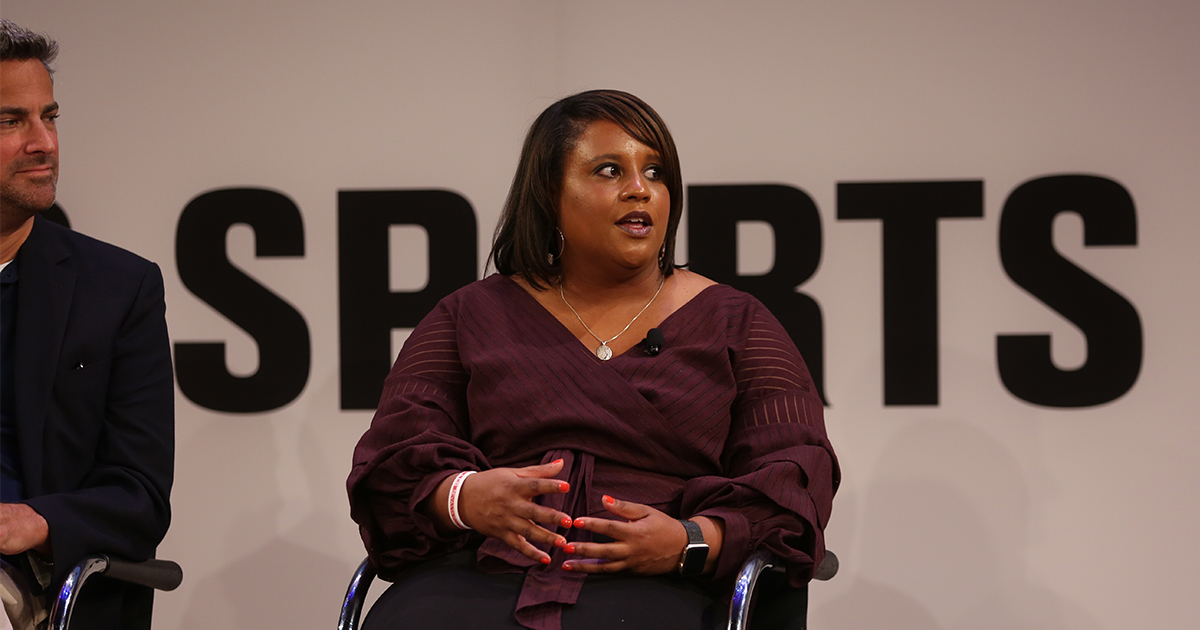 By

Team Hashtag • 6 min read
January 8, 2019
In the digital economy, attention is everything for everyone—brands, publishers, teams and the like. Spalding is no exception.
Speaking at Hashtag Sports 2018, Kenyatta Bynoe, VP of Global Brand Marketing and Partnerships at Spalding, discusses the ways athletes can help generate higher engagement rates, how the brand implemented an influencer marketing program, and which platforms and programs are best suited for storytelling. This interview, originally conducted at HS18 by Nina Mandell, has been condensed and edited.
NBA players are great storytellers, what's your experience working with them (and other athletes), and how do you harness their ability to tell stories in such a powerful way?
Authenticity is really key. At Spalding, we're fortunate to have Chris Paul as one of our endorsers who is also the President of the Players Association. When we build content around him, we always build it around his competitive spirit, his work ethic, and his love of family because those are really core to who he is as an athlete and also as an individual. I think that that helps to drive a higher degree of engagement with the content because it's true to his passion points and who he is as a person.
Is it hard to convince NBA players to take this time to tell their story for marketing purposes?
I think one thing that is important with that is the concept that you bring to the player and how you engage them in that process. For example, DeMar DeRozan of the Toronto Raptors is another one of our endorsers and we presented him with the concept to tell the behind the scenes story of his off-season workout. It is really incredible, everything that he puts into the summer to get ready for the next season. The story behind that has a lot of surprising things that people wouldn't think about and he was excited for the opportunity to showcase that to the world. So that really got him engaged and more willing to participate in the content.
And when we're talking about telling these stories, what platforms do you use and how have those platforms evolved over the past few years?
At Spalding we use Facebook, Twitter, Instagram, and YouTube primarily and as a strategy we try to create content specific to the channel. So for Facebook, it's more built around long-form or episodic content, whereas Twitter is more real-time content and that sort of thing. We've found that our KPIs are a lot stronger when we are really specific to where we're publishing.
So what platforms do you use to target different groups? Does Facebook go to one group and Snapchat to another? How do you use those?
For us, one thing we found this year actually, we implemented a social CRM through our partnership with Salesforce, and I think by being able to more closely monitor our social conversations, we're able to identify brand advocates. We're able to better segment our audience and reward different advocates with different offers, different behind-the-scenes content that's specific to those audiences. That really helps us break up our social conversations to target different audiences in different ways.
How do you guys choose advocates? How do you choose the people who represent your brand organically, whether it's players or superfans or musicians?
At Spalding, it's really about who's the best match to who we are as a brand. Spalding is really about the work that goes into the game of basketball as opposed to the hype that surrounds it. Our tagline is "True Believers" because we really talk about that inner drive that helps to motivate you, to take your game to the next level. We identify more closely with athletes who embody that. That's kind of where it starts and as you go down to social influencers, we're just really looking for the true love of the game, the true passion for the game, and people who just want to do things for the love of the game. That's where we start that process.
What's an example of a social influencer who has caught your eye? Like if someone out here wanted to be a social influencer, is it what they say, is it photos or videos? How do you become that person that should be part of [the Spalding] brand?
It could really be a combination of anything. We've started to more closely monitor where Spalding shows up in social conversations and what things are trending and who's talking about the brand organically. We've started some seeding programs where we're sending out some of our new products to different consumers and athletes just to gauge how people are responding to it. So that has really helped us to identify some of our more passionate fans.
Speaking of things that are just starting, I feel like one of the things that is getting more popular now is digital video storytelling and series. How do you use that in your everyday marketing?
One of the things we're doing at Spalding is trying to tap into the insight of Gen Z being more about self-education. They want to discover, and they want to figure it out on their own. So we're launching an app that's going to be called Spalding Basketball IQ that will provide tips and tricks and tools that athletes need to take their game to the next level. It's going to be formatted in steps where you continually log back in, engage, go to the next level and the next level and the next level. We're leveraging our YouTube platform to push that out. That's one of the things we're going to be hopefully launching by the start of the upcoming NBA season as we figure out ways to keep our consumer consistently engaged with the brand through episodic content.
Going back to what you said about the app targeting Gen Z. We hear so much about millennials. Why is it so important to target Gen Z?
Well, I really think they're the influencers. They're influencing parents, they're influencing their social circle, and they are so in-tune with what's happening. They are also very high consumers of mobile content so if you can put together a suite of content that really connects with them, you're going to do a good job of moving your brand forward. I think when you're talking about mobile-first, it's important to create content that gets to the point because the attention span is short. But if you can capture the audience, engage them, and provide something of value, that's usually the best approach when talking about trying to reach a mobile-first audience.
How do you balance all of this? It seems like a lot of audiences that you're trying to reach and a lot of platforms you're trying to reach them on. You can't do everything so how do you choose? How do you balance all the relevance?
One thing that is great about the digital world is that you can always test and learn. Things happen so fast and sometimes it's okay to abandon what your original plan was to try something different.
A great example was [over the summer], Chris Paul called us and said, "Hey, I'm going to do a national holiday. It's going to be called Go Hoop Day and we're going to celebrate the game of basketball all across the world." I was like, "What?" But we embraced it. We ended up donating over 5,000 basketballs to different leagues and rec centers across the country. The social coverage was great, and it got some strong PR coverage. None of this was planned.
Sometimes when you think about the game of basketball—something that fans are so passionate about—sometimes you just have be in the moment. That's what I love about the digital and social space. It gives you a platform to do that. You don't always have the longest runway to build out your strategy, but often times you can do something really amazing in a short period of time.
So what did you guys do to get that rolled out so quickly, I mean was there a giant meeting and some sort of a fire drill. How did you do that?
A fire drill is a good word to call it. A lot of people were not on board so to speak, but we sold it internally because we really believed the passion behind it—how there are all these people across the world who are united by the love of the game and that's really something that should be celebrated. If we can have a National Donut Day, then we should be able to have a national day to celebrate the game of basketball.
That was the foundation for the idea, and I think people who understand the game and love the game were happy to be a part of that. We were able to do some amazing things and get a lot of people playing basketball on that day. There was a video on Instagram of a woman who had come from a funeral and she still wanted to celebrate 'Go Hoop Day' so she's in her suit and four-inch stilettos and she's doing a step-back jump shot in her driveway. I think the video is up to two million views right now. It's really exciting just to see that passion come to life at all levels.
Do you just keep saying in meetings "Well Chris Paul said…" over and over again?
No, it was really about the impact that we thought that we could have joining forces with different associations. The players association was involved, different NBA teams were involved, rec leagues were involved, YMCA's were involved—all of these different entities that have basketball programs or love for the game. When you think about everybody coming together and trying to do something amazing, trying to launch something that will be the third Saturday of every June for years to come, being a part of the first year of it was something that we're really excited about—especially as the company who made the first basketball.
I think that's really what the selling point was because that's so authentic to who we are as a brand. It's in our DNA. If anybody is going to celebrate the game it should be Spalding and so that was the storyline internally.
Last thing. What is your favorite thing in digital marketing, whether it's a win you've had or a trend?
I would say user-generated content. Here we are with platforms where consumers can broadcast themselves and share their perspective on different things through photos and videos. You can see their organic engagement with your brand, and I think that's always awesome. When you see consumers talking about your brand and sharing about your brand when they haven't been prompted to do so, that definitely gets me excited as a marketer.

Kenyatta Bynoe spoke at Hashtag Sports 2018, an annual conference designed for digital decision-makers in sports. Learn more here.