How Denny Hamlin Increased Social Engagements by 300%
How NASCAR Increased Engagements on Drivers' Social Media Accounts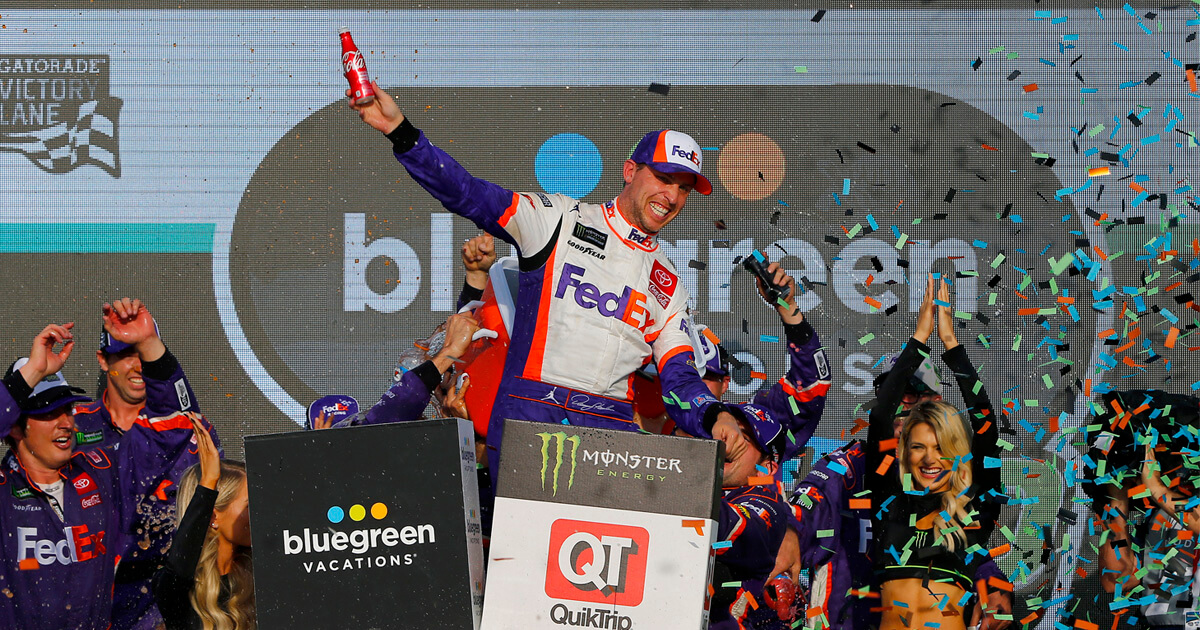 By

Team Hashtag • 6 min read
November 13, 2019
Patrick Rogers sits down with Hashtag Sports in our latest question-and-answer series interview.
In his role as Managing Director, Driver and Team Marketing at NASCAR, Patrick Rogers manages the overall Driver Marketing Services function, including but not limited to developing and executing the strategic elements of NASCAR's Driver Star Power initiatives.
Rogers talks about Denny Hamlin's newfound embrace of NASCAR's social-first approach, the importance of creating unique driver content, and how the league keeps fans engaged throughout a 10-month season.


So far this season, NASCAR has created more than 500 unique pieces of content for drivers which collectively generated nearly eight million video views. What contributed to delivering these results? How does technology play a role in your driver marketing strategy?
It's important that we have strong buy-in from the race teams and drivers in terms of our driver-focused marketing initiatives and that begins with educating the drivers around what we're looking to accomplish and where they fit into the plan. We made a significant investment this year in terms of creating content specifically for our drivers and we started the process by talking to them, understanding what types of content they were looking for and the platforms we needed to deliver against. We focused on developing content that was unique to each driver and fit their personality, and that we knew would resonate with NASCAR fans.
We also leaned on our agency partners to help us develop the right strategies and tactics and leverage certain technologies. VaynerMedia continues to be instrumental to this effort and earlier this year we began working with INFLCR on a seamless process for delivering content directly to the drivers. So far drivers are using 95% of the content that NASCAR has produced and loaded into the INFLCR app which speaks to both the effectiveness of the app as well as the drivers' interest in our content resources.
How is the distribution of driver content helping NASCAR to set a new benchmark for fan engagement?
For driver handles it's creating a better mixture of racing-focused content and lifestyle content. We have an Analytics & Insights group that talks to our fans every day and fans are telling us they want more content that focuses on our stars away from the racetrack – living their daily lives and pursuing and enjoying their unique interests. We're also now much more in tune with monitoring driver content, being adaptive and delivering more of what's performing well on social. This has always been a focus for NASCAR's own channels, of course, but certainly important moving forward as we grow and develop this working partnership with the teams and their drivers.
Where does driver content fit into NASCAR's broader marketing and fan engagement funnel?
It all starts with the drivers. They're the faces of our sport, our number-one asset and what our fans show the most affinity for – whether it's longtime, avid fans or new fans just coming into the sport. Our research tells us that fans are far more likely to engage with social content coming from an athlete versus the league or a team, which has pretty much informed our driver content strategy. It's also why we're leveraging their channels and not just our own for paid campaigns, whether it's to promote their brands, our race events or some other initiative.
NASCAR has leaned heavily into a social-first approach in recent years. How has the "connected fan" changed the way NASCAR thinks and operates?
It's been a seismic shift, no question. In the past, we may have been focused on a more traditional advertising approach, but today it's very much about reaching and engaging fans with NASCAR content wherever they are and whenever they want it. There are so many more avenues and touchpoints nowadays and the beauty of NASCAR is that we have an endless supply of content and experiences that we can deliver across a variety of channels – seven days a week. We've really become a content-producing machine, when you think about it, and again, most of our content features the drivers front and center.
Which combination of driver and platform have made for the most impressive audience growth and engagement?
We've seen a guy like Denny Hamlin make a 180-degree turn from last season to this season. Denny's social posts overall have increased by more than 150% and the number of engagements with those posts has increased by around 300%. His follower growth has been substantial, too. He is racing Sunday at Homestead-Miami Speedway for his first Monster Energy NASCAR Cup Series championship and was in New York earlier this week to promote the race. He was stuck in Manhattan traffic along with the other Championship 4 drivers and dared Kyle Busch to try and beat them on foot to their next media interview. Denny captured the whole episode on Instagram and the fans soaked it up. Probably not something he'd even think to do in 2018 and that's part of it – helping to change the mindset.
How do you measure success of driver marketing efforts?
A critical measurement of success at least early on is the drivers and their receptiveness to our approach. There needs to be a commitment on both sides and fortunately the drivers have been eager to be involved and take advantage of the resources. For each driver it's about meshing our goals with their own goals and vision and creating a plan that's an extension of those objectives. If we've done our jobs well, the drivers can engage in a meaningful way that doesn't feel like a significant lift and provides value to them, their race team and sponsors, and of course, NASCAR.
In terms of metrics, year one has been about benchmarking and setting the bar for next season. That said, we're really pleased with the effort thus far. If you look across the drivers we're working with, we've seen more than 30 million accumulated engagements this year. Social engagements across driver social handles have increased by 25% and video views are up 52% year-over-year. So already we're seeing that return on investment after we added both personnel and content production capabilities to NASCAR's Driver Marketing team under Rob McKinney, who runs point on this project.
What types of content do you find drivers most often seeking and posting?

We've talked about off-the-track content but race highlights and other at-track content have also been received well by drivers. This type of content has historically been tough for drivers to secure so we've taken steps to provide drivers with individual highlight packages individual highlight packages that help show their craft and how amazingly talented they are behind the wheel. Still photography has been a popular request, as well. Drivers like it when we can provide a unique angle or an iconic shot that will appear exclusively on their social handles.
The magic moments are when we create something that connects with a driver's passion or interests. Chase Elliott is a big Eric Church fan, so we cut a piece of content featuring Chase and using the rights to the song "Talladega." It was a great fit and the video was well done and had 1.5 million views. And the week after the Talladega race – which Chase won, by the way – Church displayed a Chase Elliott flag at one of his shows while performing the song.
The NASCAR season is long—38 races over 10 months. How do you keep fans continuously engaged over such a long period?
I think in part it's about creating content that is compelling and delivering it from the driver's point of view. Yes, it's a long season but we have a passionate fan base that craves this type of content. And when you think about the massive scale of our sport and our events, and all the activities that our drivers are involved in, content is a well that will never run dry. As we work with the drivers, we try to give fans that first-hand perspective of what it's like to go through the season – the ups and downs, the thrill of victory and agony of defeat. The lifestyle content does well, but as we get close to the weekend fans want to know how drivers are preparing for the race itself and we try our best to help them deliver that.
How does NASCAR work to attract a younger audience? What types of content and campaigns are you seeing best resonate with young fans?
We always want to serve our core fans but everything we do to grow the fan base and cultivate new fans is done through the lens of getting younger and more diverse. Social media is a huge part of that effort when you consider the audiences of the different platforms. When you look at TikTok, for example – and our social team just launched NASCAR's TikTok account – I think we're all intrigued by the potential considering just how many young people are using the platform. For drivers to connect with younger audiences, it's important that we remove the helmets and showcase their personalities, styles, and interests. Those touchpoints and connections to drivers are critical in terms of converting non-fans to casual fans and casuals to avids.
What trends or technologies do you believe will revolutionize the industry for sports marketers and media professionals in 3-5 years?
It's a popular response, I'm sure, but we view esports as major growth initiative for NASCAR. It's interesting – we look at esports and simulated racing from both a fan engagement and competitor development perspective. Drivers racing in our national series are practicing on the same iRacing platform that fans compete on at home using a simple steering wheel set-up with pedals. The sim technology is so impressive, and the mapping of NASCAR tracks is so accurate that it's not too hard to see why proficiency in sim racing can carry over to the actual racetrack. Just look at William Byron who went from iRacing to driving the No. 24 car in the Monster Energy NASCAR Cup Series for Hendrick Motorsports.

Learn more about how to effectively engage the modern fan & consumer at Hashtag Sports, an annual conference designed for media and marketing professionals.