How the NLL Is Building Relationships with Young Audiences and Fans of Other Sports
How The NLL Fast-Tracks Content to Social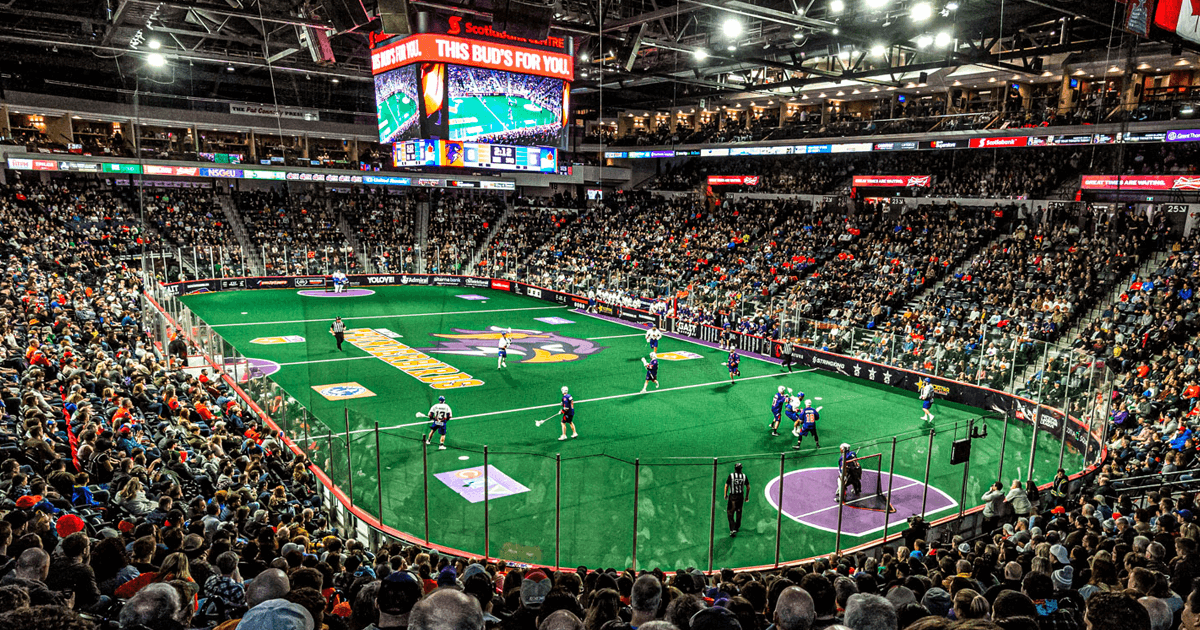 By

Team Hashtag • 7 min read
March 2, 2020
In his role as Commissioner of the National Lacrosse League, Nick Sakiewicz oversees the League's strategy in all areas with a focus on growth and development. Under Nick's leadership, the NLL signed the largest media rights deal in its history with B/R Live and grew from 9 teams in 2015 to 13 teams today. Nick, who spoke at the 2017 Hashtag Sports Conference, was a founding executive of Major League Soccer and contributed to the league's substantial growth and expansion from 1995 through 2015.
In a chat with Hashtag Sports, Nick tells us how new technology is empowering NLL athletes to authentically connect with fans on social media, why the "34-year-old startup" is winning with younger audiences and non-lacrosse players, and what the NLL is doing to prepare for a cordless future.
You were one of the founding executives of Major League Soccer. How has your experience growing a nascent league like MLS informed your approach to the development and expansion of the NLL?

It's deja vu for me all over again every day here. There are so many parallels between where we started with Major League Soccer coming off the '94 world cup and launching that league in '96 to where the NLL is today. I feel like lacrosse is in its grassroots development and growth; where soccer was in the 80s, where there was just this bubble up of kids really starting to play the game—so these are exciting times.
Talk about the NLL's fan base across your 13 teams here in the U.S. and Canada, and why fan connection with your lacrosse players on social is important to the league.
That's one area where we're a little bit different than MLS in that 73% of our audience has never played lacrosse, so we have a real broad demographic of sports enthusiasts. There's a big cross-section of hockey fans that are also National Lacrosse League fans—that's the biggest crossover sport. The lacrosse demographic is growing, and it's still nascent.
It's also a young demographic, so it's really attractive to corporate sponsors and television broadcasters and all of our commercial partners—we believe that's one of the strengths of our league. We imagine that the 73%, over time as the kids grow up playing the sport of lacrosse, will drop a little bit because more lacrosse fans will come and engage much like they did in Major League Soccer. The eight-year-olds that I played in front of in the 80s are now in their forties, and they're spending money on soccer, and we think the same thing is going to happen in lacrosse.
What types of content have you found engages best with these younger audiences?
Player content—especially behind-the-scenes stories of the players. That is really what drove our partnership with Greenfly—to make it easier for our players to be able to communicate directly with the fans. We've seen this across all sports leagues over the last three to five years, where the athletes are really becoming brands in and of themselves. The big distinguishing factor is that the athletes are communicating directly with the fan base now, as a brand on their own, and that's why the partnership with Greenfly was so important.
The suggestion came out of an NLL players' business conference in which we got a lot of great feedback from some of our more active players on social, and that landed us with Greenfly. So that's a big difference today than say the traditional sports marketing we did a decade ago, for example, where players were just players and it was even maybe considered a little taboo in a locker room to engage with fans directly. But you see it now in virtually every sport.
How have you been able to activate players to help the NLL share more authentic and behind-the-scenes moments with their fans?
So the Greenfly platform is super easy to use and very quick-to-market. I am a former professional soccer player, so I know the rigors of travel and training, setting aside enough time for rest, and getting enough sleep and nutrition and all of that. Greenfly's ability to cut highlights and deliver pre-packaged content for the player, and for that player to be able to access that content and send it out on his or her social media platforms or channels, makes it really efficient for the individual athlete to be able to communicate regularly and put out the very best content of the either themselves or their teammates. They can access a clip of themselves very quickly and put it out on social, they can access a clip of a teammate, or they can create their own piece of content at home or in the locker room. So it's a hyper-efficient platform that allows the athlete to get the very best content that he or she wants to put out there on their own.
In the last few years, the NLL has undertaken several content initiatives utilizing digital and social technology. What has been your approach to using technology in this way and what is technology empowering you to do?
The cell phone is essentially a television today. It's also a computer screen, it's a phone, it's a note-taker. It's a very powerful communication vehicle. The advent of the digital age has really helped leagues like ours where we don't have endless amounts of marketing resources or advertising resources to spend on traditional advertising. We call our marketing, communications, and advertising approach "digital first," and this strategy makes it really efficient and quick to go to market and speak to a wide range of consumers to buy tickets, to buy merchandise, to engage with our league, and to view our content.
Even if it's not selling them something or engaging in a customer relationship, we can provide really compelling content and tell stories using those digital platforms. Four years ago, when I first became Commissioner, we did a complete reboot of our strategy, and we developed this digital-first strategy. What that looks like in practice is that less than 2% of our marketing and advertising budget is traditional advertising. We do a little bit of it, but it's virtually all digital.
How does the NLL measure success on social?
Well, we've had some incredible growth metrics on all of our platforms from Facebook and Twitter and Instagram, Snapchat and a few others, and those metrics have all been mostly double-digit growth over the last three years. We've seen double-digit growth and in some cases triple-digit growth of fan engagement and relevance of the league, and not just in markets where we play. We've got lacrosse fans following us in markets where we don't even have teams. So yeah, we've seen double-digit growth on all of our platforms year-on-year over the last few years.
The NLL season takes place from December-April. Unlike athletes in the four "major" leagues, many pro lacrosse players keep a second job or play in another league during the off-season. How do you drive engagement and interest for the league and players during the summer and fall?
That's one of the unique aspects of our athletes. These guys are superhuman because not only are they elite athletes that play a sport professionally, but they also hold down big important jobs. There's a really interesting story to tell, more so than, for example, an NHL player who only plays hockey for a living. Our athletes have a unique story to tell because they are every bit as world-class as NHL players, because they play in the best lacrosse league in the world, but then they have this other life.
The stories of these other lives range from teachers to firemen and policemen, to lawyers and doctors. We have just a large variety, and digital platforms are great to tell those stories. That content really resonates because it's extremely unique for these elite athletes to also have jobs that a fan might have as well.
Greenfly Connect integrates with Photoshelter's asset management platform to automate the NLL's last-mile content workflow for social media. Can you talk about what this "last-mile workflow" means, and how it helps the league fast-track content to social?
That linkage and that platform allows us to not just put out large quantities of content, because it's not always about the quantity of content, but to put out the highest quality content. So what the Greenfly platform allows us to do with that interface is it gives us the ability to very quickly look at all the content that's been generated from the games (or any other league moments) and pick the very best content quickly and put it out on a platform. Sometimes within hours of the play happening or the piece of content being developed, we're able to deliver it to the fan to engage very quickly. Usually by the time a fan gets home from the game, he or she's got a piece of content from a player, from the league or from their hometown team appearing on one of our social platforms. It's all about the speed of being able to identify and curate the very best content, and we all know that the very best content gets the most engagement from fans.
The NLL has been in operation for 34 years, but the consensus seems to be that its best years are ahead. As we start the new year and decade, what content trends or emerging platforms do you see ahead for building fan engagement?
So we've got a big anniversary next year—35 years. But even with that number we affectionately call ourselves the "34-year-old startup." We just saw some cable television ratings for live sporting events, and for the second year in a row, there are some pretty dramatic decreases in those ratings. What we're seeing is now a pretty sustainable trend that there's a lot of cord-cutting, and so the technologies that have emerged like Greenfly, and new ones that will emerge, are going to change the game on mobile devices and wireless.
We really are bullish on our digital first strategy. I think the future is going to look more and more like mobile and digital. We made heavy investments early on in building our OTT streaming platform, so we live stream every game in the NLL—117 live games, playoffs and the championship—on a streaming platform that anyone can access, and we can do it at a fraction of what it would cost to put all of our games on linear television. I'm not saying that linear TV or cable TV is going to go away, but clearly there's a new audience that is shifting away from that.
There's three consumers out there right now: cord-cutters, cord-shavers, and cord-nevers. So the court-cutters are the group of people that are completely cutting their cable subscription. There are cord-shavers, like some of us that like to have cable but we're trimming down our packages. Then the most dangerous group to the cable industry is the cord-nevers, the kids that are growing up that will never have a cable subscription. Where are they getting their content? They're getting it on their phone, on their tablet, on their computer screen at home or at work. We're focused on that shift of where the content is going to be distributed and what consumers will be watching it on—and it's definitely mobile devices.
Learn more about how to effectively engage the modern fan & consumer at Hashtag Sports, an annual conference designed for media and marketing professionals.