Two Ex-Cornhuskers Are Empowering 3,000 Athletes on Social Media
Opendorse Founders Are Empowering 3,000 Athletes on Social Media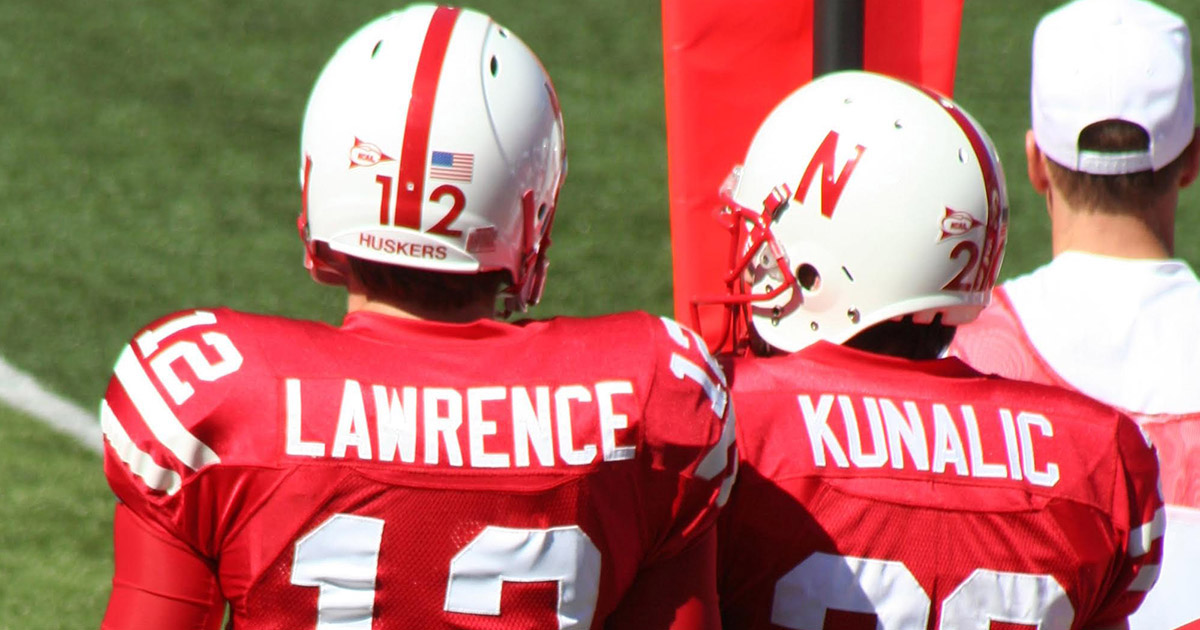 By
Blake Lawrence • 6 min read
June 5, 2018

Our story starts in 2007 in a dorm room in Lincoln, Nebraska.
My first day of college, I walked in and met my freshman roommate, Adi Kunalic. We were both recruited to play football at the University of Nebraska. If you could scene-set, Adi was a kicker, originally from Bosnia, and I was a linebacker out of Kansas City. Opposites attract.
We became fast friends, best friends actually, and fast-forward eleven years later, we're business partners who have been together every step of the way.
I started at linebacker for two years, but after my fourth concussion in less than a year, I was advised to never put on my helmet again. In an instant, I made the active decision to step away from the game, but I would be lying if I said I wasn't nervously pondering what's next.
---
THE ROOTS
Less than a year after I was finished on the field, Adi and I started our first company.
Hurrdat's mission was to help Midwest businesses build their brand on social media. We had some early success as entrepreneurs, but faced some early challenges as well. Adi landed a spot on the Panthers' roster which meant moving meetings from our office in Lincoln to practice facilities in Charlotte.
Things got even more interesting when one of our classmates, teammates, and close friends, Prince Amukamara got drafted in the first round of the NFL Draft in 2011.
He went from 10K followers to 100K followers overnight. His social handles became channels. His growth in fans attracted interest from big-time brands. After the draft, Prince and I ended up having a serious conversation about how to keep the lid on a New York Giants fan base that was simmering with excitement on social media.
We decided to treat Prince liked we treated any other business we worked with through Hurrdat.
Who is his audience? Where are they located and what are their interests? How can he entertain/engage them? When/where are they most active?
It felt different when we started to work with Prince because the empathy was at the highest level. We understood his needs and his transition, and we were deeply rooted in wanting to add value.
We posted content directly on clients' channels for Hurrdat. Nobody had an expectation of voice for the local Lincoln hospital, but when we thought about doing the same for Prince, we all knew it was different.
Prince, like many athletes, was a scroll-stopper. What he said on social could send shockwaves from the Big Apple to the fields of Nebraska. His engagement rate was 6x higher than any of our business clients.
Seeking to understand the formula for engaging followers at such a high level, we analyzed every post, hoping to find the magic sauce that made athletes so damn influential on social. What we discovered was surprisingly simple.
People use social media to connect with other people. It is the faces in our feeds that slow our scroll. Logos don't sign autographs or win games. Athletes do.
In today's personality-obsessed culture, we seek real relationships rooted in raw, authentic interactions. Sports gives us that connection where other entertainment does not.
The athlete-to-fan relationship is real. It is pure.
To help Prince bring value to his fans, he had to keep it real. We couldn't publish content for him — he needed full control over voice and touch on every post.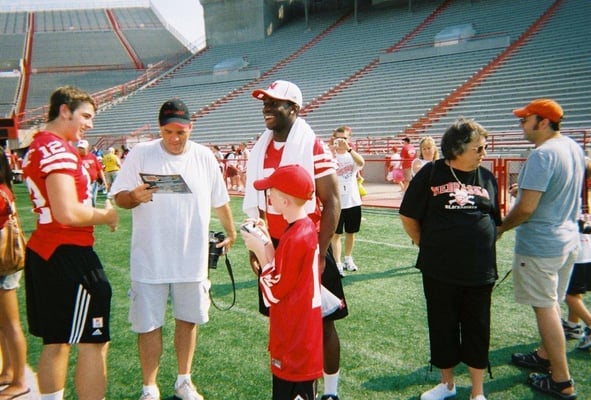 ---
THE TURNING POINT
The truth is opendorse started as a simple AF software solution for a friend.
Before opendorse, we'd text Prince pre-made content for him to approve and then copy/paste/post. We would include the exact date and time he should share it, so he'd get the most engagement. But between practice and film sessions and interviews, he rarely remembered to get it up on time.
Outwardly my reaction was to say "Dude, WTF are you doing?" but internally it killed me to see one of my best friends struggling with the challenges of an always-on world.
From his fans to his family, pro team to brand partners, alma mater to players association, the people who supported Prince wanted more from him. Feeling overwhelmed, he'd elect to focus on the field, not his phone.
As former athletes, Adi and I understood the pressure Prince was under, and respected his shift in priorities.
BUT all of the killer content we created never saw the light of day. We were brought in to help, but with each post left unsent, each video stuck on the shelf, we felt helpless. His followers were left with nothing to like, his brand partners Tweetless.
Prince was hard to help.
We became obsessed with finding a way to make it easy.
Neither of us was very technical so we brought on a few software developers and built out a product that wasn't super sexy but got the job done.
I still remember the first post Prince shared via opendorse. We scheduled a Tweet for him and hit send.
He got a quick text, clicked the link, and hit the big green 'Accept' button in all its glory. Our small team gathered around the computer, waiting for the content to be published automatically.
When the post went live, the room erupted with applause. It was like we were in the control room at NASA.
It was just a simple little Tweet.
But it felt like we had landed on the moon.
We were so hyped.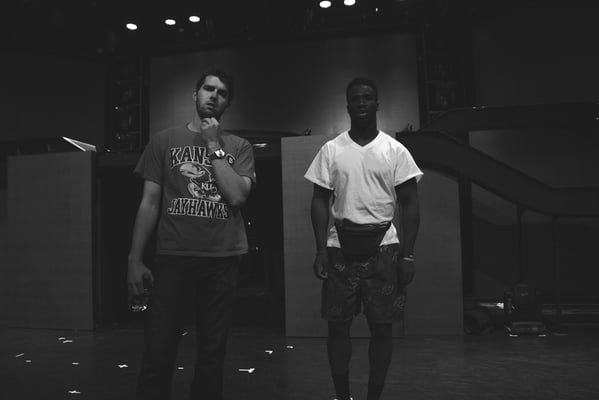 And his team was too. Right away we gained traction with other athletes — Golden Tate, Demaryius Thomas — and it wasn't long before the NFLPA reached out about a partnership to help ALL of their players share content.
But then sh*t got extra.
We bit off more than we could chew and after hitting the bullseye right on the money initially, we started to add ring after ring to it: data analysis, dollar amounts, a brand-to-athlete marketplace.
Lesson learned: we wasted time over-engineering opendorse but eventually came to our senses and removed the extra rings.
We went back to the basics — a quick text and tap of the thumb was all we needed to help athletes share content on social. We built a simple, lovable, complete experience for all of our users, and started sharing the solution with anyone in sports looking to help athletes build their brand on social.
We've partnered with athletic departments, teams, leagues, sponsors, licensees, marketing agencies, talent agencies and organizations of all sizes that seek to be a part of the athlete-driven era of social media. I'm damn proud to work with some of the most forward-thinking individuals and properties in sports.
What started as a text-message solution for a former teammate has evolved into the leading athlete marketing platform, trusted by the most well-respected brands and organizations in sports.
The sentence I just wrote gets me all giddy inside. When all this started, we knew we wanted to help our athlete buddy bring value to his followers.
Now, our vision is to help every athlete in the world.
---
THE FUTURE
Fifteen to twenty years ago, when an athlete hung up his/her cleats, most of the audience and brand they had built ended along with their career: television, local newspapers, and community appearances all vanished.
In today's world, with the emergence and prominence of social media, athletes are able to keep their audience and maintain their brand. That 1:1 relationship from their time on the field lives on.
I firmly believe athletes are the last untapped distribution channel in sports.
Going over-the-top (or OTT) is something that has captured the minds and hearts of marketers hoping to reach connected fans at every sports or media conference for a decade.
But what should have marketers buzzing at events like Hashtag Sports this summer is the opportunity to tap into an athlete's social distribution capabilities.
Each time an athlete posts a video highlight or an image from the game they just played, engagement goes through the roof. Disagree with me if you want, but access to straight-from-the-stream athlete content is part of the fan experience that's currently underserved.
As social media has removed geographic barriers from fandom, it's also served as the setup man for a new wave of specialized content consumption.
If I miss the Kansas City Chiefs game and want to see highlights, I could tune into SportsCenter and see one or two high-level game highlights. I could go to NFL Network and probably get full game highlights or check out the Chiefs' YouTube channel for a few more.
But if I'm as much of a Travis Kelce fan as I am a Chiefs fan, where can I find his bone-crushing block that the average fan doesn't want in their recap package? Where does that content live, and who has access to it?
Right now, nobody. It's sitting on a shelf getting dusty (OK, or maybe in "the cloud").
The point is athletes don't currently have access to it – and they should because more shared moments on social mean more engagement from fans and more opportunities for brands to find their fit in the conversation.
Virtual reality, drones, pylon cams — new camera angles and emerging content experiences are absolutely awesome, but fans don't need more content created right now; they need access to the content that already exists.
Forward-thinking teams, leagues, and properties are looking to unlock these assets and allow their players to have full control over which content goes out over their own channels. It's good for everyone — fans, brands, networks, and most importantly the athletes.
Our team is seeing it first-hand at opendorse as many of our partners have changed their social rights restrictions with this mission in mind.
What started in a Nebraska dorm room is now being embraced worldwide. We couldn't be more proud to open doors to the athlete-driven era of sports media.

Blake Lawrence is the Founder/CEO of opendorse, an athlete marketing platform that helps the biggest brands in sports share content on social. You can connect with Blake here.
To learn more about the creative process behind athlete marketing join us for the Athletes and Creators track at our annual innovation conference, Hashtag Sports.