How the PFL Leverages Creators to Drive Engagement
How the PFL Leverages Creators to Drive Engagement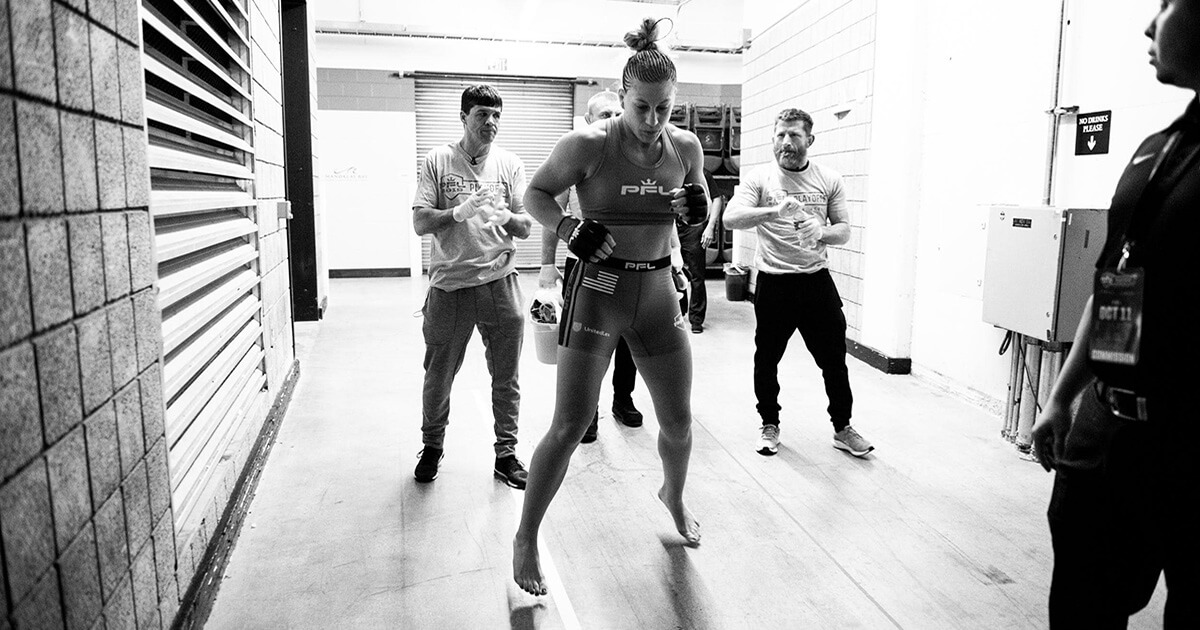 By

Team Hashtag • 8 min read
December 17, 2019
Daniel Ghosh-Roy sits down with Hashtag Sports in our latest question-and-answer series interview.
In his role as Chief Digital Officer at the Professional Fighters League, Daniel Ghosh-Roy oversees audience growth & engagement, marketing, creative, advertising, product, programming, technology, and the expansion of the league's direct-to-consumer platform and capabilities.
Ghosh-Roy talks about the fighters with the most unique presence on social, the importance of working with creators to expand the league's fanbase, and the future of data and personalization for the fan experience.
As opposed to a Bellator or UFC-style promotion, the PFL is a league with a regular season, playoffs, and championship. In what ways does the PFL's unique structure impact the league's digital strategy?
We have a great point of differentiation because our schedule gives us more opportunities to tell our story throughout the year. When it comes to the digital strategy, we break it down based on three objectives: audience growth & engagement, brand awareness, and content consumption. When we look at our season layout strategically, it allows us to prepare for each of our seven stages of the year, which are preseason, training camp for the first half of the regular season, mid-season training, and then the second half of the regular season training, the Playoffs, the Road to the Championship, and the Championship. The Championship is the biggest of them all, six World Title Fights, six $1 Million Dollar Belts, all happening on New Year's Eve at Madison Square Garden's Hulu Theater, Live on ESPN2 from 7-11pm ET. It's can't miss TV before you bring in the New Year. The ball doesn't drop until belts are raised!
Each stage is truly unique. For the regular season, a fighter will fight twice over the course of four months, which is wildly different than the playoffs where they fight in the quarter-finals and the semifinals in the same night. So we work with our fighters, their teams, and our partners to tell the best stories through content—video, images, and editorial—and that helps drive towards our three objectives. We try to be well prepared heading into these fights and when the bell rings, anything can happen. I'm a huge Belichick fan, and I read something recently where he quoted Eisenhower, and I think it's a relevant quote here, which is, "In preparing for battle, plans are useless, but planning is indispensable." So that's what we do, we prepare for battle, and then when the battle happens, we take it as it comes.
In what ways have new technologies been incorporated to drive and support the PFL's content strategy?
Our strategy is based on our three objectives. Obviously we're nothing without data so we use Sprout to measure all of our social analytics. We use our native platforms to get an even deeper dive into sentiment and tendencies: how they're engaging, what they're engaging with, etc. Then we have an app which is one-to-one direct engagement with our consumer—and that presents the opportunity for gamification because people love to bet on fighting.
Our app runs cross bets throughout the course of a fight, and we found great engagement globally with that gamification in-app so that's something we're going to really focus on and continue to grow. When we worked with DraftKings, we had a playoff bracket challenge, similar to what you would get in NCAA March Madness—we called it MMA Madness—and we had great success there, so we're doing a championship bracket game with DraftKings for the remaining 12 fighters as well. That's from a direct-to-consumer standpoint.
We also have our own proprietary tech, Cagenomics, which is where we have sensors inside the gloves of our fighter that measure strike speed, travel around the cage, and other things of that nature. We integrate that data across platforms: on social, on our website, and in broadcast. Particularly when we think about driving to our objectives, we know that we've learned that our web traffic on fight night peaks on these matchup pages that are powered by the data of Cagenomics. We also use Greenfly which has been a great product for us. Greenfly allows us to deliver content in real-time to fighters, our broadcast talent, and really anyone that's connected to the PFL that wants to share it across their distributive platforms.
How would you best characterize PFL's fanbase, and why is fan connection with your fighters on social important to the league?

Over 70% [of our digital fanbase] are 18-to-34, male and relevant. When I say relevant, I mean connected to the pulse of the fight game. In the fight game, like any niche audience, the fanbase feels ownership of the sport. They feel like they have a voice in how the sport should be presented, and they're vocal about it. They let us know when we've done something great, and they also love to let us know when maybe our content has pushed some boundaries. We're not trying to fit into some stodgy sports league mold—every day we're trying new things, we're working on new content, we're inviting our audience to help build this league into something they're proud of and something they can get behind.
For example, we're the only fighting league with a Ref Cam, which is the camera that the ref wears during the fight. We cut that to a direct broadcast, and we have isolated feeds of it on social and digital. We started producing that content during the fight, and it just took off with the social audience so it became a part of our week-to-week programming, and then it even took a life of its own during the live events. Right before we're about to hit the bell for that first fight, we always post a live video from the Ref Cam perspective and we say something like "When you see this, you know it's fight time," and people just go crazy for it.
We also know that we have a young audience, and we know that our audience intersects with gaming. There are really some creators out there right now that are on top of the game when it comes to taking fight highlights or sports highlights and turning them into video game-esque pieces. The guy that is the godfather of it all is Ray Rod, and we've been working with Ray Rod all season to produce fight highlights and pre-promotional content.
Working with creators like him and others, these are the guys that our audience is into and who are part of PFL's fanbase. So we're trying to deliver not only the fight highlights that they love but also innovative, creative content that's built by people within our community.

Where does athlete social content fit into the PFL's broader marketing or fan engagement funnel?
Fortunately, we have a roster that from day one was open to engaging with us, with the digital teams, social team, with the broadcast team and really with the PFL in general. We're not always looking for fight-focused content—we want our fighters to showcase their personalities. So we communicate with them through Greenfly and all of the tools that we use. A good example of that is when we hit up Kayla Harrison on the 4th of July and asked for some content to get fans in the right celebratory mood. She sent over a great selfie. Her at the pool, stars-and-stripes bikini, and hat, her Olympic sunglasses, floating on her inflatable unicorn—her nickname at her gym is The Last Unicorn—and she wished everyone a Happy Fourth. The fans loved that, and that's the power of us being able to connect with our athletes on a one-to-one basis through these great tools.
Which PFL fighters do you feel do the best job keeping fans engaged on social?
Well they all have their own lane, right? I think staying authentic to their personality, their character, and their social voice is what sets them apart. Sarah Kaufman [did] amazingly well for us this season. She was really stoking the flames between herself and Kayla Harrison, trying to drive home the story that they're both battling for the million dollars and title at the end of the season. Another example is Lance Palmer, who really kind of shows you what his lifestyle is about—his training, his cars, his trucks, his family, visiting his alma mater at Ohio State to catch a football game. That's really true to him and really authentic to his personality.
Take us into your social war room on a fight night—how and why do you get content to fighters so quickly?
I wouldn't exactly call it a war room; I might just stop at war. We have video shooters cage-side and in locker rooms and backstage, and we have our own dedicated digital room called the Fighters' Lounge. When the fighters are done fighting and have gone through their medicals, we bring them into the Fighters' Lounge, a more casual setting. We'll get them on camera, we'll talk to them, and they can eat and hydrate—it's a really unique experience that we offer backstage.
Another very important component is the desk that we have set up cage-side where our digital and social team are pulling content from the live feed and distributing highlights across platforms in real-time. This really helps us drive tune-in retention during the fight. We're curating content, and then we're simultaneously sending all of this content out through Greenfly to our fighters' feed. It's seamless, and we take great pride in seeing the fighters' social handles start popping off with content when they're still in the building, even sometimes when they just got out of the cage. That's something that is really exciting when we see it happen—and it happens every single fight.
What's been the impact of giving fighters such fast access to content?
The greatest impact of giving the fighters fast access to content is that at the start, it gave them an appetite for it. Once you get a taste for it, it becomes addictive. There's nothing more satisfying than getting messages from the fighters asking for more content. You want them to be engaged, you want them to be proud of what they've accomplished and share it across all their distribution platforms. Obviously, it's great to get their highlights out for our brand awareness, but really it's the satisfaction that we've given them a taste of and now they want more.
How does the PFL measure marketing success, and what platforms have delivered the best success metrics in growing the league's audience?
We measure through growth, engagement, and time spent watching—that's such an important statistic. Instagram and YouTube are where we find our core audience, but obviously Facebook and Twitter play a large role in all of this as well. We're streaming live internationally on Facebook, but on YouTube, we really get a taste for that time spent watching, and on Instagram, we really get a taste for audience growth and engagement.
The other place that we're measuring marketing success is all the direct-to-consumer interactions (d-to-c). If someone takes the time to join our email list or if they download our app, that's our truest fan. That's the one that we really have to pay attention to and want to work on nurturing and developing a great personalized experience for because that's what's going to keep them coming back.
What content trends or emerging technologies do you believe will revolutionize the way marketers connect and engage with fans in the next few years?
For me, it's all a mix of data and personalization, particularly around these niche audiences. You want to turn their experience into something that they know is really catered for them so that every time we hit them with a marketing message or a piece of content, it really is a high-impact strike. That's what this generation wants out of their digital experiences—we have to pay attention to that and take advantage of it. Another one for me is data and wearables. We have our Cagenomics technology that I was talking about earlier, and we're expanding upon that in the months and years to come to capture even more biometrics. And lastly, when it comes down to content trends, it's really all about the creators.
It's about innovating our content and developing that community of the best creators out there—that's our goal here. We just want to create great things. We want to get next-level content out the door. We want people to really enjoy what we're doing and the content that they're consuming, whether it's our fights, behind-the-scenes, or the custom content we're creating. We just want people to really love it, share it and feel good so that when they go to a PFL channel they know they're going to get the best, most premium content.



Learn more about how to effectively engage the modern fan & consumer at Hashtag Sports, an annual conference designed for media and marketing professionals.