How the PGA Tour Is Liberating Player Content to Grow on Social
How the PGA Tour Is Liberating Player Content to Grow on Social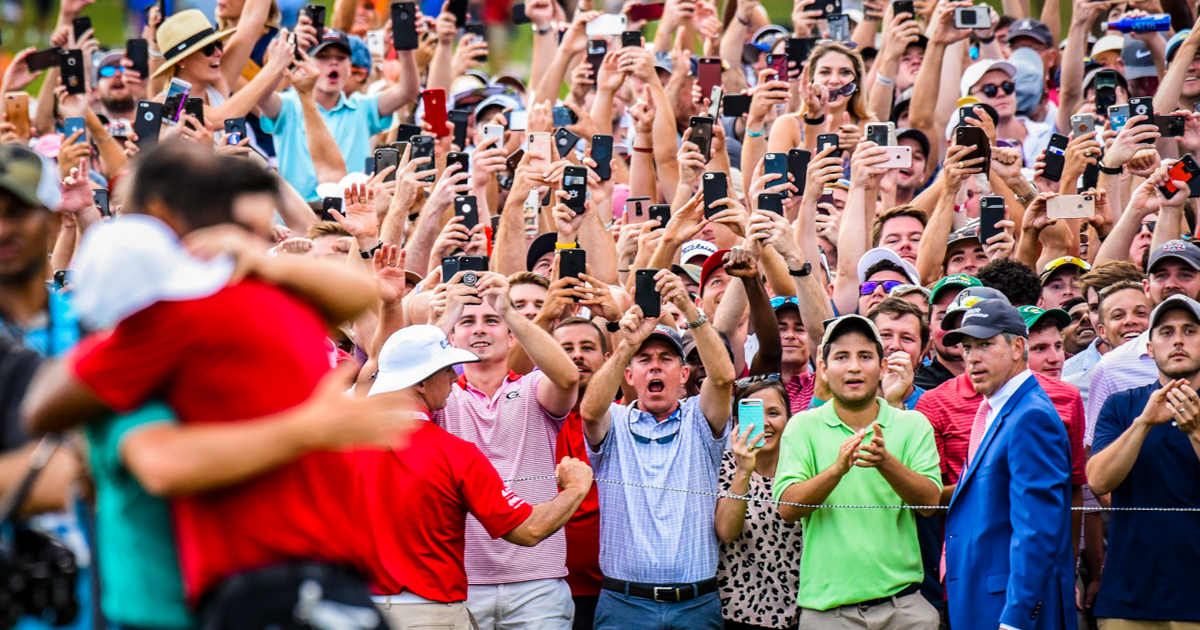 By

Team Hashtag • 11 min read
July 11, 2019
Preston McClellan sits down with Hashtag Sports in our latest Q+A series interview.
In his time as the Director of Player Content at the PGA Tour, Preston has developed social media strategies to grow the game globally and give connected fans every opportunity to engage with golfers through individualized interests and personalized content.
Preston shares how he's helped double the PGA Tour's collective audience to over 56 million in just three years, discusses the Tour's covert database containing creative briefs on 150+ players, and explains why he believes we've entered an era of athlete content liberation.
For clarity, this interview has been condensed and edited.

Last year, social video views across all PGA Tour golfers on social media increased 157% resulting in more than 200M video views of player content alone and an engagement rate (4.1%) that is higher than that of the MLB, NFL, and NBA. What contributed to delivering these results, and how is the distribution of player content helping the PGA Tour to set a new benchmark for fan engagement?
It's been a good couple of years. Obviously, I'm not the only person who contributes to the success. It's been a team effort—one person I definitely want to make sure I mention is Mattie Lou Chandler. But in reality, what's allowed us to do this is a buy-in from the top: our leadership understands that we want to reach fans where they already are, and there's a lot of fans that are already following our players.
We identified that, collectively, PGA Tour golfers have 56 million followers across Facebook, Twitter, and Instagram. The PGA Tour as a league has six million on those same platforms. So, our players present a very wide opportunity for us to reach fans that aren't following league channels. We were lucky enough for our leadership to grant rights to our players that other leagues don't necessarily grant to their players. That's the strategy that led to this.
opendorse has been a huge part of our success as well. Athletes are great at being themselves, but there are things that get lost in translation in terms of actually getting content posted. Getting to have that one-to-one ability for us to take that content and send it to the athletes to customize the captions and things of that nature have really helped us create a system that's working. We're obviously very proud of the fact that our engagement rate is high. The NFL, NBA, and MLB all do fantastic jobs as well. We're looking to continue to optimize and get our players more content, empowering them to tell the stories that they want.
How has technology been integrated into your content strategy to more efficiently help fans connect with the players on the Tour?
From my position, it's really about getting more content options into the hands of our players so they can post more and give their follows more insight into what their life is like both on and off tour. Working with opendorse on getting image integration where it needs to be, making photos of players automatically available to them on Instagram when they finish the round for example, and providing more options to post are all definitely things we're looking into.
We've done a few things internally to optimize workflow. We hired a full-time content producer that works for us, cutting highlights and custom content for our players. He actually sits down with our players and content team and looks for opportunities to repurpose content that we're using on other platforms strictly from the athlete's perspectives. Having that person integrated into that team has been a huge part of it.
We've also established—to get real nerdy for a second—a couple of real-time XML feeds to tag highlights of metadata. Depending on what that metadata is, it flows directly into my team's system where we can pull these videos and redistribute them to the players. A long answer to the short question would be that we've really tried to optimize and create efficiencies because with the PGA Tour we have so much content compared to a typical player content team. Sifting through and deciding what comes out is challenging sometimes so we've put a process in place to optimize and make that more efficient.
Another piece of technology that we utilize is opendorse. We have been partners with opendorse for several years now. We will be introducing their new athlete marketing platform to better utilize and distribute news, programming, and games via our talent and also utilizing and working with our partner institutions as well.
Where does player distributed content fit into the PGA Tour's broader marketing or fan engagement funnel?
It fits throughout the entire funnel. Top-funnel, mid-funnel all the way down to conversion funnel because we use player content in a variety of different ways. From a very broad perspective, it's top-funnel strategy—an awareness play. Rory McIlroy has more followers on Twitter than the PGA Tour for example. Rory has like 3.2 million and PGA Tour has somewhere around 2.2 million. From an awareness perspective, getting PGA Tour content into the hands of our PGA athletes creates that awareness funnel, but there are times where we do leverage our athletes to push things for us.
A good example of this would be for our PGA Tour Live product. We will partner with our athletes, and if they're in a featured product on our OTT list that they actually do link to—where the fans can watch them on that product—that can push us much farther down on the funnel strategy and drive a conversion of fans. It would be all throughout the fan engagement funnel, but most of it is on the awareness vector.
How do you measure the success of players on social content?
The engagement rate is definitely the number one standard we look at. It's a standardized measure of accounts across platforms. We look and compare things apples to apples. So that's definitely our top circle point. Obviously, impressions are a big part of it too. opendorse allows us to measure actual impressions like real reach. Making sure that the content we're distributing to our players is reaching large percentages of the players' organic following is another way to measure it.
Video views are definitely a big one for us as well. We're trying to build out the total consumption of video from PGA Tour fans online so getting content directly in the hands of our players is a big component. A great example would be Rory McIlroy who won the RBC Candian Open recently. Within two hours of him winning, we had a custom highlight video that Rory posted on his Twitter. Between 9 PM and midnight Eastern time that video got almost 350,000 views. Being able to do that in such a quick turnaround is a big part of our success and something we're absolutely trusting.
Which combination of player and platform have made for the most impressive audience growth and engagement?
What comes to mind immediately is Adam Scott's Instagram. We've been working with Adam's team for about a year and a half to grow his profile and found a sweet spot earlier this year in Adam's golf life. He initially had 20,000 Instagram followers and now he's grown to 100,000. We've added around 20,000 followers every six months. Obviously some of that is that he's had a resurgence this year on the golf course so he's more relevant, but we've been really proud working with his team to get high-quality content into his hands on a weekly basis. His team's been working with us to make sure [the content] feels authentic when Adam's posting it, and that he's comfortable with what he's posting.
Broadly, we have more players on more platforms than ever before. When I started in 2015, our collective audience for the players was about 25 million. In three years, we've more than doubled our collective audience to 56 million. I'm extremely proud of the work my team has done and getting our athletes to understand and buy-in on creating social content for the betterment of their brand and the larger PGA Tour.
What types of content do you find players most often seeking and posting?
It depends on the player. A good example here would be Justin Thomas. Justin does a fantastic job of creating first person, in-the moment content on his own, and we've recently started working with him to distribute more branded content for the PGA Tour to add on that great first person content. Our players are starting to embrace social and understand that it doesn't have to be an obligation—it can be fun. It can also drive real business for them too. That's something we've had success in.
Our players understand their social media pages are basically their own little media companies that they have complete control over. If they invest a little bit of time into that, they'll see real rewards in terms of follower growth, sponsor growth, and things of that nature.
How has the "connected fan" changed the way the PGA Tour thinks and operates?
Not just with our athletes, but across all of our touchpoints with fans, we really want to meet them where they already are and deliver the content where they're already consuming rather than trying to move them off into another platform. If you go across all of our platforms, whether that's PGA Tour League, sleek platforms like Facebook, Twitter, Instagram, YouTube, our layer channels, PGA Tour Live, PGATour.com, we're really really trying to populate our channels with content that fans can see where it makes sense for them. Gone are the days where we are trying to redirect people to one product.
Instagram has been our fastest growing platform for PGA Tour League and Live channels, but also for all of our players as well. Finding the cadence of how to post on Instagram and what to post, when to do carousel videos vs carousel photos, what to put on an Instagram Story vs Instagram Live has been great. For our athletes, we've noticed that on Twitter, really basic content works well—like a simple tee-time and graphic of a player or announcing where a player is playing and how his fans can watch. Basic stuff like that has performed really well.

As you work to expand golf's fan base, what are some of the challenges that come with trying to attract a younger audience that may not be playing golf as they grow up? What types of content and campaigns are you seeing best resonate with the next generation fans?
That's a two-part question, so first, in terms of challenges in trying to attract a younger audience, that's where our new brand campaign, Live Under Par, really helps us. Golf is an experience. You don't come to a PGA Tour event just to watch guys hit golf shots. I'll compare PGA Tour events to a festival. I mean that in the best sense of the word. You can come to our event and have the best food in town, the best drinks, hang out with your friends, enjoy the weather outside and also watch PGA Tour golf.
As we determine how we try and talk to those people, it's about how we deliver the message to different generations. Talking to a 55 year-old golf fan is going to be very different than talking to a 27 year-old who is a fan of golf, football, basketball, and baseball. We're going to market to those two people a lot differently. You'll see if you turn to our social media platforms early in the week when we're not in competition—Monday, Tuesday, Wednesday—we're really trying to tell stories around the personalities of our players and give fans a way to plug into our players beyond just golf.
Secondly, we have a program internally called Catalyst. We have creative briefs written on over 150 of our players that has all kinds of facts from where they grew up to their bucket list media placement, what type of dog they own, what they like to do off the golf course and things of that nature. That type of information really allows us to deliver content that gives fans different ways to plug into players—because that's really how you create fan affinity.
We actually have a database. It's like a CRM system on our players. I can pull up Rory McIlroy's profile and have all the facts there. But we can also reverse engineer and find a group of players that love red wine. We work with [the players] and their agent, and within in our communications department, we have about 25 people in our department that are each responsible for about five players. Whether it's them meeting with the player on site or having a phone call with their agent, it's a creative brief with standardized questions. We check in with the agent and make sure nothing has changed throughout the year, and we'll deliver that information to our broadcast partners. There have been multiple times this year where Jim Nantz has read something on air about a player that's a fact that we've uncovered through the Catalyst briefing process. It's cool that everything's coming full circle.
The PGA Tour is unique because we don't have teams so we don't have geography-based affinity. We don't have the Golden State Warriors and the Bay Area or the Raptors and Toronto. We have player and people-based affinity. The way that we create fans is by creating fans of a player—fans of Rory, fans of Tiger, fans of Dustin Johnson. We think of players as teams within themselves and try to give fans as many ways to connect with our players [personally] as possible.
How is the Tour using influencer marketing to grow interest in the game of golf and make the sport a bigger part of the digital zeitgeist?
One of the cool things about golf is that it's the only sport you can play while you're also an active athlete in another sport. You see so much of that with stars from other sports whether it's Andre Iguadola coming to the Farmer's Open Championship earlier this year or Vince Carter being at the Tour Championship in 2018 and watching Tiger win. It's really cool to see that there are so many high profile athletes, celebrities, and actors that are interested in golf.
What we have tried to do is find those people that have publicly made it known that they like the sport and bring them out to our events. I alluded to it earlier, but our events are loud, there's a lot going on, and it's a fun experience. I can sit here and tell you guys as an employee of PGA Tour over and over again, but it doesn't carry as much weight as someone with an organically built audience that fans trust saying the same thing.
A lot of what we do is identify these folks that enjoy golf and reach out to them, host them, give them a VIP experience at a PGA Tour event of their choosing and have them broadcast that experience on their social media platforms. They give their perspective on how much fun they're having. It's not nearly as exclusive as you'd think it is. You really can get so close to our athletes. I think that's one of the unique parts of our sport. In what other sport can you literally high-five Tiger Woods in the middle of his competitive round?
One thing that's interesting is that our pricing model is somewhat inverted compared to most sports. Our cheapest ticket gets you closest to the athletes and that's typically reversed in most sports. For twenty or thirty bucks, you can typically come out and be within three to four feet of your favorite athlete. These people (influencers) can use social media to showcase how much of an everyman's sport that golf really is. That's really our strategy.
What emerging trend or technology do you believe will revolutionize the way marketers connect with fans on social platforms in the next three to five years?
The idea of trying to find a new audience while understanding that there are fragmented metrics in the digital marketplace. In three to five years, is there going to be consistent insights in terms of consolidation of data? And then ultimately, which we're looking at every day, is building out a consistent pricing model for social.
On the flipside, is there anything currently "having a moment" being over-utilized or over-emphasized that maybe isn't here to stay?
It's just athletes becoming more and more powerful as media companies. Athletes across the board, not just in media, but in general, are starting to understand that they really do have this tremendous influence, power, possibility, and potential when they start to be intentional about their brand and content, and what they're putting out there for fans. That's underscored by the scale I referenced earlier. We have multiple players on tour who have more followers than the Tour does.
You see platforms like Uninterrupted growing, and more and more athletes are broadcasting messaging to the fans and bypassing a traditional media system. That trend is only going to continue to get bigger and bolder and have more of that happen. The leagues, teams, and brands that are willing to embrace that and work alongside athletes to elevate themselves are going to be successful as opposed to brands, leagues, and teams that try to stomp that out and try to own their content.
We are not heading that way; we are already there. We are in a world of content proliferation, not content exclusivity. The more we embrace the proliferation and understand how to monetize that proliferation and decentralization is a trend and something we have to figure out over the next three to five years. The one I'm very confident in is that athletes are going to become more powerful and will continue to recognize that they have more influence than they ever thought in the past.

Learn more about how social media is marketing athletes to the engaged fan at Hashtag Sports, an annual conference designed for media and marketing professionals engaging the modern sports fan and consumer.