Five Lessons Learned Producing Content with the World's Greatest Athletes and Brands
Five Lessons Learned Producing Premium Content for Athletes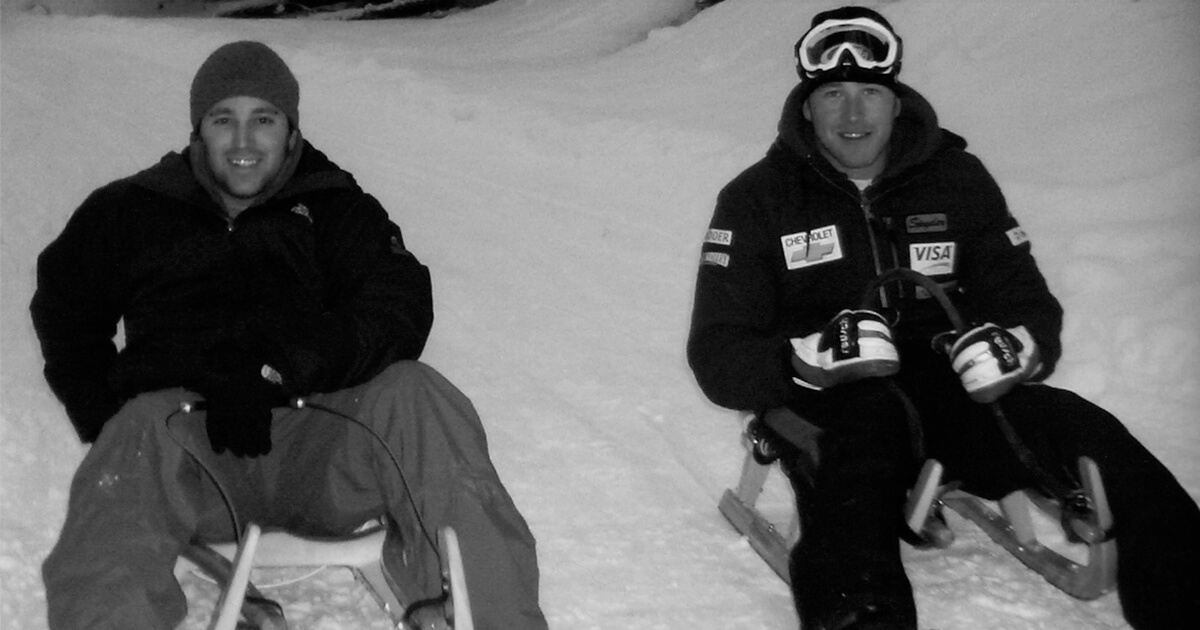 By
Brett Rapkin • 6 min read
October 18, 2018

"You're a producer, right dude?"
"Indeed," I replied.
"Well then can you also help produce my radio show? I'm not doing it and my agent is pissed."
It was November 2004 and I had sublet my creaky walkup on Avenue A to board a plane with a one-way ticket to Innsbruck, Austria. I had recently been hired to spend the entire winter documenting an up and coming American ski racer named Bode Miller's entire World Cup season for Outdoor Life Network.
Each week I shot an interview in the luxury motor home Bode shared with his buddy/chef/RV driver Jake, which was parked at the base of every ski hill. That winter Bode would dominate, becoming the first American racer in a generation to win the World Cup Overall Championship. And I learned a ton about working with elite athletes.
At some point during that winter, likely between rounds of Stiegl beers, Bode told me that he had also committed to creating the weekly radio show for SiriusXM Satellite Radio from the road. He wanted to produce great content, but he needed help. He wasn't a producer any more than I was a ski racer.
So each week, Bode and I would load into his custom red Audi bearing his name and American flags on the fenders and zoom from one alpine country to the next for a set of races and events. And each week I would fire up a mini disc recorder and help him produce his radio show.
Bode was ahead of the curve, with his own short-form television and radio shows in-season.
But athletes have now all been thrust into a world where they need to create content on a daily basis for their own channels if they want to maximize the growth of both their personal brand and land choice marketing partnerships.
With the explosion of social media, every athlete has the opportunity to now not only create but distribute great content instantly and without any filters to millions of engaged viewers.
Let me be clear: I think it is phenomenal what athletes have been able to do on their own with their own phones. Selfie sticks. Handing the phone to their wife or a teammate. They have figured out some good workarounds. The average NBA player has taken to creating and distributing content far better than I will ever take to making three-pointers.
But now the time and opportunity has come for the athlete community to "level up" to producing their own premium content.
A question that we get asked a lot is "What exactly is premium content?"
We define Premium Content as video, photos, and graphics that are professionally produced, with a programming and brand strategy. No television network would ever program whatever they felt like, whenever they felt like it, and expect viewers to keep tuning in. They are strategic and work with talented content producers.
For athletes, the competition when it comes to creating great content is no longer the player with the locker next to theirs. It's HBO, Netflix, and NBC.
While we employ incredibly talented photographers and graphic designers, premium video is not only our core competency but where we see the biggest opportunity for our entire community.
According to the American Marketing Association, by 2019 video content will be the driving factor behind 85% of search traffic in the US. And social media video is where brands are moving more and more of their budgets away from TV.
While the lenses on iPhones keep getting better and better, when it comes to video it is next to impossible to do quality editing on your own, especially on a phone. Once a single edit needs to be made that isn't just a trim, a pro needs to be brought in.
For athletes, the competition when it comes to creating great content is no longer the player with the locker next to theirs. It's HBO, Netflix, and NBC.

Brett Rapkin, President of Podium Pictures
The future is clear: every season we will see more athletes following in the footsteps of Kevin Durant, LeBron James, Russell Wilson, and a growing list of peers who are hiring their own media teams.
This will deliver far more value to their fans, their brand partners, and especially themselves:
Fans enjoy the access but they also want better production value and strategy. We want at least some of your videos to be professionally produced, with great editing, music, and graphics.
Brands want to know that the content they are investing to produce and distribute with athletes is going to be posted properly, at the best time, and with the proper hashtags and links. How important is that? Recently Wheaties and Kyrie Irving posted the same exact video promoting his "Uncle Drew" cereal box. Wheaties has gotten about 7,000 views on their Instagram. Kyrie has gotten 1.2 million and counting.
Athletes want more creative control, greater profitability, and the opportunity to grow their own social media followings so they can retain them after they retire.
The secret of the athletes who are making the most of these opportunities? Having a professional team behind them helping with strategy and boots-on-the ground premium content creation.
Not all athletes care about this stuff. Some just want to play ball and go home.
But for those that understand the opportunities (and hopefully their agents are clearly communicating them) these services are no longer a luxury; they are a necessity. And this isn't just for superstars. A great case study is Juju Smith-Schuster of the Pittsburgh Steelers, who has elevated his stock immensely off the field through his social media content and strategy while he concurrently does his thing on the field.
Podium Sports Media was created to leverage all we've learned over the past seventeen years working on behalf of clients like HBO, GMC, and the Dodgers so that now the athletes and their brand partners have access to the same resources.
We can't do it all ourselves. So, for those of us helping athletes create Premium Content, here are a few lessons we've learned along the way:
---
Lesson #1: Be Over-Prepared
The assignment was simple: Pick up Martina Navratilova at a sprawling Hamptons estate in the rental production van, drive her to the gym we had rented as a set, and shoot the interview.
After waiting around for a couple of hours for her to finish another shoot with Martha Stewart, Martina climbed into the back seat of our van and we were followed off the property by her entourage in an orange Range Rover. Martina and I made some polite conversation about Bode Miller and her love of skiing.
This was before the days of Waze or GPS, so my Associate Producer was supposed to have printed out directions (remember MapQuest?) but forgot. We got a bit turned around and so I quickly pulled into a gas station to ask for directions. Not a big deal, right?
Wrong.
When I got back in the car, Martina's attitude had turned from friend to foe. And there was no bringing her back to the friend zone.
We still produced the interview and it turned out fine, but it was not easy or fun. Which leads us to:
Do your homework, get to the shoot location at least the day before, have your questions printed out, think about what can go wrong and plan for it. Because it will. Have some snacks and cold drinks on hand.
And make sure you have the right driving directions.
This is not the time to wing it.
---
Lesson #2: Keep It Moving…But Take the Time to Build Rapport
Elite athletes' time is highly valuable, especially during the season. Between games, practice, travel and other media commitments, free time is hard to come by. They usually want to knock this stuff out and go spend time with their teammates, family…or doing most anything else.
So keep it moving. Know what you need, get it, and then move on to the next question or shot.
However, that doesn't mean you shouldn't take the time to give them a chance to warm up to you and the crew. I once did a shoot with a current NBA superstar on behalf of a sports drink company. The athlete was a few minutes late and the executives from the brand were anxious to get rolling. But I made a point of taking just five minutes to shoot some free throws with him on the team's practice court and get to know each other a little bit. And it made for a much better shoot for all.
---
Lesson #3: Pro Athletes Don't Want to Be Your Texting Buddy
If the athlete is kind enough to share their direct contact info, use it only for purposes of the shoot. But after the shoot is wrapped, they don't necessarily want to keep in touch. Feel it out. Sometimes the relationship grows over time, most times it's a one-time thing. Don't be a creep.
---
Lesson #4: Your Job Is to Listen, Not to Just Get Through Your Questions
Sometimes in an effort to get through all your interview questions, you stop listening to the answers. But often times the best answers are the ones you didn't expect or couldn't have planned for.
And always ask at the end if there is something you didn't ask that you should have. Athletes often have things they want to share beyond your questions, so give them the chance.
Recently, I was interviewing an Olympic legend about some of the challenges he had faced during his career and he went into far greater depth than I could have even anticipated.
---
Lesson #5: Always Be A Pro
The athlete is trusting you with their time. And sometimes people say things on tape without thinking it through. Unless you dream of a future working for TMZ, your job is to return their trust by looking out for them. I once had a powerful NFL owner make a comment on camera that the team ultimately did not want included in the segment. And it wasn't.
Also, don't be star struck. They are pros at what they do and probably have far, far more money and fame than you do. But you are a pro at what you do. So act like a peer, not a fan boy or girl.
It bears repeating: there at least 7,000 things most athletes would rather be doing than more media, especially if they aren't getting paid for it. So make it easy for them by being prepared, being a pro, and making the most of their valuable time.
It's a hell of a time to be making Premium Content.

Brett Rapkin is the President of Podium Pictures, an Emmy Award-Winning Film and Television production company based in Los Angeles. He recently launched Podium Sports Media, the only influencer agency specializing in connecting the world's greatest athletes and brands. His film "The Weight of Gold," which explores the mental health crisis among Olympic athletes, is coming soon.
Podium is currently partnered with athletes including Michael Phelps, Steve Nash, Bode Miller, and LA Dodgers Cy Young Winner Eric Gagne on media projects. You can connect with Brett here or here.
Learn more about the future of athlete-driven media at Hashtag Sports, an annual conference designed for sports media and marketing professionals.