How Google Cloud Uses Real-Time Data to Engage College Basketball Fans
How Google Cloud Uses Real-Time Data to Engage College Basketball Fans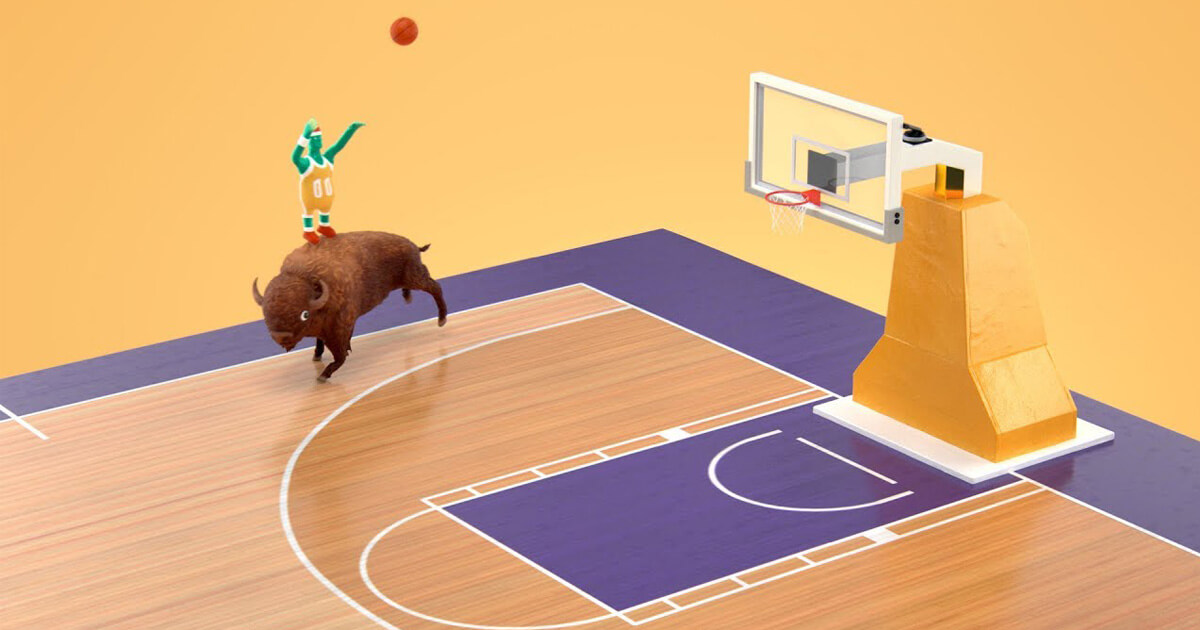 By

Team Hashtag • 7 min read
August 6, 2019
Ramzi BenSaid sits down with Hashtag Sports in our latest question-and-answer series interview.
In his role at Google, Ramzi BenSaid assists with data science and strategy on various partnerships—most often in sports. Over the past year-plus, he has played a major role in Google Cloud's partnership with the NCAA as a data scientist consultant.
BenSaid discusses why the most relevant data for sports marketers is usually the most recent data, how Google Cloud ran TV ads predicting in-game outcomes during March Madness, and why he believes the entire concept of an "audience" has shifted. For clarity, this interview has been condensed and edited.
As an organization serving both businesses and consumers, where do sports fit into Google Cloud's broader marketing funnel?
Sports is something that resonates with people. If you're a sports fan—certainly an NCAA basketball fan—you've seen our partnership in action and we try to do more than just bringing the Google name to a marketing campaign. We try to bring value to the organization that we work with in a significant way.
In the case of our partnership with the NCAA, we've worked with them for the last two years to bring new kinds of content and analysis to their fans. This year, we worked with student developers and gave them the keys to our NCAA Basketball data science engine. The students worked on some cool new metrics and then were featured on ads running during the Final Four talking about their work. There are plenty of people watching the Final Four faced with similar data science challenges in their professional life. Here we've given them a path to explore how we—along with our student developers—approach data science in a medium that they enjoy. We hope those ads caught the attention of a GM of a pro team, somebody trying to get a new sports tech startup off the ground, or a data scientist at PayPal who only tuned in because they're a Texas Tech alum. Any of those people, and many more, could be facing similar data questions professionally. Sports helps us give them insight into how Google Cloud can help them achieve their goals.
During the NCAA Tournament, Google Cloud ran a series of ads before, and during, games that predicted various in-game outcomes and statistics. Your tool even made correct predictions for all six games that the ads were featured in. Beyond accurate predictions, how do you measure the success of such an innovative campaign?
To start, it's important to mention that this hadn't really been done before on this scale. At some baseline level, pulling it off was a success. Our goals were to create something that was fun, still valuable from a data perspective, contextual to the game, and something that demonstrates an authentic use case of Google Cloud Platform (GCP).
In terms of metrics of success, we look at reach, response, conversion, and general satisfaction with the campaign. In the second year, we extended the analysis of traditional properties like Bracket IQ, and helped drive on-air analysis. So there isn't one specific thing, but more a combination of pieces each year.
How did you decide what to predict?
We have a lot of basketball fans internally working on this. We start with that collection of people with thoughts on what would be interesting. We want it to be fun, and it has to be valuable. We started there and then we worked with the NCAA [and] Turner on narratives. Then, we started diving into the creative elements. We had to run this by legal—a lot of this stuff hadn't been done before. The predictions needed to be fun and compliment the broadcast—and fit the game narrative. One of the things I worked on quite a bit was a predictor of whether or not a game would be close down the stretch. That one never ran because it wasn't contextual with the games we were actually running. We ended up doing some other things that fit the narrative of the game a bit more.
How did you ensure the accuracy and integrity of the live data?
It's important to understand that there's two years of this partnership, and it's important to understand how official scoring works. Last year, we had our own data feed, and we were cross-checking it with two other data sources live. This year, we got to treat [our data partner] Genius Sports as the source of truth—in the data collection and the sending of that live data.
Part of the integrity piece is a function of the chain of custody of the data. When we're working with Genius, there's no intermediary. There are official stat providers collecting data from the court, sending it straight to the sockets to where we are accessing it. Fewer touchpoints elevate the integrity, minimize the latency and made our jobs of ensuring the accuracy and integrity of the live data that much easier. Now, of course, people can always make mistakes and that'll happen. With the real-time stream constantly updating and correcting itself, it made our jobs a little bit easier on that front.
Sports content and advertising are becoming more customized to individual fans' preferences rather than larger groups—where do you see this trend going, and how is Google Cloud helping organizations adapt?
GCP was named a cloud leader in data management solutions for analytics, according to Gartner research. That was awesome because our mission is to enable organizations of any size to achieve their data analytics goals. In the case of leagues and teams, they benefit from various Google Cloud technologies that remove a lot of the traditional complexities with data analytics—especially big data. Performing analytics on real-time audience behavior is a really big challenge. But BigQuery, one of our main products, helps with that a lot. They're a serverless managed real-time data warehouse. Once you've got your data in BigQuery, you can simply query that database in real-time. You can be streaming the data, and you can run a backdrop to adjust to how you're streaming it. The second it's in there, you can access it. That piece of technology is something that we've seen help customers control their business without having to offload the analysis and worry about a lot of traditional software headaches that go with that type of work.
How is the use of real-time data in advertising/marketing helping to set a new benchmark for fan engagement?
The more you know about customers, viewers, and users, the more you can tailor a marketing story for them, or sell that tailored marketing experience to an advertiser. If you grew up on the internet, you saw this happening in real-time. I remember cracking up in high school watching TV when I'd see an ad for a fast-food chain that wasn't within 250 miles of me, and then an ad for Life Alert. Two things that were irrelevant to me. Then, I'd go on the internet for a little while and see ads for a local restaurant, video games, and soccer cleats. I think we're getting a little closer. Real-time is closing the gap in how long it takes to bring that relevant content to the right customers even faster. If you Google 'best healthy recipes,' next time you open up Instagram, I bet you're going to see an ad for a healthy meal delivery service. Again, that is happening because of real-time data.
Networks are facing an increasingly difficult challenge of standing out from the competition with young, fragmented audiences. What are some of the most creative ways you've seen broadcasters or sports properties utilize real-time content to build relationships with hard-to-reach demographics?
The challenge is increasing. But the question is sort of changing too. What is a network? What is a broadcast? The entire concept of an audience is shifting. Traditional licensing rights for regional sports networks are all changing because audiences are less and less interested in linear, homogenized delivery. While this is happening, Bleacher Report is broadcasting Champions League games exclusively on B/R Live. Did anyone think of Bleacher Report as a network five years ago?
While the rules governing the sports aren't changing, the challenge is how do we adapt the product to a changing audience. I don't think that in and of itself is new. The goalposts just keep moving as technology is progressing and keeps growing. The sports properties have always had to think about what's next for their audiences. A colleague of mine at Google helped build a multi-cam experience for Sunday Night Football back in 2011. Did that change the way we watch football? No. But lessons were learned along the way. Some of those lessons are shining through in modern-day equivalents. A couple that come to mind are the MLB Statcast broadcasts, the NBA now puts out an alternate broadcast augmented with the Second Spectrum live feeds. Those are really cool applications of things that wouldn't be possible without real-time data.
What's most interesting is that all of this is customizable. You have the coaches' overlay which outlines player movement during plays, the QSI shot-making probability, the arcade one for kids. It makes me think about how customizable this can get. Can you choose your own broadcasters, your own scorebug, whatever social network you want supplementing the coverage on the bottom line? That type of customizing is something that's interesting and potentially growing.
Where should live data fit into a sports brand or property's broader marketing or fan engagement funnel?
The most relevant data is usually the most recent. If I'm training a game prediction model, a game that happened a week ago is 99% of the time going to be more valuable in terms of training data than a game from five years ago. This is obviously a different application, but I think the same holds true [for marketers]. It doesn't matter if you communicate something second. If you can't watch one of your team's games and you're following on Twitter, you want to know what's happening immediately. The feed refreshes; your team won at the buzzer. Whoever shows you that first is going to get that reaction. They're going to win the day in that sense. It doesn't matter if it's your team's official account, the broadcasters, the league; the reality is that you're going to see an account that's using real-time data—that's on the social side. On the team side, they need what's happening on the court or on the field as fast as possible.
What emerging trend or technology do you believe will revolutionize the way marketers connect with fans on social platforms in the next three to five years?
I think of it more as a lot of the things we've touched on, in terms of greater personalization, reduced latency, and better insights—a slow rising of the tide. It's an incremental change. Whoever nails that combination, whoever's getting the best content out to their consumers the fastest is going to end up leading in the space. That will be the blueprint for engagement. I hope Google Cloud will help whichever brands are succeeding in engaging their consumers in the fastest, most personalized way. I hope we can be a part of that.
At the end of the day as long as it's the content people want to see, it's important to know as much as possible about the content, the consumer, or the customer so you can get them exactly that. If you're a particular fan of NASCAR, a data provider like [Genius Sports] has a NASCAR widget. If they know you're specifically a fan of a certain driver, they will serve that widget with the content about the driver. It's little incremental things like that. There's nothing in that sense that appears to be going away.
Learn more about how to effectively engage the modern fan & consumer at Hashtag Sports, an annual conference designed for media and marketing professionals.