How the University of Miami Empowers Its Athletes on Social Media
How the University of Miami Empowers Its Athletes on Social Media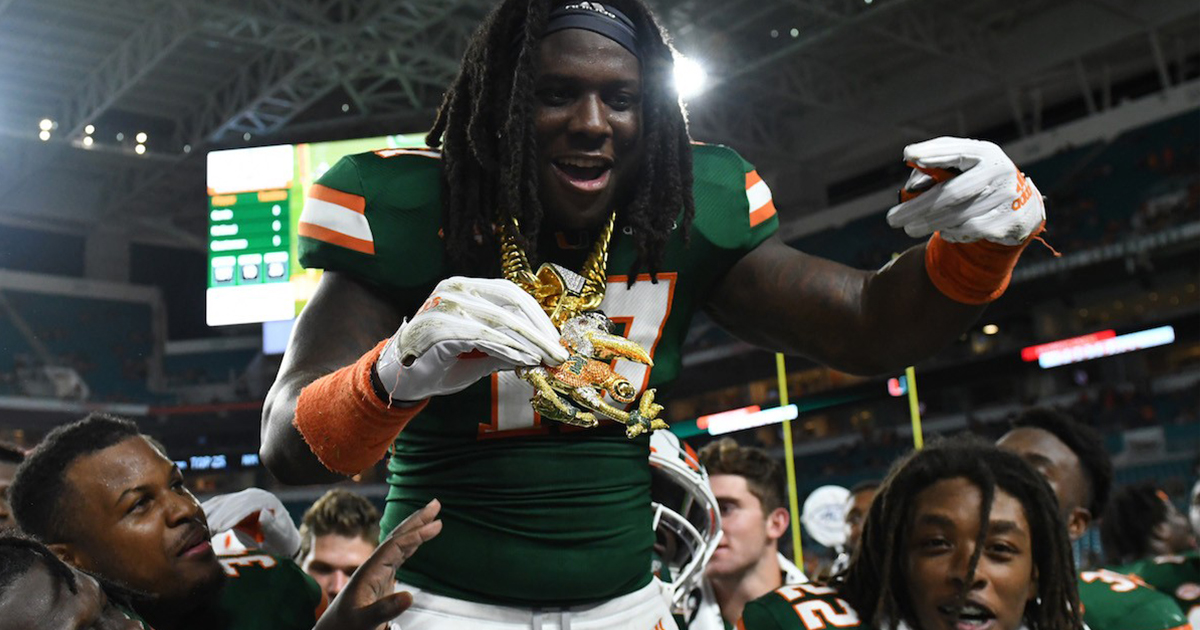 By

Team Hashtag • 8 min read
June 20, 2019
Tim Brogdon sits down with Hashtag Sports in our latest question-and-answer series interview.
As director of digital strategy for the University of Miami Athletic Department, Tim Brogdon oversees all departmental digital and social campaigns as well as hurricanesports.com all while keeping up with the latest trends and strategies in digital marketing.
Brogdon discusses the increasingly prevalent role that student-athletes play in marketing an athletic program to the connected fan, how his team capitalized on The Turnover Chain, and Head Coach Manny Diaz's Instagram success. For clarity, this interview has been condensed and edited.

University of Miami football is one of the most prominent brands in all of sports. How has the "connected fan" changed the structure of your athletic department and the way the Hurricanes think about brand strategy?
You can't build the pieces if you don't have the glue. We've set up some content pillars recently—recruit, inspire, engage, form, and sell—and while that's going on, we're trying to figure out what the other parts of this puzzle are. What does our staff look like? Should we be rebranding?
We just added a bunch of bodies to the department that we hope will enhance our [capabilities] and really drive the conversation around what we're doing, what we're creating, and how we're doing it. Each position we're looking at hiring is meant to ensure that we're successful in making that connection with fans. We've added an assistant athletic director communication and content, an assistant athletic director of creative services, several folks for the [communications] staff, and we're hiring another full-time digital person. We're growing in the right way—knowing what we're going to have to continually do. The decision of everybody going digital is not even the discussion anymore—it's that we need to be communicating as if we're all digital communicators.
So we have two full-time digital people, and during the semester we have three "full-time" interns—as full time as you can be as a college student. Then, we have three content-creating videographers, a person who manages all of their duties, and two graphic designers. So that whole group is what encompasses people who are working on social and digital for most of their workday, but then you could expand into the second tier of sports information directors, who are running the day-to-day for accounts like men's tennis, women's tennis, rowing, and track—those sports that might not necessarily get a ton of attention but that we also we need to ensure we're filling the channels for fans.
Last fall, the University of Miami football team reached an audience of almost 3M fans on Instagram and Twitter through content posted by student-athletes alone. Where do student athlete's social media channels fit into The University of Miami's broader marketing funnel?
That mentality is still kind of new to everyone. When I got to Miami in 2015, this wasn't necessarily on people's radar, but we had a few folks in the industry pushing the idea of student athletes being the brand and the influencers. People didn't have a ton of institutional buy-in around this mentality of student athletes posting. Four years ago, we were basically saying no tagging, no retweeting the student athletes, because we had a few bad eggs on social ruining it for everybody, and our mentality was that if everybody can't do it right, then nobody can do it.
Now, we have an opportunity through some of our sports teams to give the student athletes content through INFLCR. The mentality has switched, and we're using them as a voice for saying things that we don't necessarily say, but if it's from a team figure like a student athlete, then that's big. Now, they're asking questions about how to do it better. We're still trying to figure out where this column fits into our overall strategy, but we've had some ideas on how we can use student-athletes moving forward, For example, Tate Martell, when he arrived on campus, he immediately became our most-followed Instagram account. So that's important, and we need to let him know that; we need to be able to leverage that, we need to be able to make sure he's being smart and that he's a part of the overall strategy for our social platforms.
How has technology been integrated into your content strategy to more efficiently connect with fans?
I kind of learned the hard way when I first got here that being the first to dabble isn't always the best, especially if you don't have the bandwidth and resources. We were the first college to hop on the VR train, and it didn't go well because we didn't have the bandwidth and resources to edit, etc.. So we're trying to push our partner who builds our mobile app to make that more robust, and we're almost there. With the staff we have in place, and the people we're going to have, we'll be pushing that envelope a little more and moving it forward.
While football has seen the most widespread success, you've also begun to invest in similar tactics and technology for non-revenue sports. What adjustments have you made to your strategy, if any, in regard to baseball or women's basketball players? Do goals differ for student-athletes across different sports?
For the most part, we're trying to take things that work and insert it into these other sports. For example, men's basketball has put a really serious emphasis on doing meme-style content on Instagram because it just performs so well. Basketball is driving the Instagram sports culture a little bit. Women's basketball is a very visually driven sport so when they found out that they had access to their photographs via INFLCR, it was a big deal.
Ultimately, men's and women's basketball are going to be using [it for] recruiting a lot more. When you only have 15 spots on your roster, and you can say "Hey, you can come to the University of Miami, and if you use our technology and strategy, you can increase your Instagram following year-over-year," it's something that we're going to be pushing from the digital department out to men's and women's basketball, football, and baseball a lot more. We have proof, at least through football, that says on average, student athletes on Instagram improve [their following] 20% over the season. If you can tell a recruit that, not only are you going to help win games, but it's going to be reciprocal, and you'll be able to make a name for yourself. That's starting to speak volume for recruits who are growing up in this age of knowing good content and bad content.
We want to be there on the front lines in the football space saying, "When you take that helmet off, you're going to be able to share your story, and we're gonna help you build it too."
Getting buy-in from busy 18-21 year-olds isn't necessarily the easiest thing in the world to do, and yet, The U's football team had a 100% INFLCR app adoption rate from football student-athletes. What types of content do you find student-athletes are most often seeking, downloading, and posting?
The adoption rate speaks to a lot of pieces of the puzzle coming together. We're getting ready to onboard everybody, and we strategically place the onboarding process to happen after our football marketing shoot. So we've got that really serious social currency—we had new uniforms, new unit photos, edgier photos. This is the first time our student athletes have ever had access to this high quality content all the time, and they'll be able to post it before the season starts.
Over the season that buy-in continues because you get the fear of missing out. Players are checking their INFLCR account and sharing content immediately after the game. We get DMs and texts saying like "When are the photos gonna hit INFLCR?" We are fortunate enough with football where we have a lot of photography coming in, and it's high quality imagery from every angle from arrival to game's end. As far as content goes, we've pushed GIFs, we've pushed graphics from time to time and seen some usage, we've pushed videos, but right now, it's very photo heavy.
It's been said that social media is a waiting weapon of mass destruction for young athletes. But for athletic departments who invest in technology to properly educate and empower student-athletes, social media can just as easily become a weapon of mass production. Through such efforts, how is The U helping to set a new benchmark for engagement?
I definitely think a decent amount of it is the technology, but also buy-in in general. It's helping us make the student athlete experience way better by showing them that we're giving them a lot of "currency" and the "currency" can be spent to ensure that you're representing yourself and the University of Miami in the best way as possible. That is productive for all of us. When a student athlete does something on social that is bad, they're not the only one feeling the brunt of that. They realize that social media is the front door to their persona, just like college athletic departments are the front door to universities. It's always great to be able to tell student-athletes that they've done something right instead of hearing they've done a bad job. It's the empowerment piece.
What emerging trend do you believe will impact college athletics in the next three to five years?
[Head coach] Manny [Diaz] owns and runs all of his own social so when he feels like he needs to do something, he's going to do it. The really cool thing for him is that when he realized what a powerful tool INFLCR is, he was really bought in as well. He has access to all of these things at his fingertips to help him deliver his message even further. For him to be on Instagram is really great, and I think he knows how to use the platform, he's engaged in the platform, and he knows our guys are engaged on the platform. He's on the forefront of what coaches can be doing these days [on social media], and that's crazy to say, but it's the reality.
I can't say that we can quantify Instagram's [impact on recruiting], but I would say that his Instagram following has grown substantially since he was named head coach. It sounds like "of course that would happen," but it wouldn't happen unless he himself was posting, and unless we were tagging him in posts that feature him. We almost were working on a cross-promotional type of strategy and mentality to the point where Coach Diaz would be included in everything when he first got hired to ensure that folks would know that he was on Instagram. I think that's paid dividends.
Miami football's "Turnover Chain" took over the sports zeitgeist in 2017. How did you harness its virality and build a sustained story around it on digital media?
I'm so thankful that the turnover chain existed in my time here at Miami because it was a phenomenon that I don't think that we could have ever understood until now, kind of looking back at it in retrospect.
We had no idea that it was coming. It was a game day feature that Manny Diaz asked Coach Richt for permission for but didn't show him it and didn't tell him it was happening [beyond] "Hey, I might have something if the defense causes a turnover, are you cool with that?"
Then the first interception of the game, you see this insane chain, cube and link come out. We're asking questions in the press box like "Hey, did you know about this? What is this? Where did this come from?" We had no idea. So we're kind of retroactively trying to tell this story, and we ended up doing an okay job of it. At the end of the 2017 season, we put together a graphic that showed every single player, how many times they wore the turnover chain, and how many turnovers were caused over the entire season. It was just a treasure chest of turnover chains that was done by our graphic designer.
We definitely tried to [leverage] it as much as possible, and we didn't stop in 2017. In 2018, the turnover chain started this collective ridiculousness of colleges rewarding players for what they're doing on the field. We decided to make a graphic that had the turnover chain draped over the FSU turnover backpack after we won. I think that speaks to the voice, to the brand and the turnover chain itself and what we're allowed to do through this tone that we have here at The U for football. We were serious about trying to capture content for the 2018 Turnover Chain and we actually did a photoshoot with it in preparation for the 2018 season. We worked with Bleacher Report and some other media entities to get them imagery and make sure that we were the lead with the story of the new turnover chain. We tried to seize that moment despite whatever the outcome of the game was. We had the Steelers and the Browns tweeting about it, and the Marlins started home run chains. Those were all pieces of us being able to capitalize on it and help build that national narrative.

Learn more about how social media is changing the way collegiate athletic programs create content at Hashtag Sports, an annual conference designed for media and marketing executives engaging the next generation of sports fans and consumers.