How TikTok Took Over the University of Arizona's Top 10 Posts of All Time in Less Than a Year
University of Arizona TikTok – Engage by Hashtag Sports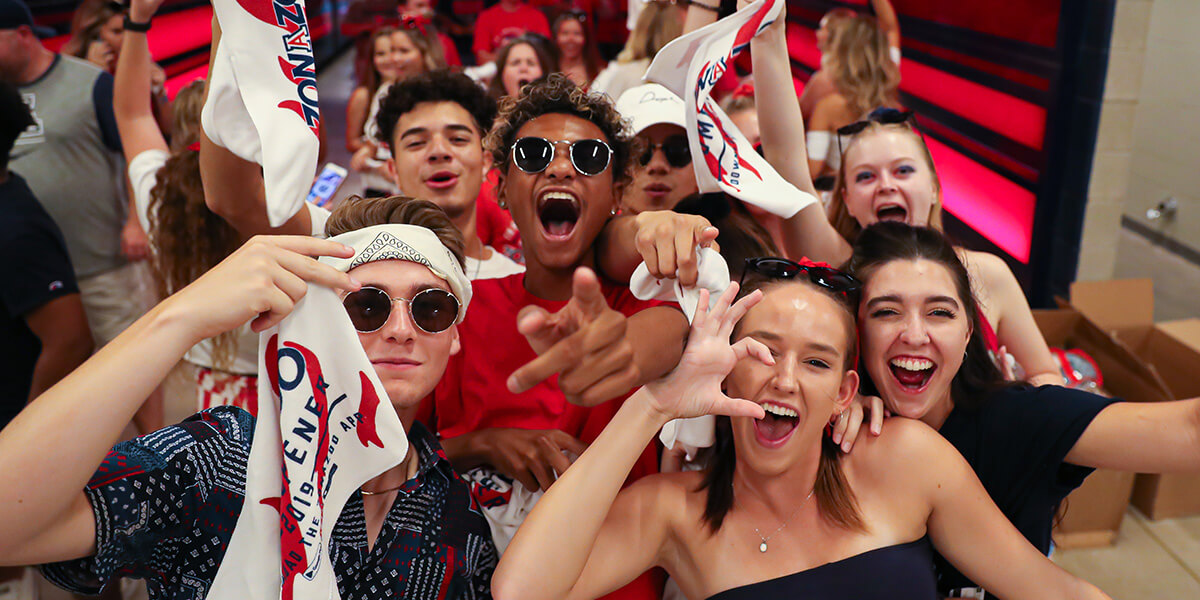 By

Team Hashtag • 7 min read
January 10, 2020
In his role as Digital Marketing Coordinator at the University of Arizona, Joseph Scarpone oversees social media, email marketing, the University's own app, and assists with digital advertising.
In a chat with Hashtag Sports, Joe talks about why he decided to create a TikTok account for the University's athletics program, the growth in the U of A's digital audience as a direct result of using the platform, as well as how TikTok is helping set a benchmark in fan engagement for the University.
In September, the University of Arizona launched one of the first-ever TikTok accounts in college athletics. Could you share a little bit about the background of that decision and who your target audience is?
I kicked around the idea throughout the summer with my intern, Jack Crawford. Our student-athletes returned to campus in September and I mentioned to some of them that I was thinking about making an account and they lit up with excitement! Based on their reaction, I knew it was time. The next day, we officially launched.
We promoted our TikTok on all forms of social media and gained an initial push of about 1,000 followers. Since then, we've gained over 40,000 followers naturally within the platform. The likelihood is that most of these are users who follow us because they saw our content on the platform and thought it was entertaining – not because they were originally Arizona Wildcat fans. In other words, I don't think most of our TikTok followers follow us anywhere else. This means we're suddenly reaching thousands of people we wouldn't have reached otherwise and may even be gaining new fans who weren't connected to our teams in any way before.
TikTok's audience is way younger than any other platform that we're on. The people who follow us don't buy tickets to our games and don't really care about our in-game promotions. So I think of our audience on TikTok as a really valuable connection that can pay off for us in the long term – you never know who is going to become a fan of the Wildcats because of something we post.
It's actually really confusing to me that more college athletics aren't on TikTok for that reason – this is an age group that's really vital for us. Plus, we have such an advantage because we have direct access to hundreds of student-athletes with all different types of personalities.
Right now there's only a small handful of college athletics accounts. At this time next year, I'd be surprised if every athletic department didn't have a TikTok.
Content that succeeds on TikTok is much different than what works on other social platforms. U of A's first viral post was a spin-off on the Super Mario Smash Bros character selection screen featuring players from the women's basketball team. Where did the idea come from, and how has that video's success influenced your strategy moving forward?
What works on Twitter, Instagram, and Facebook doesn't work on TikTok. TikTok's content is really unique to other social media platforms and that's the most important thing to remember as a creator (and a difference I've already seen some pro teams struggle with distinguishing).
I had no idea that the Super Smash Bros post would blow up. Some of the members of our women's basketball team were TikTok users before we had an account, so I knew they'd be up for anything and pitched it to them. Within 24 hours, we had 100,000 views!
That post was really important because not only did it give us an initial push of followers, but it set the tone for our content from that point forward. We were able to show our athletes in other sports how successful it was and it encouraged them to help us create.
Since launching, the account has gained 40.5K followers which is more growth in that time span than any of your athletic department's 50+ accounts. How do you measure success on TikTok?

TikTok is one of the most important things that we do. There are a lot of departments that think of social as a way to generate revenue and ours is no different. But on TikTok, we're not selling tickets. TikTok's content promotes the personalities of our student-athletes and brings our fans closer to them—and that's probably the most valuable thing you can do on social media.
Among other things, I think TikTok serves as building blocks to future content for us on all platforms. You can post that tickets are on sale a million times but no one cares if they don't feel connected to the team. As with anything, the long term connection to our fans is way more important than the short term gain of a ticket pitch.
Are there any other metrics that you can point to which illustrate this success?
In terms of video views, if you look at our top 10 posts of all time on any platform for all of our accounts, TikTok already has five that fall on that list. Part of the brilliance of TikTok is that it's sort of easy to go viral—there are so many more content viewers than creators, and the video length is so short that it's easy to consume a high volume of content in one sitting.
What have been the biggest challenges with finding footing on a new platform?
I didn't really know what I was doing at first. Until that Super Smash Bros. post, everything flopped. I started asking co-workers' kids and relatives for advice. I was asking 10-year-olds what I was doing wrong. But honestly, they knew the platform better than me so I valued their advice.
I also spent a lot of time on the platform – at least 3-4 hours a day for a few weeks – and talked to people who work at TikTok to try to figure out what made a post successful. At this point, I feel like I have a good understanding of how the algorithm works (but I still think there's a little bit of a randomness factor!).
I admit we were throwing darts at first but now there's actually a good amount of strategy and effort behind all of our posts.
How has the "connected fan" changed the structure of your athletic department and the way the Wildcats think about brand strategy?
A lot. I've only been with Arizona for a year and a half but my job has changed a lot in that time because our fans are so connected. Our mobile app is a legitimate asset for us now (and probably our most undervalued asset if you ask me). Our email marketing strategy is constantly changing. We put more and more effort into our digital ads. The standards for social media are constantly growing and no one wants to get left behind.
Right now, U of A's TikTok primarily features men's and women's basketball. Do you have plans to incorporate other sports in the near term?
Yes, definitely. Our women's basketball team was all about our TikTok, and they have great personalities. They helped us set the tone for other student-athletes because we could say "Here's what the women's basketball team did and they got a quarter of a million views" and of course they want that too. Our TikTok is open to any of our student-athletes. We've had recent posts with our baseball team, cheerleaders, and mascots.
How is your athletic department's work on TikTok helping to set a new benchmark for fan engagement? Have any other universities followed your lead?
After launch, I reached out to Skullsparks, the NCAA, and the Pac-12 to find out what other schools were on TikTok. They each brought attention to us in different ways and I think it made other some departments take notice and create accounts because we saw a few pop up right after that.
I'm pretty sure we were the first college athletics department account but ultimately I'm not as interested in being the first as I am in being the best. Like any other social media platform, it's a skill that you can get better at the more you understand it.
What's the best use of TikTok you've seen, whether inside or outside of sports?
I think there are a few accounts that stand out – the Golden State Warriors were like the OG's of sports TikTok. The New England Patriots are really good too. Clemson Football started their TikTok around the same time we did and they gained a big following really quick because their department sees the value of access for social media.
A lot of my favorite TikTokers are high school kids, which I think might be an NCAA violation if I mention their names, haha.
How has technology been integrated into your content strategy to more efficiently connect with fans?
We make a lot of revenue from our email marketing efforts, but we also know that our fans won't prioritize email forever. How people use technology is constantly evolving. Last year, we became the first school to offer digital tickets through our mobile app. There's going to be a time probably very soon that we move our ticketing to digital-only as many pro teams have.
I think our department will also continue to realize the importance of social media as well. Our social media content reaches millions of sets of eyes each month, which is easily more than our website, game attendance, newspaper ads, etc.
What do you believe is an emerging trend in media or marketing that will shape the future of college athletics?
I'm not sure if it's a trend, but I think social content, in general, is constantly emerging. If you look at our most-shared posts of all time, they had nothing to do with promotions or on-field accomplishments. It was Baby Yoda that got people talking.
Years ago, pro and college athletics accounts were live-tweeting play by play of games. It's kind of an antiquated way of coverage now. These days, their social feed is a supplementary view of the game. Everyone has heard someone talk about their phone as the "secondary screen" but really it's the primary screen. In 2019, more people looked at their phones than at their TV's.
The next generation doesn't care as much about stats and scores, they want to see an inside look at what it's really like to be an athlete at a big-time school. People want to be entertained. I mentioned Clemson before but they are a school that really understands that. Texas, Ohio State, and Duke Basketball do a great job with this too and guess what – they get really good recruits and their fanbase is really strong. It's not a coincidence. Still, some schools are hesitant to put themselves out there for whatever reason.
I think we will start to see more and more social platforms that have niche content. It's important to keep an eye on platforms like Firework and Byte to see what becomes of them and how they compete with TikTok. The longevity of social media platforms is all about adaptation, so what will also be interesting is to see how powerhouses like Facebook and Instagram react and adapt.
Learn more about how to effectively engage the modern fan & consumer at Hashtag Sports, an annual conference designed for media and marketing professionals.