How World Surf League Has Achieved New Scale on Social with a Content Team of Three
How World Surf League Content Team Has Achieved New Scale on Social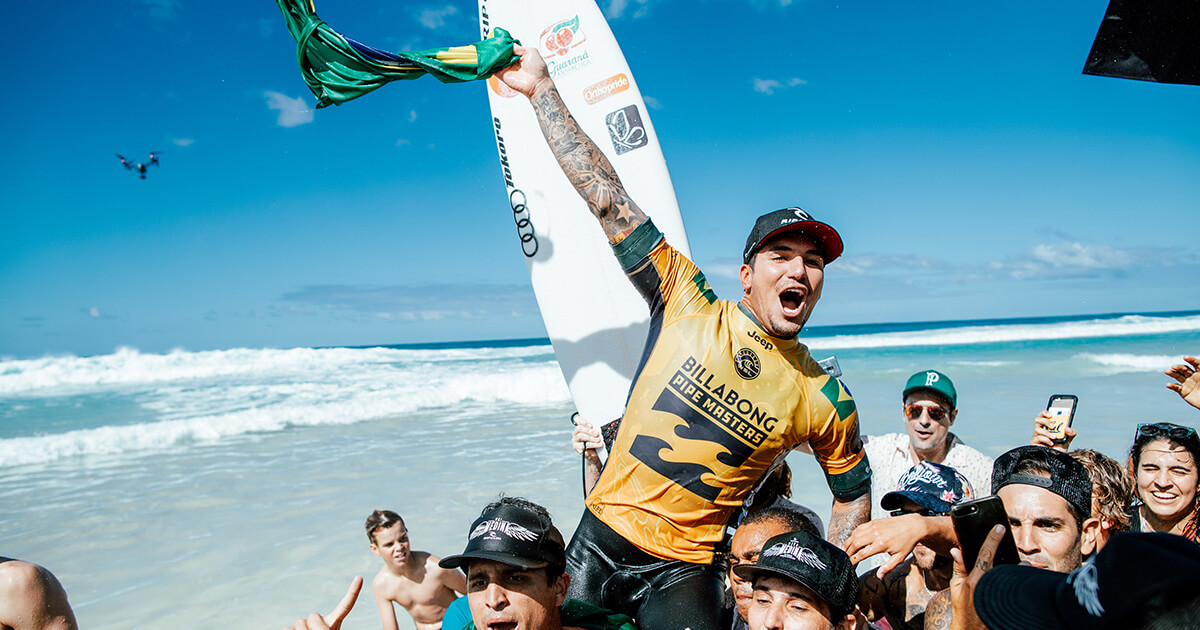 By

Team Hashtag • 10 min read
December 10, 2019
In his role as Chief Community Officer at the World Surf League, Tim Greenberg is primarily responsible for overseeing numerous innovation projects while also managing content, original programming, and strategy for the league's social and digital channels.
Greenberg sat down for a chat with Hashtag Sports and gave us the details on how WSL ranked only behind the NBA & NFL for American sports leagues in social interactions, the birth of WSL's original content studio, and why pushing event highlights directly to surfers' social accounts is key to their strategy.
During your tenure, World Surf League has seen 1,500% social fan growth across all platforms and a mind-boggling 7,400% increase on Instagram. To what do you attribute this audience growth, and more specifically, what's been your approach to using technology to manage content, interact with your fan community, and expand your brand around the globe?
Firstly, our team is incredible—it's not one person, it's a total collaboration. When I came onboard to oversee and manage our social channels in 2013, and still now, the strategy has been fairly simple: great content programmed consistently over time yield results. Anything that we put out on our social channels, anything we distribute through our broadcast, we really want to make sure that we believe in it, and it is something that, regardless of scale and output, we want our fans want to see.
As a small team—we have three people on our social team who oversee and create daily content—we need to be extremely efficient. Leveraging technology to manage our content output is imperative because otherwise we would not be able to achieve the scale that we've been able to deliver, which is roughly 12 to 15 pieces per day on Facebook, an additional 5 to 6 on Instagram, and we're now programming new platforms like TikTok. From a fan interaction perspective, social is also a great place for us to build community, in addition to achieving scale and reach, we're using social as a tool to drive engagement.
We also strive to bring the beach to our fans no matter where they live. When we're creating content that might seem mundane or 'normal' to us — like waxing a board— we ask ourselves: could this be interesting to somebody who doesn't necessarily surf or have access to the ocean on a consistent basis? That perspective is something we try to keep in mind constantly.
How would you best characterize WSL's fan base, and why is fan connection with your surfers on social important to the league?
I would characterize our fanbase as passionate and deeply engaged. We have fans across the globe – we're truly international. And we're increasingly seeing interest beyond the core and more users and more viewership from places and people that you wouldn't normally expect. I think this is due to the aspirational nature of surfing.
We just hired an incredibly talented new CMO, Pri Shumate, who came over from Nike to help build our brand. Our goal under her leadership is to enable our fans to connect with surfers in a much deeper way. At the WSL, we primarily run surfing events—that is what we've done in different iterations for over 40 years— we now want to move from a place where we're not just speaking to someone who's interested in in-jersey surfing. We definitely want to service the hard-core fan, but we also want to widen our brand aperture. And the first point of contact for most new fans or any sport is with the athletes. So we want to support that relationship, while also creating a consumer journey that maps back to WSL.
How do you empower your surfers to use social media and tell authentic stories?

Firstly, we've recognized over the past few years that we really need to empower and educate tour athletes to invest time into social content, and there's a couple of ways that we do this. One is having reps from the social platforms – like Facebook and Instagram – come to our events and work directly with the athletes. We've held summits and one-on-one sessions to help answer any athletes questions. We want to set them up for success on these platforms, and they feel like they have a direct line to key individuals who are able to provide best practices.
Outside of working with the platforms, the social team has invested heavily over a number of years in building relationships and trust with the surfers so that we can help to educate them about new trends, help them with any questions, and provide them with tools to elevate their social presence. We actually use the Greenfly app as a messaging channel to connect with our athletes. At any point in the day, our athletes can message us on Greenfly to say, "Can you send me that wave? Or where can I get this piece of content?" It's become an important communication tool because our athletes are international, they're traveling constantly, and text and email aren't necessarily the best solutions for those who aren't based in the U.S.. WhatsApp is okay for sharing information, but not for sending content. So we've been using Greenfly to centralize our communication with our athletes.
Walk me through your social content workflow at live surfing events.
We always have one person on-site at our events, and we always have one or two people at home who are helping manage the backend systems, which means clipping content in real-time, making sure that the live streams are up and everything is working properly. We also have a community manager who's engaging with our fans throughout the day. If they have any questions around tech support, QA, they can't find something, etc., we're having a dialogue back-and-forth to ensure our fans are being heard.
From a tactical perspective, there's a number of reasons why we've invested in sending someone to each event. One, as I mentioned, is the community-building aspect – making sure that we have a consistent presence with the athletes. Two is that it's extremely important from a partnership standpoint to capture content on the ground that supports our brand partnerships across the globe. The third reason is that we also find that behind-the-scenes content, especially personality content from our athletes, performs extremely well. Injecting more humanity to the WSL's coverage of the sport by showcasing these incredible athletes' personalities is critical. And finally, varying time zones also create the need for full on the ground support.
On the technology end, we have a robust system for how we're servicing each event – from content clipping to distribution. A partnership with WSC has become integral in how we operate. Over the past few years, WSC's system has 'learned' our sport through machine learning. We are no longer relying on manually clipping content from our livestreams. We use WSC to ensure that we have delivery of assets in near real-time to our CMS and we push this content out to not only our owned and operated channels, but also our surfers.
It's really about ensuring that we're fast and using our time and resources effectively. We are reporting on the news in real-time and we are engaging with our fans globally. We're elevating our athletes' personas and then using these technology partners to ensure that we can achieve scale and output with the small team that I mentioned earlier. We have long event days – typically between 8– 10 hours, but the interesting part is we don't see that drop-off in engagement. The more that we can feed the content engine, the better.
How has athlete-sharing during live events driven engagement and viewership?
We currently have 72 active athletes on Greenfly – a content sharing app. That includes a mix of athletes from the Championship Tour, Qualification Series, Big Wave, and Longboard. Having 72 athletes in our network who can communicate with their fans in near real-time is incredible. With Greenfly's gallery feature, we've created athlete-specific galleries to deliver individually tailored content to every Championship Tour surfer as it's being uploaded to our CMS.
We now have an API integration where we no longer need an intermediary person to download and send clips. We actually have WSC and Greenfly talking to each other directly, which has been a game-changer for us because before we would have to manually do this process. Our athletes can now receive content in their Greenfly inbox before they even leave the water — that's how fast we've become.
In the past five months, automation allowed us to upload over 22,000 pieces of content – photo and video – to the Greenfly platform, with over 3,400 assets downloaded by our athletes and 806 posts. This has resulted in over 9.1 million engagements (likes, comments, shares, and views) on surfer posts. What this demonstrates to us is that the automation layer is working. It's allowing us to achieve scale and give our athletes more options to post, but they're also using the content and getting engagement, which is increasing our reach outside of the WSL channels. So it's been incredibly effective, and we're only going to get more sophisticated in the way that we're leveraging these tools in the future.
As compared to athletes in other sports, why is it important to get content to surfers quickly?
In our sport, as in others, there are photographers and media on the beach and the event is being live-streamed. If you wait too long, the moment for the highest engagement has passed. In addition, a fan may not be able to watch live, so we need to be sharing content that tells the event story wherever a user is engaging. This can also help to boost viewership.
Enabling the surfers to distribute content through their channels quickly is also crucial. Someone who follows Gabriel Medina is likely a Gabriel Medina fan – we want to have the athlete share the story or moment with their fans. Giving the athletes options and speed gives them the ability to drive back to WSL.
What's been the impact of giving surfers such fast access to content?
I fundamentally believe the athletes should be able to promote their own content. In many ways, we've modeled ourselves after the NBA from an athlete distribution standpoint. They actually introduced us to the WSC team, and we immediately knew these were game-changing ideas. Being open to the idea that distributing league-owned content to our athletes is going to build trust and engagement over time is part of our success. It's also something that we have the ability to do easily because we are the rights holder.
One example where this worked well outside of our competition was the announcement for pay equity. We were able to use Greenfly to distribute custom content to each of the women on the Championship Tour and beyond. That was not possible at scale previously—emails would've gotten lost, but using a tool like Greenfly helped us to amplify the reach by leveraging the platform as a tool to synchronize messaging across the globe. So not only is it really helpful during our live events, but it's also helpful for campaigns.
Can you tell us a little bit about World Surf League Studios and how original production fits into your content strategy?
With Erik Logan – our President of Content – coming on board earlier this year, we have put a very intentional focus on elevating the WSL's narrative approach to storytelling to create content that sits between our events. We've primarily been a live events company, so for us to shift resources into the original content space is a pivot, but one that we absolutely believe is the right approach. One very specific initiative that our team oversaw the development of, and still runs on a daily basis, is WSL Surf Breaks. The intention around Surf Breaks is that we as a league did not own the narrative around our sport from a news perspective. A few of the endemic media brands were doing a much better job of telling our stories than we were. So we took it upon ourselves to say, "What would it look like to create a twice-daily video surf news program, built for digital that we could distribute across all of our platforms?" Not only are we now able to tell WSL stories – we're also able to cover news that's happening far beyond our events. In surfing, there is incredible content that's being created every day across the globe. Our goal is to contextualize and repackage this content – rather than simply repost.
Where before, we were doing a lot of things okay, we're now doing fewer things but great. And Surf Breaks is an example of success. Since it's launch in June 2019, on average we've seen Surf Breaks perform 50 – 60% better than our traditional Instagram content. So it has been a massive driver for us in terms of not just narrative, but also engagement. I always said that if we broke even on Surf Breaks and we were getting the same amount of engagement, it would still be a success—but now we're seeing better performance. It's an incredibly powerful story for us to go and say, not only are we able to post clips fast, not only are we able to post clips from our community but now we're also able to add a layer of context on top to help tell a story.
In addition to social and the success of Surf Breaks, we've also invested heavily in longer-form storytelling that sits outside of the jersey. We're trying to tell stories about humanity through the lens of surfing, not surfing stories with humanity. Those are two very different things. One project that I'm particularly proud of is 'Transformed'. It's a series where we ask, "How does surfing change lives and cultures?" The objective of this series is to speak to a broader audience. As a league, we really never flexed this creative muscle before and the results that we're seeing from the community from a brand-building perspective are unbelievable.
We're also looking off-platform. We just announced a deal with ABC, which was led internally by Erik Logan, for a show that will be airing sometime next year called 'Ultimate Surfer'. So we're not just looking at our own channels to tell these stories, we're also looking off-platform to get our message out as far as we possibly can.
From 2017 to 2018, WSL ranked 3rd among sports leagues in social interactions and video views behind only the NFL and NBA. How do you measure success on social?
We're increasingly interested in engagement. Video views are a good metric for us to understand our scale and reach – we already have over a billion video views so far this year across our social channels, but we're also looking closely at that engagement layer. Is the content creating a conversation or dialogue with the consumer? We need to enable and deepen the relationship our fans have with the sport.
What content trends or emerging technologies do you believe will revolutionize the way marketers connect and engage with fans in the next few years?
That's a big question! I do believe that there are going to be more opportunities with automation and machine learning. This will allow smaller teams to achieve scale. Cloud editing and producing is another place where we'll see significant advancements. This will reduce the overhead needed to be an effective media business.
Also understanding that the athletes' networks are massively important. This sounds straightforward and obvious, but it does get overlooked. So from a technological perspective using tools like Greenfly to communicate and distribute content efficiently will give savvy marketers an advantage.
And then there is the emergence of new platforms. We've been seeing incredible results on TikTok this year. Since February, we've grown to over 620K followers and have over 100 million views on our content. And 70% of our followers on the platform are women. Overall, we need to be first adopters, but also ensure that we're making decisions that map back to who we are as a brand. It's no longer a one size fits all strategy for content. We are creating unique content across every platform on a daily basis and new platforms like TikTok are no different. It's a very unique ecosystem, very unique community, and we need to be speaking the language. TikTok has become a fun and new way to reach an important audience that skews towards Generation Z. I expect this trend to continue into 2020 and beyond.
Learn more about how to effectively engage the modern fan & consumer at Hashtag Sports, an annual conference designed for media and marketing professionals.