WWE Next in Line: Transforming Talent Pipelines Through NIL
WWE Next in Line: Transforming Talent Pipelines Through NIL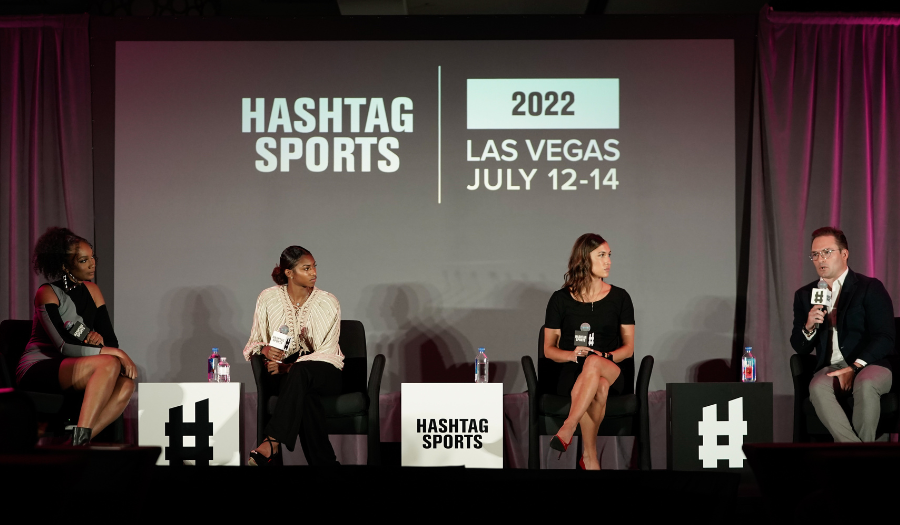 By

Team Hashtag • 16 min read
September 2, 2022
Through WWE's NIL program, the sports entertainment company recruits and develops future Superstars, enhancing talent development through collaborations with college athletes from a variety of athletic backgrounds. During Hashtag Sports 2022, WWE's SVP of Global Talent Strategy & Development, James Kimball, along with two WWE Next In Line athletes, Riley White from the University of Alabama and Masai Russell from the University of Kentucky, discussed name, image, and likeness (NIL) perspectives, personal branding, and the benefits provided by this first-of-its-kind program.
Hashtag Sports 2022 conference sessions are now available for viewing on-demand.
Key Insights:
NIL helps student-athletes build their personal brands
Next In Line at its core is a talent recruiting pipeline for WWE
For WWE, it's important that their talent roster is reflective of their fan base and beliefs as a company. Over 40% of the NIL athletes that WWE has at the moment are female and over 50% are racially diverse.
WWE Next In Line is about helping propel college athletes to excel in whatever they choose next.
Ari Chambers: I cannot wait to introduce my panel. I would like to open up space for everyone to describe themselves as they want to be [described] because that's what we're here for. They're going to actually tell you about themselves a little bit and give a fun fact that y'all can't Google!
Masai Russell: Hey guys, my name is Masai Russell. I am a track and field athlete at the University of Kentucky. A fun fact about me is that I am a tumbler. I can flip, toe touch, anything. You won't really see that on the internet, but that's something that's fun about me.
Masai Russell during Hashtag Sports 2022. Photo: Crossovr Collective
Riley White: Hi, I'm Riley White. I'm a pole vaulter at the University of Alabama, and I'm from Alabama so my fun fact is that I drive a manual Jeep. I take pride in being able to drive stick because I feel like it's a lost art.
James Kimball: Hi everyone my name is James Kimball, and I'm the SVP of Talent Strategy & Development at WWE. Unfortunately for me going after your fun fact is going to be quite embarrassing. When I was a child my parents put me in kid beauty pageants, and they won a refrigerator one time. Now reflecting on that, I'm not sure how I feel about it, especially considering I can't drive shift.
Chambers: This is appropriately titled: WWE - Next In Line. We have some of our Next In Line athletes here today, but James what is this program about?
Kimball: WWE Next In Line is our play on NIL, and for us, at WWE, it really serves a number of drivers for the company and business. At its core, it is a talent recruiting function. WWE has over 200 talent on our roster globally and sourced on TV on a weekly basis. Around the same time when NIL was instituted last summer, we were having internal discussions around really actively evolving our talent strategy and the types of talent we're bringing into our developmental pipeline. A real focus was on college athletes and trying to create awareness at scale of WWE as a meaningful outlet for athletes like Masai and Riley.

At the same time, we knew NIL was coming down the pipe and for us, our first NIL athlete that we signed was Gable Steveson, a wrestler from the University of Minnesota that won Olympic gold last year in Tokyo. That was about a month after NIL was launched, and we were speaking with Gable well in advance about coming to WWE. We also knew that he wanted to go back to school. There were real discussions around "Does he leave school or does he sign with us?" We knew that we had the ability to sign him to an NIL deal so we worked through University of Minnesota compliance and NCAA compliance and crafted a really unique agreement for Gable to continue to compete. He went back to school last year and won another NCAA championship.
Shortly thereafter, working internally we understood that there's a proof of concept. There's something here, and this can be a sustainable long-term program that we can build over time and have a really large roster of college athletes from around the country. And here we are!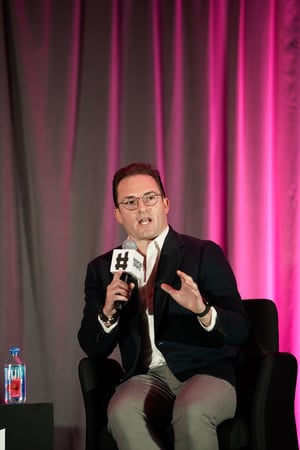 James Kimball during Hashtag Sports 2022. Photo: Crossovr Collective
Riley and Masai were athletes from our first class that we announced in December as a cohort group of 15 that we selectively curated over a several-month process. Just about a month ago we announced our second class, and now we have over 30 [college] athletes on our roster and growing.
Chambers: I think we should give them a handclap for being chosen. That's really cool, and it's no secret that women's sports have historically not been invested in as they've needed to be. NIL came along so y'all were able to create this brand for yourselves and get the money and get the compensation that we so well deserve. We were talking about our brands and how we built them so I want to start with you [Riley], how are you able to establish yourself to be profitable, and what is your brand?
White: I was a gymnast for 13 years before I started pole vaulting, and when COVID first hit, TikTok came out and I was like yeah let's get on TikTok! I love to dance so these dance trends were a hit for me, and then I posted a video on how I went from gymnastics to pole vault. Wave TV messaged me on Instagram and said "We love your story! You were a gymnast for so long, and then you switched over to pole vault. That could be really cool for younger girls who want to do the same thing. Can we feature you on our Snapchat Off Track?" I had no idea what it really was, but I said sounds cool and I sent them some videos, pictures and a little background. They put this [package] together and said they were gonna release it. When they released it that is how my Instagram took off overnight. It went from 6,000 to 20,000 followers, and TikTok kind of blew up as well.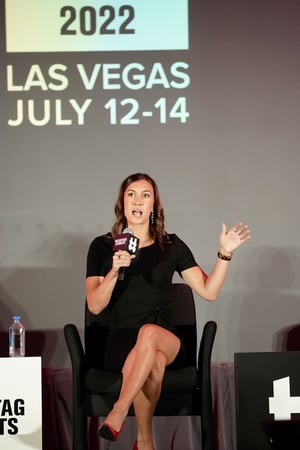 Riley White during Hashtag Sports 2022. Photo: Crossovr Collective
The NIL space has been great for me and it's really helped me build my brand and let people know who I am off the track.
Being at the University of Alabama, a lot of Alabama fans out there love their sports so that's kind of how everything got started. It really allowed me to start posting more about me, what I like to do, and who I am off of the track. People can watch me pole vault, and they know that I'm a student-athlete, but I feel like people really relate when they see all the things you do off of the track. Being from Alabama, I love my cowgirl boots, I love my hats, I love fishing, and I went hunting for the first time this past year. I was not too sure how I felt about it, but I have lots of fun doing other things besides track.
My brand and social media has allowed me to share those experiences as more than just a pole vaulter. I recently signed a deal with Bumble and of course WWE. There's just been lots of little things here and there that have come along. I'm a walk-on at Alabama so I don't get [a scholarship] for my sport so it's kind of nice to be able to now accept these deals and do things that even a normal college student would get to do when it comes to hair and makeup and different products. The NIL space has been great for me, and it's really helped me build my brand and let people know who I am off the track.
Chambers: Masai, I know you are not a stranger to letting people in on your life. Can you tell us about your brand, and how you've been able to market yourself and get noticed in this time of NIL?
Russell: If anyone knows me they know that I have been on social media my whole entire life. Being on social media isn't anything new, it isn't anything different. I post a story every single day all day since I was 12 years old. Being a DI athlete at the University of Kentucky, I just really use that as an opportunity to my advantage. I'm someone that is super transparent about everything that I do, and everything I post on and off the track. To me, I align myself with WWE. They're an entertainment brand, and I'm an entertainer, and I just think that I'm an influencer. I'm someone who people can look up to and say "I want to be like her" so I just talk to people and introduce myself to people and take those experiences in from everyone. It's just an amazing experience to do that so I'm just really thankful for WWE for seeing me for who I am.
NIL is just an amazing thing because I have been on social media my whole entire life and to finally get rewarded for something that I've done for so long doesn't really feel like I'm working. Everyone asks how you balance it. This is my life. I feel like it's just meant for me. I wouldn't say I'm famous, but I've been known in the area since I was really little. Everyone would see me at Six Flags and they would say, "Hey Masai, I know you!" So this isn't anything new. I don't even know really who I am because I'm so many things, and it's my page and my platforms that really speak and show I'm not just an athlete.
Chambers: I love how you said people can see you. James, how were you able to see Riley and Masai? How are you able to see them amongst all these athletes out here, and what made you choose them for this program?
Kimball: I'll just quickly tie a bow on a point that Masai just made. This is part of our overall strategy, to help break down what we feel has been kind of a misperception from the college athlete, pro athlete space around what it means to be a WWE talent. It's more than just a ring. It's an entertainer, it's a performer, it's a brand, it's an influencer.
When we go around the country and try to identify the athletes that will be a welcomed addition to our NIL program it's an extensive process curated over several months. We're live at events, and we have an internal recruiting team much like a professional franchise would have a recruiting team. That's their job, and they're pounding the pavement on the road at events. Obviously, a massive factor for us is identifying athletes who have already demonstrated the ability to build a brand and become a brand to engage with fans and consumers. Riley and Masai both have demonstrated that multiple times. For us, that is meaningful and that's not something that existed for anyone but particularly for our business five, ten years ago and beyond. You always had to understand the potential of how an individual can add value to that aspect of the business. Not just the in-ring but again how they engage, how they elicit emotional responses and all of those factors. Now we see it on a daily basis, and we can understand who's engaging and what their personalities are—all of that is very important to our criteria.
Chambers: Now it's one thing for WWE to choose you all, but y'all have to choose them back. Riley, why did you say yes, and why is this something you wanted to do?
[WWE] aligned with a lot of my values and I want to work for a brand or an organization that aligns with who I am, my goals, and who is going to support me.
White: I will say, I did watch WWE growing up with my dad and that was something we always did in the living room. When they first reached out, I honestly didn't even know if it was really WWE. I was like wait is this spam? I have a marketing agent, and she hopped on the phone, and it was the real deal. This is an opportunity that will never come around again, and it was something that I never thought I was going to do. I was in school to be a PE teacher, and the fact that I can continue an athletic career after pole vaulting sparked my interest.
This NIL program allows me to get a feel for everything, and then decide if this is something I see myself doing or not. So far I got to go to Royal Rumble, and I got to see the behind-the-scenes of everything and meet some of the talent while going to a community event. This was something that was really important to me. I got to help at a Special Olympics powerlifting event, and WWE is very big on all of their community events and that to me was huge because there's so much more than just in the ring. [WWE] aligned with a lot of my values and I want to work for a brand or an organization that aligns with who I am, my goals and who is going to support me. It's been amazing.
Chambers: Walk me through when you went to that event and who you met and how they inspired you!
Riley: I got to meet Bianca Belair. She was a hurdler at Tennessee and so when I first met her, I introduced myself and told her I run track at Alabama, and then we kind of talked about hurdling and pole vaulting and the differences. She looked at me, and she's like "Well hopefully I see you in the ring one day!" and I was like okay... If you've ever seen her, she is a beast.
It was incredible hearing her story of her transition and it was so relatable. I got to meet Baron Corbin, and he talked about going from a collegiate athlete to a wrestler and all the things that college athletics prepares you for, and how they prepare you for that next stage as a professional athlete with WWE. It was really cool to see all of that and see how the whole organization works together. There's so many moving parts but then they all work together for the same thing. It was unreal, and I got to meet a lot of really cool talent.
Chambers: Masai, there are a lot of people out here who are interested in building a brand. To be able to step into a brand and be so unapologetically yourself takes a lot of confidence. How are you able to manage what you showcase and what you don't showcase? Tell me all the things that [go into] Masai's decision-making on her platforms.
I'm more than an athlete which is also why I really loved what WWE brought to me.
Russell: It's kind of weird to say, but I don't really have a strategic plan about what I'm going to post. I'm just going to wake up and do what I want and post what I'm going to do that day. I get up, I do my makeup, I show how to do my makeup, I show what it's like to be a DI athlete, I show what it's like to go to the mall and take care of yourself. I show [my audience] what they want to see. I'm not just an athlete. I'm someone outside of just track and field. A lot of people think it's one-sided,—they think you're just a DI athlete. I'm more than an athlete which is also why I really loved what WWE brought to me. They have a strategic plan about how they want to go about being next in line with their company.
I've been doing this my whole life since I was able to pick up a phone and start recording. My parents told me that one day this can either make or break you. Once it's out there, you can't get it back. This can either hinder you or you can be really successful with this. I took the right way I guess.
Chambers: I want to know why you're Next In Line.
Russell: I believe that I'm next in line because I am an entertainer, I'm an influencer, and I'm someone that can have an impact on youth, women, and men. I feel like I can bring my talents to WWE. I have a bright spirit, I'm crazy, I can flip and I can tumble. So y'all might see me jumping off the ring one day. I just really think that that's why I'm next in line because WWE is literally a brand that I've grown up watching, and they are someone that I would love to align myself with as well.
Chambers: Riley, why are you next in line?
White: Going from gymnastics to pole vault and then now wrestling, I know what it takes to have to grind and work your way up to get to where you are. It's one of those things you don't just start out being a superstar in the ring and on TV. It takes a lot to work your way up, and I feel like I'm very driven, very competitive, and I'm really excited to work through that process. I'm very energetic and very positive. I hope that I'lll be a good guy and not a villain. I love people, I love interacting with people on TikTok. I love going live and having conversations, listening to music, and seeing what kind of music other people like to listen to.
Chambers: I always think of women as 'we got next' but I think 'we got now.' James, why are you pouring so much into women athletes right now, and where do you see that going for WWE and brands in the future?
Over 40% of the NIL athletes that we have at the moment are female, over 50% are diverse. It's important that our roster is reflective of our fan base and reflective of our beliefs as a company.
Kimball: There was a period of time for a while that female talent for WWE were secondary characters and tertiary characters, kind of in the backdrop of the storyline. That all changed in a dramatic fashion almost a decade ago. At this point, for us we've been real leaders in that industry in terms of putting women on the same platform as men on a regular basis and now routinely. For us, we have female stars headlining pay-per-views and main events on television and on a regular basis. For NIL, I think it represented an opportunity to continue to invest in that future, and quite honestly it is the future. It's 'Next In Line.' It's the growth of the business and the company. Over 40% of the NIL athletes that we have at the moment are female, and over 50% are diverse. It's important that our roster is reflective of our fan base and reflective of our beliefs as a company. It represents an opportunity for these two stars in the making. This is all about the opportunity so we're heavily invested in it.
Chambers: I love that I'm completely confident that both of you will seize the opportunity. Masai, you are probably going to be a pro in track so how are you planning on balancing WWE with that or utilizing the services they offer to help you continue in your track endeavors?
Masai: I don't really know the process of going pro in terms of working with WWE, but I know that with the Next In Line program they informed me that it would just be after my professional career. I would have the accessibility and won't have to go through the complete process. Of course, I'm going to stay in contact with them once I go pro.
Chambers: Riley, I know you love kids, and I know that you were recently at the event and able to see how WWE gets involved in communities so can you tell me some things about your passions that [aligned] when you visited WWE?
White: I was in school to be a PE teacher, and I'm currently a GA through community affairs at the University of Alabama. I work summer camps all summer, and when I got to go to Royal Rumble in St.Louis, I helped out with the Special Olympics powerlifting event. It was me and one other guy, Joe Spivak, and we got to run in with two of the superstars. We got to help the Special Olympic athletes lift, and I was overwhelmed with how WWE really incorporates their community of events and how that's a priority for them. It was an experience that I honestly am so glad I got to go and do. That's a huge part of what they do when they travel, and it warmed my heart. I loved it.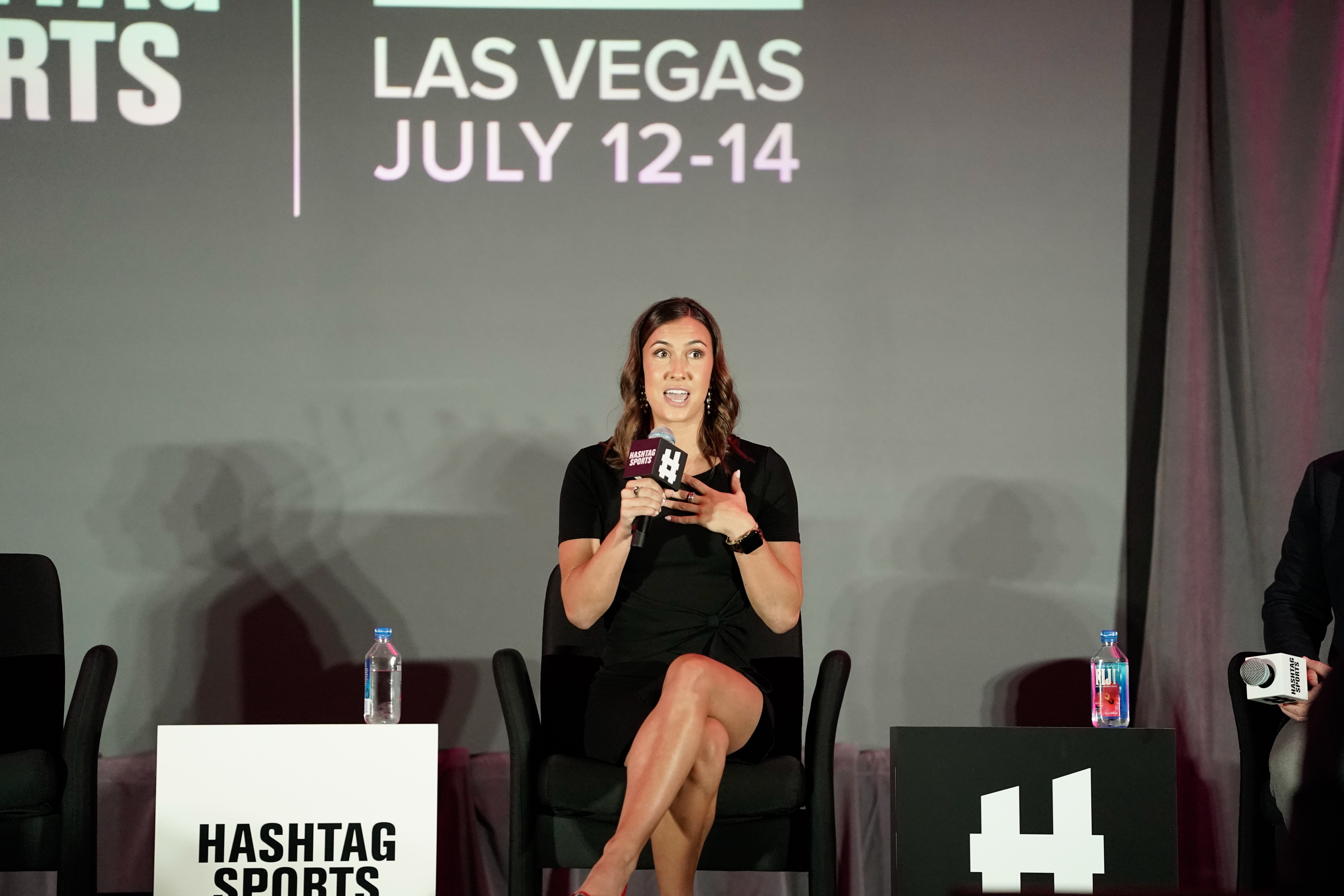 Riley White during HS22. Photo: Crossovr Collective
Ari: James, what tools do you all equip these athletes with?
James: I think we differentiate what our NIL program is versus a lot of the marketplaces and what we've seen in the past year. There are deals for all the right reasons that are transactional in nature, brand "x" promoting product "y" for some level of financial commitment. There's a financial commitment to what we do as well, but the core of that really is resources, and its resources across our business. It's attending community events, it's media training and it's helping to amplify brands and all-access to our creative team and our PR team. It's kind of dual-sided to help prepare athletes like Riley and Masai to one day, hopefully, become WWE superstars.
In case they do not, that's okay, and we're helping arm them for success in the future for whatever they do and whatever their endeavors are. It's mutually beneficial, and we get to understand the engagement of an athlete. It's additional evaluation tools for us while we have them under term while they're finishing school. We can be around them at events like this and can understand what we really have and vice versa. Masai and Riley can attend WrestleMania, and Royal Rumble and be around superstars like Kofi and Xavier, who hosted the [Hashtag Sports] Awards show last night. They get a sense of this as their future so that's really what this is all about. It's resources to help propel college athletes to excel in whatever they choose next. We take great pride in providing meaningful resources.
Chambers: I know we said future, but I'm propelling into the right now. If you had to step in that ring tomorrow, I want you to paint a picture of the character that you would be. I'm going to start with Masai because I think it'll be very entertaining. What's your dream character, and what would her name be?
Masai: When I announced that I was signing with WWE, everybody started to give me names. So maybe something like Masai Mysterio. Something like that. I need to do a little more thinking, but that sounds kind of cute right now. I don't know how close it could be to Rey Mysterio, but if I had to get in the ring tomorrow I would definitely have some super bright colors and have the lashes going. You look good, you feel good. I would fight well too. I would want really bright colors, and I would probably be a villain because I feel like everyone hates the villain, but then again once they win, it's good. Everyone really loves the villain deep down inside. So possibly in that area with bright flashy sequins and diamonds making a big statement. I'm here to kick some butt, period.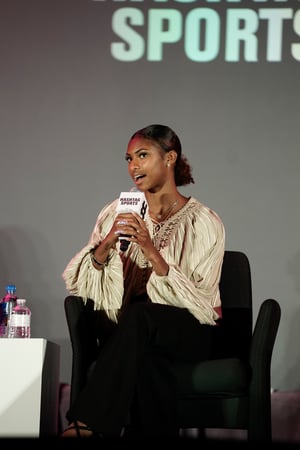 Masai Russell during HS22. Photo: Crossovr Collective
White: A lot of people have suggested that I pole vault into the ring…I love it, so who knows? I saw Liv Morgan had some Jordans for her boots so if I could somehow have like cowgirl boots done... I also saw Brock Lesnar wearing a cowboy hat when I was in Birmingham so I might need one of those. I just want to be someone energetic and fun. I don't want to be a villain, but hey if it happens, it happens.
Chambers: James, what excites you about this next generation coming into WWE?
Kimball: I think a lot of this is what we touched on. It's really self-evident, we are now dealing with athletes who organically and naturally—based on environments that have been created in NIL and social media—take it upon themselves to become brands and influencers at such a young age. That ability to demonstrate a level of understanding and how to have awareness around what is effective in terms of amplifying, messaging, engaging, and attracting consumers and fan bases is something that did not happen several years ago. Now it is quite commonplace. Masai was just explaining her daily routine and how several hundred thousand people watch that on a daily basis. That is differentiating for us, and that will move the needle. And at some point in time, the WWE roster is full of athletes like Masai and Riley. There will be a noticeable shift in the level and quality of talent in the business.
Chambers: I want to thank our athletes and James for everything. I want to remind you all that you can find them on the track so just watch them and invest in women's sports. Make sure you support them as this next generation of Superstars. Thank you all for being here, thank you guys in advance for investing in women's sports, and thank you!
Get Hashtag Sports in Your Inbox
Learn how to connect with the next generation of sports fans
Check back soon for more content from Hashtag Sports 2022. In the meantime, subscribe here to receive updates.