Why Genius Sports Uses Social Listening & Live Data to Inform Media Buys for Marketers
Q&A: Josh Linforth of Genius Sports on Real-Time Data in Advertising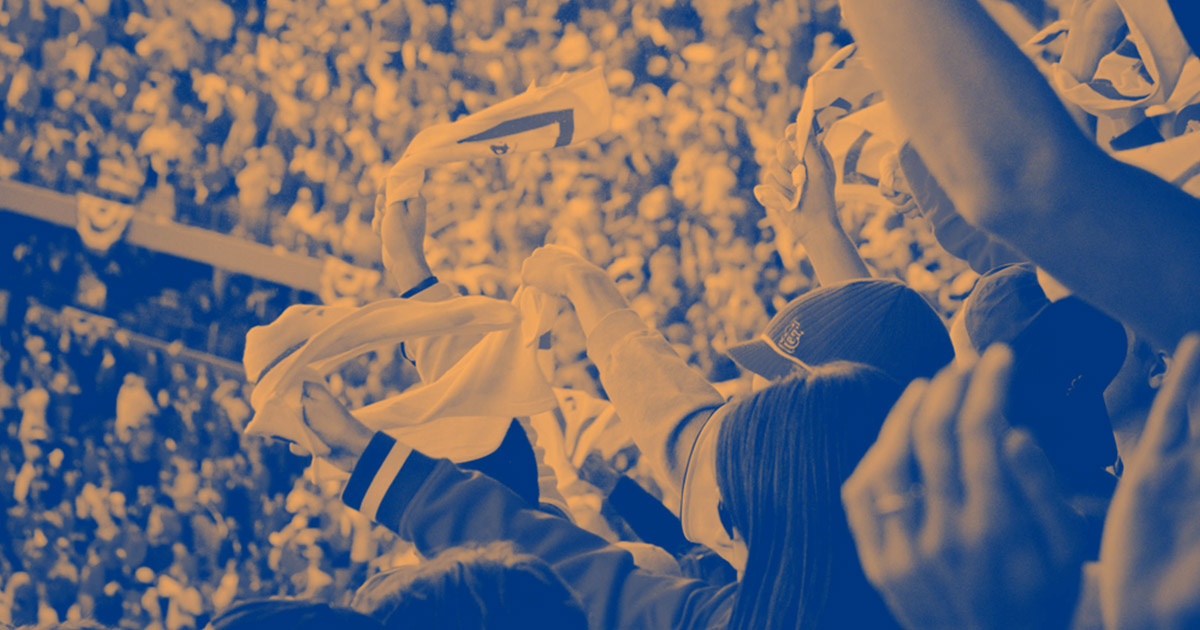 By

Team Hashtag • 7 min read
May 21, 2019
As Commercial Director of Genius Sports Media, Josh Linforth has felt the influence firsthand of both the modern fan and the legalization of sports betting's impact on marketing and advertising in the U.S.
Speaking with Hashtag Sports for a quick chat, Linforth discusses how personalization is reshaping ticketing, the ways NASCAR is leveraging in-race content to reach new fans, and why sports betting is helping digital publishers commercialize their audiences. For clarity, this interview has been condensed and edited.

What emerging trend or technology do you believe will revolutionize the way marketers connect with fans in the next 3 to 5 years?
For many years, the growing focus of sports marketers and publishers has been on creating content that is uniquely tailored for a specific audience and targeted for individual fans. For example, when I land on a publisher's home page, I want the information displayed—in terms of statistics and advertising—to reflect my interests. If I'm a Liverpool fan, I want to be able to see a stats sidebar or live leaderboard for the Premier League rather than if I'm a diehard football fan I expect to see NFL team scores and standings.
As a result, there has been an upsurge in demand for delivering this personalized content to fans. For example, over the course of last season, we have worked closely with the NHL and other leagues to deliver hyper-personalized ticketing content to drive ticket sales. Historically, the legacy tech around the online procurement process has failed to deliver the expected results. This has resulted in fans searching for tickets and having disappointing results, often being retargeted for a game that has passed or ads for sold out games being displayed.
In conjunction with our team partners, our technology has transformed the fortunes of their online ticketing campaigns by delivering personalized ticket-based ads. This means that if you were looking at Section H, Row 21, Seats A & B, and the seats are available, our media system will design and publish a custom ad that displays "Seats A & B in Row 21 are still available for $17" and if they sell out, what we do is change the ad to say "Seats A & B are sold out but these are next to them for $25." Experience has taught us that automation allows our customers to deliver personalized ads that leverage our live data feeds with consumer/purchasing behavior at scale.
The NHL experimented with player & puck tracking technology in a Las Vegas Golden Knights game this season to provide a glimpse into how fans may watch hockey in the future. How did the introduction of this technology allow the team to create new ways to engage fans in real-time?
It all goes back to the official data. Back in January, we partnered with the NHL and Intel to showcase how we could pull data feeds from anything happening on the ice and then embed and visualize that data in advertising campaigns. In front of an audience, we demonstrated how a live display ad unit could be updated in real-time based on exactly what was happening on the ice. So when penalties were awarded, goals were scored or time outs were called — we were able to integrate relevant messages from co-branded sponsors into the creative. A great example was a sports brand running ads congratulating a player on a goal within seconds of it happening in the rink.
For brands, this allows them to more effectively draw people's attention because the content from the ad is happening right now. This is especially true for the fans who are dual-screening at home. We see in advertising all the time that campaigns may often get lost in the noise, and this real-time approach massively helps with building a superior advertising campaign.
We consistently see advertisers using a one size fits all approach when trying to engage fans around sports. Specifically looking at paid media, how do you think advertisers can achieve maximum efficiency when advertising to sports fans?
A problem that we have found in 17 years of running marketing for sportsbooks is that when these brands go to a generalist agency, they have a 'one size fits all' process and technology. They are then being serviced by the same platform being used to also buy advertising space for airlines, drinks brands and whatever else.
The problem is that one size fits all approach doesn't consider the time-based nature and unpredictability of sports and gaming. Advertisers that want to engage with sports are starting to see the value in utilizing live data feeds that are captured from official events to influence how the advertising is bought.
For example, if suddenly the score has changed dramatically in a primetime game, as a brand, you might want to be able to ramp up your advertising to tie into what your audience is engaged with at that exact moment to maximize your conversion.
That's why we use our official sports data feeds to inform how we buy media. On top of that, we harvest social listening data to see when fans are actively speaking about a particular event so we know exactly when the right time is to get in front of those eyeballs. Beyond that, it's about listening to what the threshold is to maximize the engagement for fans while avoiding being overly intrusive.
Brand marketers face an increasingly difficult challenge of standing out from the competition with young, fragmented audiences. What are some of the most creative ways you've seen brands utilize real-time content and live data to build relationships and engage with sports fans?
In terms of the in-stadium activation, one of my favorite examples I've recently seen in-person is with the Washington Wizards. As part of their partnership with Chick-fil-A, every time a player on the opposing team misses two free throws in the fourth quarter, everyone in the stadium gets a free chicken sandwich. The problem is that it's contained to the fans within the stadium.
Advertisers need to be a little bit more creative when aiming to reach a wider audience. The industry that we have seen do that very well over the years is sports betting, and that's because they've got a wealth of data. If a fan is always betting on the NFL, they can serve content around live scores and statistics to more effectively market towards prospective customers and increase the likelihood of them placing a bet on their platform. They leverage the live data in terms of scores and things like that, but they actually are combining that with segments, and that is a really interesting use of technology [for advertising].
Genius Sports was on the front lines as the NBA became the first U.S. pro sports league to sign deals to license official data to sports betting operators. Why is this partnership so pivotal, and how is it already creating a more engaging experience for basketball fans?
The key to the NBA deal is the quality of the data feed that is being created. Unofficial data feeds lack the speed and accuracy of official ones and can only take you so far, especially in the U.S. where sports fans consume granular data as part of their viewing experience.
Fundamentally, this high-quality data enables sportsbooks and publishers to build cutting-edge products. We believe that people will want to bet on how far LeBron has run during the game, or in baseball, betting on pitching speeds and things like that. When it comes to creating those bet types and validation of the outcome, it's vital to have the single source of truth that an official feed gives you.
By having that granularity of data, you aren't limited to betting on the final score and having to wait until after the final whistle to cash a bet. You can bet on something that's going to occur in the next one minute, two minutes, three minutes, which drives the overall engagement within the game as well.
If you look at the millennial fan, it's almost entirely about celebrity status [of the players] versus the traditional fan who focused on the team. New betting markets will give the opportunity for millennials to engage with their favorite athletes. "LeBron! I believe in him, he's going to go this far." So I think this opens the door to a different audience as well, those who are recreational bettors looking for some instant gratification.
In what ways do you foresee betting helping niche sports and growing leagues build relationships with new fans?
The best way to describe it is that it's a bit like watching a new show on Netflix. You watch the first episode, and you're not too sure if you're going to watch the next, then you suddenly get the plotline and get interested, and you find yourself watching. You can kind of look at it along
[those] lines. You become interested in the statistics of the players and their background stories, and it sort of pulls you into the sport.
A great example of this is the partnership we just recently signed with NASCAR, where we will be developing the sport's first official betting product. We will be using NASCAR's data feed to build an in-play betting platform to offer to sports betting operators in the US and worldwide. With a full scale of in-play wagers to be offered during each race, this partnership will create a very exciting experience for NASCAR fans and help the sport reach never before seen levels of fan engagement and draw in a younger demographic.
Recently, there has been a decline in viewership across the board, and that's certainly why all major leagues are very interested in what betting is going to do for them—they believe it's going to increase viewership numbers, increase engagement and pull in new fans. We've certainly seen that in other markets around the world and there's no reason why it won't follow the same pattern in the US as well.
How can sports betting or gamification of live broadcasts fit into a sports team, league, or property's overall marketing funnel or their strategy?
I think that's an interesting question because it's still early. Rather than the sports betting industry helping the teams improve their marketing funnel, we are seeing teams help the sports betting operators improve their marketing funnel by creating mass awareness with sponsorships and things like that. I think that the way in which that question is phrased kind of attests to how much the US is embracing sports betting by saying, "How is it going to improve things for the teams and fans it attracts?" It's completely reverse in the way the rest of the world looks at that relationship.
We're beginning to see Millennial-focused digital publishers like Bleacher Report tap into their production capabilities to create sports gambling-centric content. What trends are you seeing in the ways media companies are leveraging gambling to engage fans on digital/broadcast platforms, and how can brands best be a part of the conversation?
I think we're going to see a dramatic shift in digital publishers trying to commercialize their audience. We all know that publishers are struggling in terms of ad revenue. I think what we'll see is a lot of them trying out the affiliate model. This could be by doing a direct deal with a company like FanDuel via homepage takeovers and a link to FanDuel in every article, but you'll also see some savvy publishers go down their own road and actually operate sportsbook odds comparisons, statistical widgets, and data to supplement the content they're putting out for their readers. They may publish a game preview saying what they think is going to happen, but here's all the data around it, the prices, and the sign-up link.
I think if you look at the sports betting industry and at the brands trying to integrate into the broadcast, the best way to describe it is quite simply, "This show is brought to you by DraftKings…" Traditional brands, like a Coca-Cola, tend to want to be kept at a length in other markets, but the US market and the appetite for sports betting is so much greater than we might potentially see a shift where traditional advertisers start getting involved in a far more tightly integrated way.

Learn more about how real-time data is taking content & campaigns to new heights at Hashtag Sports, an annual conference designed for media and marketing executives engaging the next generation of sports fans and consumers.