By

Team Hashtag • 8 min read
May 7, 2019

If you're a New Jersey resident who has registered for the $4,000 in sign-up bonuses on offer from all the new online sportsbooks, then you may already realize that the liberalization of sports betting is a high stakes game and likely to be one of the most profound changes the US sports ecosystem has ever seen.

In the future, a trip to Vegas for March Madness may be a quaint memory—tomorrow's punter will be able to bet and play from the comfort of their armchair through their mobile device. A predominantly offshore and illegal business will fade away. Legal sports betting is going to explode and it will have a huge impact on the fortunes of companies involved in gaming, sports, tech, and media.
It has been 17 years since Brian MacSweeney (@macbet) and I worked together on some of the first digital betting services in the UK, when online betting first started gaining in popularity. We thought it might be useful to take some of those experiences and forecast what we might expect to see in the US. Of course, it wouldn't be any fun if we didn't throw out a few predictions for the winners in this race – this is an article about betting after all.
So where are we right now?
The leading US gaming consultancy, Eilers & Krejcik Gaming estimates that around $70 billion is wagered illegally from the US every year (other estimates are as high as $150bn), making those illegal bookies at least a cool $3.5 billion in revenue. Around $500M is already being bet legally every month in New Jersey alone and it is growing fast, and with another 6 states already signed up and more set to quickly follow, legal betting will grow the market overall as those nervous about betting offshore or with their local bookie will see expensive TV ads, go to their app store and start betting with confidence via regulated and respected brands.
Right now around 90% of all online bets in New Jersey are being made through a mobile device. While retail channels are performing well at 20% of revenue, this will reduce as mobile channels get even easier to use and offer more exclusive features. Legal betting is a safer, trusted environment and, through partnerships with rights holders and media, legal sportsbooks can offer fans an integrated live experience that enhances their viewing enjoyment and brings betting to life.
The younger Daily Fantasy brands like FanDuel and DraftKings have elbowed the established gaming companies aside and dominated the first few months of the New Jersey sports betting market taking 80% of market share. This success has been built on hundreds of millions of dollars of advertising, sponsorship, and brand building over the last few years, a database of engaged fans, and to a large extent on the truly agile "can-do" approach of a tech start-up that has enabled them to be first to market and stay ahead. Sports betting is looking more and more like a technology play and here's where we think the biggest opportunities lie…
Opportunity 1: In-Play and Live Data
Looking back at the development of European online sports betting, in-play betting has been a huge game-changer: it enables dozens more betting opportunities as markets move along with every point and play in a game. That's not only a great thing for sportsbooks, it's a huge boost for broadcasters and rights holders in creating a more compelling viewing experience for fans that will generate more loyalty. At Telescope, we ran a free play "Predict The Game" trial with our client NBC Sports Washington on Wizards games. As one flux fan commented: "I haven't watched a game all year long, yet here I am playing along on a Friday night. This idea is brilliant." If those sporadic viewers turn into loyal ones who put a wager down to play along and make the game more interesting to watch, everyone will be onto a winner.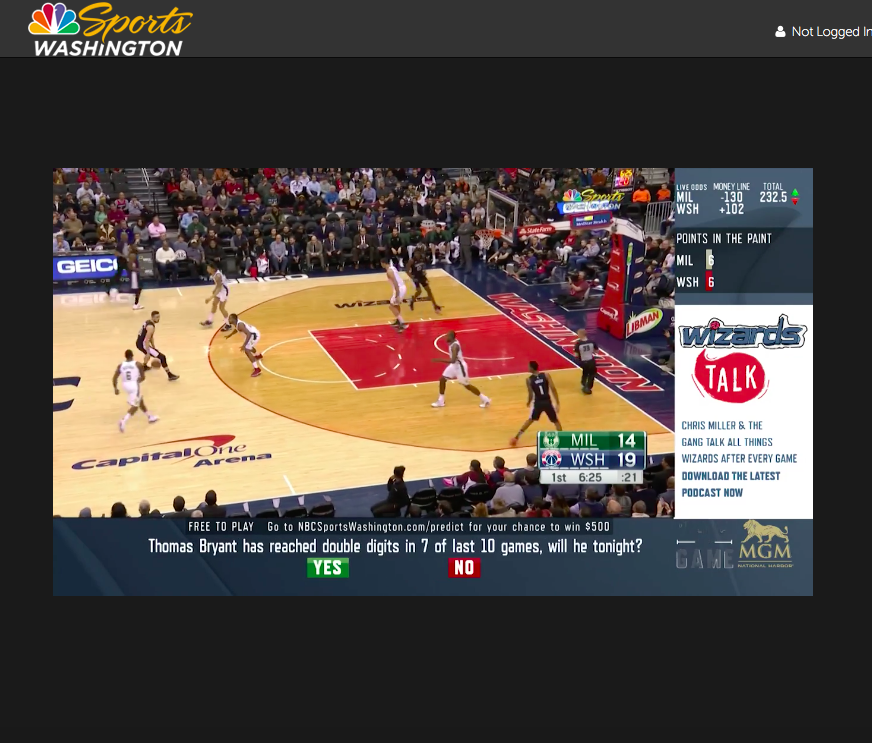 A great example of this from the UK market is Bet365, which have built an empire on their product innovation and leadership in live betting. 80% or more of bets are taken after the start of the game. This has also created a demand for fast reliable official data and live video streaming rights and has given all in the value-chain the motivation to minimize end-to-end latency and let users experience sports and betting in real-time.
We believe the popularity of live or in-game betting and the importance of official live data could have an even greater influence on who the winners and losers will be in the US market. The NBA, MLB, and even the NFL, have all announced betting partnerships that allow for data, IP and content to be used in betting products. It is these official live data feeds that power the pricing algorithms and generate the real-time scoreboards found on betting apps.
Sports betting is no different from any other sector – the instant gratification of live betting and a shared connected experience over social media and private messaging are driving user behavior and spending patterns. As sportsbooks create more instant betting opportunities, the need for faster, reliable data becomes even more critical. In the past, sportsbooks could rely on data derived from "scouts" in the stadium or captured remotely from TV pictures. This is no longer feasible for the major sports leagues in the US and it's a key difference with other territories; we are reaching a point where only the official data feed can support the level of speed and quality that is required to power innovative real-time product. Additionally, only official data will contain exclusive player performance data captured through location and biometric tracking, creating even more unique markets and games for sports fans to play. Prop betting is already very popular in the US and the ability to bet on specific individual player markets and games will make this exclusive data indispensable.
In the next few years, the rights to use official data may become as important as the broadcast rights and rights holders of course will exert their control over that area. Sports teams, leagues, and owners should focus on developing their live experience, enriching their real-time APIs and feeds, and distributing these through betting networks and third-party innovators. The increasing importance of live data and content will ensure premium sports leagues will generate significant revenue from sports betting over time making them a clear winner from regulated wagering.
Opportunity 2. Fan Engagement
The first generation of online sports betting in Europe was built with little involvement from the sports themselves and even less from TV broadcasters. Player acquisition was predominantly through organic search, display advertising, and affiliate programs. A multitude of specialist websites was created with the sole business model of acquiring new players for sports betting in exchange for a one-off bounty or a share of the player's lifetime revenue.
The landscape is very different in the US right now. The affiliate business has a higher barrier to entry and only larger businesses with real content offerings and audiences will succeed. The acquisition funnel for sports betting will start with the big players in US sports and media.
Sports teams and rights holders know that they have to work harder for revenue and they are putting increasing efforts into fan engagement and creating a path for fans to betting services. The acquisition funnel in the US will start with official league and team apps, as well as mega-media players like ESPN and Fox Sports and the independent live score apps. The popular US live scoring app, theScore have taken an even bigger leap, opting to build their own sportsbook which should go live mid-2019. While this approach has not succeeded in other markets, the conditions in the US market give it a very good chance of success. One to watch.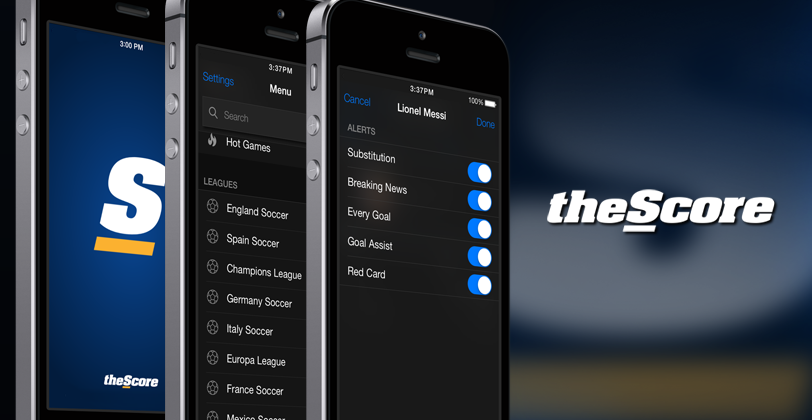 Getting your sportsbook brand deeply integrated into those places that sports fans are already interacting will be important. US sports is more focused with a smaller number of hugely popular sports and a less fragmented landscape. These sports and media betting partnerships will need every ounce of creativity to convert users to betting. Deeper integration of sports betting content and sign-up offers will become the norm in these deals. Expect to see more free-to-play prediction games integrated to live TV viewing, offering potential customers a chance to win prizes in return for the right to market betting to them. The more innovative sports and media brands will do the hard work to make these acquisition funnels work, resulting in truly successful next-generation partnerships that will reap the rewards in affiliate fees and premiums for exclusivity. Experience from the UK shows that media partnerships that are limited to banner advertising placed on the media partner website or app don't really work but the ones that are truly integrated can result in huge returns. Skybet's partnership with Sky Sport in the UK is the most successful integration of betting and content, it's organic and feels like it's part of the fans' live TV experience and was referenced by a few media execs at a recent sports betting conference in the US.
From gameday courtside competitions to in-app promotions, betting brands will gladly pay sports and media to be a part of their fan engagement strategies. There are challenges to overcome relating to protecting underage fans from exposure to betting promotions but the rewards from these partnerships are significant when executed well. Happy days for any media or sports entity with a large audience of actively engaged fans and a willingness to do more than take the money and run.
Opportunity 3. Live Streaming
Over the last decade we've seen Perform Group create the "betting rights" market for live sport video: the right to stream live games to sportsbooks is carved out from the mainstreaming rights and it has proven hugely popular with betting fans and with those smaller leagues that really need to work for every extra dollar. FanDuel recently announced they would offer a portfolio of Sportradar video content through their sportsbook. This announcement got a huge reaction in the US but it is entirely expected and there will be many more similar initiatives in the near future. If you go to any of the bigger European online sportsbooks there will always be something streaming that you can bet on. You will see Australian horse racing, Mexican Segundo division soccer, and ITF tennis to name three. If you stream it, they will come (and bet). This relationship is a win-win. The rights holder gets extra revenue and, in the case of smaller leagues, this can sometimes make live streaming viable for the first time. As well as assisting with video capture and distribution, companies like Genius Sports will also productize your data with trading algorithms, generating live in-game odds for sportsbooks. The live streams generate demand and provide the audience to bet on these markets. It is a huge opportunity, especially for minor leagues and sports that can fill gaps in the streaming schedule and return valuable revenue to these smaller sports codes and help develop the game.
Recently we have seen announcements from Sportradar for a 24/7 live streaming sports betting channel. It won't be premium content but for diehard sports fans, it can still be entertaining to watch and bet on. This combination of data, video, and betting can help grow sport overall and the returns can fund further development of the sport, turn the spotlight on any match-fixing and help fund integrity programs to further protect the sport. The more proactive minor sports and leagues can benefit disproportionately from live streaming to sportsbooks as will the suppliers who can maximize revenue for sport.
Summary
The liberalization of sports betting in the US is going to create a significant amount of found money for those in the sports ecosystem – all the way from rights holders and teams to TV networks and, of course, the sportsbook operators themselves. But this is a new world, one where data and the speed that it can be available will be king. Those that grasp this, and understand how to create a seamless live sport experience that integrates free play games, market insight, and betting opportunities into live TV viewing to enhance the fan experience, will ultimately come out on top.

Brian MacSweeney has 20 years of experience focused on strategic product development and user experience for consumer channels across live sports betting and media. Recent projects include designing experiences for DraftKings, NBA, and New Zealand TAB. Brian was a founder of live betting specialist Boolabus and has had senior roles at Endemol Gaming and Genius Sports. He has worked with some of the most innovative brands in sports betting, lotteries, TV, and sport.
Jason George has worked at the forefront of audience interactivity and technology for more than two decades. As CEO of Telescope, Jason pivoted the Los Angeles-based company from a programming-focused entity into an enterprise platform that is the de-facto standard for social media-meets-television activations.
Hear from Jason George and 120+ more engagement experts on the future of interactive sports broadcasts at Hashtag Sports 2019 June 26-27 in New York City.