How the San Jose Sharks Create Content with Players and Fans
How the San Jose Sharks Create Content with Players and Fans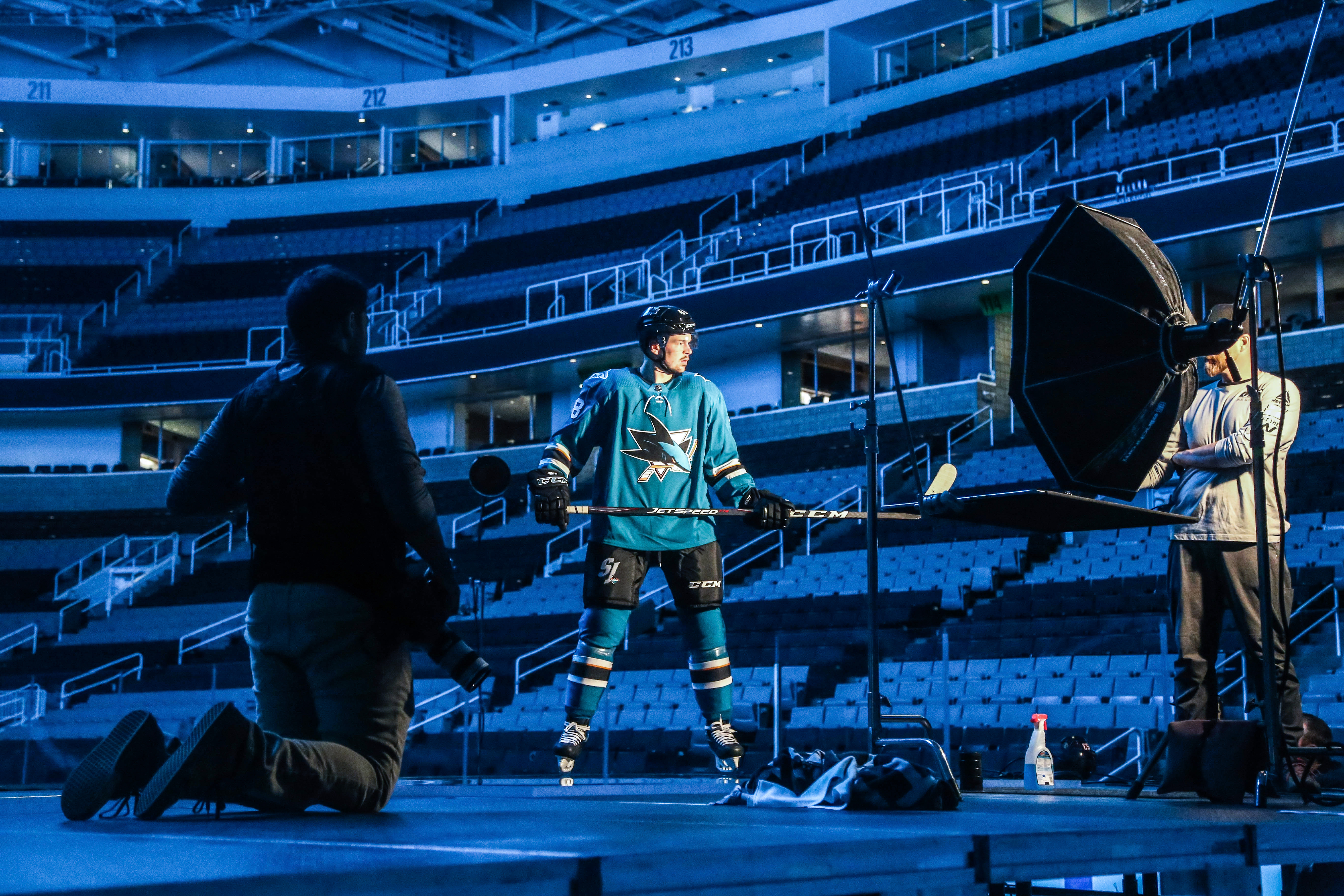 By

Rachel Smith • 11 min read
March 23, 2021
Patrick Hooper sits down with Hashtag Sports in our latest Q+A series interview.
In his role as Director of Integrated Marketing for the San Jose Sharks, Patrick Hooper has spent a decade integrating web strategies, social media direction, mobile app development, and analytics into digital marketing and communication efforts for one of hockey's most engaging franchises.
Patrick shares how the team successfully used a bi-directional flow of content between players and content creators during the NHL Draft, the role of season ticket holders in content creation, and how he ties campaign performance back to revenue initiatives.
Tell me about your digital engagement goals for 2021 — what's changed in the past year?

This past year has forced us to accelerate. As a business without any ability to drive ticket revenue at this time, it's wholly dependent on our ability to maintain as many brand relationships as we can, primarily through digital interaction. Those relationships are key across our fans, customers, corporate partners, and community. This pandemic-affected 2021 season has doubled down on our marketing objectives around:
leveraging data in more effective and informative ways
reshaping the way we market our corporate partners across virtual and digital assets
launching new digital-first sales experiences for safer and improved customer experiences
expanding our brand platform beyond just the traditional ice hockey event experience
improving internal flow of documentation and collaborative processes and generally
rethinking many of our content and engagement strategies to better fit a 2021 digital fan experience
Have the changes in the league's schedule and geographic groupings created any additional challenges or opportunities?
We started 2021 on the penalty kill. The NHL's realigned divisions and series-based schedule are some fun twists for this season. But unique to the San Jose Sharks, we were dealt a penalty before things even got started. Santa Clara County health directives did not permit contact sports at any level to function. So, we began training camp just after Christmas in a remote home in Arizona and played the first 12 games of the regular season on the road. That's not easy for any player or hockey operations staff member, much less our ability to give Sharks fans a familiar connection to the team they love.
So, we worked hard, through testing protocol and the use of technology, to provide the best content and engagement experience we could while dealing with extreme limitations of access. Even with limited staff on site, there was still an immense opportunity to generate content for our fans and drive value for our corporate partners.
We developed a content plan with a balance of remote processes and a feasible amount of work that could be done by those on location to capitalize on the opportunity. Whether in Arizona or back home in San Jose, technology was essential in content sharing and publishing. In all honesty, it probably opened up many future opportunities in coverage that we had not considered before.
How do your athletes fit into your engagement goals this year? What has been your approach to using technology to support them?
Our athletes are as much a fabric of the Sharks brand as anything else. We support their initiatives to showcase a personality and grow their own brand on digital platforms. Much more than other sports, hockey culture is fundamentally team-oriented so a player's brand can take a back seat. So, it can be a bit of a struggle for athletes who aren't naturally used to representing themselves as an individual outside of that team-first mentality.
We try and make it more natural and catered to each person. Some of our players are focused on charitable causes. Some athletes want more options to engage with our fans. Some just want more access to photos to pass along to family members and throw up on the 'gram to celebrate a big win. In any case, we spend time and energy on understanding the goals of each athlete and use technology and process to make it extremely easy on their demanding schedules.
What's been key as of late for our effort is the bi-directional flow of content. We use really advanced technology to help there. Greenfly is a platform that improves not only our ability to share content in two directions, but it improves the process with automation.
What sort of challenges did you have overcome to onboard athletes? What was their feedback?
With the demanding schedules of players, I don't think it's really a surprise that time is still a big issue. So, it's all about showing the convenience of the technology that can do both; give them ample support for growing their social media presence and reduce the time it takes to produce content. The onboarding process with athletes is the first impression of how this is going to help or harm their use of time. The first impression is key. And with this year and the need to handle things remotely in many cases, the process needs to be as smooth as possible—which I'm really happy to say it did
We still miss the face-to-face interaction, so we'll often pair the onboarding process with a FaceTime call before or after to answer any questions. We've found that the athletes find it simple enough and are appreciative of the new tool being put in their hands. There is also that initial payoff during the first time we request content from an athlete when they see how easy it is and how much confusion or time it alleviates compared to how we used to try to coordinate asks through text messages and other platforms.
What have been some of the biggest impacts your organization has seen with social so far?
Pandemic or not, one of the biggest ways we feel we can make an impact on our business is to give fans access to the players and the team through our digital platforms. We want to compliment and not compete with other news outlets. So, we look for those untold and exclusive pieces of content or perspectives that we have the privilege to share.
Some of our best performing and most thrilling content to produce has been in and around our athletes at times like the All-Star game when they're celebrating a career achievement, often with family and friends around. We focus our storytelling on the personality and charm each of these guys has since so many of our fans already know about their statistical achievements on the ice.
And since March of 2020, our athlete and team social media accounts have been one of the only places for our fans to engage with the team. It's become a frontline product of our business in a way where we needed to provide an experience for our customers to come to while all of us were uncertain about what the future held for our sport and business.
Walk us through your content workflows and how you and your team get high-quality content from games and other activities like the draft to your athletes.
The Sharks are blessed with some very talented content creators. Whether it be creative services, SJSharks Productions, or an in-house team photographer, we have flows of production to ensure there is a consistently high standard of content coming from our digital platforms.
In something like this summer's NHL Draft, it was done completely remote for the first time in my history in the league. Normally you have 31+ teams converging on one location that has all content production, prospective draftees, and hockey operations staff in the same room. This year, none of that was possible. We countered the challenges by developing some fun ways to get some immediate content produced on our young, drafted players whom our fans didn't know much about.
After each player was drafted, we connected with them and got them onboarded with our Greenfly content sharing platform. Our plan was to immediately send them a customized graphic to share exclusively on their own social platform as a congratulations and thank you on their big day. At the same time, we had a few chances to ask for some content from the athletes. Again, with most NHL draftees, unless you're going in the top round, there is sometimes very little public knowledge about an athlete. It's our immediate job to highlight how great some of these fantastic young players are. And oftentimes we want more to the story than a fancy highlight on YouTube. We had one player selected in the second round, forward Tristen Robins, whose father played for the Sharks back in the 90s. It just so happened that Tristen has held onto an original team-issued Sharks workout jacket from when his father played. And to be drafted by that same team two decades later is such a fun coincidence. Had we not had a content platform and a flow process established, we never would have been able to get an image of Tristen and his father, Trevor Robins, sitting side-by-side with the son wearing the father's jacket.
How have you been encouraging your athletes to make their own content during this period, and what has been the result?
We work with each of our players to better understand the content they're interested in producing from their social platforms. Some have a clear direction of what they're looking for. Others are less sure and just want the options given to them, should they have an interest. Photos are always the request (assuming they've already got that blue checkmark). But we consider that effort a massive benefit to our social media strategy. We want our players to showcase their personalities. We want to build a relationship with them on that effort. They come to us as a resource.
What about your sponsors — are you reaching beyond the players to collect and share content, and what has been the response?
In addition to fan engagement, social media has played a huge role in partnerships. Thankfully, a hockey season has returned and with that some normal avenues of revenue for our business, but it's still very much focused on corporate partnership and engagement with partner content. For about the last six to seven months, we have been steadfast in working with our partners to find perfect fits for their branding that once exclusively existed for fans in the live arena space. In some cases, we've now found fits for those partnerships that are much more versatile and offer them closer ties to their objectives in advertising now that it exists on social or a digital space.
Many of these activations that have new homes on social or digital are potentially stronger fits for the partnership going forward even when fans return.
Similar to our athletes, our corporate partners are in different spots of their own social media strategy. Some highlights we've seen since this summer include hosting an NHL 21 esports tournament that was the biggest of its kind. It drove a high impact for a partner in ours, Western Digital. They had a sub-brand in WD_BLACK that was really focused on the gaming community, so it was a perfect fit. We built a collaborative activation plan around the Pacific Cup gaming tournament. We were leveraging content and posts from their brand account to tease giveaways and other promotions as much as our own. It was a complementary approach that served each account well in the cross-audience promotion.
Another easy thing we look to do is share some of our celebratory imagery, likely around goal celebrations, where a partner's logo on a dasher board is clearly present in the background. We have some logo recognition technology that helps to auto-tag that content that we can then share out to relevant partners for their own social media engagement. As the technology evolves and we're more adept with the volume of content that can be tagged, it's going to be quite effective for us to use a platform like Greenfly to seed out high-value content to our partners who are more and more looking for ways to be more engaged with our brand and responsive as new content becomes available
Are you reaching out to other groups as well — season ticket holders and player families?
We've engaged our Sharks365, season ticket membership, groups, and player families for content collaboration.
During the 2020 NHL Draft, we wanted to find a way to do something unique for both the players drafted and our Sharks365 members. So, we devised a content operation flow where after each draftee was selected, a member of our Sharks365 group would produce a custom video, welcoming the draftee to the Sharks organization. It's a fairly simple piece of content, but we wanted a tight turnaround so that the video could go soon after the player was chosen. And again, dealing with all the limitations from working remotely, technology like what we used in the Greenfly platform was essential to trigger the call-for-content after we learned of our newly drafted player. The member and their family would then record the video with helpful details provided to them specific to the new player and they would then deliver the finished content back to the Sharks marketing team for publication and sharing. We were also able to quickly apply some visual branding on the video content to compliment the theme of the draft and provide value back to our corporate partner, SAP, who was our presenting partner of the NHL draft coverage.
Welcome to the family, @ozzywiesblatt! #TealTogether pic.twitter.com/flcWr7So9I

— San Jose Sharks (@SanJoseSharks) October 7, 2020
We've also had some success in the bi-directional content flow with player families. When Patrick Marleau was signed to return to the Sharks this offseason, we knew we had a great relationship to work within his family. Patrick himself doesn't have a social media account (still working on that btw!), but his wife is extremely proficient on multiple platforms and they have four young boys that make for quite a lot of fun. We coordinated some content with them around the announcement that our Heritage Jersey was returning for our 30th Anniversary season. Patrick and his family made the perfect fit as he's the only player in Sharks history to have worn every jersey set. And with some hard limitations around how many people we could have gathered safely in one place, we helped to produce a remote photo shoot by getting the whole family in matching Heritage Jerseys and produced some social media content that our Sharks marketing team could use for the announcement and Patrick's wife, Christina, could also use for her own account for some fun family photos to celebrate their return in Teal.
Original and iconic. Our #ootd fit just right 👌🏻 pic.twitter.com/tmzmRNPsoG

— Christina Marleau (@c_marleau) December 16, 2020
How are you measuring success (with your athlete social program or digital marketing in general)?
KPIs and measuring impact has been at the core of our marketing and organizational strategy for the past few years. We try our best to not have the platforms dictate what success means to us and instead align on goals that are agnostic of the standard metrics that these platforms spit out. We try our best to measure effort and performance back to campaigns that are connected to revenue initiatives. This has been a bit easier with an increase of partner activations direct on social media platforms. We know the work is impactful to our business and there is a clear line back to revenue. It's on the other content that we continue to tweak how we're analyzing performance. And that effort can be a struggle. No matter how hard we fight against the grain to make our content and work independent of team performance, you're going to see those ebbs and flows that correlate to wins and losses. Of course, we want to maintain a high engagement rate on a range of content. But we've become much better about bucketing content and communication so we're more articulate when evaluating and optimizing performance.
When you extend your performance evaluation to the content athletes produce, many of the same processes stated above apply to us. If we're soliciting content from our athletes across a campaign or aligned objective, we're sure to attribute those posts and their impact on the social conversation back to the greater bucket that we're analyzing. But we also want to measure value for the athletes. Generally, an increase in posting volume and getting players onto social platforms that they want to be activated on is a positive thing. Last year, we were near the top of the NHL in the volume of our athletes who were connected to technology that helped them produce social media content.
And perhaps the most elusive of all objectives to measure would be our pursuit around growing player trust. The digital or social media teams don't get the face time that we'd certainly like, so we need to make quick value out of our limited touchpoints. Anytime we ask for something from the players, we want there to be a trust that we're there to make them look good and also provide a service if needed. So, for a product like Greenfly to fold into our processes and provide hard numbers around how many athletes are using the content, how often they're downloading media, where it's being distributed, all of those quantitative pieces help tell a broader story for us internally on how our digital and social media team are a valued asset.
What other types of content or initiatives are you focusing on to amplify your brand and connect to fans?
We'll continue to look for ways to expand our brand and business and amplify the content and initiatives that we consider core to our community, employees, and players. One example is our Teal for Change council – an internal working group working to drive change to the organization's practices to create a more inclusive culture as well as change the way that our organization interacts with our fans and community around the topics of equality and social justice. It's an initiative set on doing better across diversity and inclusion initiatives and is something that will be core to our content and storytelling now and in the future. Just as much as recapping results on the ice.
Looking out 18 months, how do you think digital marketing in sports will evolve?
We've already started to lean into diversifying our content and storytelling initiatives and expanded our branding into a world like esports. Our business will have more balance across traditional revenue opportunities and revenue opportunities that aren't entirely dependent on in-venue experiences. We'll look for more creative and holistic approaches to corporate partnerships that touch all of our brands and maximize how well integrated our organization is into the fabric of our community. We'll continue to expand our platform offerings such as the launch to fully digital audio and 24/7 streaming of content for improved experiences.
Across sports and entertainment, I think you'll see the trend continue for sports club social media accounts to operate more as a brand and community voice. Less so as a journalistic account recapping what everyone else sees and hears on the ice as they're following along too. Our voice and content have a niche in the conversation. We're not interested in competing with the volume of conversation. We want to complement it to provide the best experience.

Learn more about how to effectively engage the modern fan & consumer at Hashtag Sports, an annual conference designed for media and marketing professionals.