🎉

2022 Shortlist
USA FOOTBALL'S HEART OF A GIANT PRESENTED BY HSS AND THE NY GIANTS
Entrant: Hospital for Special Surgery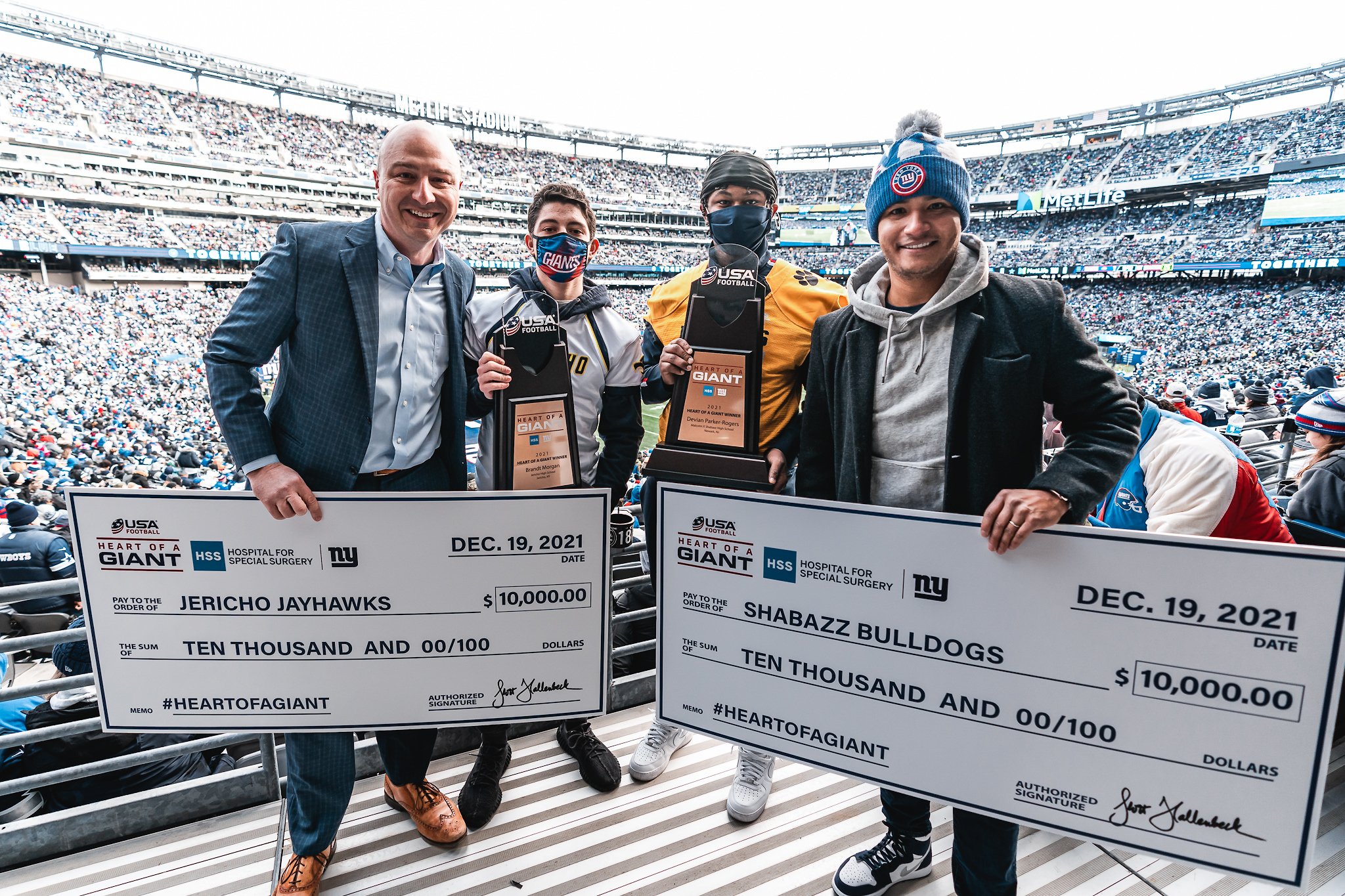 ABOUT THIS ENTRY
Hospital for Special Surgery (HSS) physicians have served as the team physicians for the New York Giants for over 30 years, caring for the team through 4 championship seasons. As the Official Hospital for the New York Giants, HSS leverages their sponsorship of the team and partnership with USA Football to create an annual grassroots and charitable initiative, the Heart of a Giant Award. USA Football's Heart of a Giant Award presented by Hospital for Special Surgery and the New York Giants. This program reaches more than 500 high schools in the Tri-State area and recognizes football players who demonstrate unparalleled work ethic and passion for the game, while providing their programs with much-needed equipment grants.
How does this represent "Excellence in Engagement"?
While healthcare is an active sports sponsorship category, HSS is at the forefront of the industry as it leverages its partnership with the New York Giants to actively engage sports fans with its organizational mission through charitable giving, interactive experiences and meaningful content. Through the Heart of a Giant Award, HSS is going above and beyond traditional standards of sports sponsorship of simply advertising by creating an immersive activation that directly impacts the local community, while also helping support youth athletes in their sports journey. Through this program, HSS is setting the industry example for how brands can leverage their partnerships to actively engage with fans by listening to their stories, celebrating their accomplishments and helping those overcoming adversity. Although this is a local grassroots program, it has garnered media attention from across the country, illustrating that real impact comes from true fan engagement.
Objective: As the leader in musculoskeletal medicine, HSS is ranked as the #1 hospital for Orthopedics both nationally and globally by US News & World Report and Newsweek. HSS is one of the largest, most active, innovative and most highly respected organizations in sports medicine. With HSS's mission to empower athletes at all levels to "move better", the hospital leveraged their existing partnership with the New York Giants and support from USA Football to create a strategic charitable initiative that would have a long-lasting impact in the local community. USA Football's Heart of a Giant Award presented by Hospital for Special Surgery and the New York Giants recognizes high school football players, encourages young students to be leaders in their communities and rewards their ability to overcome adversity through unforgettable experiences and equipment grants for their school's program. Through this grassroots program, HSS directly targets youth athletes, engages with them in meaningful conversation and celebrates their undeniable commitment to the game of football. Ultimately, the Heart of a Giant Award was developed to bring HSS' core values to life, while delivering high school football players educational opportunities around injury prevention and recognizing their incredible achievements; both on and off the field.
Strategy & Execution: The Heart of a Giant Award was designed specifically to create interactive programming centered on HSS' two core principles of charitable give back to the local community and developing authentic relationships with sports fans. To successfully execute this program, we engaged with more than 500 high school football coaches and encouraged them to nominate their well deserving players. Once nominated, those players and their incredible stories of adversity, leadership, and character are featured on a Heart of a Giant microsite where the local community and Giants fans can vote for an athlete to become a finalist. Following the public vote, 11 finalists were selected and received a $1,000 equipment grant for his/her high school's football program, with the grand-prize winner's school earning an additional $9,000 as well as an all-inclusive trip to the Super Bowl. In 2021, there were two co-winners of the Heart of a Giant Award, which resulted in more than $29,000 in equipment grants donated to 11 programs. Through meaningful storytelling and interactive elements, the Heart of a Giant Award uncovers some of the best untold human-interest stories about local athletes, while giving high school football programs much-needed equipment grants.
Results: The 2021 Heart of a Giant program created substantial impact by donating more than $29,000 in equipment grants as well as giving out nearly 70 premium tickets to a Giants home game, 11 autographed Saquon Barkley Nike sneakers and two all-inclusive trips to the Super Bowl for the program's co-winners. Understanding the value of experiences, HSS leveraged Evan Engram for Zoom meetings with the finalists and winners where they discussed what it means to have "the heart of a Giant" with him. This year not only exceeded expectations in terms of impact, but also in media value. Overall, the program secured nearly 60 placements in local and national media outlets, which is a 51% increase YOY and earned 81.7 million impressions, a 23% increase YOY. Understanding the importance of engaging Gen Z, the Heart of a Giant team secured a feature on the Overtime SZN TikTok account with 2.5M followers. Overall, the Heart of a Giant Award successfully created an immersive grassroots experience that delivered on the key strategic goals of providing charitable funds through essential equipment grants to high school football teams, engaged the community through online voting and large-scale reach through media placements.
Production
USA Football, New York Giants
Credits
Emil Calcano
VP, Chief Sports Marketing & International Patient Development Officer
Hospital for Special Surgery
Robbie Tran
Sr. Director, Global Sports Marketing & Business Development
Hospital for Special Surgery
Dr. Samuel Taylor
Orthopedic Surgeon
Hospital for Special Surgery
Stephanie Arpaia
Vice President, Brand Marketing
Excel Sports Management
Brian Robinson
Manager, Brand Marketing
Excel Sports Management
Kelsey Williams
Senior Manager, Brand Marketing
Excel Sports Management
Zach Hrubic
Manager, Corporate Communications
Excel Sports Management
Ethan Medley
Director, Community Relations & Youth Football
New York Giants
Julia Murphy
Director, Partnerships
New York Giants
Michelle Machado
Manager, Partnership Activation
New York Giants
Lebany Dalton
Senior Coordinator, Football Operations
USA Football
Brittney Brothers
Director of Events
USA Football