Winner 🏆
Excellence in Black Storytelling
Nominee 2x ✨
Excellence in Multicultural Storytelling
Excellence in Black Storytelling
ABOUT THIS ENTRY
Black Stars of LaLiga is an original content series produced in partnership with ESPN, Andscape, and Black Arrow FC that tells the incredible stories of some of the Spanish soccer league's rising black stars.
LaLiga is one of the most diverse sports leagues in the world, home to players from 62 different nationalities that are followed around the world. Despite a long history of black players in LaLiga, which includes some of soccer's most historic figures, this is the first time the league has shined a spotlight on black culture through its storytelling
How does this represent "Excellence in Engagement"?
Comments on the programming across YouTube and social media demonstrated the impact the program had on communities and represented excellence in engagement. The program was particularly impactful within the Eritrean community whose members posted in droves celebrating Sweden-born Alexander Isak whose parents are from Eretria.
Following a successful first season, storytelling will continue in future years by uncovering untold stories that celebrate and champion diversity and representation, setting a standard for this type of representative content creation in the international soccer landscape.
While the first season highlighted players born in Europe to African immigrants, future seasons will expand the players involved, the stories told, and find new common threads to connect with fans. Starting with the first season, the intention of the project is to continue exploring the theme of race, identity, and culture through a personal lens in the global game of soccer.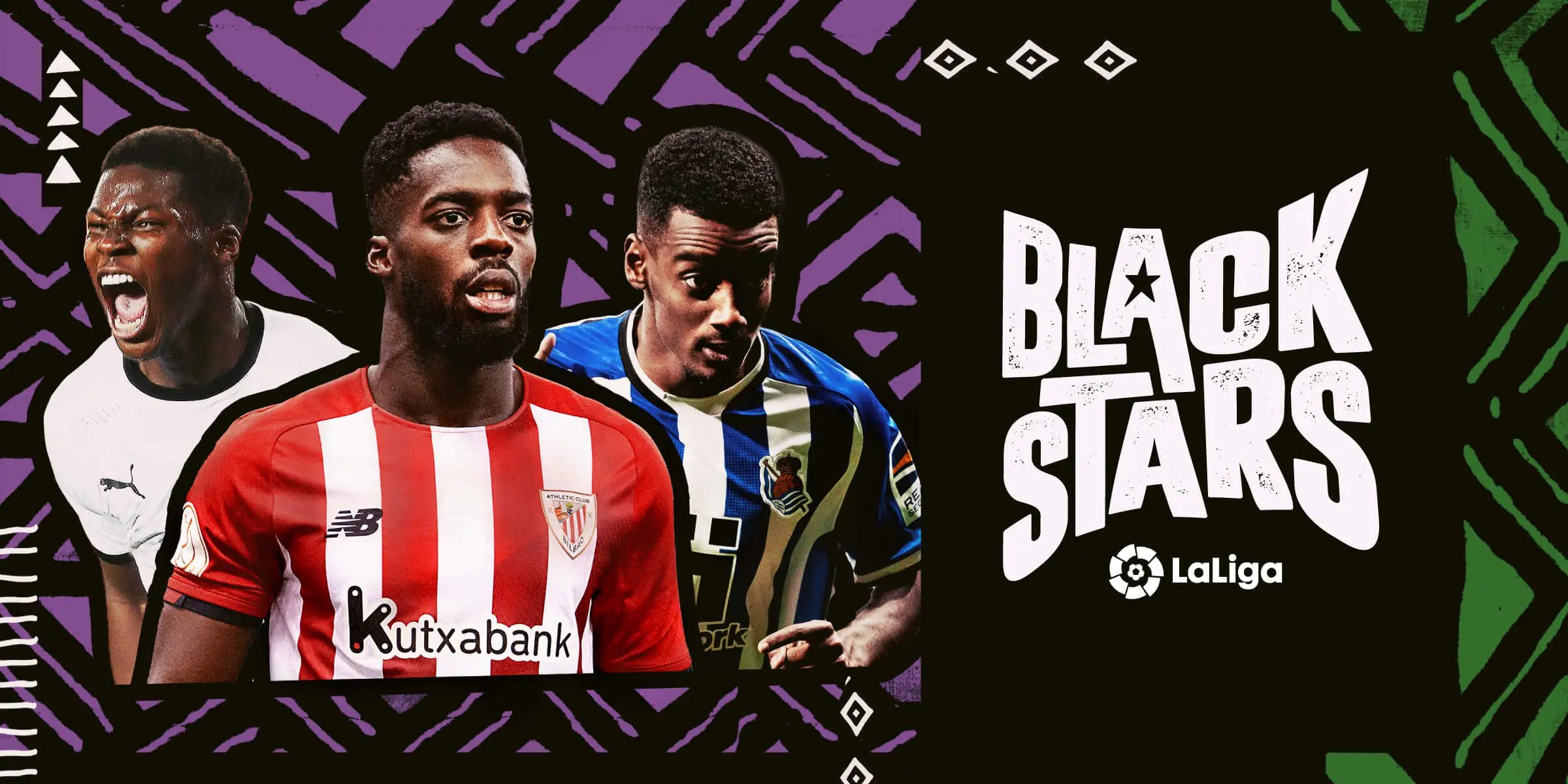 Objective
With the goal of celebrating black culture and increasing representative storytelling, LaLiga teamed up with ESPN, Andscape and Black Arrow FC to create Black Stars of LaLiga, a premium content series that shines a light on black players in Spain's premier soccer league.
The episodes highlighted players raised in Europe by African parents, including Valencia CF's Yunus Musah, Real Sociedad's Alexander Isak, and Athletic Club's Iñaki Williams. The stories discuss their converging identities as they've navigated international soccer while becoming standout, and in some cases barrier-breaking, players for their clubs.
The goal was to find players with compelling backgrounds and relevance within the international soccer landscape, which was accomplished with our first cast of protagonists. Muash is a U.S. Men's National Team player who recently made his World Cup debut in Qatar, Isak recently broke Newcastle's transfer record after they purchased him for approximately 60 million Euros from Real Sociedad, and Iñaki Williams surprised the international soccer world by committing to play for Ghana in the 2022 World Cup.
Through first person narratives, we aimed to shine a light on rising stars within the league with an emphasis on representation and a goal to explore the concept of identity.
Strategy & Execution
In selecting protagonists for the episodes, we selected players from specific communities that have previously been overlooked, like the Eritrean community, which ultimately opened the door for enhanced virality and engagement by reaching a new audience. We focused on LaLiga players with diverse and interesting back stories that would connect with fans from various backgrounds.
Each episode was first released exclusively on Andscape (previously The Undefeated), ESPN's multi-media platform dedicated to embracing and sharing the full range of Black culture and identity. Following the initial launch on Andscape, the episodes premiered on ESPN+, expanding distribution to the general market and making the content readily available to a wider audience of sports fans.