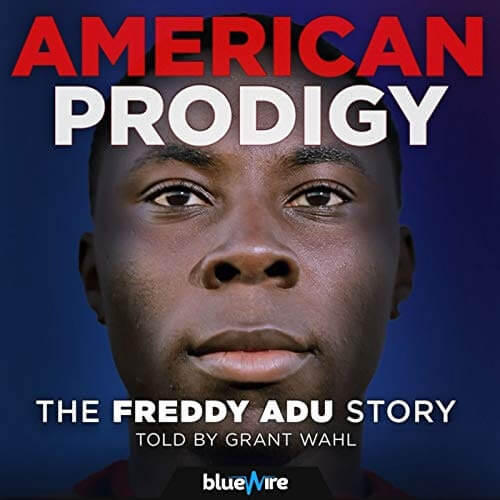 ABOUT THIS ENTRY
American Prodigy: Freddy Adu was designed to fill a gap in the media landscape modern sports fans are eager to consume.
How does this represent "Excellence in Engagement"?
Grant's eagerness to consistently engage with American Prodigy listeners sets the standard for host and production engagement going forward. It's rare to find hosts to respectfully engage and debate with their listeners about their content. Our social strategy highlights a new way of engaging with fans and critics while still being respectful, consistent, and insightful.
Objective: American Prodigy: Freddy Adu had two main goals. First, use the story of Freddy Adu to explain what it means to be a prodigy in America. Second, address preconceptions about the arc of Freddy's career by allowing Freddy to tell his story in his own words for the first time. By centering Freddy's first-person account, we were able to briefly inhabit the mind of a prodigy as they process the challenges of fame and expectation. By interviewing more than a dozen friends, colleagues, coaches, and experts we allow the listener to see things from a broader perspective than even Freddy himself. This deep insight into Freddy's story gives listeners an appreciation of the unique phenomena of prodigies in American sports.
Strategy & Execution: Like ESPN's 30 for 30 series and HBO Sports' television documentaries, American Prodigy sought to tell a story large in scope at the pinnacle of quality but tailored for audio. This necessitated access to all the important characters with the nation's leading expert, Grant Wahl, serving as host. It also meant a commitment to crisp, clean audio which we achieved by mailing professional-grade microphones across America as well as hiring a composer to write the show's custom score. In a world full of sports chat shows and doc podcasts re-purposed from television, American Prodigy gave modern sports fans the ideal combination of an engaging documentary with a core of polished podcast production.
Results:
It was very important to Grant Wahl and the American Prodigy team that listeners felt engaged with the content and felt Grant was approachable. To achieve this goal, we worked with Grant on a series of paid and organic social media promotion.
Blue Wire worked with the production company StudioNow on a series narrative videos to promote individual American Prodigy episodes. The Blue Wire team later coordinated with host on a series of organic and paid social media campaigns that targeted Wahl's fans, soccer fans, Freddy Adu fans, and followers of the esteemed guests Grant interviewed on the podcast. We also coordinated with Reddit to host an AMA with Grant to give his fans and American Prodigy fans a way to discuss the podcast as well as the latest news in Soccer.
As a result, American Prodigy's brand awareness increased to over 2MM+ impressions online and the show consistently ranked in the Top 20 in Apple Podcasts. This gained the attention of several TV and movie production companies who are interested in the American Prodigy brand.
PRODUCTION
CREDITS
Sr. Producer
Blue Wire Podcasts
VP, Content
Blue Wire Podcasts
Executive Producer
Blue Wire Podcasts
BRANDS AT THE LIVE SERIES
CONTENT x SPORTS BETTING
Over two days, sports betting + media will converge to discuss the North American fan. Learn the insights and strategies needed to develop partnerships, create and monetize betting content, and drive critical revenue and engagement.
May 12-13, 2021 (Virtual)
TRANSFORMING THE NEXT DECADE
Hashtag Sports® is the leading platform for media and marketing professionals and the next generation of creative talent across the converging sports and entertainment industries.
From unparalleled experiences like our annual conference and the Hashtag Sports Awards presented with Budweiser to inspirational digital content and mission-driven initiatives, Hashtag Sports is the benchmark for fan engagement and the go-to resource for the development of a new sports and entertainment ecosystem powered by digital media, content, culture, purpose, and technology.