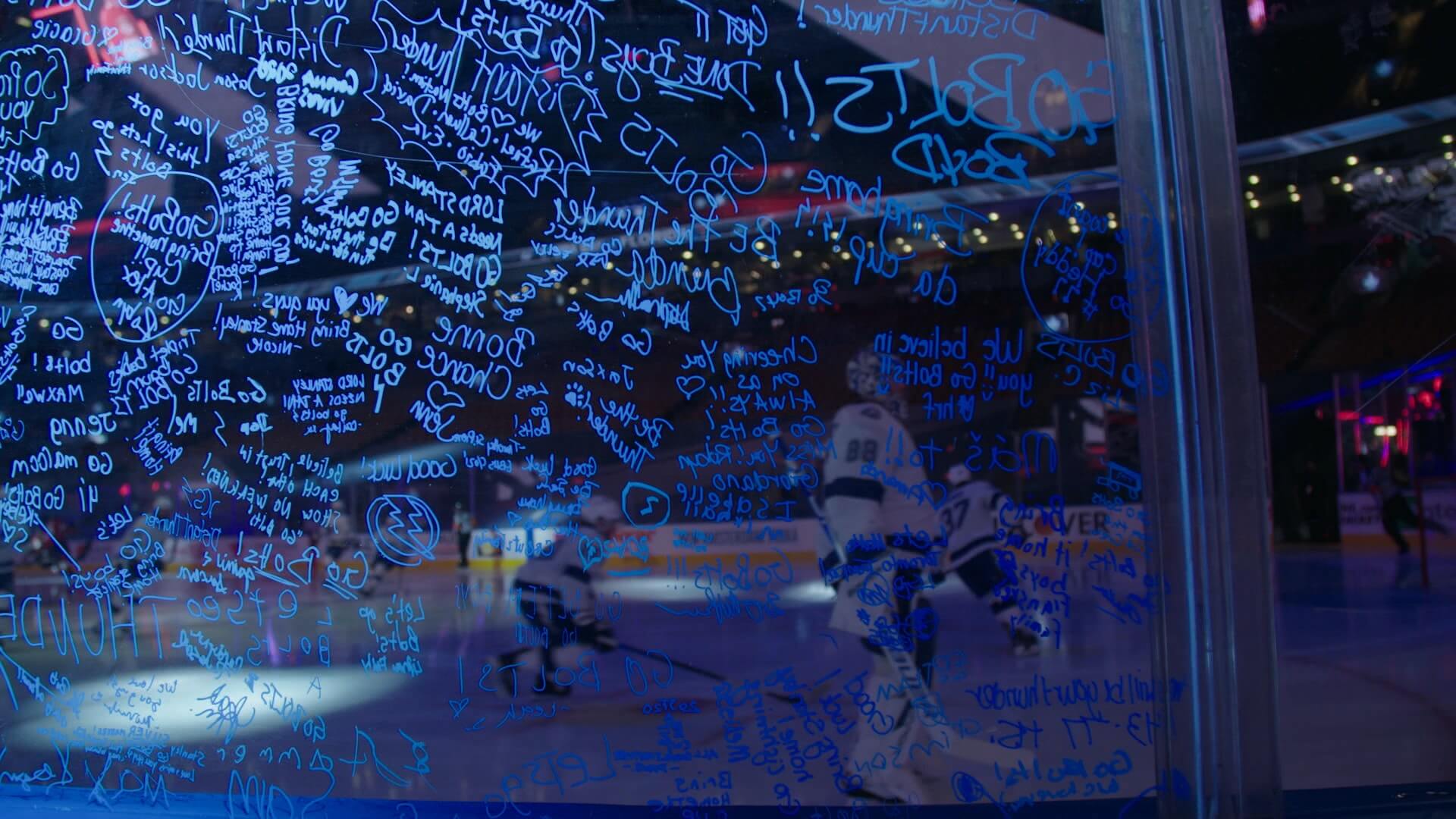 ABOUT THIS ENTRY
Our existing "Distant Thunder" campaign tells stories of how fans, living thousands of miles from Tampa Bay, still find ways to Be The Thunder.
How does this represent "Excellence in Engagement"?
As physical and social distancing became the norm with the onset of the pandemic, the focus for sports teams shifted from the individual experience to the collective, kicking off a renewed communal spirit. Collective experiences have taken on a new meaning that no one could have imagined just a few short years ago.
While social distancing measures were keeping people apart, a new sense of community emerged. Social distancing didn't have to mean social isolation. People no longer had to leave the house and physically interact with other humans to engage with others.
We took something the pandemic thrust into our everyday lives to put distance between us and instead used it to bring players, fans and frontline workers all closer together. We took a relevant, sensitive issue and found the positive in it.

This campaign achieved what quickly became every team's mission - creatively finding new ways to connect and finding renewed connections during a time when community no longer meant being together. Sports has the power to bring people together, and the pandemic has taught us how to be together while apart. And those two things will persist long after lockdown measures are lifted.
Objective: The pandemic created a unique scenario for the Lightning, they'd be playing for the championship without fans, in a "bubble" in another country, thousands of miles away.
Now, with the new playoff format, we were about to discover what the "Distant Thunder" has known all along. No matter the distance, nothing can separate Lightning and Thunder. We needed all Lightning fans, even those in right here in Tampa Bay, to… Be The Distant Thunder.
Our challenge was twofold: to engage fans when they couldn't attend any games in person and to show support to those back home on the front lines of the pandemic. And with a small budget, this idea needed to be inexpensive with strong earned media potential.
Strategy & Execution: Every sports team was facing the same problem – how do you make fans part of the game, when they couldn't be part of the game? But hockey had something no other sport had. And that thing was having quite a moment in 2020. Hockey had plexiglass.
Hockey fans and players have always been separated by plexiglass, and they know more than anyone that these barriers are simply physical. That plexiglass stands no chance against passion and dedication. The idea of using plexiglass, beyond just a barrier, but also as a bridge was perfect for the times.
We had fans sign a piece of plexiglass with messages of support which was installed on the ice rink in Toronto for playoff games. And players signed another piece of glass with messages of thanks and encouragement that was placed in a local hospital's ER as a protective barrier for the healthcare workers. Two pieces of glass. Each with their own powerful message.
We took the very thing that separated us and used it to bring us closer together. It was a physical reminder for both fans and frontline workers that "we don't have to be with you, to be with you."
Results:
The campaign had 53.7 million impressions and over $110,000 in earned media. The Lightning experienced a 33% fan growth locally and a 19% fan growth nationally. The team added over 81,000 new followers/subscribers across their Facebook, Twitter, Instagram and YouTube social channels. Positive Buzz about the Tampa Bay Lightning grew 25% locally & 11% nationally while Word of Mouth about the Tampa Bay Lightning grew 15% locally.
PRODUCTION
Tampa Bay Lightning
Dunn&Co
CREDITS
Director of Creative and Brand Strategy
Tampa Bay Lightning
President
Dunn&Co
BRANDS AT THE LIVE SERIES
CONTENT x SPORTS BETTING
Over two days, sports betting + media will converge to discuss the North American fan. Learn the insights and strategies needed to develop partnerships, create and monetize betting content, and drive critical revenue and engagement.
May 12-13, 2021 (Virtual)
TRANSFORMING THE NEXT DECADE
Hashtag Sports® is the leading platform for media and marketing professionals and the next generation of creative talent across the converging sports and entertainment industries.
From unparalleled experiences like our annual conference and the Hashtag Sports Awards presented with Budweiser to inspirational digital content and mission-driven initiatives, Hashtag Sports is the benchmark for fan engagement and the go-to resource for the development of a new sports and entertainment ecosystem powered by digital media, content, culture, purpose, and technology.