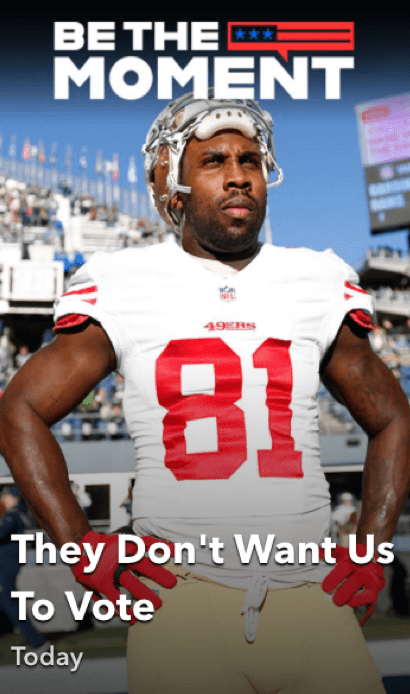 ABOUT THIS ENTRY
In 2020, WAVE.tv launched Be The Moment (BTM), a partnership with former NBA star and current NBA Analyst & ESPN Radio Host Jay Williams. This new platform harnesses the power of professional athletes via smart and highly-focused programming, in order to shine a light on social issues.
How does this represent "Excellence in Engagement"?
The modern sports fan doesn't just watch sports for the game or physical activity; they are also invested in the convergence of sports with culture, entertainment and more. BTM combines sports with athletes and civic engagement to not only educate young people, but to create a community around those that are passionate about their civic duties.
Being able to provide these fans with an outlet where they can discuss items that are important to them freely, without judgement, is what will continue to move the industry forward. This notion of combining topics inside and outside the world of sports will only increase the engagement with the GenZ and Millennial fans.
Objective: WAVE.tv has always had the core mission of Champion Fandom, and the sports media company has found a new way to leverage the power of fandom in order to energize its audience in a new arena.
BTM originated from co-founder Brian Verne, who had the idea to do something that combines sports, athletes, civic engagement and what WAVE.tv does best -- reaching young audiences. In partnering with Jay Williams, they formed this notion of a non-partisan outlet for athletes and individuals who can discuss items that are important to them freely, without judgement.
Strategy & Execution: The first iteration of BTM, developed by WAVE.tv studio exec David Goffin, centered around an original Snapchat series of the same name. The series gave athletes a platform from which they could speak openly about social justice issues that matter most to them. BTM tapped the Players Coalition and Athletes for Impact, to shine-a-light on athletes who are actively working off-the-field to help improve the world and want to share their beliefs to energize young people to do the same.
Each participating athlete was asked to speak about topics of personal interest. Since season one premiered in late September leading up to the 2020 presidential election, each episode focused on election-based topics through very personal stories from athletes, each urging young viewers to register-and-vote on Nov 3.
The first season of BTM launched on Snapchat Discover on September 28th with each new episode dropped weekly. All of the six episodes featured a powerhouse athlete/public figure, their personal stories of social injustice and inspiring hopes for a more socially-active America:
Ep.1: BTM founding partner Jay Williams

Ep.2: WNBA's Brittney Griner

Ep.3: Former NFL player Anquan Boldin

Ep.4: Former NFL player Michael Bennett

Ep.5: NFL's Malcolm Jenkins

Ep.6: NFL's Denzel Ward
Results:
BTM garnered 742K unique viewers in October 2020, the main month of its airing on Snapchat. WAVE.tv is actively developing season 2 which will focus on the broader mission -- telling athlete stories that highlight change and socially relevant issues.
PRODUCTION
CREDITS
EVP, Studio & Originals
WAVE.tv
Supervising Producer
WAVE.tv
BRANDS AT THE LIVE SERIES
CONTENT x SPORTS BETTING
Over two days, sports betting + media will converge to discuss the North American fan. Learn the insights and strategies needed to develop partnerships, create and monetize betting content, and drive critical revenue and engagement.
May 12-13, 2021 (Virtual)
TRANSFORMING THE NEXT DECADE
Hashtag Sports® is the leading platform for media and marketing professionals and the next generation of creative talent across the converging sports and entertainment industries.
From unparalleled experiences like our annual conference and the Hashtag Sports Awards presented with Budweiser to inspirational digital content and mission-driven initiatives, Hashtag Sports is the benchmark for fan engagement and the go-to resource for the development of a new sports and entertainment ecosystem powered by digital media, content, culture, purpose, and technology.