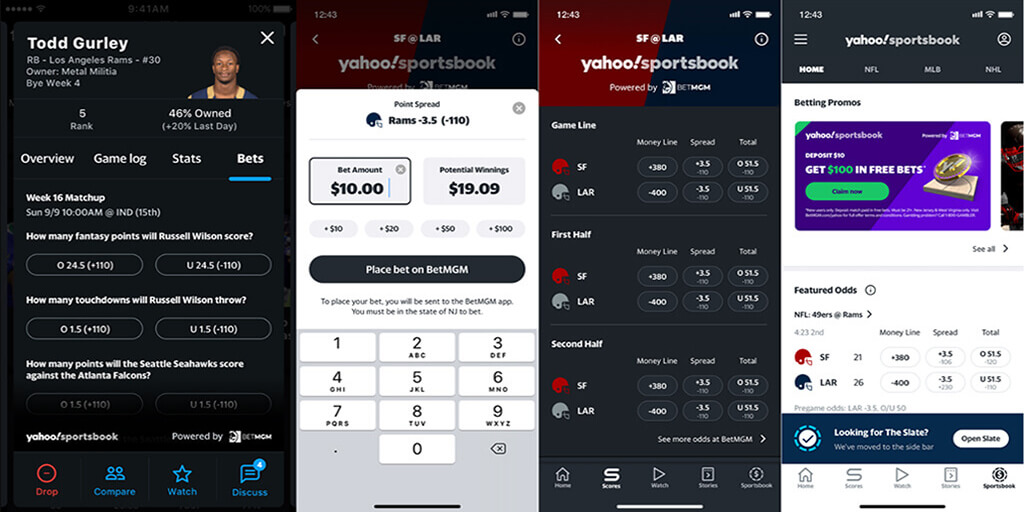 ABOUT THIS ENTRY
This first-of-its-kind sports betting content partnership inspired others in the space to strike similar partnerships.
How does this represent "Excellence in Engagement"?
BetMGM and Yahoo have set a high benchmark for media and gaming operators. The two companies are catering directly to sports fans by creating a curated environment where they can simultaneously engage with editorial and short-form video content while placing bets and checking scores. BetMGM and Yahoo are leveraging their ability to provide the one-stop-shop that so many fans are looking for to enhance their dual-screen sports viewing experience.

The innovative betting operator is consistently pushing the envelope with its technology offerings and has helped to cement Yahoo's prominence in the sports betting industry. Conversely, the well-respected content from Yahoo Sport's pushes readers to educate themselves on the latest lines and plays, and to engage with a trusted sportsbook, as well as take advantage of exclusive offers.

Through further product integrations and plans to operate co-branded player events at MGM properties, BetMGM and Yahoo are committed to engaging with fans in real-time and to capturing content for their respective platforms in the nine states in which Yahoo Sportsbook is currently available.

The partnership between Yahoo Sports and BetMGM was created to truly change the future of fandom, providing new ways for sports fans to go beyond engaging with content and interact through commerce. It also marked an important moment for BetMGM in the growing U.S. sports betting sector. Integrating Yahoo's leading fantasy sports operations and content with BetMGM's world-class sports betting and interactive platform uniquely positions both companies to drive market share and large-scale adoption among sports fans.

The partnership also created a one-stop-shop for sports betting content to drive deeper user engagement across a variety of sports.

Strategy & Execution: Content creation is a central pillar of the partnership: leveraging BetMGM's betting data to position Yahoo Sports as a leading sports betting destination amongst traditional media.

Integration: In addition to the pre-game odds, live odds, player props, and fantasy scoring wagers on the Yahoo Sports and Yahoo Fantasy Sports apps, Yahoo allows fantasy customers in states where BetMGM operates to build prop bets based on the customers' rosters, without leaving the Yahoo platform.

Unique player promotions: Yahoo utilized its relationship with the NBA with a recent promotion, giving new BetMGM customers a free season of League Pass. Both partners worked collaboratively on BetMGM signup offers tailored to sporting events.

New product tools and features were launched within the Yahoo Sportsbook mobile app to enable a smoother transition between content consumption on Yahoo and wagering on BetMGM. Single sign-on gives existing Yahoo users a quick way to sign in to their Yahoo account and login into their BetMGM account. Embedded betslip allows Yahoo users with existing BetMGM accounts to place bets while checking scores or reading articles. Yahoo and BetMGM have also rolled out ways for users to monitor their bets in real-time on their account wallet.

Results: The partnership between BetMGM and Yahoo is a perfect merging together of utilities, content, and partnerships at an amazing scale, which gives both companies a unique position in the industry to accelerate growth as the sports betting space continues to expand. Yahoo and BetMGM are successfully connecting their audiences to the things they love.

Yahoo Sports referred over 1 million people from its platform to the BetMGM registration portal last year, referring more users to BetMGM's platform than any of BetMGM's over 100-plus partners and affiliates.

Yahoo Sports reaches 70M sports fans per month. In 2020, BetMGM helped drive readers to consume 80.4M pieces of betting-related content on Yahoo platforms.

Despite early success, both partners continue to innovate and are testing and rolling out new ways to further their deep product integrations.
PRODUCTION
BetMGM,
Verizon Media's Yahoo Sports
CREDITS
Chief Marketing Officer
BetMGM
Head of Partnerships
BetMGM
Partnerships Manager
BetMGM
Product Manager
BetMGM
Partnerships Coordinator
BetMGM
GM
Yahoo Sports
Head of Consumer
Verizon Media
Head of Sports Partnerships
Yahoo Sports
VP & Head of Content
Yahoo Sports
Senior Director of Product Management
Yahoo Sports
Senior Architect
Yahoo
Senior Product Marketing Manager
Yahoo Sports
Senior Producer
Verizon Media
BRANDS AT THE LIVE SERIES
CONTENT x SPORTS BETTING
Over two days, sports betting + media will converge to discuss the North American fan. Learn the insights and strategies needed to develop partnerships, create and monetize betting content, and drive critical revenue and engagement.
May 12-13, 2021 (Virtual)
TRANSFORMING THE NEXT DECADE
Hashtag Sports® is the leading platform for media and marketing professionals and the next generation of creative talent across the converging sports and entertainment industries.
From unparalleled experiences like our annual conference and the Hashtag Sports Awards presented with Budweiser to inspirational digital content and mission-driven initiatives, Hashtag Sports is the benchmark for fan engagement and the go-to resource for the development of a new sports and entertainment ecosystem powered by digital media, content, culture, purpose, and technology.