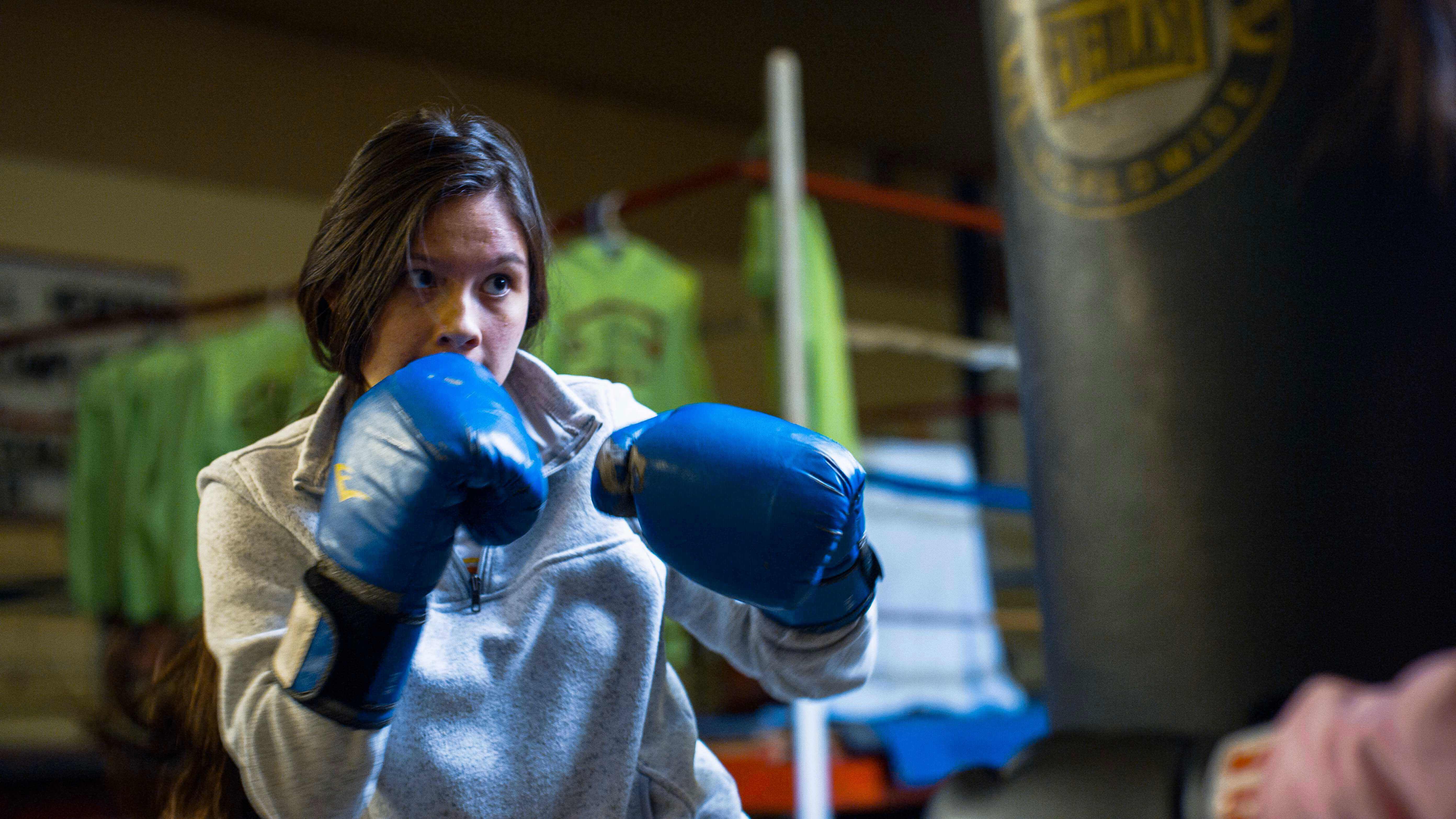 ABOUT THIS ENTRY
"Blackfeet Boxing: Not Invisible" is a documentary that shows how Native American women at the Blackfeet reservation in Browning, Montana, take up boxing to defend themselves from abduction, rape and domestic abuse – an epidemic in Native American communities.
How does this represent "Excellence in Engagement"?
The film has successfully reached a diverse audiences on many different mediums and platforms, that extends beyond the average sports fan. On ESPN's channels, it played on linear television as well as streamed on ESPN+. Shorter elements, such as Instagram stories and trailers, were created for our various social outlets that gave fans a more digestible length for taking in content from the film. It played in major cities across the country as a part of Tribeca's drive-in movie theater series.
The film was also selected to screen in the "Meet the Press" Film Festival, which spotlights stories and documentaries rooted in social change. It was just one of more than twenty festivals and counting in which the film has been a part of, and laurels and recognition along the way include the Audience Award at the AFI DOCS Film Festival, the Jury Award at DC Shorts, 'Shorts Spotlight Best Short: Overcoming Obstacles' Award at SCAD Savannah Film Festival, the Grand Prize at the Academy Award qualifying IndyShorts Festival, and most recently, a nomination for a Critics Choice Short Documentary Award. This project showcased the creativity it takes to reach audiences in many different spaces worldwide during a global pandemic.

Objective: The goal of this film was simple; to raise awareness for an unknown crisis in our country through the lens of sport. Blackfeet Boxing: Not Invisible finished shooting in the fall of 2019, four months before the world would be stricken with COVID-19, and seven months before the killing of George Floyd. Since going into edit, the nation's attempts to navigate its greatest health crisis in more than a century, and its awakening and reckoning with social injustice, have taken hold of the national conversation and narrative.

There could be no better time for the story to be shared, for at its core, the girls and young women of the Blackfeet Nation Boxing Club are being raised in a pandemic of violence and abuse, and growing up in a community deprived of social justice and self-worth.


Strategy & Execution: The modern sports fan is more sophisticated and open-minded than past generations. We took this into account when deciding how we would tell this story.

According to the United States Justice Department, Native American women are ten times more likely to be murdered than non-native women. More than one in three has suffered rape, or attempted rape, and more than 80 percent will experience violence at some point in their lives. On the Blackfeet Reservation in Montana, these are not statistics. They are stories, of lives and families, of loss and pain. The numbers describe a crisis, but its dimensions are intimate and individual. We decided to let the young women from the reservation tell their own story in this trackless narrative. There are no explanations or interjections from a reporter or a narrator. This film is truly in the voice of the indigenous women who are combatting violence and troubling situations on a daily basis, and we feel that our fans appreciated the authenticity of our approach.


Results:
There are a number of ways for a story to resonate, for its narrative to enter the public bloodstream, and then transform into action. In the case of Blackfeet Boxing: Not Invisible, this film's story is already resonating in profound ways.

In 2017, North Dakota Senator Heidi Heitkamp introduced the bill known as "Savanna's Act," legislation calling for law enforcement and justice reform to address the issue commonly known as MMIW (Murdered and Missing Indigenous Women), but was unable to pass it through committee. Reintroduced in the Congressional session of 2020, the film played a role in spreading understanding of the crisis. It was supported and shared by Heitkamp, as well as the first two indigenous women to serve in Congress, Congresswoman Deb Haaland and Congresswoman Sharice Davids. "Savanna's Act" was passed into law September 21, 2020, opening the pathway to better communication between tribal law enforcement and the FBI in MMIW cases.
PRODUCTION
CREDITS
Director
ESPN
BRANDS AT THE LIVE SERIES
CONTENT x SPORTS BETTING
Over two days, sports betting + media will converge to discuss the North American fan. Learn the insights and strategies needed to develop partnerships, create and monetize betting content, and drive critical revenue and engagement.
May 12-13, 2021 (Virtual)
TRANSFORMING THE NEXT DECADE
Hashtag Sports® is the leading platform for media and marketing professionals and the next generation of creative talent across the converging sports and entertainment industries.
From unparalleled experiences like our annual conference and the Hashtag Sports Awards presented with Budweiser to inspirational digital content and mission-driven initiatives, Hashtag Sports is the benchmark for fan engagement and the go-to resource for the development of a new sports and entertainment ecosystem powered by digital media, content, culture, purpose, and technology.