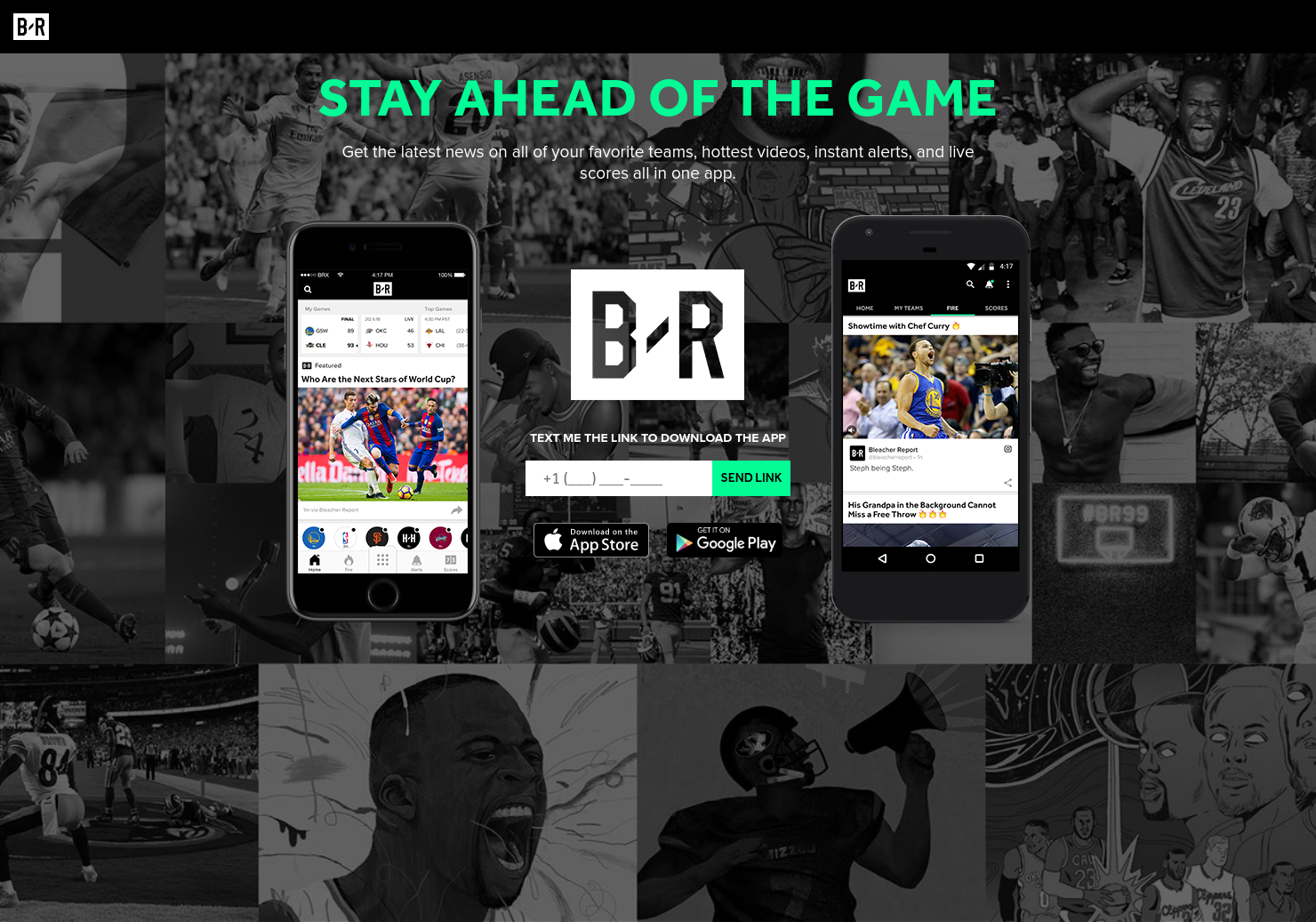 ABOUT THIS ENTRY
Bleacher Report has continued to build on its mission to make it easy to be a sports fan by creating an industry-leading app that allows B/R to act more as a platform than a publisher in the sports media industry.
How does this represent "Excellence in Engagement"?
Through innovation in feature sets including live streaming, interactive games, direct messaging, trending comment threads, Ask Me Anything Sessions, and the fastest news alerts in the industry, the B/R app boasts an impressive daily time spent by users, topping 10 minutes. This collection of features also makes B/R an all-in-one destination for today's sports fan. In 2020, there were more than 17.6 million comments and 60 million 'fires' (B/R equivalent to 'likes) in the app, providing a digital sports community for fans and fueling an astounding daily time spent average of more than 10 minutes; one of the tops in the industry.
Objective: Bleacher Report set out to be the best publisher in sports with one goal in mind: make it as easy as possible to be a sports fan. 2020 marked a watershed year in making this even more a reality. It marked a period of rapid growth for the B/R app with the introduction of new functionality making it an all-in-one sports platform offering the fastest alerts in the industry, premium content distribution, and groundbreaking social features. As the most engaged sports app in the world, the B/R App delivers by telling the news first, executing first-in-class packaging and curation, immersing fans in their favorite pastimes with a sense of community -- making it a one-stop destination for sports fandom.
Strategy & Execution: We've created a completely personalized user experience allowing users free reign over what they want to see, when they want to see it, and if they're alerted about it or not. Users choose which sports, teams, and even players they follow to receive content tailored to their interests. What's seen in-app is carefully programmed and curated by sports enthusiasts for sports enthusiasts. The Bleacher Report app is also the first sports app of its kind with seamless social functionality - which builds community and engagement. We debuted "fires," which are our version of likes, direct messaging, group messaging, AMAs (Ask-Me-Anythings), and content sharing within the app. These features exist in tandem with comments, replies, and expanded profile customization. Every social feature is designed to develop a sense of community. Images are tight and bright. Text is conversational and light. Videos stream as you scroll through threads. Alerts yell the news first, and often do so with HD video or rich media that add to the story. No other sports app on the planet takes as much attention to detail, builds meaningful community, or tells the news faster than the B/R App.
Results:
With more than 1 billion engagements in 2020, the B/R App has earned the mindshare of millions of users along with the most valuable real estate in the world - the phone inside their pocket. When it comes to the all-important 'stickiness', the App is opened 4x per day on average - making it the most popular sports app in the U.S. Over the past year, the B/R App saw a 145% increase in engagements. These platform-like numbers are a direct result product of the new functionality and features introduced to the app. With the fastest alerts in the sports app industry, real access to big-name athletes like Russell Wilson, Julian Edelman, and Metta World Peace via B/R App AMAs (Ask-Me-Anythings), community threads that garner constructive conversation, and a seamless user experience for highlights, news, and lifestyle content; the numbers prove that the B/R App makes it as easy as possible to be a sports fan.
BRANDS AT THE LIVE SERIES
CONTENT x SPORTS BETTING
Over two days, sports betting + media will converge to discuss the North American fan. Learn the insights and strategies needed to develop partnerships, create and monetize betting content, and drive critical revenue and engagement.
May 12-13, 2021 (Virtual)
TRANSFORMING THE NEXT DECADE
Hashtag Sports® is the leading platform for media and marketing professionals and the next generation of creative talent across the converging sports and entertainment industries.
From unparalleled experiences like our annual conference and the Hashtag Sports Awards presented with Budweiser to inspirational digital content and mission-driven initiatives, Hashtag Sports is the benchmark for fan engagement and the go-to resource for the development of a new sports and entertainment ecosystem powered by digital media, content, culture, purpose, and technology.