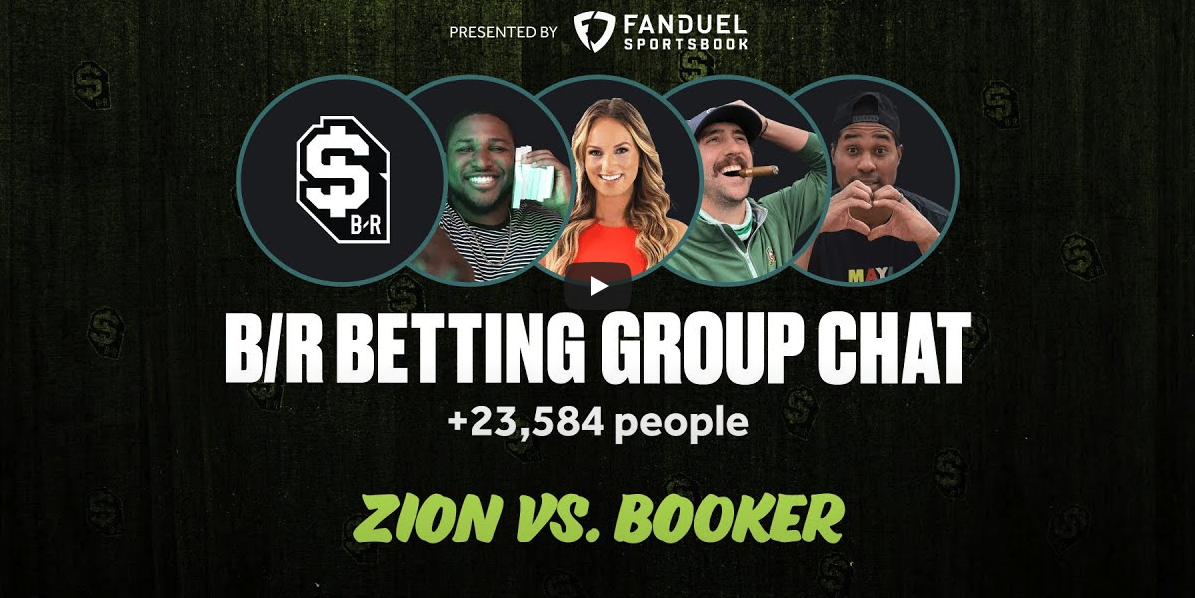 ABOUT THIS ENTRY
The ability to bring together all of the power of Turner Sports, Bleacher Report, FanDuel, and DraftKings to create unique and fresh betting integrations for sports fans on giant media platforms is nothing short of excellence in the betting space.
How does this represent "Excellence in Engagement"?
Turner Sports and Bleacher Report's partnership with both FanDuel and DraftKings represents excellence in engagement through creative IP, mass integration across linear, social, and O&O platforms; and through entertaining betting content that's reaching fans in the millions of engagements.
Objective: When Turner Sports and Bleacher Report struck partnerships with both DraftKings and FanDuel in 2020, the value proposition was to create engaging betting content for our audiences that would both entertain and funnel casual fans and seasoned bettors alike to each partners' sportsbooks.

In partnership with FanDuel and DraftKings, Turner Sports and Bleacher Report provide a comprehensive, cross-platform narrative journey with a focus on betting that reaches sports fans and betting consumers across our O&O, social, and linear platforms.
Strategy & Execution: At the top of partnership with both FanDuel and DraftKings, Turner Sports and Bleacher Report knew that there was value in marrying creative sports betting IP with top-performing and fan-adored content across our linear, O&O, and social channels.

In partnership with FanDuel, Turner Sports' linear production of the NBA had series like Chuck vs. America, TNT Bets, and the NBA 3 x 2 prop bet series. Pair these with the NBA Group Chat on B/R Betting's social channels for a holistic dive into betting on Turner Sports' NBA content. These plug-ins to an already renowned NBA production gave fans accessible and entertaining ways to engage with sports betting.

On the DraftKings side of things, Turner Sports and Bleacher Report have developed creative IP for everything from the Super Bowl to the first inning of MLB baseball games. The first edition of DropZone: DraftKing's Big Game Prop Reveal revealed DK's proprietary prop bets for the Super Bowl on B/R Betting's socials, while the continued MLB NRFI (No Runs, First Inning) prop bet "series", the NFL Squad Ride, and betting integrations for The Match on TNT further gave fans premium betting content at the intersection of their favorite sports pass times.
Results:
Across both partnerships on Turner Sports' and Bleacher Report's linear channel, social, and O&O channels, there have been over 71 million video views, 735 million impressions across integrations, and over 10,500 push alerts sent to mobile devices with partner odds attribution on the award-winning B/R App.

Not only have Turner Sports and Bleacher Report proven that there is an immense appetite for entertaining betting content in partnership with both FanDuel and DraftKings, but that it has the ability to engage fans at scale to great success.
PRODUCTION
Turner Sports
Bleacher Report
CREDITS
Director, Business Development & Strategic Partnerships, WarnerMedia
BRANDS AT THE LIVE SERIES
CONTENT x SPORTS BETTING
Over two days, sports betting + media will converge to discuss the North American fan. Learn the insights and strategies needed to develop partnerships, create and monetize betting content, and drive critical revenue and engagement.
May 12-13, 2021 (Virtual)
TRANSFORMING THE NEXT DECADE
Hashtag Sports® is the leading platform for media and marketing professionals and the next generation of creative talent across the converging sports and entertainment industries.
From unparalleled experiences like our annual conference and the Hashtag Sports Awards presented with Budweiser to inspirational digital content and mission-driven initiatives, Hashtag Sports is the benchmark for fan engagement and the go-to resource for the development of a new sports and entertainment ecosystem powered by digital media, content, culture, purpose, and technology.