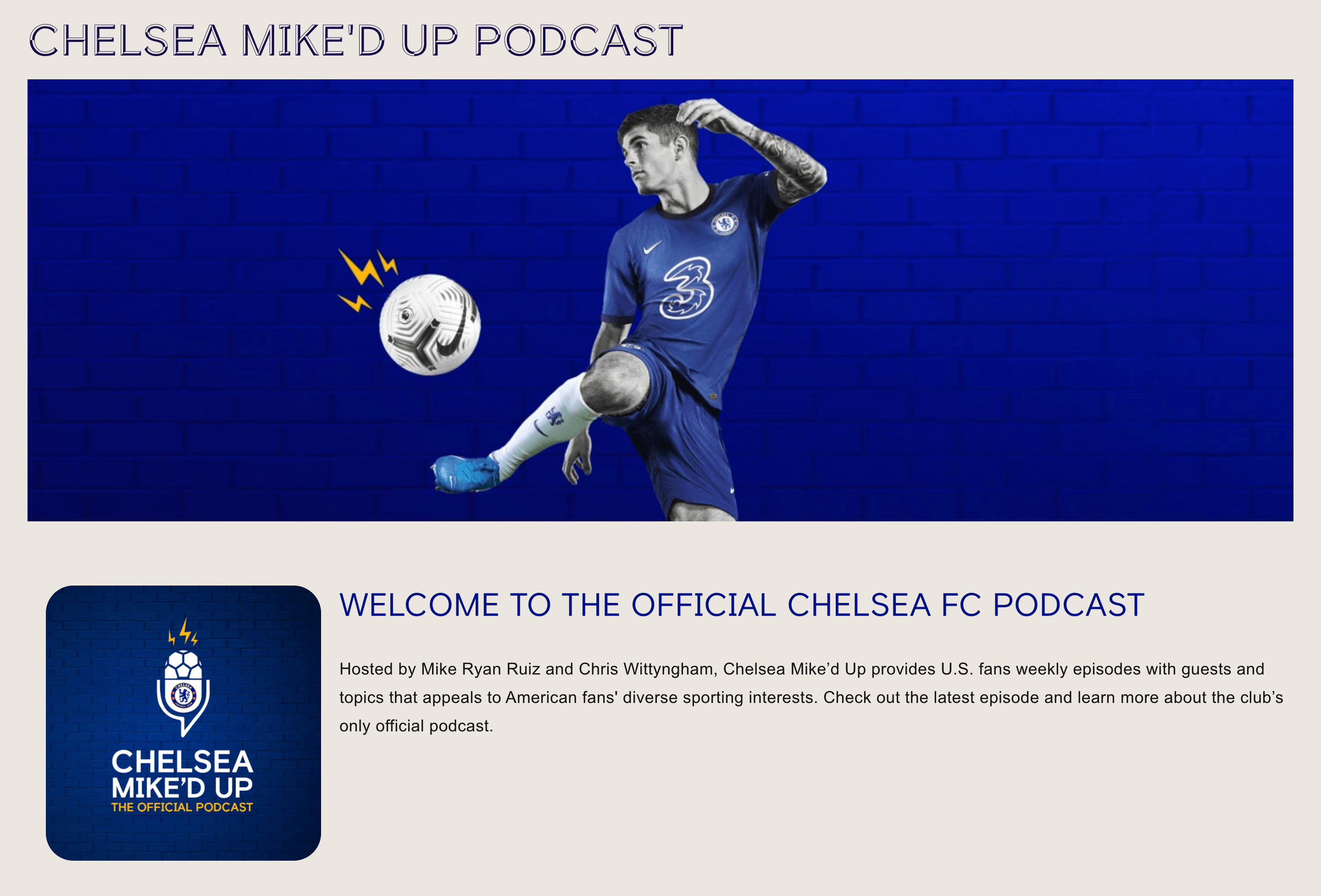 ABOUT THIS ENTRY
In late 2019, Chelsea continued to innovate through a Club-verified podcast crafted with American listener in mind - the first international soccer team to do so.
How does this represent "Excellence in Engagement"?
Chelsea Mike'd Up sets the bar high when it comes to creating content for an audience thousands of miles away from where the action is played. The show is a first-of-its-kind, developed by the Club as a way to grow the fanbase here in the US.
With an already impressive roster of celebrity talent, Chelsea is cashing in on the relationships it has with famous fans to recruit even more into the mix, all who are able to be advocates for the club, whether by appearing on the podcast or posting on it across their social platforms.
For a Club like Chelsea, who want to be globally recognized, this podcast has been thought of as the crown jewel of localization and are consistently looking to create deeper connections with its audience.
Our hope is that this podcast serves as a catalyst for other teams and leagues, especially those in other countries, to develop content specifically aimed at certain audiences to grow their fanbases and make their brand more globally recognized.
Objective: Chelsea FC have become one of the more popular soccer teams in America, in large part due to years as a leader in localized marketing initiatives.
As the first international soccer club to launch a podcast designed for the American listener, the show further reinforced Chelsea's commitment to the U.S. territory, offered stand-alone value in key scale environments, and enriched other digital and social media programs in the region.
Over 15 months, and two seasons, Chelsea Mike'd Up has become a consistent market leader while generating more than 18MM listens (full episodes + audio clips), exceeding all internal KPIs and delivering tremendous value back to Chelsea's business.
We aspired to be the top official soccer Club podcast in America by:

Involving reputable and attainable talent

Leading with humor and personality

Working Chelsea / soccer into greater U.S. cultural context

Inviting A-list guests
Achieving and maintaining this single goal means hitting performance KPIs:

Cumulative episode downloads / streams

Average completion rate thresholds

U.S. based share-of-audience thresholds
Additionally, the podcast needed to add value back to the business:

Lift in organic and paid social CTR, organic Google directs and 'time spent' on CFC website
Strategy & Execution: The soccer audience in America skews young & diverse, a strength when compared to most other sports.
But, market segmentation get complicated with five unique constituencies:
The 'Super Fan' who follows Chelsea religiously
The 'Lover of the Game' who loves soccer, adores Pulisic (American superstar) & is open to supporting Chelsea
The 'Socialite' who enjoys the camaraderie / viewing occasion as much as the game itself
The 'Culture Fan' who pays attention when Chelsea / soccer transcend into pop culture
The 'Newbie' who is motivated to learn & searching for a welcoming soccer community
To reach these audiences, we focused on bringing in the right talent.
Mike Ryan Ruiz is the namesake & host, a passionate Chelsea fan known nationwide as a key member of ESPN's top rated Dan LeBatard Show.
Chris Wittyngham is the neutral observer, bringing level-headed analysis shaped by soccer broadcasting across Univision, ESPN, beIN Sports & Inter Miami FC.
Together, they bring listeners Blues news with an American focus, featuring players, staff, media, celebrities, superfans & more. An uncensored & uninhibited discussion about the world of soccer through blue-tinted lenses.
In season two, Chelsea Mike'd Up was licensed to Sirius XM, simulcasting each Thursday evening to a significantly incremental audience.
Results:
We became America's top official soccer Club podcast within weeks, and have maintained that ranking through to today – charting consistently higher than of official soccer Club podcasts from top Clubs across the Premier League, Bundesliga, Serie A, La Liga, MLS, NWSL and more.
In many months, Chelsea Mike'd Up charted as one of the top 200 sports podcasts in the U.S… a significant feat for a soccer program in America when competing with NFL, NBA, MLB, NHL, sports debate and sports gambling podcasts.
In just 15 months, we delivered:
More than 18MM total downloads + audio clip listens
76% episode completion rate
91% U.S. listenership
33% lift in organic Facebook CTR to Chelsea website
25% lift in organic Twitter CTR to Chelsea website
10% lift in organic Google directs to CFC website
5% lift in 'time spent' on CFC website
PRODUCTION
Chelsea FC, Gilt Edge Soccer Marketing
CREDITS
International Market Lead
Chelsea FC
Global Marketing - Lead Markets
Chelsea FC
Host & Producer
Chelsea Mike'd Up
Managing Partner
Gilt Edge Soccer Marketing
Senior Account Manager
Gilt Edge Soccer Marketing
Digital Content Coordinator
Gilt Edge Soccer Marketing
BRANDS AT THE LIVE SERIES
CONTENT x SPORTS BETTING
Over two days, sports betting + media will converge to discuss the North American fan. Learn the insights and strategies needed to develop partnerships, create and monetize betting content, and drive critical revenue and engagement.
May 12-13, 2021 (Virtual)
TRANSFORMING THE NEXT DECADE
Hashtag Sports® is the leading platform for media and marketing professionals and the next generation of creative talent across the converging sports and entertainment industries.
From unparalleled experiences like our annual conference and the Hashtag Sports Awards presented with Budweiser to inspirational digital content and mission-driven initiatives, Hashtag Sports is the benchmark for fan engagement and the go-to resource for the development of a new sports and entertainment ecosystem powered by digital media, content, culture, purpose, and technology.