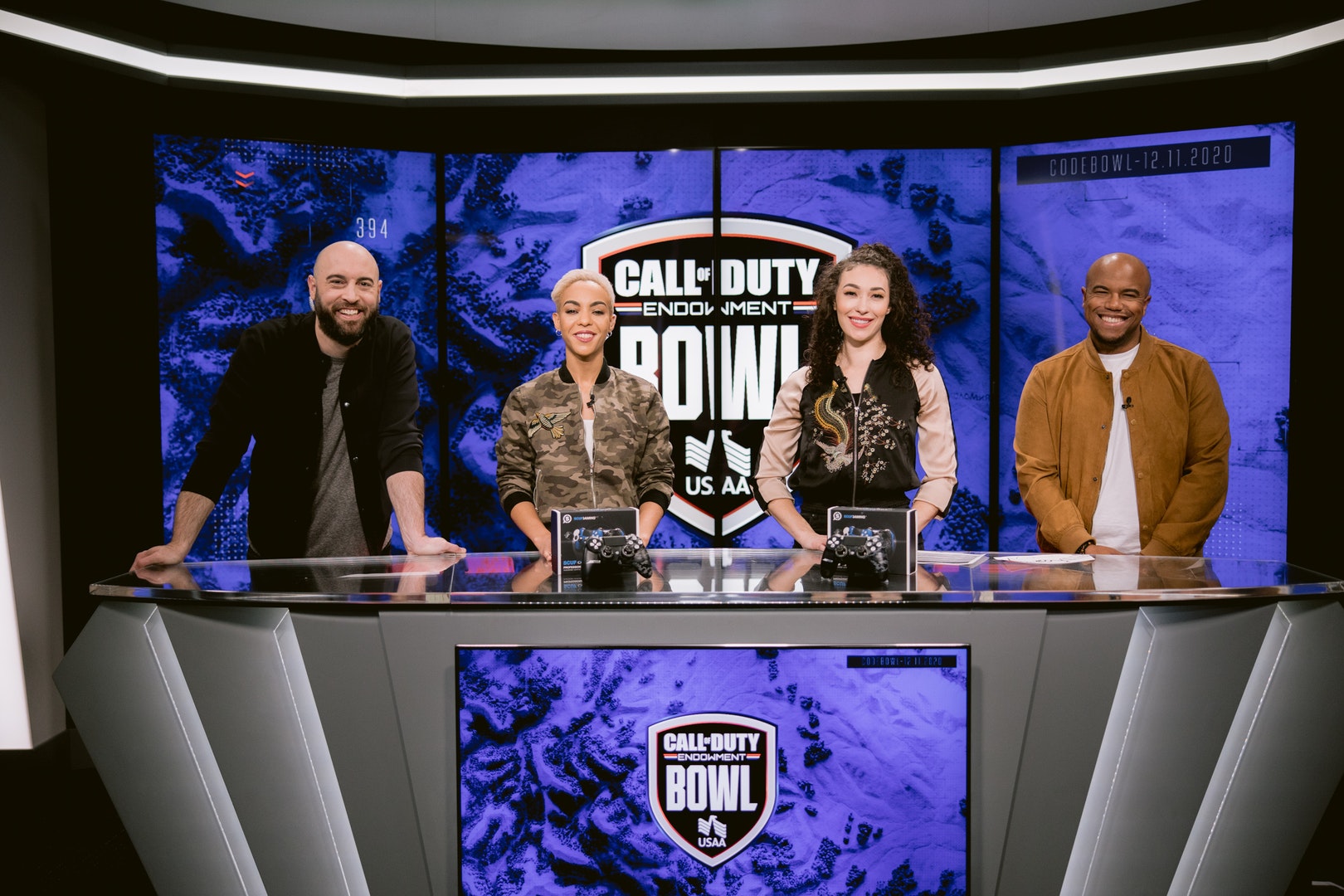 ABOUT THIS ENTRY
During unprecedented times, C.O.D.E. Bowl informed and engaged a growing community of gamers, who were eager to show their support for veterans.
How does this represent "Excellence in Engagement"?
Over 1.5 million viewers from around the world tuned in as teams from the U.S. and U.K. military branches went head to head for the first time in a transatlantic competition.
Through a deep-rooted passion for gaming, captivating broadcasts, effective team communication, and competitive operations, Activision and Esports Engine were able to effectively drive engagement amongst its community while also raising awareness for an important cause.
By using gaming for good, C.O.D.E Bowl created a meaningful, engaging opportunity that could connect a global audience and effectively set a new creative bar for integrated charitable esports events.
Objective: Service members, recent veterans, and Call of Duty players spend more free time watching video game streams than any other form of entertainment. Realizing these synergies and understanding the far-reaching, global platform esports has, Activision and Esports Engine in partnership with USAA joined forces for a good cause.
On December 11, 2020, one day prior to the iconic Army-Navy football game, The Call of Duty Endowment "C.O.D.E." Bowl, a one-of-a-kind esports charity event, brought military heroes from the U.S. and U.K. together on the virtual battlefield in order to raise awareness and money for the Call of Duty Endowment, the largest non-government funder of veteran employment in the world. During a time when many were apart and the demand from veterans needing help finding jobs rose nearly 30 percent, C.O.D.E. Bowl aimed to engage its core audience of gamers and bring awareness to this important cause in a meaningful way.
Strategy & Execution: Tapping into decades of fandom and rivalries surrounding the Army-Navy football game, C.O.D.E. Bowl featured the official esports teams of the U.S. Army, Marine Corps, Navy, Air Force, and Space Force, as well as the British Army, Royal Air Force, and Royal Navy. Some of the U.S. and U.K. Armed Forces branches additionally recruited teams specifically for the event through internal qualifiers.
Each military service branch teamed up with two fan-favorite Call of Duty streamers and professionals for a round-robin style tournament that offered competitive intensity and entertainment for viewers. Coached by top esports professionals from the Call of Duty League, teams went head-to-head in the newly released Call of Duty®: Black Ops Cold War, while the industry's most well-known personalities followed the gameplay as it was streamed live across official Call of Duty Twitch and YouTube channels.
Esports Engine and Activision produced C.O.D.E. Bowl in an effort to not only drive awareness to the Call of Duty Endowment and raise money to help more veterans secure quality jobs but also to bring much-needed entertainment to a variety of audiences, from casual gamers to sports fans.
Results:
During an unprecedented year, Esports Engine was able to provide Activision with experiential event expertise and technology solutions to execute an unforgettable charity event that engaged viewers around the world.
The 2020 C.O.D.E. Bowl received:
1.7M unique streams
134.2M digital impressions
19M total minutes watched on stream
91 percent positive sentiment on social media
To further drive engagement, C.O.D.E Bowl was amplified by the Call of Duty franchise and widely popular influencer channels. This included a social media campaign, in-game messaging, email newsletters, and earned media. The event also lives permanently on Twitch and YouTube, making it rewatchable for those who missed it live.
Furthermore, revenue generated for the C.O.D.E. Bowl – just under $1 million – was donated directly to the charity, funding the placement of 1,326 vets into high-quality jobs through the five-hour event— equivalent to an entire regiment of veterans.
PRODUCTION
Esports Engine, Activision
PRODUCTION
President & Co-Founder
Esports Engine
Chief Production Officer & Co-Founder
Esports Engine
BRANDS AT THE LIVE SERIES
CONTENT x SPORTS BETTING
Over two days, sports betting + media will converge to discuss the North American fan. Learn the insights and strategies needed to develop partnerships, create and monetize betting content, and drive critical revenue and engagement.
May 12-13, 2021 (Virtual)
TRANSFORMING THE NEXT DECADE
Hashtag Sports® is the leading platform for media and marketing professionals and the next generation of creative talent across the converging sports and entertainment industries.
From unparalleled experiences like our annual conference and the Hashtag Sports Awards presented with Budweiser to inspirational digital content and mission-driven initiatives, Hashtag Sports is the benchmark for fan engagement and the go-to resource for the development of a new sports and entertainment ecosystem powered by digital media, content, culture, purpose, and technology.