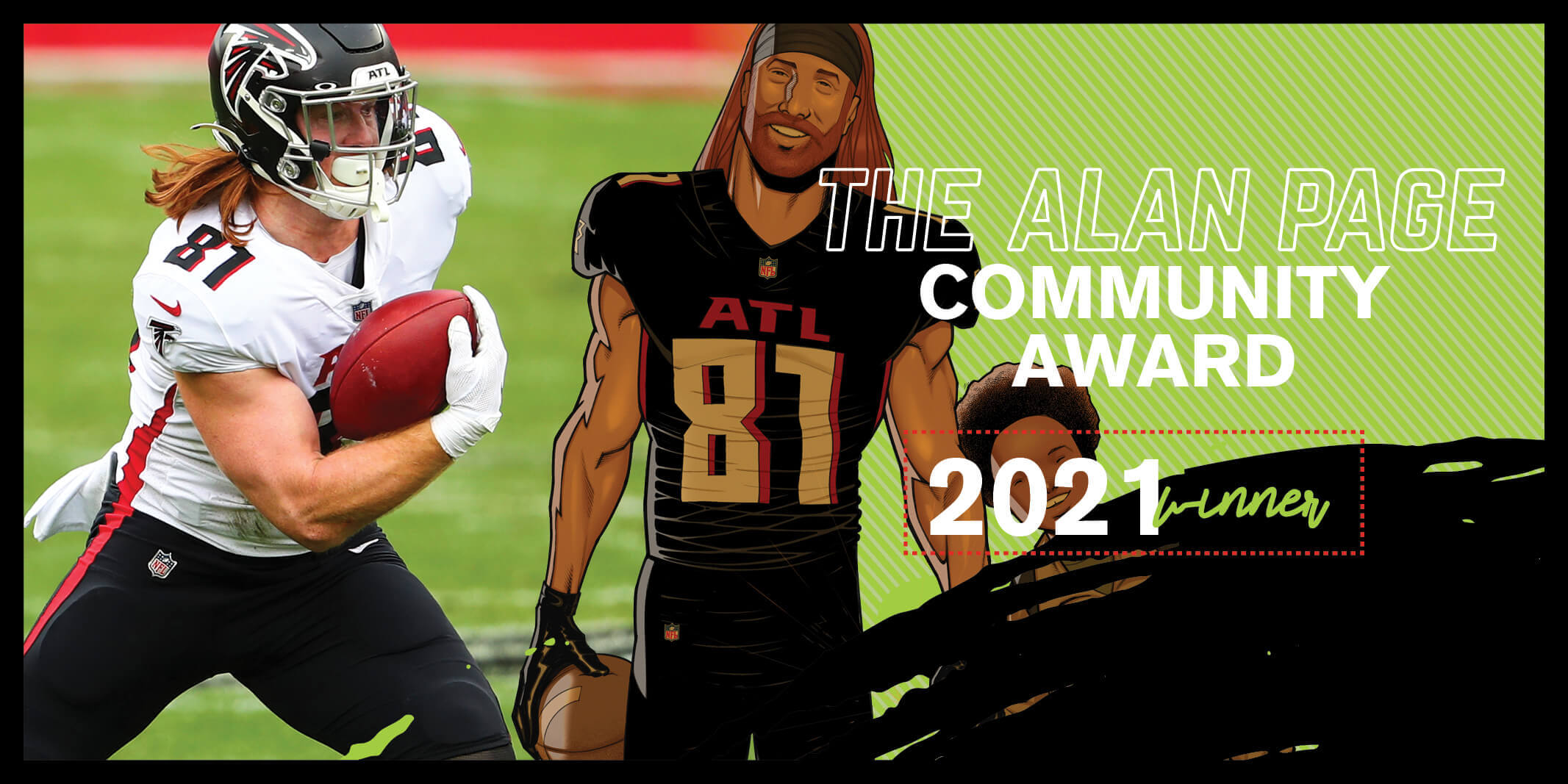 ABOUT THIS ENTRY
During a pandemic that severely limited the ability to personally engage with others for good, the features added to this year's Community MVP introduced players and fans alike to new possibilities created by the virtual landscape.
How does this represent "Excellence in Engagement"?
By virtually visiting schools and hospitals, players were able to carve more time out of their busy schedules to do outreach with their fans. Many of the Community MVPs noted how they plan to use this method of engagement as well as their excitement that this will be a part of program going forward.

As part of the NFLPA's Super Bowl week programming, the Community MVP program hosted a panel with five of the winners on the NFLPA Twitter page. The discussion gave a glimpse into the motivation, efforts and creativity that go into player community service and engagement. More than 1,000 fans, including members of the non-profit industry, viewed the event, which resulted in a number of future engagement opportunities for the player panelists.

Through the Community MVP program, we have demonstrated to the industry that personal outreach, as well as purposeful, impactful fan engagement, are still possible within our "new normal."
Objective: Created in 2014, the NFLPA Community MVP strives to shift the narrative surrounding athletes by simply highlighting the truth – that NFL players dedicate themselves to pouring back into their communities and charitable causes.

The Community MVP's mission is to recognize and reward players' purpose-driven ideas and the action taken to bring those ideas to life in the form of community service that has relevance, consequence and real impact. Ultimately, by encouraging deeper engagement among players, partners and fans, this program shows what's possible when you unite around one goal. The subsequent engagement has nothing to do with statistics or fantasy points. It has everything to do with believing in the power of giving back and players putting their passions to work, particularly during the pandemic.

As part of this weekly award honoring NFL players who make a positive impact on their hometowns and team cities, the NFLPA deployed the following resources to create long-lasting community impact and fan engagement:
a $10,000 donation to his foundation or charity of choice

a superhero-like illustration of the player by supporting partner Athlita Comics

a crowdfunding page set up by supporting partner Pledge It where fans can donate to the player's chosen cause.



Strategy & Execution: We considered the modern sports fan by having each Community MVP virtually visit a local school/children's hospital. The "new normal" created by the ongoing pandemic accelerated fans' desire to engage with sports and their favorite players from the comfort of their own homes/computers. By "zooming" the Community MVPs into virtual classrooms and hospital rooms during a season that saw most people shut out of stadiums, players were once again able to connect with their fans in a personal way.

During each virtual visit, a pair of customized Community MVP sneakers was awarded to one child for their achievement and perseverance, which generated a great deal of excitement. Judging by the weekly rush to the SNKRS app, most sports fans love shoes. To be presented a collector's edition pair depicting their favorite player and team colors taps into the core of one of sports' most beloved products among consumers.

Finally, the original comic illustrations created of each Community MVP drawback on the ever-growing popularity of superhero movies and graphic novels. Players are depicted as sculpted figures with their jerseys on and helmets off in a reimagined scene from their charitable event.
Results:
Since its inception, 123 NFL players have earned NFLPA Community MVP honors. In that time, $1.44 million has been donated to their foundations or charities of choice and, over the past two years, more than $439,000 has been raised through their Pledge It pages. All funds go toward executing new, impactful ways to bettering the communities where players and their fans live.

The program also boosted the NFLPA's social media channels. These posts have generated an average of 3 million annual impressions via Instagram and Twitter, including a 50 percent growth of awareness and engagement on digital platforms from 2019 to 2020. Chief among these posts was a moment from our Community MVP Super Bowl panel, when Hayden Hurst shared his testimony of battling depression and attempted suicide. The clip received more than 62,000 views and nearly 536,000 impressions while helping further destigmatize mental health issues among fans.

In terms of the virtual school/children's hospital visits, more than 350 kids were able to engage with the Community MVP winners. As a result, lasting memories were created for fans, old and new, who will never forget when an NFL athlete joined their virtual classroom/hospital room during the unprecedented year of 2020.
PRODUCTION
CREDITS
Senior Communications Manager
NFLPA
Brand Manager + Graphic Designer
NFLPA
Operations Manager
NFLPA
Social Media + Content Manager
NFLPA
Project Manager
AthlitaComics
Communications Coordinator
AthlitaComics
Director of Business Development
Pledge It
Digital Media Manager
NFLPA
Project Coordinator
NFLPA
BRANDS AT THE LIVE SERIES
CONTENT x SPORTS BETTING
Over two days, sports betting + media will converge to discuss the North American fan. Learn the insights and strategies needed to develop partnerships, create and monetize betting content, and drive critical revenue and engagement.
May 12-13, 2021 (Virtual)
TRANSFORMING THE NEXT DECADE
Hashtag Sports® is the leading platform for media and marketing professionals and the next generation of creative talent across the converging sports and entertainment industries.
From unparalleled experiences like our annual conference and the Hashtag Sports Awards presented with Budweiser to inspirational digital content and mission-driven initiatives, Hashtag Sports is the benchmark for fan engagement and the go-to resource for the development of a new sports and entertainment ecosystem powered by digital media, content, culture, purpose, and technology.