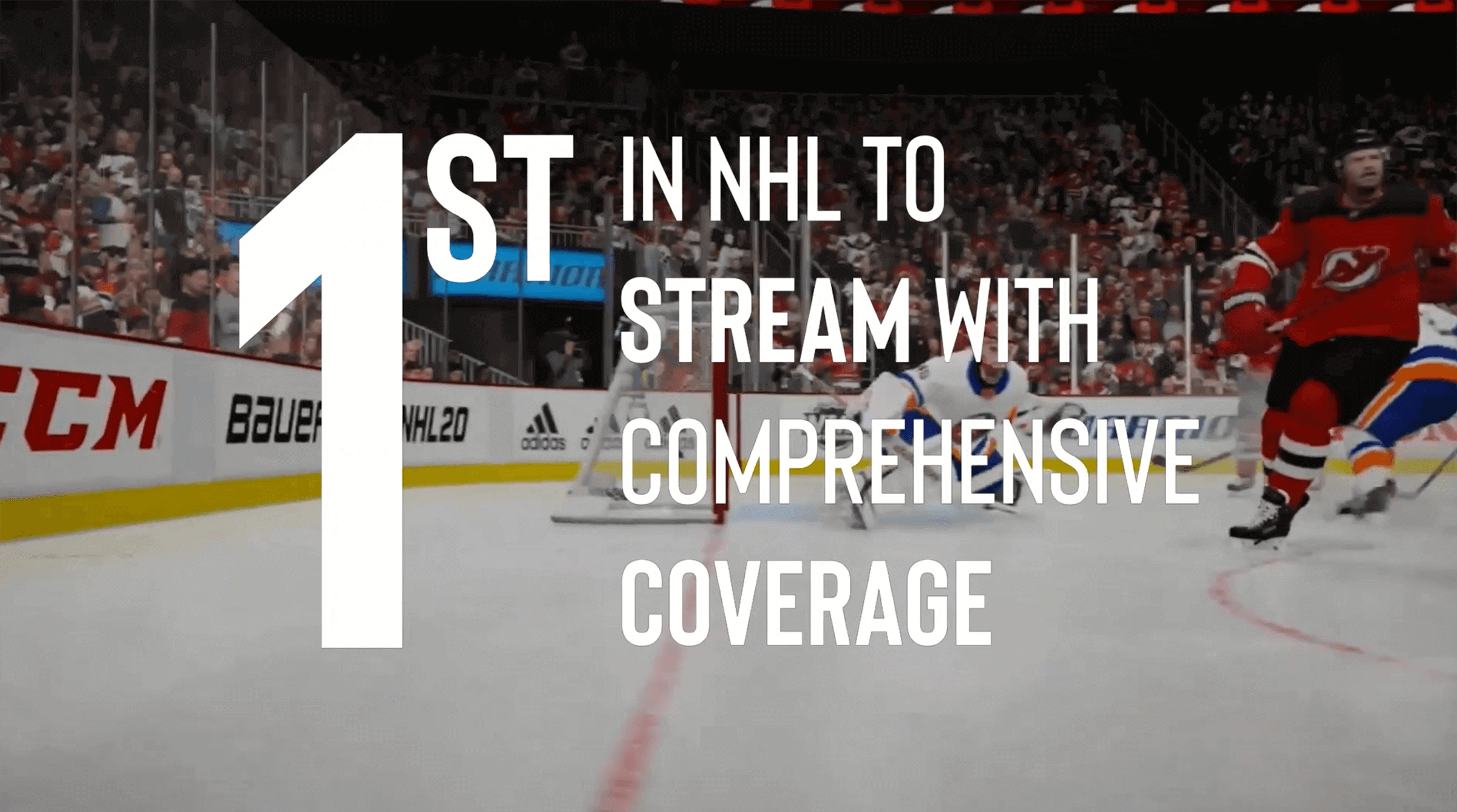 ABOUT THIS ENTRY
In an attempt to bring a sense of normalcy to our feeds and provide an escape for people during an unprecedented time, the Devils content team decided to use e-gaming as a medium to reach fans.
How does this represent "Excellence in Engagement"?
We believe the player access during this difficult time and the full-scale, multi-level content event was unique during the pause. After the initial stream, the club received many positive messages from fans on social media and on their streaming platforms during the game, thanking the club for giving them a distraction and asking for more games to be streamed.

We started out mirroring the Devils schedule through to the end of the regular season and then pivoted after that to games involving classic Devils alumni and specific teams of certain years (for example, the 2000 Cup championship team). We allowed fans to vote on which Devils teams they wanted to see, which specific players they wanted to see and even which opponents they wanted.

We also had a Virtual Fan Appreciation Night sponsored by M&M's. This included prize giveaways, including the winner of a contest getting to insert themselves on the Devils top line. We also interviewed the winner in our mock post-game interview: https://www.nhl.com/devils/video/c-5370237

Some of the other fun ideas included a virtual t-shirt toss where the winners actually won t-shirts.
Objective:
Other sports teams have streamed via Twitch before and simulated games are not uncommon, but the Devils content team decided to reach beyond posting a link to a stream off-site.

The objectives were:

Fill our feeds with regular content


Provide a medium for in-game sponsors who were no longer getting exposure due to the


pause in games

Potentially find a presenting sponsor

Be innovative and do it differently than other teams

Generate some earned media


Strategy & Execution: Shortly after the NHL paused its season, the Devils set up a live stream of simulated games using EA Sports NHL 20 to publish directly to the team's website and social feeds in an attempt to engage fans on its platforms. In addition, the Devils promoted and covered the event as if it were a real game, with similar cadence and assets as would be used during the regular season:

Actual play-by-play from Devils radio voice Matt Loughlin
Game recap articles (Example)
Post-game interviews with actual Devils players (Example)
Game highlights (Example)
Reporter post-game packs (Example)
Pre and post-game animations
Lineup notes
Partnership assets
Animated goal gifs
Gifs and video clips of the goals taken from the broadcast
Results:
Measuring the audience itself, we averaged 30,000 viewers per simulated game with a high of 60,000 for our game against the Philadelphia Flyers. Video on demand created as a result of the games, such as the mock player post-game interviews, would sometimes exceed 100,000 views.

We were able to find a presenting sponsor of the simulated games in Investors Bank which helped achieve that objective. Other sponsors which we were able to mention through the games included:

M&M's Moment of the Game (and Fan Appreciation Night)
NJ Lottery Overtime & Shootout
Investors Bank Roll Call
RWJBarnabas Health Starting Goalie Matchup
PRODUCTION
New Jersey Devils Hockey Club
Investors Bank
CREDITS
Senior Director, Content
New Jersey Devils
Video Producer
New Jersey Devils
Video Production Manager
New Jersey Devils
Video Producer
New Jersey Devils
Reporter
New Jersey Devils
Writer
New Jersey Devils
Reporter
New Jersey Devils
Play-by-Play Announcer
New Jersey Devils
BRANDS AT THE LIVE SERIES
CONTENT x SPORTS BETTING
Over two days, sports betting + media will converge to discuss the North American fan. Learn the insights and strategies needed to develop partnerships, create and monetize betting content, and drive critical revenue and engagement.
May 12-13, 2021 (Virtual)
TRANSFORMING THE NEXT DECADE
Hashtag Sports® is the leading platform for media and marketing professionals and the next generation of creative talent across the converging sports and entertainment industries.
From unparalleled experiences like our annual conference and the Hashtag Sports Awards presented with Budweiser to inspirational digital content and mission-driven initiatives, Hashtag Sports is the benchmark for fan engagement and the go-to resource for the development of a new sports and entertainment ecosystem powered by digital media, content, culture, purpose, and technology.