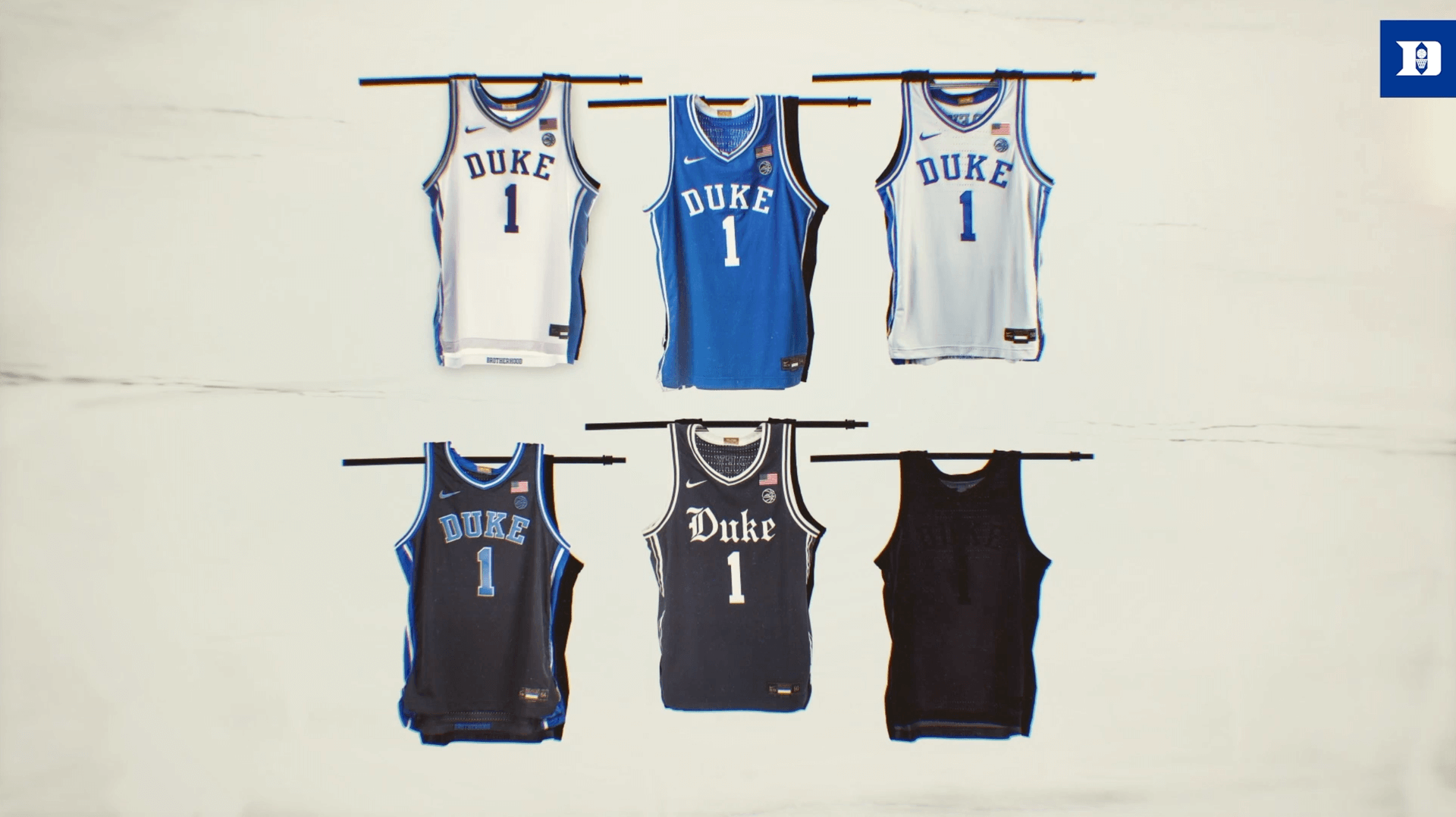 ABOUT THIS ENTRY
During the summer before the 2019-20 season we determined there would be six new uniforms for the upcoming year and knew we needed to do our best to show them off and get fans excited for our new threads.
How does this represent "Excellence in Engagement"?
This represents "Excellence in Engagement" because of the way each video tied into the next, creating a buzz among our fans who were anticipating what we were going to cook up next. It also helped to keep fans engaged because we spread the jersey releases throughout the season. We debuted the white, blue and black jerseys in the first half of the season and the grey, navy and rivalry jerseys in the second half. The feedback was so overwhelming that we will be debuting another new jersey next season so #TheDukeReveal will continue.
Objective: It had been a few years since Duke debuted new basketball unis so we wanted to go all out. We decided to make it a cohesive series of six videos, one for each uni reveal, that would all have some of the same elements tying them together.
Strategy & Execution: We created and designed a logo for each uniform and used it as a teaser the week of the uniform release. For instance, the new home whites logo included a design of Cameron Indoor Stadium and the Cameron Crazies, that were primarily white with blue outlines, just like the jersey. We did this for all six in an attempt to encourage fans to engage and guess which jersey we were debuting next and what it might look like. We also created #TheDukeReveal hashtag so fans would be able to find everything related to the new unis. Along with this, our team created computer/phone wallpapers for each jersey with our reveal logos on them for fans to use.
Results:
The entire campaign resulted in 2 million video views across all of our platforms.
We were very proud of our work, which was made easier by how great the uniforms looked. The Brotherhood jerseys were the most talked about college basketball jerseys of the year on social media. When the rivalry jersey debuted fans weren't as excited about it as the previous five jerseys and we knew that would be the case so we created a video narrated by Tyus Jones and with his brother Tre Jones revealing the jersey. The video was a hit and we saw even success after the game due to Tre and our team's heroics to win an all-time epic DUKE UNC game.
PRODUCTION
CREDITS
Creative Content Producer
Duke MBB
Senior Producer & Editor
Duke MBB
Creative Director
Duke MBB
BRANDS AT THE LIVE SERIES
CONTENT x SPORTS BETTING
Over two days, sports betting + media will converge to discuss the North American fan. Learn the insights and strategies needed to develop partnerships, create and monetize betting content, and drive critical revenue and engagement.
May 12-13, 2021 (Virtual)
TRANSFORMING THE NEXT DECADE
Hashtag Sports® is the leading platform for media and marketing professionals and the next generation of creative talent across the converging sports and entertainment industries.
From unparalleled experiences like our annual conference and the Hashtag Sports Awards presented with Budweiser to inspirational digital content and mission-driven initiatives, Hashtag Sports is the benchmark for fan engagement and the go-to resource for the development of a new sports and entertainment ecosystem powered by digital media, content, culture, purpose, and technology.