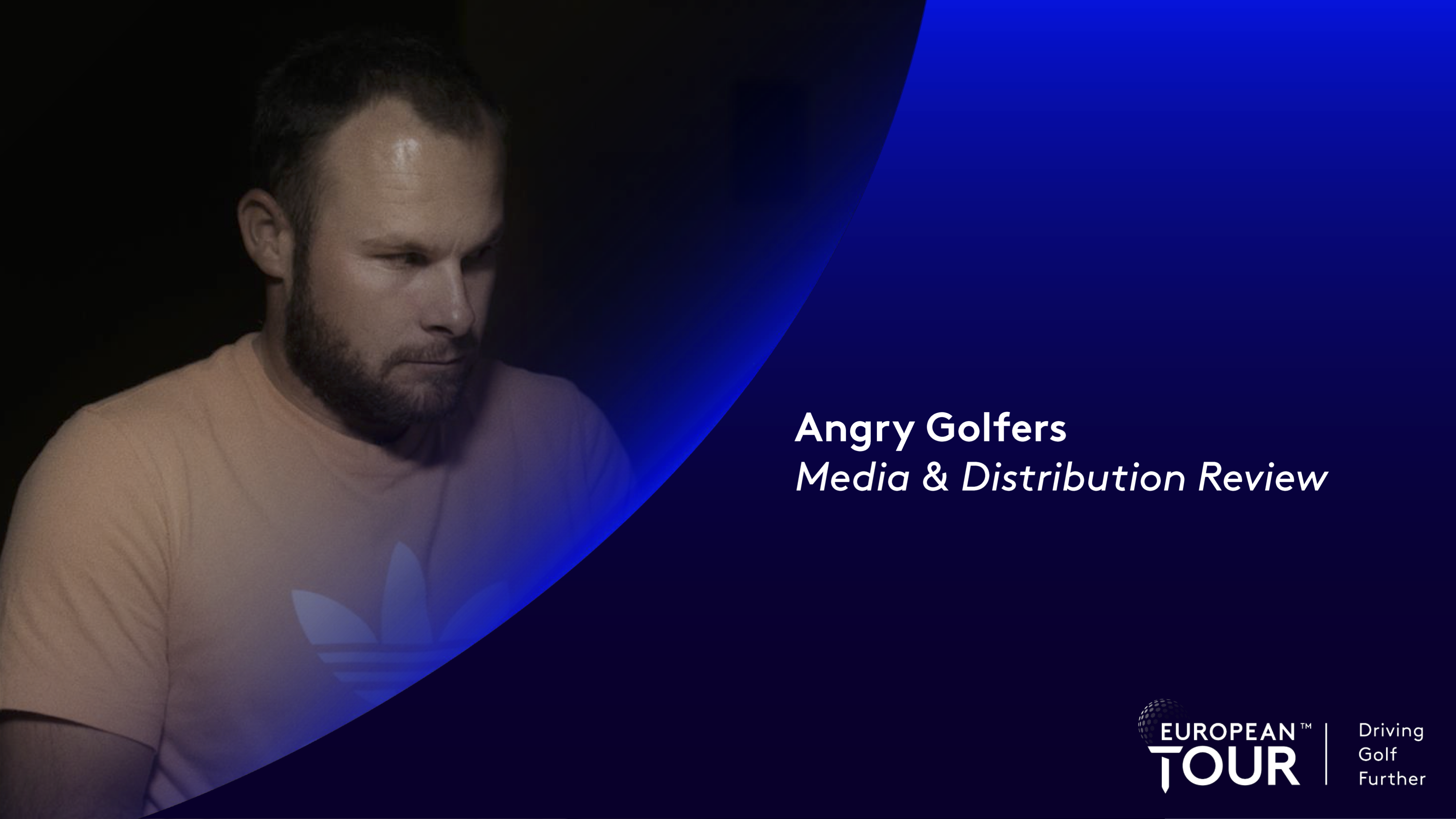 ABOUT THIS ENTRY
The adventurous and tongue-in-cheek nature of the humour of the piece, and the decision to play on and subvert players' reputations as 'angry' golfers, was a deliberate attempt to push the boundaries and challenge perspectives on how unguarded professional sportspeople could be.
How does this represent "Excellence in Engagement"?
Angry Golfers was not only a ground-breaking piece of content for the European Tour, but for the wider world of sports content, with an unprecedented use of professional sportspeople to star in a mockumentary-style video. To place our players (golfers and not professional actors) at the heart of polished, TV-style production, was a bold and significant development for the European Tour, testing our limits and those of our players, however the cut-through the piece received was testament to that approach.
Additionally, the piece pushed the boundaries of what fans have come to expect from professional sportspeople, with many viewers commenting on how refreshing it was to see sports stars being so self-aware and happy to joke at their own expense. A common perception is that sportspeople, in particular individual sports stars, are egotistical and too concerned about personal brands to let their barriers down, however, as a result of our relationships with the players and their trust in us as content creators, this piece was a rare example of athletes being willing to let their guard down and allow their sense of humour to shine, in a way that few other major sports federations have managed to do.
Objective: By producing clever, funny and relatable content starring some of the most notable names in golf, we aimed to entertain and engage fans across different audiences, beyond typical golf fans, and in particular younger demographics.
Leveraging this global exposure, the piece was designed to promote the first European Tour event of the 2021 season, the Abu Dhabi HSBC Championship, as well as deliver uplift for key stakeholders and tournament partners (eg. Rolex, HSBC) and wider Tour partners.
Furthermore, the piece was also intended to provide a platform to showcase our European Tour players and their different personalities and talents away from golf. We knew that sports fans always wish to see more personality and approachability shown by sports stars, and the self-deprecating humour involved in the piece would not only entertain fans but also enhance the European Tour's reputation for quality social content, by continually raising the bar and advancing the level and creativity of our content.
Strategy & Execution: Devised, scripted, filmed, edited and released entirely in-house on a tight budget, the piece was filmed over a two-day period (with just two hours permitted with the players) and released two days later, all during the first tournament of the season and busiest weeks of the year.
Angry Golfers was released according to a comprehensive distribution/syndication plan, to maximise its media coverage and transcend traditional golf/sports fans, tapping into new/broader audiences and capitalising on the numbers of people at home looking for new content and light relief, including:




Filming with international star players to appeal in multiple key markets

Releasing at targeted time to hit multiple markets following series of teasers to build interest/enthusiasm

Notified release to our custom-built Media Hub – a unique syndication network of more than 2,300 clients, including broadcasters, digital media and social media influencers.

Leveraging personal relationships across golf/sport/entertainment to syndicate piece to key media clients with strong fan bases and far-reaching audiences

Using platform-specific, 'as native' sharing techniques to further utilise reach and influence of our star players

Featuring during live tournament broadcast, distributed to 40+ broadcasters in 165+ territories.

Capitalised on organic follow-up content from players involved to build on success of main video.
Results:
In advance, we designated success of the piece by views, engagements, global media coverage and reach of new, younger audiences.
Angry Golfers reached over 12m people on European Tour social media alone, with no social spend, amassing 3.7m views and 490,000 engagements, becoming the most widely shared ET tweet ever and most engaged with video of all time. 91% of YouTube views came from non-European Tour subscribers and 58% of total viewers were under the age of 40, much improved on traditional European Tour content.
The piece received global media coverage, including on: MailOnline, The Telegraph, USA Today, BBC Sport, ESPN, YahooSports, BeinSports, MSN and more. Angry Golfers was also featured on NBC Golf Channel (84.5m potential home reach) and Sky Sports (8m average monthly viewers) live tournament broadcasts, as well as featuring on 'Golf Today', the morning talk show on NBC Golf Channel.
We re-affirmed and enhanced our reputation as a pioneer of best-in-class, innovative social sports content amongst both the industry and fans alike:
"Brilliance. Pure Brilliance." – Jason Sobel, SiriusXM
"Brilliant. Creative. Spot on." – Taylor Twellman, ESPN
"Great buy in from the players. Would make a non-golf fan want to watch these guys play." – Matt Cutler, fan
PRODUCTION
European Tour Productions
CREDITS
Head of Original & Branded Content
European Tour
Senior Producer, Original & Branded Content
European Tour Productions
Producer, Original & Branded Content
European Tour Productions
Account Manager, Original Content
European Tour Productions
Senior Assistant Producer, Original Content
European Tour Productions
Original & Branded Content Executive
European Tour
Player Content Director
European Tour
Production Coordinator
European Tour Productions
BRANDS AT THE LIVE SERIES
CONTENT x SPORTS BETTING
Over two days, sports betting + media will converge to discuss the North American fan. Learn the insights and strategies needed to develop partnerships, create and monetize betting content, and drive critical revenue and engagement.
May 12-13, 2021 (Virtual)
TRANSFORMING THE NEXT DECADE
Hashtag Sports® is the leading platform for media and marketing professionals and the next generation of creative talent across the converging sports and entertainment industries.
From unparalleled experiences like our annual conference and the Hashtag Sports Awards presented with Budweiser to inspirational digital content and mission-driven initiatives, Hashtag Sports is the benchmark for fan engagement and the go-to resource for the development of a new sports and entertainment ecosystem powered by digital media, content, culture, purpose, and technology.