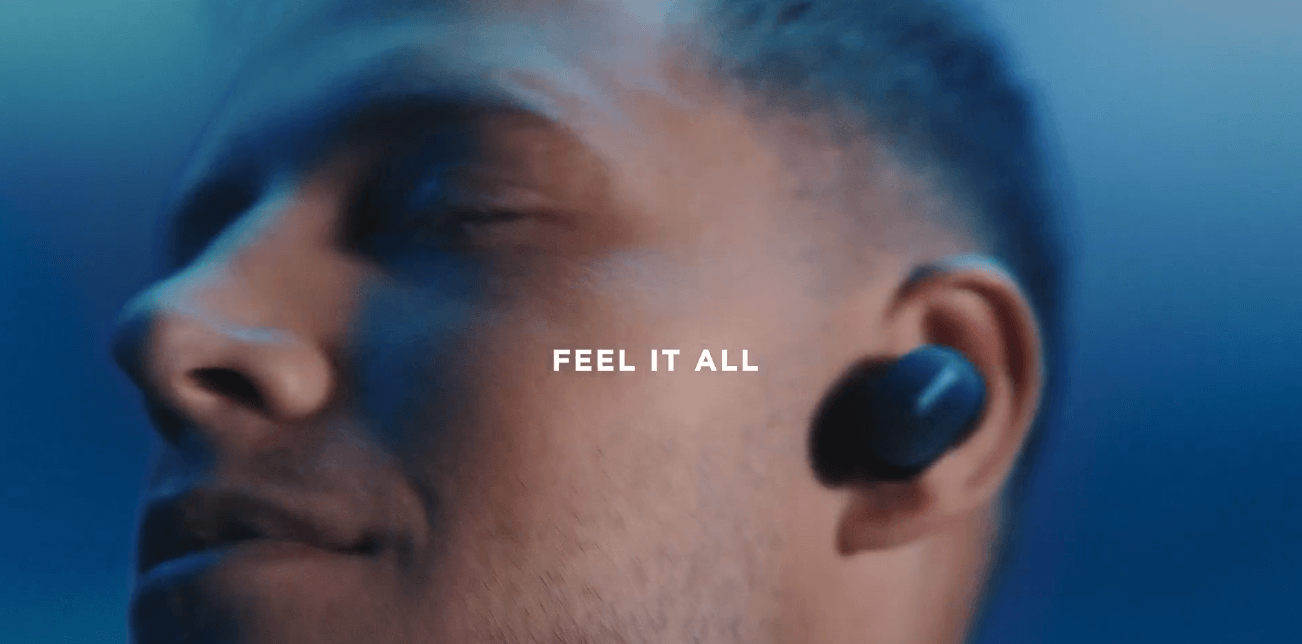 ABOUT THIS ENTRY
To showcase Bose's much anticipated Noise Cancelling QuietComfort Earbuds, the #FeelItAll campaign went live on social, digital and broadcast outlets across Bose and their partners' channels, creating an engaging, holistic story that resonated with consumers and fans – connecting them to the Bose experience and showing fans how to feel the joy in their music.
How does this represent "Excellence in Engagement"?
Music has the special ability to take whatever you're feeling and amplify it. The highs can become higher, the lows lower. That's the joy of music. With Bose's award-winning noise cancellation and world-class sound, music lovers could now feel their music like never before with Bose's highly anticipated Noise Cancelling QuietComfort Earbuds. The brand looked to communicate this notion through their #FeelItAll campaign, seeking to show authentic, human reactions of experiencing music they can feel with the new Earbuds. With NFL Kickoff approaching, Bose strategically matched their #FeelItAll launch to align with the start of the season. With help from major NFL player and team partners, Bose created content showcasing the moment players put on their favorite song to prepare for the season ahead. This created a new and engaging precedent, creating an explosion of excitement for what the campaign represented. As a result, new benchmarks were set for campaign launches due to the massive engagement and reach that resulted from the #FeelItAll Campaign.
Objective: Bose's goals centered around driving brand reach, awareness and ultimately, sales, while remaining true to the unifying #FeelItAll message that Bose's unrivaled sound transcends and fuels joy through music. In a year filled with hurdles, the brand executed a small-but-mighty shoot with four of their fifteen NFL player partners to capture the #FeelItAll assets for the NFL season ahead. Fifteen and thirty second video spots of NFL superstars Aaron Rodgers, Patrick Mahomes, Christian McCaffrey and Lamar Jackson were created to distribute on both social and broadcast channels. The individual and combined spots showed the players dancing with their QuietComfort Earbuds and debuted throughout NFL Kickoff weekend. During NBC's Pre-Game Kickoff special, Bose ran their player video spots in three segments and as the star of the Kickoff weekend, the individual Patrick Mahomes video ran in the Kickoff Concert on NFL digital platforms. NFL Kickoff week established a strong presence for the #FeelItAll campaign both across national broadcast and social channels.
Strategy & Execution: To ensure a broader campaign launch would be both compelling and cost effective, Bose capitalized on the insane impact of viral "TikTok challenges" while maximizing the return of the NFL season by enlisting our Team Bose athletes and NFL Team partners to effectively showcase the double tap experience of turning on noise cancelling by taking part in a "double tap" video challenge. Players were shown training or studying (an off-season, everyday activity) with their Bose QuietComfort Earbuds on, and as they double tapped the headphones, the videos transformed from their everyday workout wear into their uniforms for game day – product in ear, ready to get back on the field, feeling it all. These videos served as a catalyst to invoke emotions across the NFL fandom and beyond, showing that when the music turns on, the noise of the world shuts off, and life is ready to be lived. In lieu of spending thousands of dollars on a professional shoot, Bose closely advised each player on how to carefully capture the desired content and worked with an editor to splice it all together.
Results:
As a result of the #FeelItAll campaign launch distributed across broadcast, player and partner social channels, there was a total of 2.7M engagements, over 5.3M video views, and over 20M impressions across social alone, proving this campaign launch to be a success story. In order to further the #FeelItAll message, each of Bose's 32 NFL team partners hosted a giveaway on their Twitter channels, asking fans to retweet and comment what helps them #FeelItAll. The giveaways amplified the campaign message and allowed Bose to get their new product directly into the hands of consumers. Players and league partners continued to post the NFL video spots on social throughout the season, with network distribution as well.
PRODUCTION
CREDITS
Director of Partnerships
Bose
Sr Account Manager
CAA
Sr Account Manager
CAA
Account Manager
CAA
Account Coordinator
CAA
Social Media Manager
Bose
BRANDS AT THE LIVE SERIES
CONTENT x SPORTS BETTING
Over two days, sports betting + media will converge to discuss the North American fan. Learn the insights and strategies needed to develop partnerships, create and monetize betting content, and drive critical revenue and engagement.
May 12-13, 2021 (Virtual)
TRANSFORMING THE NEXT DECADE
Hashtag Sports® is the leading platform for media and marketing professionals and the next generation of creative talent across the converging sports and entertainment industries.
From unparalleled experiences like our annual conference and the Hashtag Sports Awards presented with Budweiser to inspirational digital content and mission-driven initiatives, Hashtag Sports is the benchmark for fan engagement and the go-to resource for the development of a new sports and entertainment ecosystem powered by digital media, content, culture, purpose, and technology.