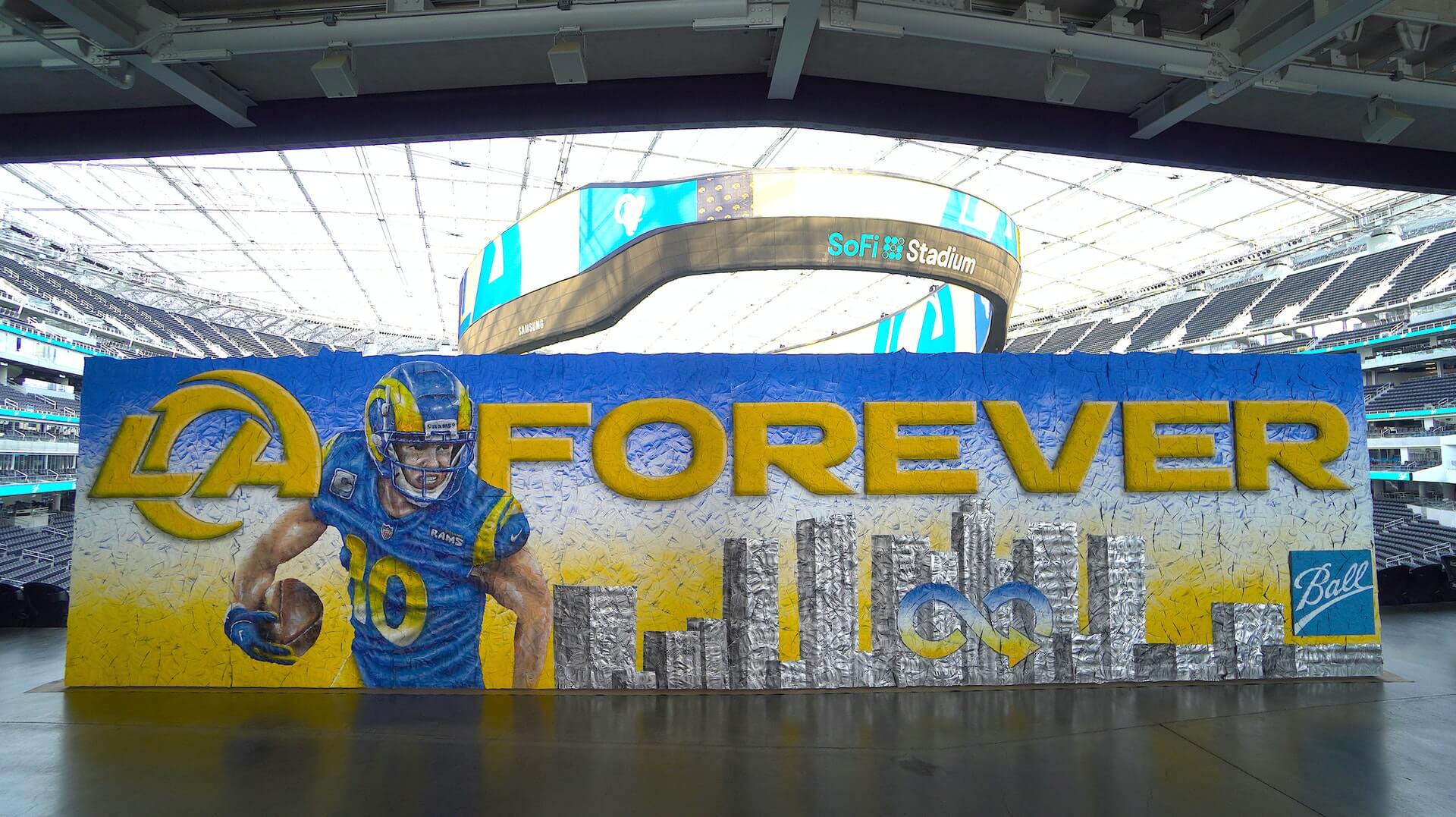 ABOUT THIS ENTRY
The LA Rams and the Ball Corporation teamed up with a local artist to create a mural with their recycled aluminum cups.
How does this represent "Excellence in Engagement"?
Anytime we can align the values of our team and the value of a partner we always get excited to figure out how we execute and really how we can try to make the sustainability conversation engaging for our fans. What made this special were all the levers we pulled and all the alignment we had across the board in believing in sustainability and help spread the word.
Creatively this was a tough one to solve as we need to hit the partner goals but ensure that we aren't just checking the box and that we are actually creating impact with this focus area. So very proud of where we got on this one.
In addition working with a partner that lasts longer than one event. The way we created this mural was with that in mind, from signing a deal with Cooper to making the mural break-down so we can bring with us at fan facing events when we get to that point.
Objective: Educate Rams fans on infinite recyclability and raise awareness on the benefits of aluminum but in a creative way that causes engagement with fans.
Strategy & Execution: We had a lot of barriers to work through when in creative development as we set out to bring to life aluminum recyclability in a physical form and connect to our stadium and fans.
Sustainability isn't a thrilling topic in marketing. It is often hard to break through especially in LA and especially with a younger audience.

How do we connect this to football and ensure we are talking to our audience during the season.

In a fully virtual world how do we break through so its not another piece of content with the real virtual fatigue.
Creatively we worked on bringing a physical aluminum mural to life to really represent the life span with aluminum. So physically show this to fans. So they can feel and touch this at events from training camp to game days. Working with 3 influencers who all hit different audiences, but all aligned with values of sustainability. Bringing the connection to Rams fans with Kupp and extending with Sage and Gustavo. In addition, building from this to create a content series between Sage and Cooper to keep educating fans on the importance of sustainability.
Results:
With local media coverage, influencer reach and Rams channels we hit 3.4 Million impressions over that game day week. The mural became the 2nd most watched video on our YT and our highest engaged content from a partner this season that came from custom content.
PRODUCTION
Ball Corporation
Los Angeles Rams
CREDITS
VP, Partnership Marketing
Los Angeles Rams
Lead, Partnership Marketing
Los Angeles Rams
Partnership Marketing Manager
Los Angeles Rams
BRANDS AT THE LIVE SERIES
CONTENT x SPORTS BETTING
Over two days, sports betting + media will converge to discuss the North American fan. Learn the insights and strategies needed to develop partnerships, create and monetize betting content, and drive critical revenue and engagement.
May 12-13, 2021 (Virtual)
TRANSFORMING THE NEXT DECADE
Hashtag Sports® is the leading platform for media and marketing professionals and the next generation of creative talent across the converging sports and entertainment industries.
From unparalleled experiences like our annual conference and the Hashtag Sports Awards presented with Budweiser to inspirational digital content and mission-driven initiatives, Hashtag Sports is the benchmark for fan engagement and the go-to resource for the development of a new sports and entertainment ecosystem powered by digital media, content, culture, purpose, and technology.