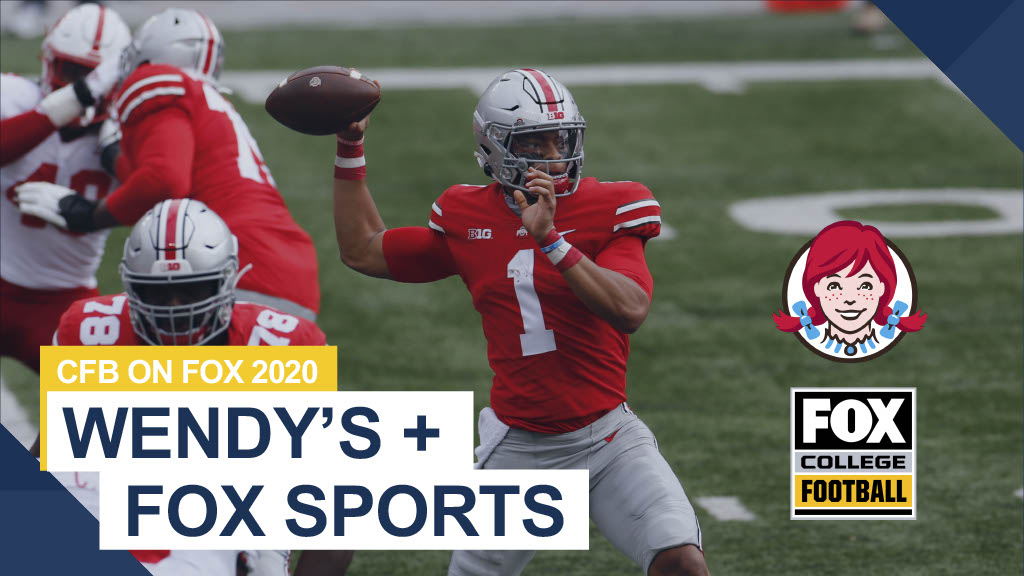 ABOUT THIS ENTRY
FOX's strategy for the cross-screen partnership provided Wendy's with the opportunity to integrate seamlessly across both linear and social to create a unique fan experience in this unique year.
How does this represent "Excellence in Engagement"?
The program FOX produced for Wendy's unleashed the full power of FOX Sports' cross-platform capabilities and innovative placements. The use of in-game broadcast promotion combined with exclusive, interactive digital branded content helped fans feel closer to the game than ever. By giving fans the opportunity to determine broadcast elements and choose the type of content they wanted to see, FOX elevated Wendy's to new heights of engagement within Big Noon Kickoff and College Football on FOX. This has been widely regarded as a best-in-class execution by all parties, and the success is driving both Wendy's and FOX to continue to pursue a fan-driven approach moving forward.


Objective: Throughout the pandemic, people have been disconnected from others in all aspects of their life, big and small. As College Football approached, and fans across the country were looking for safe ways to participate in the season, FOX had to think differently about how to engage with them. Wendy's wanted to deliver on their brand promise of "We Got You" by meeting the needs of fans in this "new normal" to bring fun – and food! – to our audience. FOX Sports crafted a never-been-done-before 360-degree approach using cutting-edge social listening technology and enabling fans help influence the conversation every weekend. In partnership with Twitter, we were able to bring fans the on-the-field live streaming access they were craving, at a time when in-person attendance was not an option.
Strategy & Execution:
This season, FOX embraced the modern fan's cross-platform content journey throughout the week and created unique branded elements meeting the virtual needs of 2020, all with the goal of bringing fans closer to the game than ever with Wendy's.
"Fan Produced TV" segments (4X) appeared throughout the on-air season.

Wendy's Twitter Topic (6x) - a mid-week poll tweeted out for fans to vote on the segment discussed in Big Noon Kickoff. After air, the winning topic segment was posted so fans could see the payoff in social video.

Wendy's Viewer's Choice Cam (7x) - a mid-week poll tweeted out for fans to vote on the alternate camera angle they'd like to see in the Big Noon game on FOX. Winning choice was livestreamed on Twitter for fans to turn into an alternate viewing experience for the entire game, thanks to Wendy's.

Talent Q&A (6x) – trusted fan favorite FOX CFB talent posted video asking for questions to answer during the Q&A session to follow. Featured talent responded to 5-6 of the fan-sourced questions in Wendy's branded videos.

Sponsored Moment (6x) - A thread of graphics posted the Monday following the game recapped the best CFB moments, including Wendy's tweets
Results:
With 78 digital posts across the season, the FOX/Wendy's partnership performed exceptionally well. The campaign averaged 35k votes per poll and 972k real-time views per livestream, exceeding historical benchmarks. The partnership saw Wendy's average views per stream rise +139% year over year.

One of the most successful elements, the Viewer's Choice Cam, totaled 453k votes and 9.4MM total views alone. The Choice Cam streams even outperformed some of FOX's other premier livestreams, beating the Daytona 500 Watch Party by 20% and World Series Watch Party by 7%.

Fans who engaged with the FOX polls on Twitter saw significant lifts across the board. They were more likely to associate Wendy's with NCAA (+23%), view Wendy's more favorably (+11%) and more likely to visit a Wendy's store in the next 7 days (+7%)!
PRODUCTION
CREDITS
SVP, Digital & Social Sales, FOX Sports
Sr Director, Integrated Sales & Marketing, FOX Sports
VP, Ad Sales Strategy, FOX Sports
SVP, Sports Ad Sales, FOX Sports
EVP, Digital, FOX Sports
SVP, Production, FOX Sports
SVP, Productions, FOX Sports
VP, Digital, FOX Sports
Director, Social, FOX Sports
Sr Director, Content Operations, FOX Sports
BRANDS AT THE LIVE SERIES
CONTENT x SPORTS BETTING
Over two days, sports betting + media will converge to discuss the North American fan. Learn the insights and strategies needed to develop partnerships, create and monetize betting content, and drive critical revenue and engagement.
May 12-13, 2021 (Virtual)
TRANSFORMING THE NEXT DECADE
Hashtag Sports® is the leading platform for media and marketing professionals and the next generation of creative talent across the converging sports and entertainment industries.
From unparalleled experiences like our annual conference and the Hashtag Sports Awards presented with Budweiser to inspirational digital content and mission-driven initiatives, Hashtag Sports is the benchmark for fan engagement and the go-to resource for the development of a new sports and entertainment ecosystem powered by digital media, content, culture, purpose, and technology.