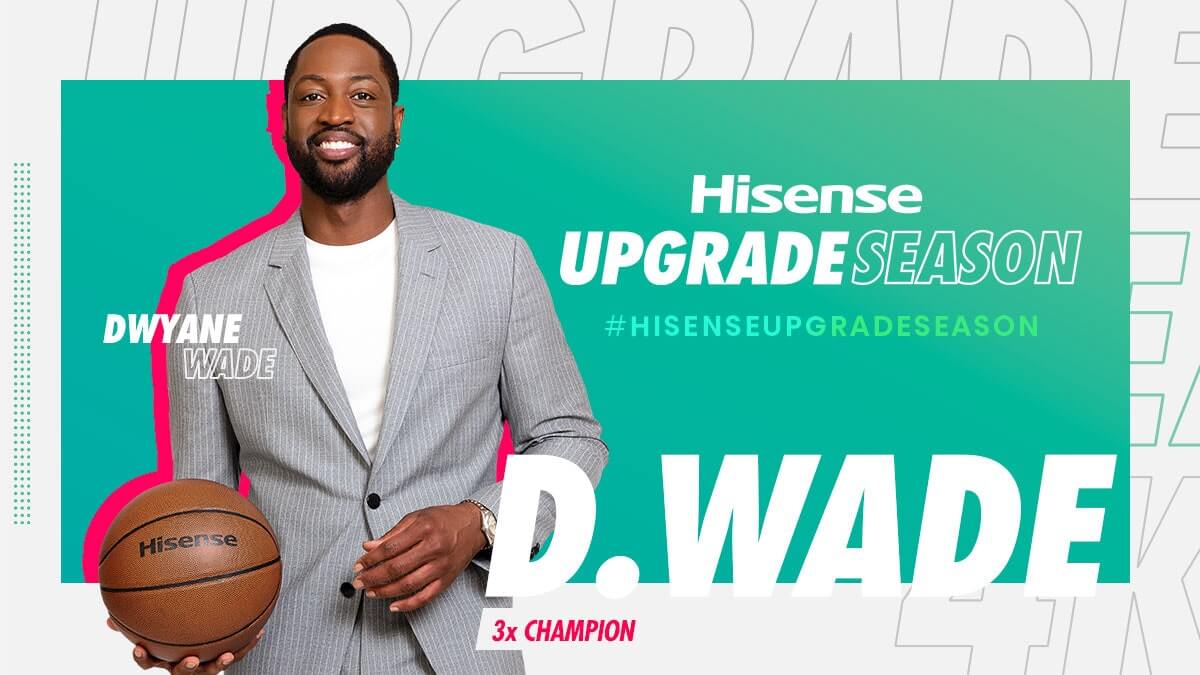 ABOUT THIS ENTRY
To kick off its first significant foray into sports marketing in the U.S., Hisense sought to leverage an ambassador relationship with NBA icon Dwyane Wade.
How does this represent "Excellence in Engagement"?
Hisense Upgrade Season was a great example of how to market a brand within sports without being a rights holder. By creating our own holiday layered over the postseason, we were able to activate our campaign ambassadors around key moments in the playoff calendar, staying relevant to what was happening in the NBA and NFL but within our own world that we created with Upgrade Season.
The campaign was successful in quickly introducing a brand to a large swath of consumers in the U.S. market by making it seem like everyone within the world of the most relevant sport at a given time was offering up free Hisense TV upgrades. By generating that rapid brand awareness and association with top talent, CSM was able to transition the awareness campaign with Rob Gronkowski into a successful sell-thru campaign, driving traffic to retailers like BestBuy.
Furthermore, by establishing and successfully landing the concept of our own season of Upgrades, Hisense now has the ability to expand and scale the concept within multiple sports and markets, creating a continued network effect to make the campaign feel even bigger. The brand is currently exploring bringing Upgrade Season overseas for the upcoming UEFA European Championship.
Objective: Hisense is a leading consumer electronics company making TVs, home appliances, and more. The Chinese-based brand was looking to grow its TV market share in the United States and raise brand awareness for Hisense TVs through sports despite not being a rights holder in the market.
Our team was brought in to launch a social media campaign featuring Dwyane Wade that would make an immediate splash with consumers in the U.S. market and convert them into fans of the Hisense brand. In addition to raising awareness for Hisense generally in the U.S., CSM's goal was to help establish Hisense's unique brand personality to set them apart from their competitors as a disruptor in the space.
Plans with Hisense were forced to adjust multiple times as the remaining regular season was cancelled due to COVID-19 and after players went on strike in "The Bubble" in Orlando to protest police violence. After it was clear play would indeed resume, CSM was left with very little time to execute a campaign in time for the postseason.
Strategy & Execution: To make an immediate impact with fans who couldn't watch their favorite teams compete in person, we launched a new social media holiday, #HisenseUpgradeSeason, where fans could upgrade their viewing experience by engaging with Hisense and some of their favorite basketball players for a chance to win new Hisense TVs.
Dwyane Wade was positioned as the orchestrator of this new holiday, introducing the #HisenseUpgradeSeason campaign to his nearly 40M followers on social media through a hero video that CSM planned, executed, and produced, calling on his friends from across the league to help upgrade the fans. Blake Griffin was the first to answer the call with a hilarious hero video of his own that CSM provided creative direction on. After his hero video launched, Griffin dished out TV upgrades every quarter of an NBA finals game via live tweet and Instagram Live.
CSM also arranged for Wade to send custom Upgrade Season influencer boxes and personalized videos to CJ McCollum and D'Angelo Russell to have them help spread the word even further. Our team turned these hero moments into memes, graphics, and gifs for Hisense's channels that we used to keep fans in the Upgrade Season spirit throughout the postseason.
Results:
Measurement proved the campaign was a success by both quantitative and qualitative metrics. The campaign achieved 13M+ impressions, 2.3M+ engagements, and 74K+ clicks on social, outpacing all KPI targets. We also saw other players and sports personalities like Adam Schefter take notice of the campaign and get involved themselves to bring more awareness to #HisenseUpgradeSeason.
Based on our success, CSM brought #HisenseUpgradeSeason to the gridiron, partnering with Rob Gronkowski to keep the campaign going around the NFL postseason. Hisense wanted to promote their premium, largest TV models, so we had Gronk offer to upgrade fans with a TV at least 10" larger than their current model through a series of off-the-wall hero videos parodying famous Old Spice ads from years past. CSM secured other famous athletes from Gronk's circle including former Patriots teammate Vince Wilfork and WWE Superstars R-Truth and Mojo Rawley to help recruit fans to Gronk's Upgrade Season bandwagon for chances to upgrade themselves as he and his team made their Super Bowl run. We achieved 17M+ impressions, 3.2M+ engagements, and 269K+ clicks, again outpacing all KPI targets, and achieved the highest engagement rate for a Hisense sports marketing social campaign to date at 18.54 percent.
PRODUCTION
CSM Sport & Entertainment, VCCP, Hisense
CREDITS
Director of Brand Marketing
Hisense
Director, Brand Experiences
CSM Sport & Entertainment
Creative Strategist
CSM Sport & Entertainment
Art Director
CSM Sport & Entertainment
Sr. Director, Partner Development & Solutions
CSM Sport & Entertainment
Creative Strategist
CSM Sport & Entertainment
BRANDS AT THE LIVE SERIES
CONTENT x SPORTS BETTING
Over two days, sports betting + media will converge to discuss the North American fan. Learn the insights and strategies needed to develop partnerships, create and monetize betting content, and drive critical revenue and engagement.
May 12-13, 2021 (Virtual)
TRANSFORMING THE NEXT DECADE
Hashtag Sports® is the leading platform for media and marketing professionals and the next generation of creative talent across the converging sports and entertainment industries.
From unparalleled experiences like our annual conference and the Hashtag Sports Awards presented with Budweiser to inspirational digital content and mission-driven initiatives, Hashtag Sports is the benchmark for fan engagement and the go-to resource for the development of a new sports and entertainment ecosystem powered by digital media, content, culture, purpose, and technology.