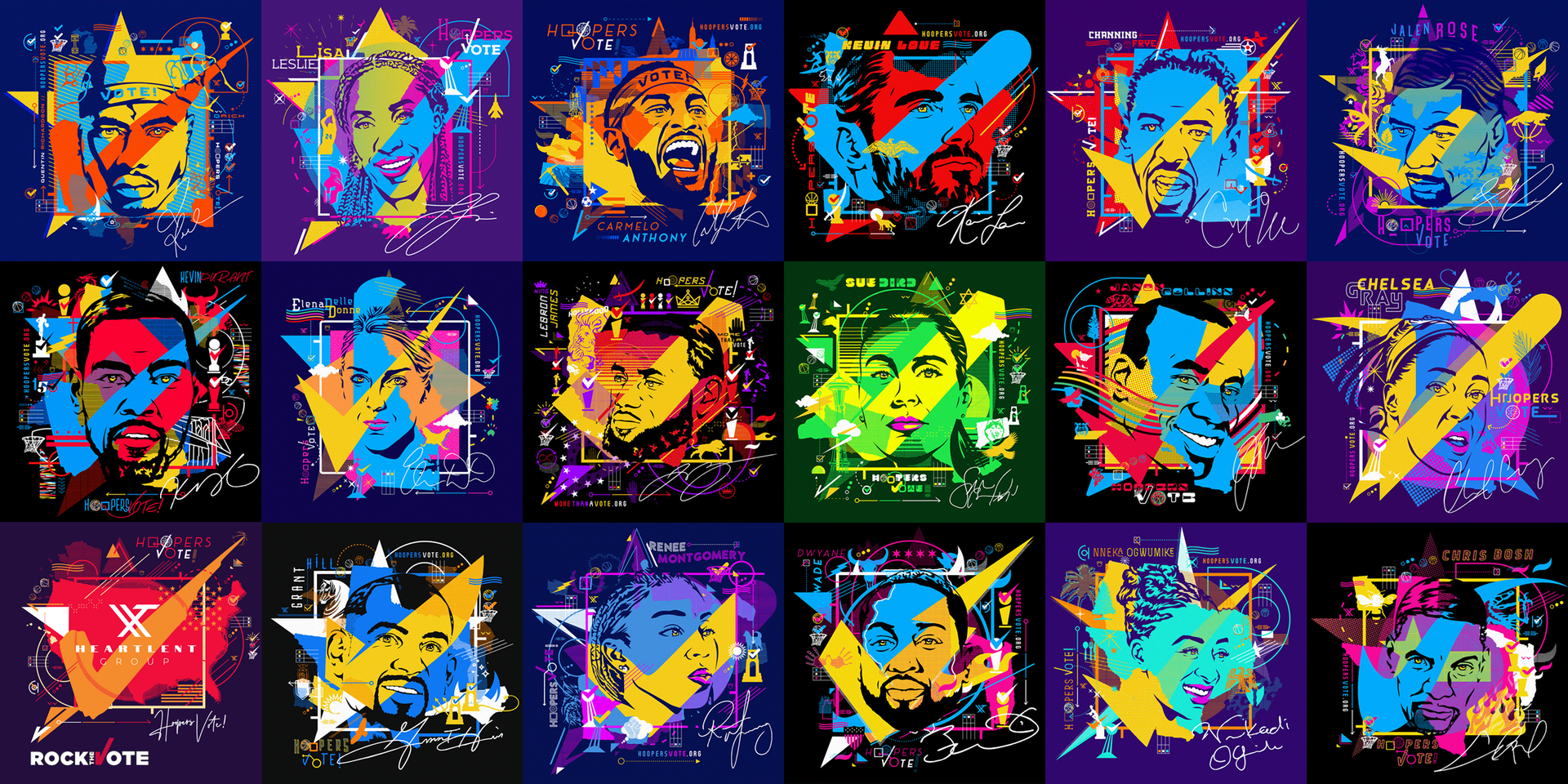 ABOUT THIS ENTRY
Hoopers Vote was a movement to engage and amplify the powerful influence of basketball culture and the larger-than-self community that defines it, to drive action both on and off the court in the 2020 Election.
How does this represent "Excellence in Engagement"?
We designed over 400 custom digital content pieces for current and former basketball athletes and people with strong ties to the game of basketball, celebrities, personalities, and influencers + current NFL players. Additionally, we created and released a series of Instagram Filters 2-weeks before Election Day for the final voter push.
Objective: Drive voter participation in the 2020 election, particularly in younger generations. Motivate and educate them to check their voter status, register to vote, understand their in-person voting options and mail in ballot options, get involved and get their circle involved as well.
Strategy & Execution: Hoopers Vote and Kickoff The Vote was created in partnership with Rock The Vote.
Kickoff The Vote used Week 8 of the 2020 NFL season to drive action during the final push days before Election Day.
Results:
Combined, Hoopers Vote + Kickoff The Vote received over 85,000 Engagements and a 4.2% Engagement Rate with $0 in Paid Media during the 6-week campaign.
More Americans voted in the 2020 election — two-thirds of the voting eligible population — than in any other in 120 years.
PRODUCTION
CREDITS
Founder, Creative
HEARTLENT Group
Founder
HEARTLENT Group
Director of Special Partnerships
Rock The Vote
Advisory Board, Athletes Rock The Vote
Rock The Vote
BRANDS AT THE LIVE SERIES
CONTENT x SPORTS BETTING
Over two days, sports betting + media will converge to discuss the North American fan. Learn the insights and strategies needed to develop partnerships, create and monetize betting content, and drive critical revenue and engagement.
May 12-13, 2021 (Virtual)
TRANSFORMING THE NEXT DECADE
Hashtag Sports® is the leading platform for media and marketing professionals and the next generation of creative talent across the converging sports and entertainment industries.
From unparalleled experiences like our annual conference and the Hashtag Sports Awards presented with Budweiser to inspirational digital content and mission-driven initiatives, Hashtag Sports is the benchmark for fan engagement and the go-to resource for the development of a new sports and entertainment ecosystem powered by digital media, content, culture, purpose, and technology.