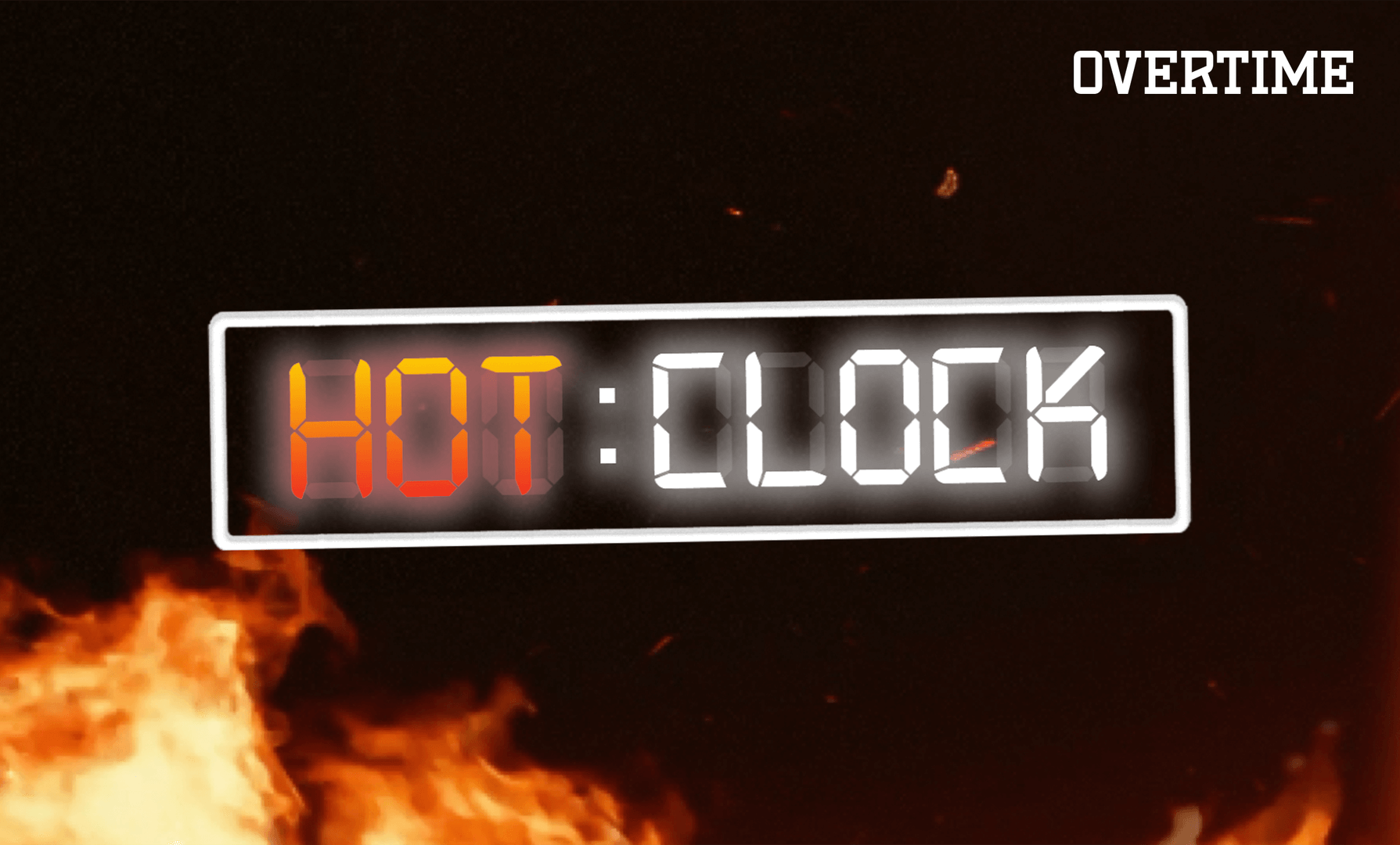 ABOUT THIS ENTRY
As a canvas for longform video, IGTV was the perfect place for this daily round-up series providing updates from across the worlds of sports, entertainment, and pop culture.
How does this represent "Excellence in Engagement"?
As mentioned previously, Hot Clock is a true example of Excellence in Engagement with 442,000 views per episode and an engagement rate of 18.6%, but its success goes beyond the numbers. This stellar performance was no accident; it's a testament to the relationship we have with our engaged community of 4.7 million followers on our main Overtime Instagram account and over 7 million followers across all of our Instagram accounts. Everything we do on Hot Clock has our under-35 audience in mind, and that includes giving them a space to feel seen and heard. Our talent goes beyond simply giving their opinions and reactions to the day's biggest stories on Hot Clock, they also ask our audience for their opinions and encourage them to participate in the discussion in the comment section. Our hyper-engaged community, aka the OT Fam, is at the core of everything we do, and each episode of Hot Clock exemplifies how we create the type of programming that our audience craves.
Objective: It's a known fact that the next generation of sports fans isn't running home to watch a nightly sports show featuring men in suits sitting behind desks to finally catch the day's best highlights. Our goal was to create the ultimate daily series built specifically for this under-35 audience. We wanted to give them the news and updates they care about on a platform where they are already spending their time. This is how we created Hot Clock.
It was important to lean into elements that matter to Overtime as a company, including the use of our exclusive talent, creating something that could be replicated across our additional channels (i.e. Overtime WBB for women's basketball and Overtime SZN for football), and ensuring the format could lend itself to brand partnerships.
Strategy & Execution: Our strategy when creating Hot Clock was to lean into what we already knew about Instagram and IGTV to test the new daily series. For example, we utilize captions since videos default to an audio-off experience and use vertical video to optimize for vertical viewing. Each episode starts with something that we know will stop the in-feed scrolling motion and capture our audience's attention.
A key feature of the series is Overtime talent. These are the faces our audience already knows and loves, making them the perfect voices to speak to clips, news, and events. Hot Clock has also been a great place for us test out new talent from across the company. Another feature of the show is the broad interpretation of news and culture to match the under-35 audience's expectations. Episodes feature everything from viral UGC clips with our color commentary to next level athletic performances and important cultural moments.
Special editions of Hot Clock have been created for specific moments, such as our Black History Month episodes throughout February and our female empowerment episode on National Girls and Women in Sports Day.
Results:
Hot Clock has resonated with our audience from the beginning and almost a year after our first episode, it still continues to go strong. Our audience has come to expect that every afternoon, they can watch OT talent break down the latest in the day's news that they love to watch and engage with. It truly dominates on IGTV. In 2020, Hot Clock posts averaged 442,000 views, which is 3x more views than the US Sports Media average. And our audience did more than just watch; they engaged with the content. Hot Clock finished 2020 with an 18.6% engagement rate, which is 1.5x higher than our competitive set.
The series was also a go-to Instagram opportunity for our brand partners to get in front of our leaned-in audience. We've partnered with brands in lifestyle, apparel, and entertainment to create custom segments around their campaigns, including Nike's Mamba Week, HBO's promotion of their docu-series The Cost of Winning, and adidas's GMR soccer cleat insole, incorporating product launches and premieres within the Hot Clock episode. We also created spinoffs for our WBB (women's basketball) and SZN (football) channels that curate videos hitting on those specific sports/themes.
PRODUCTION
CREDITS
Head of Content Operations
Overtime
Manager, Content Operations
Overtime
Designer/Animator
Overtime
Senior Production Manager
Overtime
Director, Athlete and Community Relations
Overtime
Account Coordinator
Overtime
Social Media Manager, Football
Overtime
Megan Eugenio
Talent
Overtime
Executive Producer
Overtime
Social Media Coordinator
Overtime
Associate Manager, Content Operations
Overtime
Senior Manager, Social Strategy & Distribution
Overtime
Associate Producer
Overtime
Production Coordinator
Overtime
Talent
Overtime
Senior Manager, Content Strategy
Overtime
Director, Content Strategy
Overtime
Video Editor
Overtime
Talent
Overtime
Social Media Coordinator
Overtime
Associate Editor
Overtime
Shooter, Producer, Editor
Overtime
Director, Digital Content
Overtime
BRANDS AT THE LIVE SERIES
CONTENT x SPORTS BETTING
Over two days, sports betting + media will converge to discuss the North American fan. Learn the insights and strategies needed to develop partnerships, create and monetize betting content, and drive critical revenue and engagement.
May 12-13, 2021 (Virtual)
TRANSFORMING THE NEXT DECADE
Hashtag Sports® is the leading platform for media and marketing professionals and the next generation of creative talent across the converging sports and entertainment industries.
From unparalleled experiences like our annual conference and the Hashtag Sports Awards presented with Budweiser to inspirational digital content and mission-driven initiatives, Hashtag Sports is the benchmark for fan engagement and the go-to resource for the development of a new sports and entertainment ecosystem powered by digital media, content, culture, purpose, and technology.