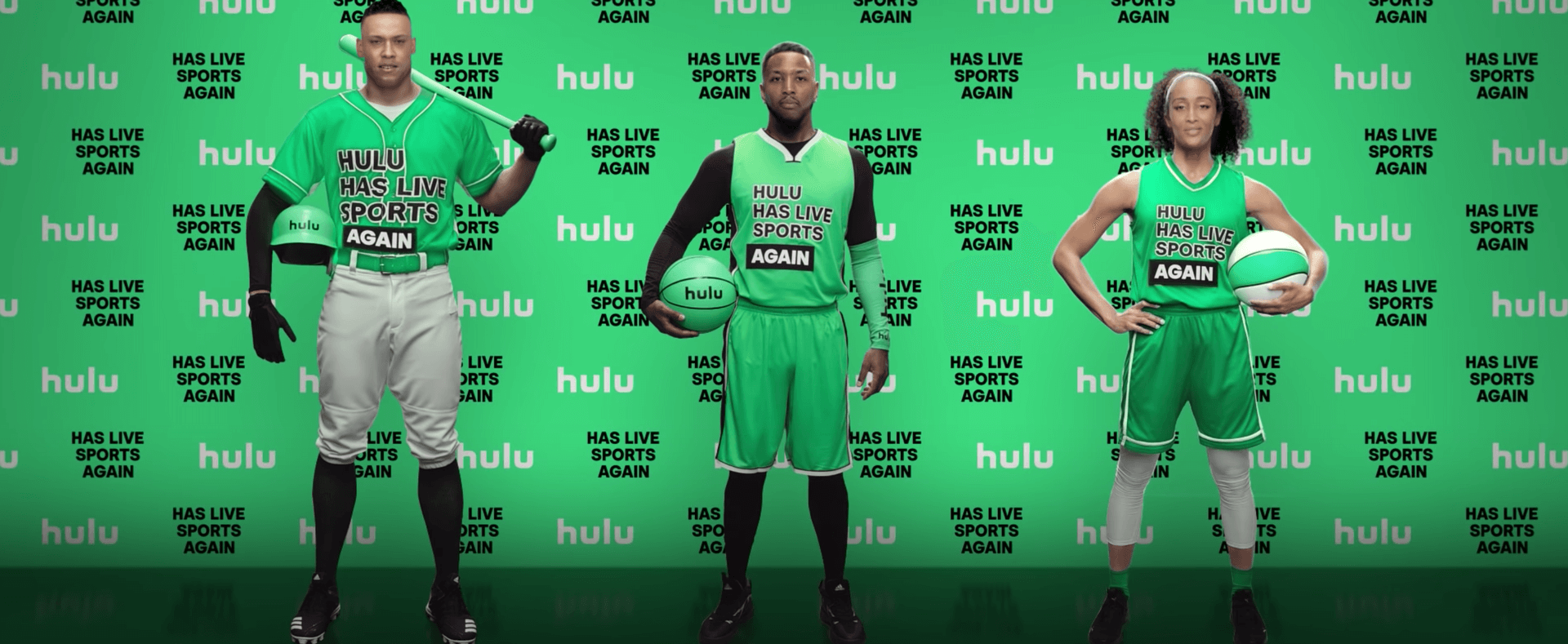 ABOUT THIS ENTRY
To celebrate the end of the sports pause, Hulu adapted its fan-favorite "Hulu Has Live Sports" campaign with a series of new spots dedicated to live sports' return.
How does this represent "Excellence in Engagement"?
In an age in which influencer marketing has become more common, partnering with celebrity or athlete endorsers presents a challenge. Consumers are often skeptical of sponsored advertisements, and brands and influencers risk turning potential customers off if they aren't upfront about these partnerships.
Hulu decided to address this issue head on, which is why the campaign celebrates the fact that athletes are compensated to tell people "Hulu Has Live Sports." The concept takes a different look at influencer marketing and uses humor to turn consumers' cynicism about influencers to Hulu's advantage.
Being transparent with viewers allowed Hulu to deepen relationships with them, and the buzz from the campaign has been astonishing. Fans have changed their social handle name to "Hulu Has Live Sports," semi-pro teams have sent their own commercials, and one fan even got a tattoo of the "Hulu Has Live Sports" slogan, all proving how transparency can drive authentic fan engagement.
Objective: In 2019, Hulu launched the award-winning "Hulu Sellouts" marketing campaign to garner awareness for its Live TV offering. The campaign takes a humorous look at influencer marketing and features high-profile athletes telling fans that "Hulu Has Live Sports." The campaign, and signature tagline, quickly found success among press, viewers and the industry at large.
As the COVID-19 pandemic spread across the globe, live sports, and ads for live sports, were largely put on pause. So, when play resumed in August across several leagues including the NBA, Hulu knew it had to celebrate the return of sports in a way only Hulu could, by adapting the campaign for the current climate with "Hulu Has Live Sports Again." The new spots were ultimately a celebration of the return of live sports, and aimed to increase awareness of Hulu as a cable replacement to view these events. Live sports are a key component of Hulu's Live TV business, and the ads provide an exciting avenue to educate viewers on the complete viewing experience Hulu has to offer.
Strategy & Execution: Since launching Hulu's live TV service in 2017, live sports have shattered our TV tune-in records. Hulu + Live TV viewers love watching sports, and when live sporting events were put on pause earlier this year, we noticed pent-up demand from fans.
The "Hulu Has Live Sports Again" ad spots utilized body doubles and digital face replacement technology to work around COVID production limitations. Athletes were sent sanitized iPhones, and enlisted the help of family and friends to film their footage with Hulu providing direction over Zoom. These home videos were then transposed onto existing footage to create the final ad spots.
The ads featured athletes from five different major sports leagues - the NFL, NBA, NHL, MLB and WNBA - to appeal to a wide variety of sports fans. Viewers saw Aaron Judge, Damian Lillard, Sidney Crosby and Skylar Diggins Smith ditch their quarantine hobbies of learning to play the ukulele, bread-baking, woodworking, and painting, once they hear sports are back. Another spot showcases Baker Mayfield and Saquon Barkley's faces superimposed on purposely less-athletic body doubles, as the athletes joke they still wanted to cash in their checks despite not being able to shoot commercials in person.
Results:
Hulu Sellouts has helped propel Hulu + Live TV to become the largest and fastest growing live TV streaming service in the U.S.. Average weekly Google search volume for "Hulu + Live TV" was up 22% during the campaign time period versus prior to the campaign, and Hulu's Live TV service experienced a 70% growth in subscribers between March 2019 (just after the initial campaign began) and June 2020.
The "Hulu Has Live Sports Again" campaign continues to build on this success. According to Disney's Q3 and Q4 2020 earnings reports, Hulu + Live TV grew by over 20% in the quarter in which the new ad spots ran, further increasing awareness for Hulu's already popular Live TV offering. As revealed during Disney's Q1 earnings call on February 11th 2021, Hulu + Live TV now boasts 4 million subscribers. This is more than any other DMVPD service including YouTube TV and Sling, and even surpasses the subscriber counts for traditional providers, like Verizon.
All metrics illustrate how instrumental evolving the "Hulu Sellouts" campaign into "Hulu Has Live Sports Again" has been to building brand awareness and subscriber growth for Hulu.
BRANDS AT THE LIVE SERIES
CONTENT x SPORTS BETTING
Over two days, sports betting + media will converge to discuss the North American fan. Learn the insights and strategies needed to develop partnerships, create and monetize betting content, and drive critical revenue and engagement.
May 12-13, 2021 (Virtual)
TRANSFORMING THE NEXT DECADE
Hashtag Sports® is the leading platform for media and marketing professionals and the next generation of creative talent across the converging sports and entertainment industries.
From unparalleled experiences like our annual conference and the Hashtag Sports Awards presented with Budweiser to inspirational digital content and mission-driven initiatives, Hashtag Sports is the benchmark for fan engagement and the go-to resource for the development of a new sports and entertainment ecosystem powered by digital media, content, culture, purpose, and technology.