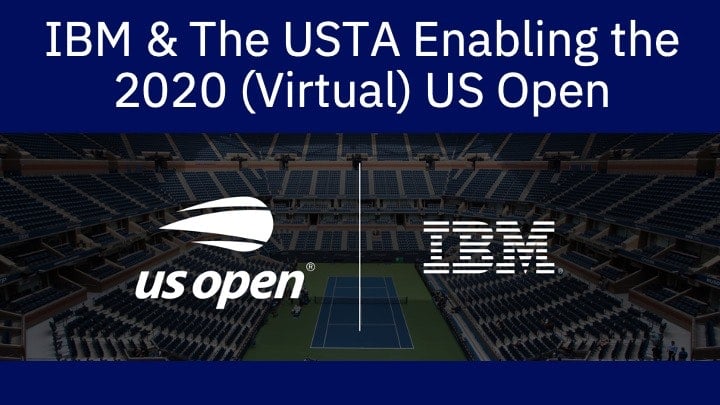 ABOUT THIS ENTRY
For nearly three decades, IBM has been the digital partner of the USTA. The sprint of innovation required for the 2020 Open, in many ways, opened up access to the tournament and connected fans around the world, in new ways, based on interests and rivalries, regardless of where they were sheltering.
How does this represent "Excellence in Engagement"?
User Experience and technologies that are self-learning and capable of capturing "the wisdom of the crowd" are key to the fan experience and the future of fan engagement. These technologies are key to engaging core fans and also an opportunity to engage new demographics and geographies based on interests, personalization, rivalries and the ability to shape the debate, on a global scale.
The next generation capabilities IBM and the USTA delivered for the 2020 Grand Slam had the capability of understanding nuances in every day communications including colloquialisms, idioms, dialects and the language of tennis.
Our belief is these powerful technologies will open up access to the sport, globally, and make new fan connections. Even if you're not sitting in the same stadium in Flushing you'll be able to engage with fans, with similar or opposing interests around the world and have a multi-platform experience where the small screen complements the big screen.
Objective: On June 17, 2020 the USTA announced the 2020 US Open would be a spectator-less tournament, giving our collective team 12 weeks to re-imagine the Grand Slam in a virtual format. The objective was to give fans at home an immersive, interactive digital experience, as well as the sights, sounds and rivalries that typically unfold across the millions of spectators on site and watching from home.
Our goals were ambitious but straightforward - invent, build and unveil a digital offering that brought fans a first-of-its-kind experience, captured influencer attention and created new fan experiences based on interests, rivalries and the state of play. Our solution leveraged the unique abilities of artificial intelligence (AI) and Natural Language Processing (NLP) to connect millions of fans globally in a manner that would stoke rivalries, iconic debates and real-time fact-based insights delivered ahead of any given match.
Strategy & Execution
Strategy and execution involved both Invent and Unveil tracks:
The Invent track was the foundation of the virtual fan experience, available online and via all mobile devices including:
Open Questions with Watson curated 7 tennis debates leveraging AI & NLP to deliver pro / con arguments in interactive debate formats which evolved based on fan input.

Match Insights with Watson delivered fact-based insights on opponents ahead of match play leveraging Natural Language Generation technology, capable of evolving over the course of the tournament

AI Sounds leveraged AI to serve up crowd reactions for 2020 based on similar play in 2019 for The USTA and ESPN.
The unveil track included:
A social media partnership with former US Open Champions Chris Evert and Andy Roddick.

Our Virtual Suite, hosted by Prim Siripipat, former ESPN anchor, was designed to ensure a sense of connection to the tools and tournament and engaged 475 clients and IBMers, with tennis legends, Billie Jean King, Jimmy Connors, Martina Hingis and Andy Roddick; and a digital tour featuring our Cloud, AI and Security solutions at work.
We debuted and explained the new experiences via a range of global news organizations in the US, Latin America, Asia and Europe.
Results:
Over the 2 week Tournament we achieved the following engagement metrics:
Fan Engagement:
Total fan engagement included 6.8 million online visitors and mobile app users with more than 145 million-page views
Match Insights with Watson delivered nearly 300,000 Watson-powered insights for 206,615 unique users.

Open Questions with Watson featured 7 iconic tennis debates, generating 31,317-page views and 16,066 video views
Social:
Our social media campaign with Chris Evert and Andy Roddick drove 9 million video views.
Earned Media & Social: The activation reached over 100 million people through original articles, interviews, syndications and the press release with particularly strong reach in the U.S., Japan, Latin America and China.
Virtual Suite: The suite was a pioneering format and allowed us to engage clients who had not been able to attend the US Open in prior years including virtual visitors from Mexico, Japan, Poland and Canada.
Innovations: There are 8 patents filed for Match Insights and Open Questions with Watson including first-of-its-kind capabilities in NLP, AI, Novel Mining and Deep Computer Vision.
PRODUCTION
IBM Sports & Entertainment Partnerships, The United States Tennis Association (The USTA) and IBM iX Studios
CREDITS
VP, IBM Sports & Entertainment Partnerships
IBM
Program Manager, IBM Sports & Entertainment Partnerships
IBM
Technical Program Manager, IBM Sports & Entertainment Partnerships
IBM
Marketing Program Director, IBM Sports & Entertainment Partnerships
IBM
BRANDS AT THE LIVE SERIES
CONTENT x SPORTS BETTING
Over two days, sports betting + media will converge to discuss the North American fan. Learn the insights and strategies needed to develop partnerships, create and monetize betting content, and drive critical revenue and engagement.
May 12-13, 2021 (Virtual)
TRANSFORMING THE NEXT DECADE
Hashtag Sports® is the leading platform for media and marketing professionals and the next generation of creative talent across the converging sports and entertainment industries.
From unparalleled experiences like our annual conference and the Hashtag Sports Awards presented with Budweiser to inspirational digital content and mission-driven initiatives, Hashtag Sports is the benchmark for fan engagement and the go-to resource for the development of a new sports and entertainment ecosystem powered by digital media, content, culture, purpose, and technology.