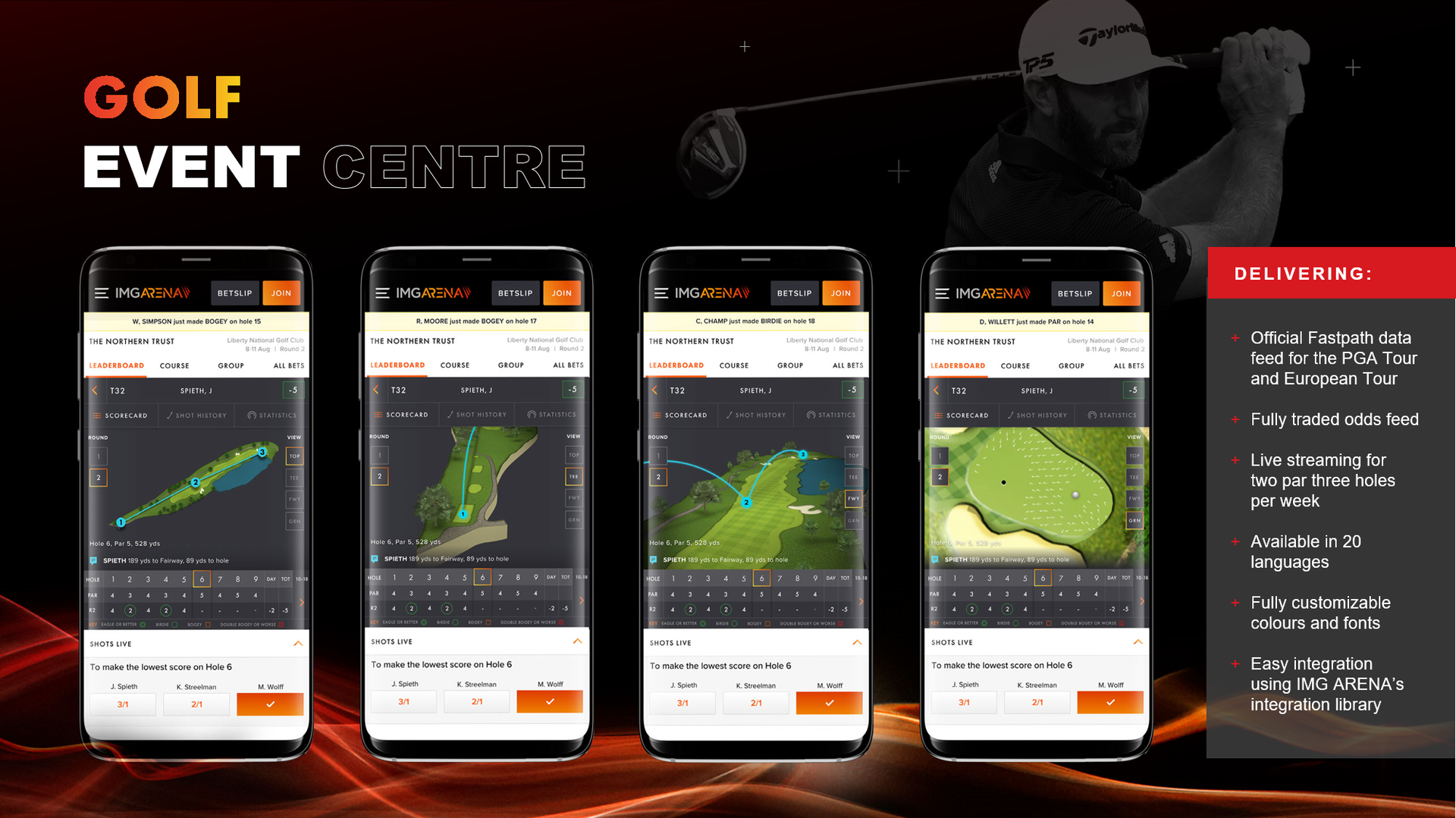 ABOUT THIS ENTRY
The Golf Event Centre is the one-stop-shop for golf fans who may also want to engage with the sports betting side of the sport, which previously had been untapped. The modern fan wants everything in one place and that is exactly what our Event Centres provide.
How does this represent "Excellence in Engagement"?
The IMG ARENA Golf Centre sets an industry precedent going forward. Offering a complete, fully traded, solution for the sport of golf gives both our federation partners (PGA Tour and European Tour) and betting customers and engagement tool like no other. This product sets a new benchmark for fan engagement and the industry as it has taken a sport with an in-play betting proposition of almost zero, to one of the most dynamic and robust in any sport. Highlighting how with hard work, investment and innovation anything can be achieved in the pursuit of greater fan engagement for our federation partners. Golf has a huge follower base that was before untapped and if going forward complexities around data collection are not treated as barriers, then the industry can only move forward in achieving greater fan engagement in a whole multitude of sports. The Golf Event Centre puts fan engagement at the heart of the product and that can be seen from the leaderboard, betting markets, streaming options and 2D and 3D interface. Golf fans have never felt closer to the game and that we hope is a benchmark that the industry will strive for.
Objective: Golf was one of the final remaining top tier sports that did not have a robust in-play betting proposition. The complexity of collecting golf data has long seen golf betting have a very limited offering, with long delays between pay-outs and an incomplete trading picture. For this reason, there was very little appeal of golf to the casual bettor. Before we undertook this work, in-play betting for golf accounted for just 5% of gross win for the sport. When comparing this to the figure of 56% of all industry gross win being derived from in-play betting, the opportunity to bring golf in line with other mainstream sports was clear to see. Long term deals with both the European Tour & PGA Tour have given the Event Centre round the clock and year coverage. Our next generation front end experience has received industry recognition and the Event Centre now offers a complete solution to golf fans around the world. The ease and engagement with which golf can now be followed we believe is unrivalled in the industry and fan engagement for the sport of golf will now be transformed as the sport is bought before a new audience for the first time.
Strategy & Execution: The Golf Event Centre was designed by implementing the most sophisticated data collection method for sports betting seen to date. Following extensive training, 60 scorers for European Tour events & 200 scorers for PGA Tour events, record lies for every shot across both tours within two seconds of the ball landing. Green cameras on every green plot ball position to within 43mm (width of a golf ball), opening markets straight away on putts. With four different levels of redundancy (connectivity solutions) to collect data off the course, our shot-by-shot data is fast, accurate and ultra-reliable. This data collection methodology was vitally important as we wanted the modern fan to be able to follow every shot of every tournament and also have markets open straight after each shot in order to increase engagement. Our revolutionary 2D and 3D course maps take every golf fan inside the ropes, increasing knowledge and transparency of what is going on.
Results:
Shot-by-shot data collection that is ultra-live allows us to create markets and opportunities for every shot of every tournament on both the European Tour and PGA Tour. During 19 tournaments in 2020, we recorded 593,280 shots, creating markets and opportunities for fans on every one of them. Fans of golf previously reliant on TV pictures can now follow golf to the minute and with markets reactive to every shot around the course, engagement has skyrocketed. Our immersive front end makes the Event Centre the only service necessary to follow a golf tournament. Leaderboards, course maps, statistics, shot-by-shot data, par 3 streaming and betting markets built into the interface, make the Event Centre the most effective golf engagement tool on the market. It is also the perfect second-screen experience if following the TV via terrestrial coverage. We have delivered on our business outcomes from testing to go live, with latency of less than two seconds on over 99% of shots recorded in 2020. The Golf Event Centre furthers our business commitment to official data and using that official data to produce the most complete sports betting solutions on the market.
PRODUCTION
IMG ARENA
PGA Tour
European Tour
Monterosa
CREDITS
Executive Vice President
IMG ARENA
Senior Vice President
IMG ARENA
Commercial Development Director
IMG ARENA
Vice President, Head of Product
IMG ARENA
Product Director
IMG ARENA
Operations Director
IMG ARENA
Sports Operations
IMG ARENA
Vice President, Technology
IMG ARENA
Product Manger
IMG ARENA
Product Manager
IMG ARENA
Support and Integrations Manager
IMG ARENA
BRANDS AT THE LIVE SERIES
CONTENT x SPORTS BETTING
Over two days, sports betting + media will converge to discuss the North American fan. Learn the insights and strategies needed to develop partnerships, create and monetize betting content, and drive critical revenue and engagement.
May 12-13, 2021 (Virtual)
TRANSFORMING THE NEXT DECADE
Hashtag Sports® is the leading platform for media and marketing professionals and the next generation of creative talent across the converging sports and entertainment industries.
From unparalleled experiences like our annual conference and the Hashtag Sports Awards presented with Budweiser to inspirational digital content and mission-driven initiatives, Hashtag Sports is the benchmark for fan engagement and the go-to resource for the development of a new sports and entertainment ecosystem powered by digital media, content, culture, purpose, and technology.