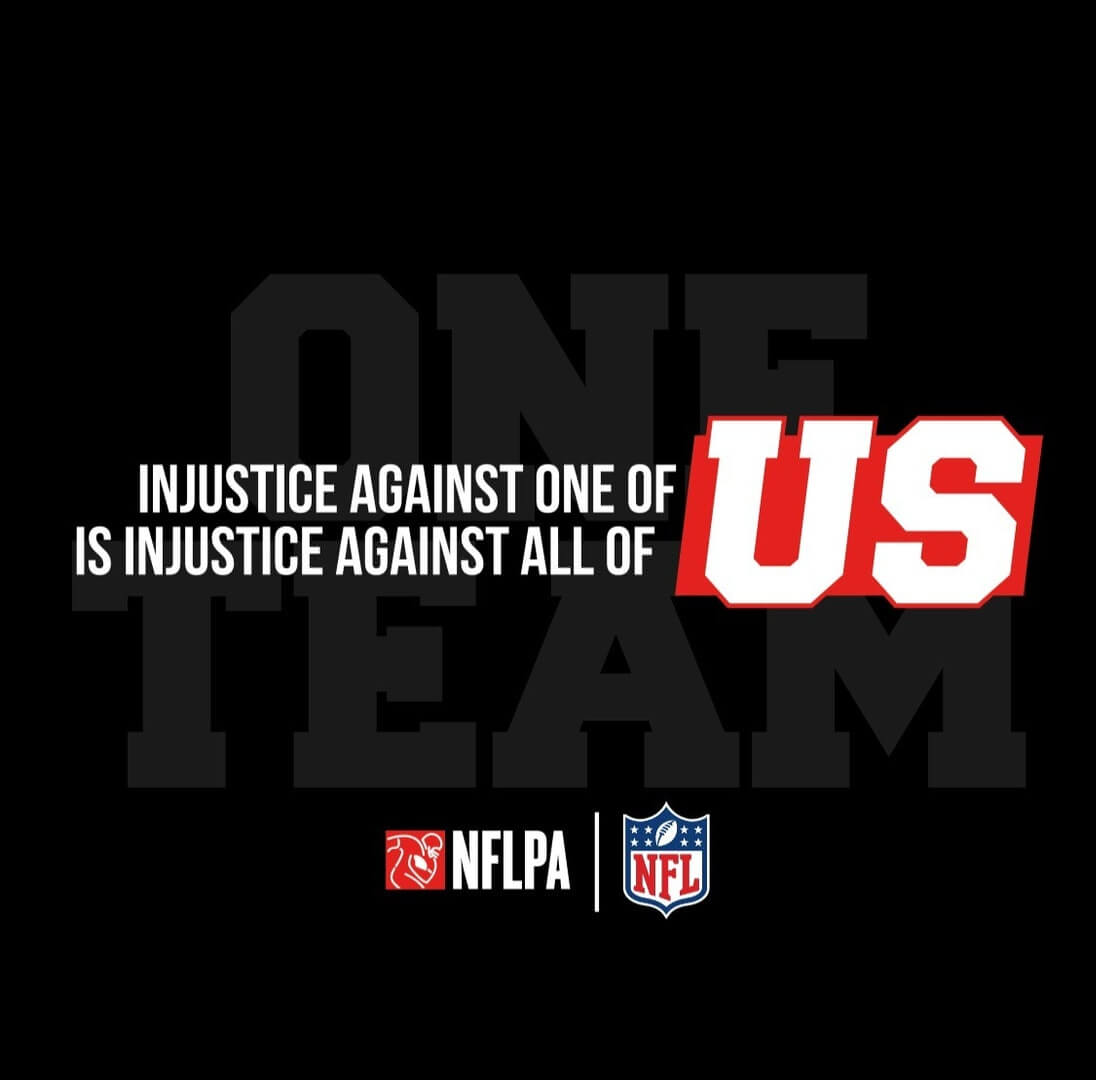 ABOUT THIS ENTRY
The NFLPA and Michael Thomas (Texans) came together to find a way for NFL players to demonstrate their collective voice against racism in the United States after the murders of Ahmaud Arbery, Breonna Taylor and George Floyd.
How does this represent "Excellence in Engagement"?
By wearing these t-shirts and accompanying them with a message on social media, this movement showed fans of the NFL that we all have a part to play when it comes to fighting for social justice. Professional athletes serve as role models for so many young fans and this demonstrated that we are more powerful when we work together. In that vein, it was also an excellent demonstration of the players union and the league coming together. After a polarizing CBA negotiation, the COVID and racial justice pandemics in our country forced the NFLPA and NFL to work together more than ever before. Understanding that every party has a role to play and finding common ground will ensure the health and success of the NFL in the future.
Objective: Many players attended protests in their team and home cities, but wanted a way to speak up on the football field as well. What resulted was a t-shirt with the phrase "Injustice against one of us is injustice against all of us" and "End Racism" on the back, that was designed in house by the NFLPA and manufactured by Nike. With the NFL's collaboration, the T-shirts were sent to all 32 teams and placed in the lockers of each player for them to wear Week 1 of the 2020 NFL season. It was a way for NFL players to use their power and their voice without having to say anything, to stand up for Black people in America who have been and continue to be discriminated based on their race.
Strategy & Execution: Members of the NFLPA started a social justice committee in June in the wake of the Black Lives Matter movement as a way to to equip our members with informational resources to combat social injustice, amplify their collective voices and connect them with stakeholders to support their efforts to create positive change. After speaking with Michael Thomas, an Executive Committee member, the idea of designing t-shirts was a way to have a moment of solidarity among such a diverse group of NFL players and to inspire change within the NFL community. The goal was then for friends, family and fans of the NFL to see the message and want to inspire change within their own communities and to spark dialogue with both loved ones and strangers alike. All too often, players are told to keep issues of politics and race out of sports, but when players use their collective voice, they have the power to create change across the nation. The NFLPA recognized the voice of the players who wanted a way to demonstrate peacefully and helped bring that goal to life.
Results:
In addition to the t-shirts, the NFLPA wanted to amplify the moment on social media during Week 1 of the NFL season. The t-shirts were not required to be worn, but the hope was that many players would choose to wear them. The response for this initiative was overwhelming! Players from all 32 teams wore the t-shirts during week one and many of them continued wearing them throughout the season. In addition, the NFLPA sent digital assets including motion graphics to the NFL and all 32 teams to amplify on social, as well as digital wallpaper backgrounds for fans to join in on the moment. The collective social posts received over 1 million engagements, were shared by 75% of NFL team social accounts and over 50 players shared the message to their social accounts as well.
PRODUCTION
CREDITS
NFL Player
Houston Texans
Director of Player Affairs
NFLPA
Senior Communications Manager
NFLPA
Brand Strategist & Graphic Designer
NFLPA
Social Media & Content Manager
NFLPA
Senior Director of Player Affairs
NFLPA
BRANDS AT THE LIVE SERIES
CONTENT x SPORTS BETTING
Over two days, sports betting + media will converge to discuss the North American fan. Learn the insights and strategies needed to develop partnerships, create and monetize betting content, and drive critical revenue and engagement.
May 12-13, 2021 (Virtual)
TRANSFORMING THE NEXT DECADE
Hashtag Sports® is the leading platform for media and marketing professionals and the next generation of creative talent across the converging sports and entertainment industries.
From unparalleled experiences like our annual conference and the Hashtag Sports Awards presented with Budweiser to inspirational digital content and mission-driven initiatives, Hashtag Sports is the benchmark for fan engagement and the go-to resource for the development of a new sports and entertainment ecosystem powered by digital media, content, culture, purpose, and technology.