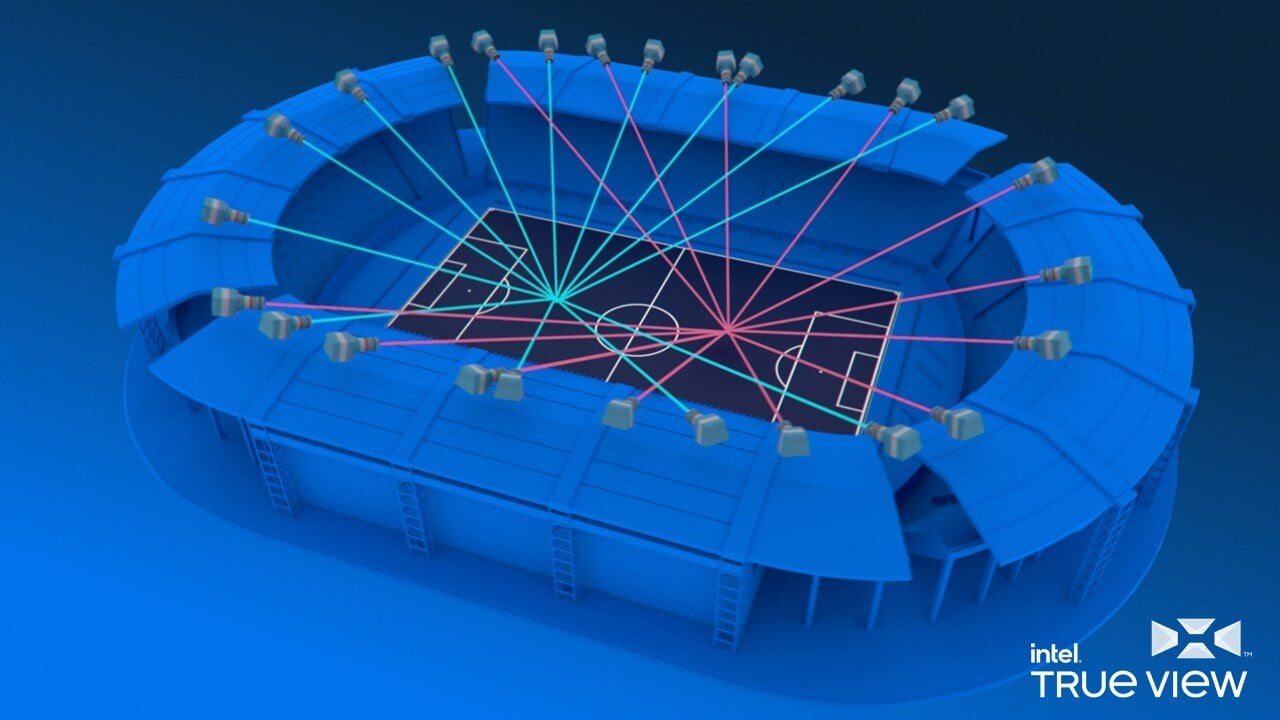 ABOUT THIS ENTRY
Transforming traditional broadcast perspectives, Intel True View creates more moments for fans to engage with, dissect and share.
How does this represent "Excellence in Engagement"?
Intel Sports consistently delivers Intel True View across a variety of platforms to the top tier of global sports. We reach hundreds of millions of fans through 40 venues across 3 sports for ~500 games per year with the NFL, LaLiga, EPL (Liverpool, Arsenal, Manchester City), Ligue 1 (Paris Saint-Germain), NBA, and Olympics.

For Liverpool's historic 2019-20 season, on social channels, a unique True View clip aggregated up to 21M views from fans and delivered a completion rate of 90%, 3.5x the industry average. True View enhances LFC's distribution strategy of highlights across the club's VOD service, LFCTV Go, and programming on the club's 24-hour TV channel, LFCTV.

During the NBA season pause in 2020, Intel Sports and Bleacher Report teamed up for a 3-part content series featuring NBA athletes Coby White (Bulls), Luka Dončić (Mavs), and Bradley Beal (Wizards) across B/R's platforms. According to fans, including NBA super-fans and tech enthusiasts, True View content delivered brand favorability between 94-98%. (Source: "Bleacher Report x Latitude Study - Intel True View," July 2020)

Additionally, the NFL actively engaged with fans across linear, digital, and social throughout the 2020 season, providing unique perspectives of historic plays, including in Super Bowl LV.


Objective: Intel Sports enables immersive media experiences that ignite passion and knowledge across the sports industry. By harnessing the power of volumetric video, we provide our partners with new experiences to engage fans through interactivity, personalization, and unbounded perspectives of the game.

Intel® True View is Intel Sports' volumetric video platform for data capture, processing, and production. This new media format enables infinite storytelling from one capture. Using the volumetric capture technology, footage is recorded from dozens of Ultra HD cameras to create a virtual environment in spectacular, multi-perspective 3D, enabling fans to experience a moment on the pitch, court, or field from any angle.

Strategy & Execution: Intel True View captures immersive perspectives in full volumetric video as voxels (pixels in height, width, and depth). Intel True View captures 85GB of video data per second, equivalent to capturing 56 feature films / movies per second. Additionally, Intel True View captures and processes 200TB of raw data per game, equivalent to capturing the data of 10,000 video games per game.

The angles, perspectives, and control satisfy fans' cravings for a game and player knowledge before, during, and after the match. In a world where virtual viewing is an assumption, not a question, Intel True View increases fans' sense of immersion, which leads to a more emotional, memorable, and enjoyable viewing experience.

The "It's Called True View" branded campaign seeks to bring light to a breakthrough, immersive media experience in a playful, yet educational manner. As some sports fans may have already been somewhat familiar with Intel True View technology and its powerful storytelling capabilities, they may have not known exactly what to call it!

The Verizon 5G Stadium was designated a "Featured Hub" by Epic Games, February 1st through February 8th, which instantly dropped all gamers entering Creative Mode into the virtual stadium.


Results:
In conducting awareness research, we found fans referring to elements of our immersive media format, True View, as "the Spinny Cam" or the "Blue Wall Goal Line Thing." Rather than create a straightforward campaign that simply advertises what True View is, we chose to adopt and integrate the playful – yet incorrect – naming conventions into the campaign itself; adding a refreshing layer of fan relatability and humor. In the 30-second spot, this is evident as the narrator and fan exchange comical banter back and forth around what to call the amazing technology that pushes the boundaries of immersive experience and unbounded perspectives in sports.

The integrated campaign features :30 & :15 linear and online video, animated and static display. Our goal was to reach fans across their favorite sports during this unique time. We achieved this by airing the campaign across the NFL Network O&O channels, NBAonTNT, and MLB Playoffs on TBS. In monitoring digital sentiment, we have witnessed fans alluding to the ad, playfully correcting one another, chiming in "It's Called True View!" Also, in private focus groups, we have witnessed a lift in awareness.
BRANDS AT THE LIVE SERIES
CONTENT x SPORTS BETTING
Over two days, sports betting + media will converge to discuss the North American fan. Learn the insights and strategies needed to develop partnerships, create and monetize betting content, and drive critical revenue and engagement.
May 12-13, 2021 (Virtual)
TRANSFORMING THE NEXT DECADE
Hashtag Sports® is the leading platform for media and marketing professionals and the next generation of creative talent across the converging sports and entertainment industries.
From unparalleled experiences like our annual conference and the Hashtag Sports Awards presented with Budweiser to inspirational digital content and mission-driven initiatives, Hashtag Sports is the benchmark for fan engagement and the go-to resource for the development of a new sports and entertainment ecosystem powered by digital media, content, culture, purpose, and technology.