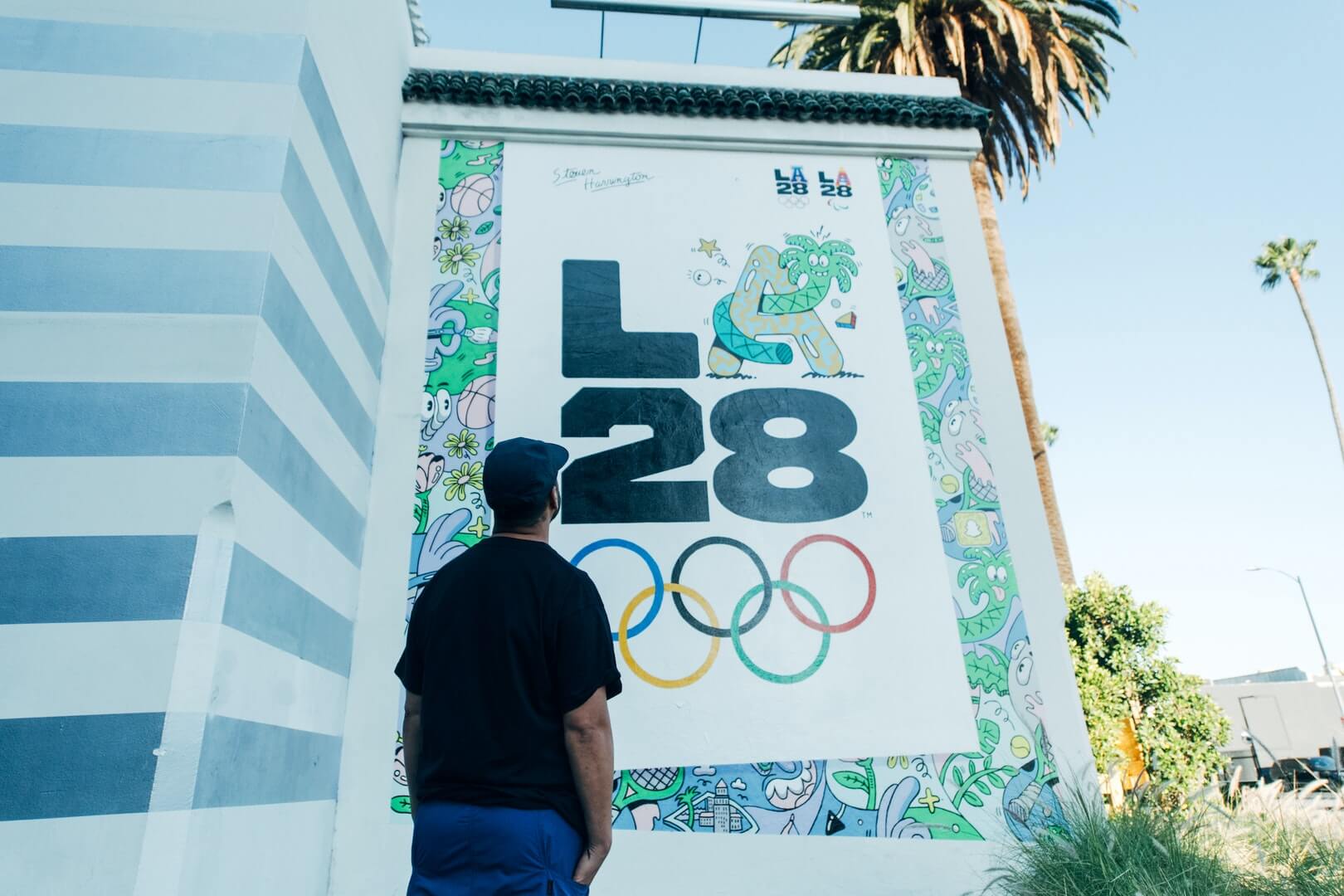 ABOUT THIS ENTRY
In order to stay true to our values and connect authentically with our audiences, we bucked the typical influencer execution and co-created the LA28 brand to welcome the next generation of fans into the larger mission of celebrating the diversity and culture of the 2028 Games and LA.
How does this represent "Excellence in Engagement"?
Limitless possibility and individuality rooted in purpose guided the launch of the LA28 story. Behind every 'A' in our logo is a personal story, which rotates, breaking from the traditional mold of just one, static Olympic and Paralympic logo. We had always planned to launch in this way, showcasing the beauty of our differences and that we all belong. But as 2020 evolved, we realized there had never been a more important time to give rise to a collective of voices.
With our core belief that sport has the opportunity to bring awareness to societal issues and be a megaphone for perspectives, stories, policies and change, our intention is to use our platform as the most powerful and recognizable property in global sport to set new standards, challenge the status quo and be a part of the solution as the world continues to chart our path forward to a place where everyone is welcome and everyone belongs.
The LA28 brand launch was just the beginning of our journey, and we will continue to co-create the LA28 Games with our community and build a brand that brings to life our core values through our city and our people.
Objective: LA28 is reimagining the Olympic and Paralympic Games. Rooted in our values of diversity, inclusivity and co-creation, we flipped the traditional model on its head, building LA28 from the ground up and modernizing the traditional emblem/logo release as the first major milestone of an organizing committee, beginning our 8-year journey to the 2028 Olympic and Paralympic Games.
Our co-created emblem release was much more than a logo and brand launch. It provided an opportunity for us to formally introduce ourselves to our local and global communities and showcase everything that makes LA unique and diverse through not just one voice, but a collection of stories representing Los Angeles, designed to evolve and flex over time just like LA and the people who make the city what it is today, tomorrow, in 2028 and beyond.
In a city that is a true mashup of languages, cultures and dreams, LA28 committed to authentically representing LA through several voices, including athletes, artists and activists. On Sept. 1, 2020, LA28 introduced not one but 26 distinct Games emblems in an all-digital and social launch, with stories of challenge, courage and hope to kick-off our 8-year journey to the 2028 Olympic and Paralympic Games.
Strategy & Execution: As the first truly inclusive, story-driven and dynamic Olympic and Paralympic brand, LA28's launch was designed to reach existing sports fans, plus an entirely new audience of Gen Z and Millennials – tomorrow's modern sports fans – who had previously expressed limited interest in and engagement with the Movement.
LA28 launched with a collective of 26 creators from arts, entertainment, sports and LA, including Olympians like Alex Morgan and Allyson Felix; Paralympians Lex Gillette and Scout Bassett; entertainers and artists including Billie Eilish, Reese Witherspoon and Dr. Woo; and activists Rachel Sumekh and Aidan Kosaka.
In their own voices and on their channels, these creators launched their stories and their ever-changing LA28 emblems created for the digital age, supported by a comprehensive campaign including organic and paid social media, website and e-commerce, earned media, content partnerships, AR-enabled OOH murals and more to meet our target audiences where they already are, in a meaningful way.
Results:
Launching during a global pandemic and time of social unrest was not on the roadmap when we started planning. Even with the uncertainty and pivots required, LA28's brand launch surpassed all of our set engagement goals to excite existing Olympic and Paralympic fans and introduce the 2028 Games to an entirely new audience.
Garnering hundreds of millions of impressions in the first three weeks (132% of target), LA28's launch increased brand awareness by 62% with the Gen Z and Millennial target, with 1.5K+ stories across global news coverage and 30% of news mentions in a foreign language.
LA28 social interactions were 3x our set targets. Despite already having the most social followers by an Olympic Games, LA28 saw a tremendous lift across social channels, with Instagram leading at 15% growth. Twitter engagement was 30x higher in September (vs. August).
Overall, the campaign was not just about numbers; it served as a platform for our community, capturing LA's multidimensionality into a single forum with local and global reach. By leaning into an intersection of unexpected voices and strength in our diversity, the launch served as the catalyst to introduce our brand authentically and meaningfully.
PRODUCTION
Works Collective, Stink Studios, Media Monks, Cashmere Agency, Giant Spoon, Clàrus, Nike Design Team
CREDITS
CMO
LA28
SVP, Head of Marketing and Brand Engagement
LA28
SVP, Communications
LA28
Director, Marketing
LA28
VP, Insights & Analytics
LA28
Sr. Manager, Brand Strategy & Management
LA28
Sr. Manager, Insights & Analytics
USOPC
Manager of Digital Experiences
LA28
Sr. Director, Brand Strategy & Management
LA28
Sr. Director, Brand Strategy & Management
LA28
Sr. Director, Experiential Engagement and Protocol
LA28
Assoc. Director, Marketing Activation and Events
USOPC
Associate Art Director
USOPC
Executive Assistant
USOPC
Communications Manager
LA28
Sr. Communications Manager
LA28
Digital
LA28
Communications
LA28
Director, Technology
LA28
General Counsel, SVP
LA28
SVP, Commerce and Event
USOPC
Chief Athlete Officer
LA28
Chief Impact Officer
LA28
Managing Counsel
LA28
Manager, Consumer Products
USOPC
Manager, Community Relations
LA28
VP, Host City Relations
LA28
BRANDS AT THE LIVE SERIES
CONTENT x SPORTS BETTING
Over two days, sports betting + media will converge to discuss the North American fan. Learn the insights and strategies needed to develop partnerships, create and monetize betting content, and drive critical revenue and engagement.
May 12-13, 2021 (Virtual)
TRANSFORMING THE NEXT DECADE
Hashtag Sports® is the leading platform for media and marketing professionals and the next generation of creative talent across the converging sports and entertainment industries.
From unparalleled experiences like our annual conference and the Hashtag Sports Awards presented with Budweiser to inspirational digital content and mission-driven initiatives, Hashtag Sports is the benchmark for fan engagement and the go-to resource for the development of a new sports and entertainment ecosystem powered by digital media, content, culture, purpose, and technology.