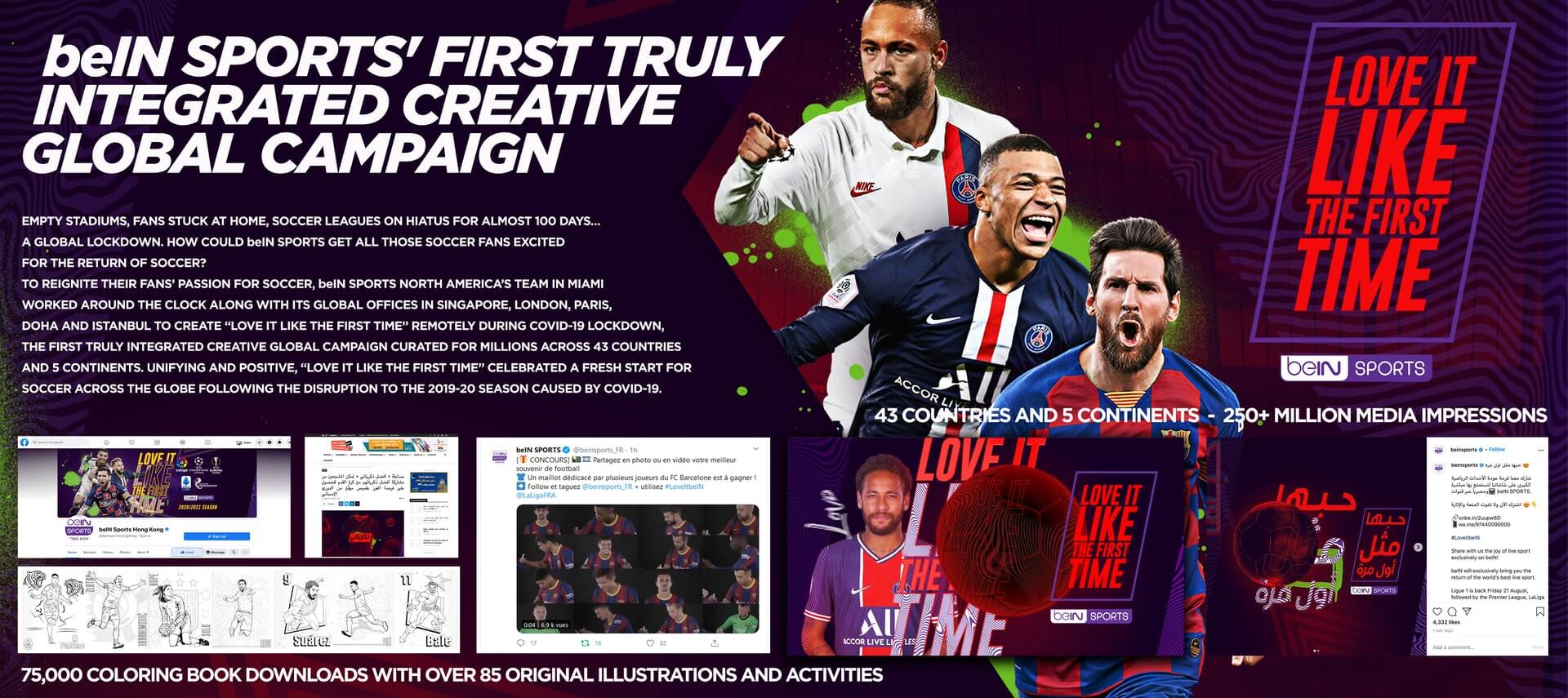 ABOUT THIS ENTRY
To reignite fans' passion for soccer after nearly 100 days without the beautiful game, beIN's N.A's team in Miami worked with its colleagues around the globe in Singapore, London, Paris, Doha, and Istanbul to take everyone's love of the game back to the start.
How does this represent "Excellence in Engagement"?
The "My Best Memento," international social media competition, trended on Twitter and Instagram, with soccer enthusiasts discussing their best memories and news outlets extremely interested in the stories. The campaign generated thousands of global entries and social mentions from 64 countries, including over 1,000 tweets, and reminded soccer enthusiasts that the new season was quickly approaching. Former soccer stars and legends of the game who took part in the campaign also noticed that fans really did remember their great achievements – be it an epic win, or an unforgettable goal celebration. These great moments and achievements are also what unites fans across the globe regardless of nationality and language. This is the beauty of sports; it's what beIN SPORTS wanted to showcase all along – that they're proud to be the home of sports to millions of viewers who came together with the same excitement and a reignited passion when live soccer came back.
Objective: An unprecedented global pandemic brought the beautiful game to a complete standstill. Stadiums sat empty, fans stayed home, and a thrilling soccer season in full swing came to a sudden halt for almost 100 days. How could beIN SPORTS get soccer fans excited for the return of soccer?
"Love It Like the First Time" was created during the COVID-19 lockdown and represented beIN's first truly integrated global creative campaign, curated for millions across 43 countries and 5 continents in various languages including English, Spanish, French, Bahasa Indonesia, Thai, Malay, Turkish, and Arabic.
Unifying and positive, the campaign set out to celebrate a fresh start for soccer across the globe by tapping into the moments soccer fans around the world fell in love with the beautiful game. With a renewed perspective, fans were invited to relive their favorite soccer memories and reinvigorate their hunger for the next big moment: the next golazo, the next triumphant title chase, the next wonderkid turned global superstar.
Strategy & Execution: After almost 100 days without live soccer, everything seemed to feel just like the first time. So, beIN brought back all those unforgettable "soccer firsts." Messi's first game, goal and championship with Barcelona. Mbappé's first hat-trick with PSG. The first time Sergio Ramos played for Real Madrid and became their longtime captain. Vignettes and promos featuring Neymar, Griezmann, Rakitić, Fábregas, Piqué and Sergi Roberto were also created.
beIN knew fans would appreciate live soccer like never before. The campaign continued on beIN's digital and linear channels with tune-in promos, testimonials, giveaways, digital activations and OOH media maintaining the line and key messaging in each language.
beIN TRIVIA - IG stories featuring iconic soccer "firsts," asking fans to recall epic moments. Fans shared the stories and put friends to the test to prove they were the ultimate expert.
beIN COLORING BOOK, a free, print-at-home book, filled with iconic images and activities consisting of eleven chapters, released weekly with fresh themes, including 85+ illustrations and activities resulting in over 75K US downloads.
"My Best Memento," launched with soccer legends and beIN SPORTS analysts testimonials of their best mementos, encouraging fans to do the same for a chance to win a signed jersey.
Results:
Media results showed extremely promising numbers – with soccer fans across the world mentioning beIN SPORTS' campaign. "Love it Like the First Time" garnered 250+ million media impressions and 80+ stories published globally. This was critical in making a fully organic campaign a success. beIN SPORTS' "Love It Like the First Time" gained traction across 5 continents – with coverage coming from North America, Europe, the Middle East and North Africa (MENA) and Asia-Pacific (APAC). beIN SPORTS' global campaign proved that although sports just aren't the same without fans, an innovative campaign such as this could capture the enthusiasm of all those who can't live without soccer.
BRANDS AT THE LIVE SERIES
CONTENT x SPORTS BETTING
Over two days, sports betting + media will converge to discuss the North American fan. Learn the insights and strategies needed to develop partnerships, create and monetize betting content, and drive critical revenue and engagement.
May 12-13, 2021 (Virtual)
TRANSFORMING THE NEXT DECADE
Hashtag Sports® is the leading platform for media and marketing professionals and the next generation of creative talent across the converging sports and entertainment industries.
From unparalleled experiences like our annual conference and the Hashtag Sports Awards presented with Budweiser to inspirational digital content and mission-driven initiatives, Hashtag Sports is the benchmark for fan engagement and the go-to resource for the development of a new sports and entertainment ecosystem powered by digital media, content, culture, purpose, and technology.